Using JR-WEST Rail Passes for Food Trips in Tottori and Shimane
Tottori and Shimane are two prefectures are on the coast of the Sea of Japan famous for their delicious local cuisine. Use the Kansai WIDE Area Pass and the San'in-Okayama Area Pass to explore these two prefectures. This article will outline a two-day model course full of amazing cuisine!
The Kansai WIDE Area Pass and San'in-Okayama Pass
Picture courtesy of West Japan Railway Company
Tottori and Shimane are known for their delicious local cuisine. By saving on travel expenses, you can enjoy more of these on your trip!
For overseas visitors, we recommend two travel passes offered by JR-WEST. When you arrive at Kansai International Airport or in Osaka, pick up the Kansai WIDE Area Pass to take either the express train for Tottori or the Shinkansen to Okayama. If you arrive in Okayama, the San'in-Okayama Area Pass is perfect for travel to Tottori and Shimane.
Kansai WIDE Area Pass
The Kansai WIDE Area Pass is one of the JR-WEST Rail Passes. This pass is great for traveling around the major cities of the Kansai region. You can even use it to make your way out to Amanohashidate, Kinosaki Onsen, and neighboring prefectures.
Valid Transportation: Shinkansen (such as Nozomi and Mizuho), limited express, rapid, and local trains, West JR buses
Validity Period: 5 days
Seating: Reserved (up to 6 rides) and non-reserved seating. (Avoid crowded trains by reserving seats ahead of time!)
Price: From 10,000 yen for adults and from 5,000 yen for children
*Prices vary by vendor location. Check the website for more details.
San'in-Okayama Area Pass
The San'in-Okayama Area Pass is another JR-WEST Rail Pass. You can use it on limited express trains from Okayama to the San'in region (Tottori, Shimane, Hagi) and on city buses in Tottori and Matsue.
Valid Transportation: Limited express, rapid, and local trains; Loop Kirinjishi bus; Gurutto Matsue Lake Line bus
Validity Period: 4 days
Seating: Non-reserved seating (Seat reservations may be purchased separately.)
Price: From 4,580 yen for adults and from 2,290 yen for children
*Prices vary by vendor location. Check the website for more details.
If you want to travel to Okayama, Hiroshima, and Yamaguchi, we recommend the Sanyo-San'in Area Pass.
Additionally, consider using Travel Support by JR-WEST. It's a translation app useful for communicating at a hospital or drug store, or for placing an order at a restaurant. No download required!
Day 1: From Osaka to Tottori
Now we'll introduce a two-day model course for traveling around Tottori and Shimane.
To start off day one, take the limited express Super Hakuto from JR Osaka Station or JR Shin-Osaka Station to JR Tottori Station. Don't eat a big breakfast; we'll want to enjoy as much local food as possible!
Snow Crab
Snow crabs are a winter staple of Tottori. The meat is delicate, sweet, and full of flavor. Let's kick off our trip by enjoying this local delicacy!
Kaiyotei, a Seafood Lover's Paradise
Kaiyotei, located next to the fish market Karoichi, is famous for their fresh seafood dishes.
While all of their meals are delicious, foodies flock to Tottori for Kaiyotei's snow crab. The snow crab sashimi plate is a great way to savor this local staple.
You can savor the natural sweetness of the snow crab by eating it raw. You can also request that the chef deep fry the crab shell, which adds a crispy texture to the plate.  The grilled tomalley is another great way to enjoy rich seafood flavor.
You can also enjoy snow crab boiled or prepared in shabu-shabu form. Both alternatives offer their own unique flavors.
The snow crab sashimi plate comes in three sizes: 12,100 yen for small, 22,000 yen for medium, and 38,500 yen for large (all prices include tax).
Kaiyotei is a fifteen-minute drive from JR Tottori Station. It is also just a twelve-minute drive from the Tottori Sand Dunes and the Sand Museum.

Tottori Wagyu Beef
In 1920, Tottori Prefecture became the first place in Japan to register their cows. As their local brand of wagyu "Ketaka" became the first popular domestic brand, Tottori wagyu beef is known as the original wagyu.
Tottori wagyu is characterized by its high levels of oleic acid (a fatty acid that enhances the flavor of the beef) and the low melting point of its fat. In other words, the meat melts in your mouth like butter!
Jujuan
Jujujan is a popular Japanese barbecue restaurant located near JR Tottori Station. The owner, Mr. Watanabe, has been in the restaurant business for over 40 years.
In addition to Tottori wagyu, Jujuan emphasizes local ingredients in their dishes. As a result, you can enjoy unique local flavors.
If you want to try a variety of dishes, we recommend ordering the Sankai course. You can savor Tottori wagyu, Shikano chicken, crab, red bream, and other local foods from both land and sea.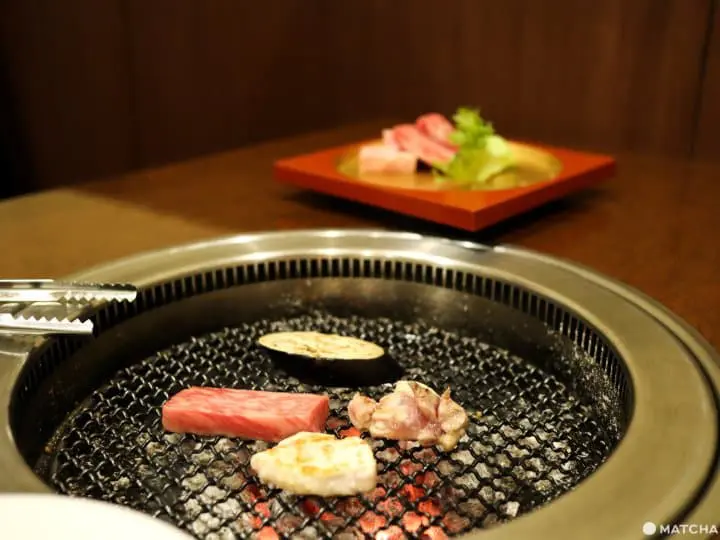 The meat and vegetables are grilled over a charcoal fire and can be enjoyed with the in-house wasabi sauce.
Beyond the Japanese grilled specialties, all the dishes, dessert, and even condiments are made using ingredients personally chosen by Mr. Watanabe. Savor the fresh flavors of local cuisine with the Sankai course (6,600 yen after tax).
Jujuan is a five-minute walk from JR Tottori Station.

20th Century Pear
The Tottori's best known fruit is the 20th Century Pear. It is refreshing and has a refined, slightly tart taste. You can eat it on its own, or have it in a dessert or jam.
Nashikkokan, Tottori Nijisseiki Pear Museum
When you step foot in Nashikkokan, Tottori Nijisseiki Pear Museum, you will immediately notice the massive pear tree.
Surrounding the pear tree are various exhibits and galleries, where you can learn all about the history and process of growing pears. You can also try three different pears, including the 20th Century Pear.
The fruit parlor next to the museum sells cakes, ice cream, and other desserts made using local pears.
With its unique fragrance and tartness, the 20th Century Pear complements the sweet desserts (cake - 600 yen with tax, pear soft serve - 350 yen, with tax)
Nashikkokan also has a gift shop. Their most popular items include pear jams, 20th Century Pear juice, and pear jelly (jam - 594 yen with tax, juice - 500 yen with tax, jelly - 572 yen with tax).
Nashikkokan is a twelve-minute bus ride (*1) from JR Kurayoshi Station. It is also a five-minute drive from the Kurayoshi White Wall Warehouses.
*1: From Kurayoshi Station Platform 2, take the bus for Nishikurayoshi, Ikuta-shako, Hirose.
Day 2: Travel to Shimane
On our second day, we'll take the limited express Super Oki from JR Kurayoshi Station to JR Matsue Station. Let's continue our food explorations in Shimane!
Minamikan Garden Restaurant Minami
Pictured above, taimeshi (sea bream rice) is a traditional dish served at the renowned ryokan Minamikan.
Taimeshi is a type of chazuke, a traditional Japanese dish in which tea or broth is poured onto a bowl of rice with various toppings. The chef of Minamikan developed his own recipe, which has been passed down for 100 years.
Not only does the taimeshi look pretty, it is also a complicated dish to make. First, fresh sea bream is cleaned and made into cooked ground meat. Meanwhile, the egg whites and yolk are separated.
These are then plated on a bowl of rice, along with dried seaweed, grated daikon radish, and green onions. In some recipes, even more toppings are added!
Finally, broth made from bonito and kelp is poured over the rice. Taimeshi is a refined dish with unique flavors and a refreshing aftertaste.
The taimeshi meal at Minamikan comes with taimeshi, egg custard, pickled vegetables, sesame tofu, and deep fried flounder (pictured above).
The deep-fried flounder is incredibly crispy and will leave you craving more. It is paired extremely well with the taimeshi! (Taimeshi meal Fuku - 2,530 yen after tax)
Minamikan is also known for their beautiful garden, which has even been featured in a Japanese garden magazine in the United States. Its popularity is on par with the garden at the Adachi Museum of Art.
Minamikan is sixteen minutes by foot from JR Matsue Station and only eight minutes from Matsue Castle.

Wagashi - Traditional Sweets
Matsue has a rich history of tea and traditional Japanese sweets. Because of this, the city is regarded as one of Japan's three great tea and wagashi spots, alongside Kyoto and Kanazawa.
According to the local residents, the people of Matsue are accustomed to drinking tea from a young age. Savor the local culture of Shimane with a cup of tea!
Saiundo
Founded in 1874, Saiundo is a traditional sweets shop famous with the locals. You can purchase sweets to go, or enjoy them in the cafe space.
The cafe menu allows you to choose from four seasonal wagashi, as well as sencha green tea, matcha green tea, or roasted green tea. The sweets are all made with care and attention by the shop's artisan.
Saiundo changes its selection of sweets every year. Whether you're a first-time visitor or a regular customer, you can find new items to enjoy!
Pictured above is a matcha green tea set with a type of wagashi known as himetsubaki. Himetsubaki is made with red bean paste wrapped in a mochi-like skin. Complementing the namagashi is a cup of matcha that is slightly bitter (tea and wagashi set - 660 yen after tax).
In the Matsue area, you will likely come across magatama jewels. Magatama are ancient almond-shaped accessories said to protect the wearer from bad luck.
The Negaigashi at Saiundo are dry sugar sweets in the shape of magatama. They come in five different colors and flavors and make for very cute gifts (Negaigashi, 5 sweets per box - 756 yen, with tax).
The Saiundo Main Store is an eight-minute walk from JR Matsue Station, as well as the Shimane Art Museum. It is a ten-minute drive from Lake Shinji.

Izumo Soba Noodles
Next, let's head to Izumo Taisha Shrine from JR Matsue Station.
Photo by Pixta
The soba noodles at Izumo are one of Japan's most famous soba dishes. Since the noodles are made from buckwheat seeds that are ground with their chaff intact, this soba is darker in color and more fragrant than typical noodles.
You can order cold warigo soba or warm kama-age soba, but the former is particularly unique.
Warigo soba comes in a three-layer container called a warigo. Starting from the first layer, you add condiments and the soup. As you move down the layers, you will keep reusing the soup from the first layer.
Soba Tanakaya
Picture courtesy of Soba Tanakaya
Izumo soba is famous for its buckwheat flour. At Soba Tanakaya, located next to Izumo Taisha Shrine, the buckwheat flour is especially high quality. As a result, their soba is extremely rich in flavor.
The soup perfectly accentuates the unique noodles. It is made using a variety of fish flakes and natural kelp from Hokkaido, local soy sauce and sake, and mirin rice wine.
If three layers of warigo aren't enough, you can order an additional layer! (Warigo soba - 1,120 yen after tax)
Tanakaya is a five-minute walk from Izumotaisha-mae Station on the Ichibata Electric Railway. Alternatively, it's only a minute's walk from Izumo Taisha Shrine.
Tottori and Shimane - Enjoy Food and Local Culture!
When visiting Tottori and Shimane, we recommend exploring the food along with the sightseeing spots. By using the JR-WEST Rail Pass, you can save on travel expenses.

For information on the measures taken by JR West in response to the COVID-19 pandemic, please check their website .

Written by Chien
Sponsored by Tottori Prefecture, Shimane Prefecture, and West Japan Railway Company

The information presented in this article is based on the time it was written. Note that there may be changes in the merchandise, services, and prices that have occurred after this article was published. Please contact the facility or facilities in this article directly before visiting.