Moyan Curry In Ikebukuro - Unique, Delicious, Healthy, And Satisfying
Moyan Curry offers unique dishes that are far from your ordinary Japanese curry. Filled with vegetables and fruit, their curry is not only delicious but also healthy. The juicy meat and vegetable toppings enrich the flavor of these dishes making them extremely tasty and filling.
Moyan Curry - The Favorite Dining Place of Japanese Curry Lovers
Picture courtesy of Moyan Curry
Japanese curry, also known as curry rice, is an extremely popular dish in Japan, being widely enjoyed either at home or when dining out.
While Moyan Curry might look like your typical Japanese curry restaurant at first glance, it is a real secret tip among curry lovers. Made using only fruit, vegetables, and a secret spice mixture, their dishes are not only some of the most delicious curries in Tokyo but also some of the healthiest.
In this article, we will introduce Moyan Curry's branch in the thriving Ikebukuro area, secretly tucked away close to Sunshine City and Tokyu Hands.
Curry Dishes Made with Fruit, Vegetables and Healthy Spices
Picture courtesy of Moyan Curry
Moyan's curry was invented by accident. The owner used to be a normal office employee and his favorite hobby was to cook. When he learned that fruit and vegetables lost two-thirds of their original flavor and nutritional values in the last decades, he started to experiment using three times the amount of fruit and vegetables than usual in his dishes. He also tried intensifying their flavors by slowly simmering them to a stew.
When he added different spices to bring out their flavors even more, he accidentally ended up with a flavorful curry instead of a stew.
He refined his unique curry base with high-quality olive oil and a secret, matured spice mixture. The fruit and vegetables for Moyan's curry mixture are simmered for two days until they become a deep brown base. After two days, the spice paste and filtered water are added to create a creamy sauce. The spice paste itself is matured for two weeks in advance to reach its full flavor potential.
The thickness of the curry comes from its natural ingredients. No flour is added. If you are lucky, you can even watch it being made in a big pot in the restaurant.
The first Moyan Curry shop opened 22 years ago in Shinjuku. Moyan has since expanded to overall six locations all over Tokyo. The store in Ikebukuro has been in this location a little bit over ten years.
Entertain Yourself with Manga while Waiting for Your Curry
The interior of Moyan is rather unique and reminiscent of a cozy wooden hut. Customers sit on stable stools that look and feel like little tree trunks.
What might be most outstanding are the rows of classic manga lining the walls. The drawings are entertaining in themselves but if you can read Japanese, you'll enjoy them even more. Try browsing through some of them while waiting for your curry.
When the restaurant opened in 1997, smartphones weren't as widespread as now. The owner thought that customers who come alone might be bored when waiting for their curry. He decided to offer something most people liked as an entertainment source, namely mangas.
Moyan Curry - 3 Recommended Dishes
Moyan Curry has an endless variety of toppings that all go wonderfully well with their rich curry sauce. There is something for every taste and every budget. They even offer high-class wagyu beef curry, which is one of their most popular items on the menu.
An English menu is not available at the store but you can always refer to the one on their official website.
Let us introduce you three unique curry dishes at Moyan. All of them are part of the dinner menu.
1. Avocado Bacon Tomato Curry
The Avocado Bacon Tomato Curry (1,400 yen) is not only beautiful to look at, but it also bursts with flavors. The juicy cherry tomatoes pair great with the rich sauce, the creamy avocado, and the incredibly juicy bacon. This unique dish is rich and refreshing at the same time.
Many of Moyan's signature dishes are topped with avocado. It is surprising how well the creamy avocado goes with the rich curry. After you tried it, you might never want to eat curry without avocado ever again.
2. Lemon Curry
Picture courtesy of Moyan Curry
The writer's favorite dish at Moyan is the refreshing Lemon Curry (950 yen). It comes with a big slice of juicy marinated chicken, seasoned with Chinese spices and grilled in olive oil. As you can see in the photo, this is another dish at Moyan with avocado topping.
While this dish tastes delicious as it is, the unique part is that you are supposed to squeeze the lemon over the curry. The lemon juice cuts nicely through the thick flavor of the curry and gives it a refreshing taste. It's the perfect curry for summer!
3. Niku Niku Miso Pork Kalbi and Chicken Curry
Picture courtesy of Moyan Curry
The Niku Niku Miso Pork Kalbi and Chicken Curry (1,000 yen) is a new item on the menu. Kalbi is the name of Korean style marinated barbeque ribs.
"Niku Niku" means "Meat Meat" in Japanese. As the name suggests, it's the perfect choice for meat lovers. Thick slices of miso-marinated pork and chicken are served alongside Moyan's delicious curry.
This dish is served with a raw egg as topping. If you don't like raw eggs you can ask for it to be served soft boiled or fried. You can also skip it altogether. Either way, it is a satisfying meal packed with rich flavors and a lot of protein.
Customize your Curry
Picture courtesy of Moyan Curry
Customers can order any type of curry just as it is on the menu or they can customize it to their personal tastes.
You can order a milder or spicier curry, add rice, reduce rice or increase the amount of curry sauce and rice. The level of spiciness can also be adjusted to one's liking.
Please note that the spiciest levels are very spicy. We would suggest starting with the regular level or just a little bit spicier than the regular type.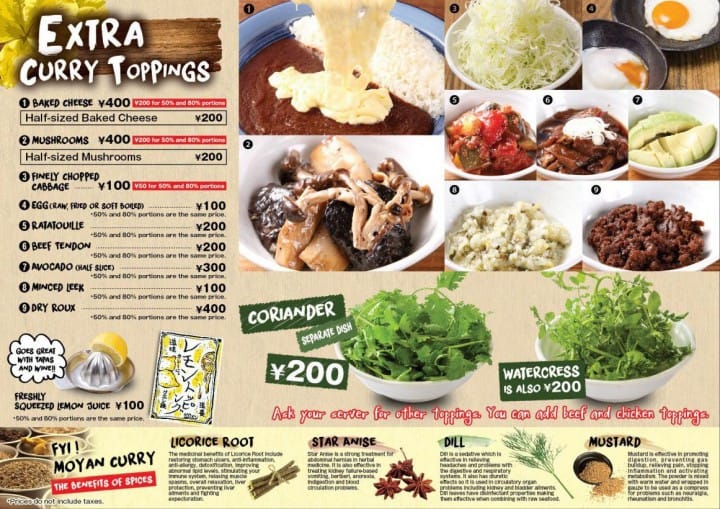 Picture courtesy of Moyan Curry
You can also add a variety of toppings for a small additional charge. How about extra Gouda cheese or avocado? The refreshing lemon mentioned earlier can also be added to any curry.
Coffee and Rooibos Tea Free of Charge
Like at most Japanese restaurants, a jug with free water is available on every table. In addition, you can also get as much coffee or rooibos tea as you like at Moyan. All beverages are self-service. Take your tea and coffee from the beverage machine beside the kitchen.
Another free service is that you can have up to two boiled potatoes to go with your curry. These are self-service as well. If you want butter or mayonnaise on your potatoes, it will cost an additional 100 yen.
Please feel free to use the spice mix that is also available at the table. It is blended by a herbal medicine specialist and it is supposed to be good for your body as well as delicious on curry.
Moyan Lunch Buffet - Try a Variety of Curry Sauces
Picture courtesy of Moyan Curry
Moyan's Lunch Buffet is an incredibly popular lunchtime service. It only costs 1,080 yen and has no time limit. Coffee, rooibos tea, and water are free as well just like at dinner time.
After paying at the entrance, you will be given a big plate. You will have to use the same plate from start to finish so it is advised to start small as the plate can get very messy.
Five types of curry, marinated chicken, boiled potatoes, rice and a variety of vegetables are all part of the lunch buffet. It is very difficult to keep the curries from running into each other so many people like to build "walls" on their plates using vegetables or rice.
This buffet is a great opportunity to taste the variety of Moyan's curry sauces and to fill your stomach with nutritional food at a reasonable price. At lunchtime, you can even try a couple of curries that are not available on their dinner menu such as the spinach curry.
Please note that you cannot order items from the dinner menu during lunch hours.
How about a Delicious Dessert?
Moyan stores also offer handmade desserts. They pride themselves on making one of the strongest matcha and dark chocolate gelato in Japan. Usually, matcha gelato has only up to 6% matcha content, but Moyan's matcha gelato is made with 12% powdered green tea from Uji, the city famous for tea production located south of Kyoto.
If you want something more fruity, try their mango gelato, which made with real mangoes or the annin tofu which comes with a side of yuzu gelato. Annin tofu is a jellied dessert made of apricot kernel milk that tastes like almonds. The creamy flavor provides a great contrast to the tart yuzu citrus flavor of gelato.
Another popular item on the menu is the cold water infused cheesecake topped with brown sugar and honey syrup. It is carefully dehydrated to achieve the perfect creamy consistency that melts on your tongue.
Each dessert is available for 380 yen. All of them are made with beet sugar or honey, no refined sugar is used. As a result, the desserts are not too sweet and have the perfect balance to be enjoyed after a rich curry meal.
Moyan Curry - Discover the Endless Possibilities of Curry Dishes
Moyan Curry only uses high-quality ingredients, putting the greatest care in preparing their dishes. The natural ingredients make their curry surprisingly light, fruity, and not heavy at all. Most people who try their curry will become returning customers with some even claiming it is the best curry in Tokyo.
If you like Japanese curry, make sure to visit Moyan Curry in Tokyo. Don't forget to leave some room for their delicious dessert as well!
In cooperation with Moyan Curry

The information presented in this article is based on the time it was written. Note that there may be changes in the merchandise, services, and prices that have occurred after this article was published. Please contact the facility or facilities in this article directly before visiting.