Drink Up At Sakenojin, Niigata's Annual Sake Festival!
Niigata Prefecture has the highest number of sake brewers in all of Japan. On March 10th and 11th, head to the Sakenojin event in Niigata for delicious sake and food.
What's the Secret to Niigata's Delicious Sake?
Photo by: Niigata Sake Brewers Association
Niigata prefecture is home to over 90 sake brewers, the most in the country. Many of its sake varieties are also famous. Let's take a look at what makes Niigata prefecture's delicious sake so popular with not just Niigata residents but people all over the country.
1. A Focus on the Rice, Sake's Main Ingredient
Sake is made from rice, and Niigata is one of Japan's leading rice producers, known for its famous brands. That is exactly why Niigata brewers are sticklers for what rice they use, as the rice used in sake brewing is different from rice for consumption. Known as sanmai, this rice has larger grains than normal, and the opaque part in the center of the grain, called shinpaku, is also larger. It is said that the more shinpaku is used in sake brewing, the more refreshing the final product becomes, with less bitterness. Niigata sake uses an extravagant amount of shinpaku, and in top-grade daiginjo sake, which has a gorgeous aroma and deep flavor, more than half of each grain is milled away. By doing this, the sake becomes more fragrant and refreshing.
2. Niigata is the Best Environment for Brewing Sake!
To make delicious sake, you need water as well as rice. Winters in Niigata are harsh and long, and the area sees a lot of snow pile up. In the spring, the snow melts and comes down from the mountains as water, carrying along the nutrients accumulated in the mountains. It is fundamental for Niigata sake to use this water from snowmelt. Also, the snow works to purify the air. This clean air encourages the growth of the rice malt mold and yeast which dictate the sweetness of the sake. In this way, Niigata is gifted with the perfect environment and ingredients for making delicious sake.
The Sake Festival, Niigata Tanrei - Niigata Sakanojin
Photo by: Niigata Sake Brewers Association
Every year in March, an event is held in Niigata where people can enjoy delicious sake to their hearts' content. Beginning in 2004, the Niigata Tanrei - Niigata Sakanojin was held on March 10th and 11th this year (2018). Based on the German Oktoberfest, the Sakanojin's purpose is to be an event for people visiting Japan, not just locals, to enjoy Niigata's regional sake. The Tanrei in the title means "a smooth and refreshing taste," and expresses the clear flavor of Niigata sake.
On the Day of the Event
1. Tickets
Photo by: Niigata Sake Brewers Association
You can buy tickets in advance (2000 yen) at convenience stores or tickets on the day of the event (2500 yen). For the latter, you can buy them at the counter on the second floor of the venue by the escalator. Also, you can get late entry tickets (1500 yen) at the venue if you come after 15:00. If you want to avoid the crowds, you can aim to come later in the day. Typically, most tourists buy their tickets at the venue, so you can relax even if you want to buy your ticket on the day of the event.
*Check the Information section for ticket application details (in Japanese).
*Non-drinkers can enter for free.
2. Line Up to Receive an Ochoko Cup and Water
With your ticket in hand, line up and get your wristband. Go through the entrance on the first floor and present your ticket, and you will receive an ochoko sake cup and water.
3. Sake Tasting Booths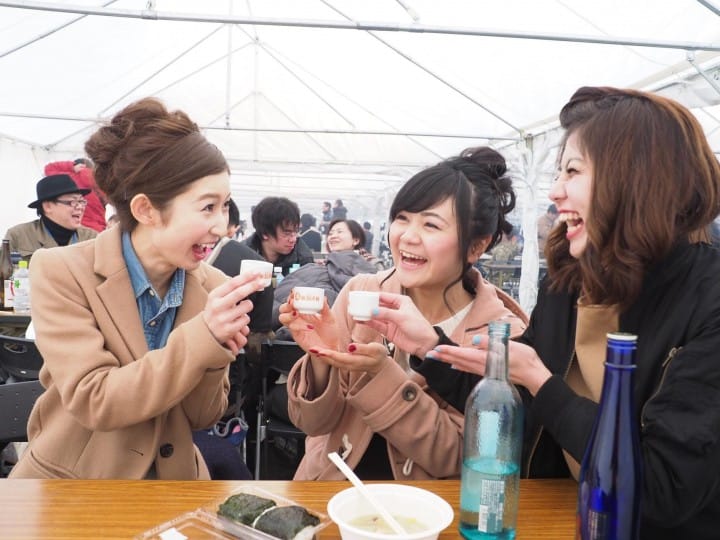 Photo by: Niigata Sake Brewers Association
After that, all you have to do is find a good place to drink sake and eat your fill! 85 sake brewers, most of Niigata's sake industry, will be in attendance. They will each be providing different varieties of sake, so go to a booth that catches your fancy and ask to have your ochoko cup filled up. Once inside, you can enjoy sake to your heart's content! Enjoy Niigata sake, but make sure not to drink too much. Naturally, there are not just sake booths; there are also plenty of food booths serving up dishes made with Niigata ingredients. Food is not included in the ticket, so if you want to eat something, go to that booth and buy it there.
There are chairs and standing tables inside the venue, so if someone is already next to you, ask them "Koko o tsukatte mo ii desu ka?" ("Can I use this spot?") Even ordinarily-shy Japanese people will be quite sociable with some sake in them, so with one phrase, you may spark an interesting conversation.
A Local's Recommended Sake and Food Pairings
With all the sake and food available at the event, you may be at a loss as to what you should order. We asked the head of the Niigata Sake Gold Volunteers, Hideo Watanabe, for his advice, and he gave three suggestions.
A Fresh-Tasting Sake Goes Well With Traditional "Hegisoba"
Photo by: Niigata Sake Brewers Association
Hegisoba and Roast Duck (Kojimaya) with Myokosan Fresh Spade
If you're feeling a little tired after drinking a lot of sake, we recommend Niigata hegisoba noodles, made with funori seaweed, which have a firm springiness but go down smoothly. Myokosan Fresh Spade has a fresh, clear, light taste that goes perfectly with the hegisoba noodles. Mr. Watanabe noted, "The sake will quickly be carried throughout your tired body, and you might end up having too much, even though you wanted to take a break!"
Sake with an Acidic Aftertaste Goes Well With High-Grade Beef!
Photo by: Niigata Sake Brewers Association
Murakami Beef Yakishabu Rice Bowl (Ikanosumi) and Warakugoson Tokubetsu Junmaishu Koshihikari by Ikeura Brewery
Murakami beef is a well-known Niigata brand. To draw out its flavor, the roast is slow-cooked at a low temperature, and enjoyed with Koshihikari from Niigata Prefecture. The Yakishabu Rice Bowl is packed full of the appeal of Niigata, and the sake that goes best with it is the Warakugoson Tokubetsu Junmaishu Koshihikari. As Mr. Watanabe said, "The meat's flavor is expansive, and goes excellently with Koshihikari rice, which gets sweeter as you chew it. Also, the acidic aftertaste of the sake tightens up the flavor of the fatty Murakami beef." Try out this concentrated pairing of Niigata deliciousness.
Sake That Draws Out the Deliciousness of Western Food
Photo by: Niigata Sake Brewers Association
Shirasu Pizza (Vittoria) and Kayama Junmai Ginjo Pure Undiluted Sake by DHC Brewery
At Sakenojin, you can also try Western food. It might seem like an odd pairing, but Mr. Watanabe recommended the pairing of shirasu (young sardine) pizza and Kayama Junmai Ginjo Pure Undiluted Sake. The weightiness of the undiluted sake and the fruity aroma that is characteristic of pure sake is not outdone by the strength of the pizza's herb and garlic flavors. "Kayama has a bittersweet taste, but the flavor gently covers the ocean aroma and salty tang provided by the shirasu and anchovies, balancing the whole thing out," Mr. Watanabe stated.
In Closing
Of course Sakenojin is attended by many Niigata residents, as well as many people from all over Japan. By all means, come to Niigata, home of delicious sake, for this once-a-year event - not just to savor some drinks, but enjoy a great chance to have a cultural exchange with Japanese people!
In cooperation with: Niigata Sake Brewers Association

The information presented in this article is based on the time it was written. Note that there may be changes in the merchandise, services, and prices that have occurred after this article was published. Please contact the facility or facilities in this article directly before visiting.