Sake Tasting At Koedo Kurari, Kawagoe - Delicious And Local Flavors!
Kikizakedokoro Showagura inside Koedo Kurari, Kawagoe, is a sake tasting destination in Saitama. Here you can sample various types of Japanese sake. Why not try some delicious local sake along with some tasty treats?
Koedo Kurari: Enjoy Japanese Sake from Saitama
Kawagoe City in Saitama Prefecture is known for its historical Edo period townscape. Within this city is Koedo Kurari (Kawagoe City Industry and Tourism Center), where you can find Japanese sake produced by the 35 kuramoto (*1) of Saitama.
*1 Kuramoto: People or places making and selling sake.
Koedo Kurari is located in a restored old sake cellar used by the former Kagamiyama Shuzo Brewery from 1875.
There are three cellars on site. It is a fun spot where you can find local Kawagoe products along with sake from Saitama Prefecture. This article focuses on Kikizakedokoro Showagura, where you can enjoy all of Saitama's sake.
More than 40 Sake Types at Kikizakedokoro Showagura!
At Kikizakedokoro Showagura, you can sample different drinks with a sake tasting experience and also snack on accompanying side dishes. The paid tasting machine is a fun way to enjoy the sake, allowing customers purchase tokens in order to sample various sake and snacks.
A Sake Amusement Park! Sample Drinks with Tokens
You can buy tokens next to the tasting machine. There are instructions on how to use the machine written in English, so even non-Japanese readers can use it.
You need a 500 yen coin to buy tokens. If you don't have a 500 yen coin, you can exchange a 1,000 yen bill into 500 yen coins.
Four tokens cost 500 yen, and once you have your tokens, you can start picking out the sake you want to drink!
Insert one token into the machine (upper-right picture), then set your cup inside the machine (pictured on the lower left). Press the button (pictured on the lower right) and one cup-amount of sake will pour out. Once the sake stops, remove the cup from the machine and enjoy.
* Please note that the exchange machine does not accept 5,000 and 10,000 yen bills. If you would like to break your bills, go to the register behind the tasting machine and ask the staff.
Find Your Favorite Sake!
At the tasting machine, you can sample 40 different types of Japanese sake. You can sample up to four cups with four tokens.
There are a total of four tasting machines. Sampling numbers from 1 to 40 are written under the sake. Samples number 1 to 35 are standard products, and 36 to 40 are limited edition products.
Next to the sampling corner is a list describing sake you can try at the tasting machine. This is handy when you are trying to pick out which variety to sample. This is perfect for people who would like to know the flavors and differences between the sakes from 1 to 35.
4 Sake Recommendations from the Tasting Machine
1. No. 3: Kinmon Sekai Taka - Beginner-Friendly Junmai Ginjoshu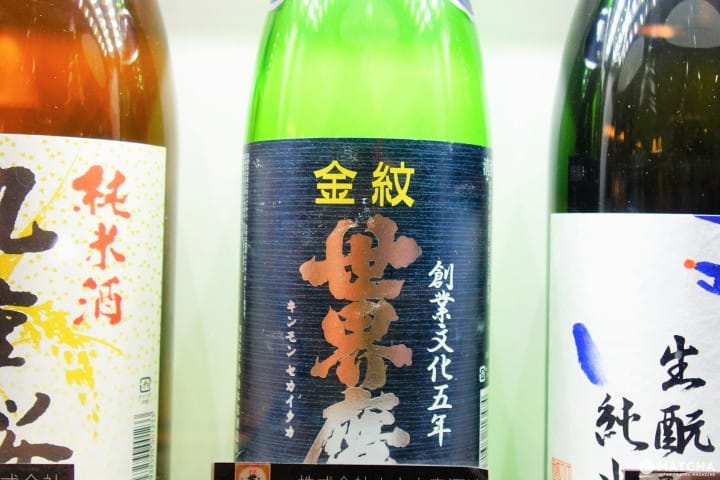 Kinmon Sekai Taka (center) is a Junmai Ginjoshu (*2) with a rich, fruity fragrance and a bold rice flavor. It has a distinctive taste and is easy to drink.
*2 Junmai Ginjoshu: A sake made using well-polished rice, rice bran, and water, creating a very fragrant sake.
2. No. 15: Bukou Masamune - Rich Junmaishu
Bukou Masamune has a defined rice taste and savory flavor. It is a Junmaishu (*3) with a slightly dry taste and a classic sake flavor.
*3 Junmaishu: A sake made using rice, rice bran, and water with a bold flavor.
3. No. 17: Naozane - Refreshing Tokubetsu Junmaishu
Naozane is a dry sake with a refreshing aftertaste. It is easy to drink and has a smooth texture when chilled. At room temperature, it has a slight sweetness and mellowness. It is fun to taste and compare the different flavors of this beverage.
Try some of the sake lees cream cheese (2 tokens needed) along with this sake. It pairs deliciously with the cheese, which has a rich flavor from the sake lees. You can buy this at the meeting counter.
You can also purchase this at the Meijigura if you want to take it home with you.
4. No. 20: Hakusen - Fruity and Elegant Yamahai Junmaishu (Oogi)
Hakusen is a junmaishu with a fruity taste similar to wine. It is refreshing and dry, and goes well with the flavorful pickle set (2 tokens).
The pickle set is also sold at the meeting counter. Pickles are also available to buy if you want to take them back home at the fermented food corner in the same cellar.
Other Delicous Sides for Sake
At the fermented food corner you can find more tasty sides to perfectly accompany your sake.
There is a miso dip that goes well with cucumbers, vegetables, and even on top of rice!
In the picture above on the left is the sweet miso called Komagou no Oname 180 g (302 yen, tax included). The middle is a miso with garlic and ginger called Komagou Misodare 150 g (432 yen, tax included). On the right is a miso mixed with sour plum called Ume Komagou no Oname 150 g (432 yen, tax included).
Easily Select Your Preferred Sake at the Tasting Machine
Next to the tasting machine is a chart that shows four types of Japanese sake based on taste and fragrance. If you aren't sure what type of Japanese sake you want to drink, use this chat to decide.
The sake are separated into four types―rich and dry, rich and sweet, light and dry, and light and sweet.
In Japanese sake, higher dryness means a higher alcohol concentration and less sweetness. When the dryness is low, the sake has a higher sugar content and is sweeter. Differences in richness and lightness are based on the acidity of the drink. Rich sake has a deeper and bolder taste, while lighter sake has a sharp and refreshing taste.
However, Japanese sake is very delicate. Therefore, there will be differences in how sweet or how dry the sake tastes depending on each person's physical condition and their taste buds. After sampling the sake for yourself, you may not agree with the four types of Japanese sake, but feel free to use the chart as a general guide.
Enjoy tasting the different sakes at the bar counter in the center. Japanese sake has an alcoholic percentage of 15-17% so it is recommended to drink it with some mineral water (1 token) to keep a balance.
Once you are done using the sampling cup, please put return it to the basket mean for used cups.
Drink High-End Japanese Sake at the Meeting Counter
At the meeting counter inside the facility, you can also sample high-quality Japanese sake that normally costs 2,000-5,000 yen for a bottle. The samples vary on the season, but there are several types of sake and you can sample it for 3-4 tokens for a cup. For those who are curious, please ask the staff at the meeting counter.
Other Highlights of the Cellar
In addition to Kikizakedokoro Showagura, there are also other shops in the facility, like Omiyagedokoro Meijigura, where you can buy souvenirs, and Makanaidokoro Taishogura, where you can enjoy a meal.
Try Sparkling Sake at Meijigura
Kagamiyama Sparkling (500 yen, tax included) is a sparkling sake which can only available here. It has an alcoholic percentage of 12% and is slightly lighter than other Japanese sakes. It has a refreshing aftertaste like champagne.
You can also try some of Kagamiyama brewery's sake, which starts at 200 yen.
Savor Delicious Kawagoe-Style Meals at Taishogura
Picture courtesy of Koedo Kurari
At Taishogura you can try a wide variety of Japanese sake and local beer from Kawagoe.
The most popular menu item is the Kawagoe Beniimo Gozen (1,458 yen, tax included) that features sweet potato from Kawagoe.
Come to Koedo Kurari After a Day in Kawagoe!
Kurari is a great place to take a break at after exploring Kawagoe. We highly recommend sampling the sake and dishes here, and browsing the local souvenirs.

In cooperation with Koedo Kurari

The information presented in this article is based on the time it was written. Note that there may be changes in the merchandise, services, and prices that have occurred after this article was published. Please contact the facility or facilities in this article directly before visiting.