Savor Saitama's Local Products! 4 Unique Sake Breweries And Wineries
Saitama prefecture is well-known for the quality of its rice, vegetables and fruit. The region boasts famous sake and wine brands, as well as delicious local cuisine. We introduce here four facilities where you can enjoy the local products of Saitama.
Saitama Prefecture is blessed with a rich natural environment, with the Kanto Plain on the east side, and the Kanto mountains, including the Chichibu mountains, on the west side. Saitama offers many spots to enjoy beautiful views, as well as exciting activities such as the Nagatoro River rafting and steam locomotive rides.
Saitama is also famous for producing vegetables, rice and fruits. If you have the chance to visit, please try the local products. This article is about four interesting spots where visitors can enjoy the local brews and dishes of Saitama.
1. Buko Sake Brewery
Buko Sake Brewery, located near Chichibu Station, has been producing sake in this area its foundation in 1753. The brewery is located in an elegant Japanese-style house, which has been designated a tangible cultural property by the Japanese Government.
The underground water from Mt. Buko seeps into the well at the brewery. This pure spring water was chosen as one of the 100 famed mineral waters of the Heisei era (1989 - present), and is the key to the Buko Sake Brewery products.
Visitors can tour the Buko Brewery, and see how the sake is made, while learning how to appreciate it.
The tour ends with a tasting session. Participants can enjoy the rice flavor of junmai-shu (sake made from only rice and yeast), the crisp taste of hon-jozo (sake brewed according to a strict formula) and the deep flavor of muroka genshu (non-filtered, unprocessed sake). They can also try the kome (rice) shochu, kasutori shochu (shochu distilled from sake lees), and sake-based liqueur such as ume (Japanese apricot) liqueur and yuzu (citrus) liqueur.
After the tasting, go look for the brand of your choice at the liquor shop. Buko produces a wide variety of brands to choose from, so there should be one that fits your taste.
2. Yao Honten Sakezukuri no Mori
Yao Honten Sakezukuri no Mori, located in Chichibu city, produces the noted sake brand Chichibu Nishiki. It is also a complex that consists of a brewery, liquor shop and a museum dedicated to sake production.
Yao Honten is one of the long-standing breweries in Saitama, with a history of 268 years. The Sake Brewery Museum displays materials about the tools used in the brewery's early days, so it is worth a visit. After learning the history of sake-making, the visitors can join a brewery tour.
Tour participants will be surprised at the magnitude of the sake business.
At the tasting booth, try the famous brands such as Chichibu Nishiki and Masuya Rihei.
Chichibu Nishiki, which is a junmai-shu (high-quality sake), has been made for 268 years using the same traditional method. Its mellow taste has been loved by many people, and the brand continues to be popular. Sakezukuri no Mori is a great place to learn about sake, and also have a good time.
3. Seiun Sake Brewery
Ogawamachi in Saitama has a history of 1,300 years, and is the home of Ogawa Washi, a type of Japanese paper which is still made by traditional methods. Surrounded by mountains, Ogawamachi is blessed with clear waters, and produces delicious rice and vegetables.
Seiun Sake Brewery, based in Ogawamachi, makes full use of the local rice and water.
Visitors can participate in a tour of the facilities, and learn about the various processes of sake-making such as rice-milling.
At the liquor shop, visitors can buy Tezukuri Seiun (one of the prominent sake brands made by Seiun), dai-ginjo (top-quality sake made from premium rice) and shochu. Tezukuri Seiun is a high-quality junmai-shu with a rich, clear taste that goes well with a wide variety of dishes.
Seiun Sake Brewery believes that "sake should be enjoyed with fine cuisine."
So they started the restaurant Tamaiya, which uses organic vegetables produced locally in Ogawamachi.
Photograph courtesy of Seiun Brewery
The popular menu at Tamaiya is the Obanzai (*1) course called Tsuki Gozen, which consists of dishes made using local vegetables. It comes with handmade hiryozu (*2), tororo-meshi (grated yam on rice), kasu-jiru soup (*3) and tsukemono (pickled vegetables). The domestic pork used for the main dish is seasoned with miso (fermented soybean paste) mixed with Seiun Brewery sake and sake lees. Customers can choose salmon or another seasonal menu for the main dish.
*1: A general term for household dishes using the seasonal products.
*2: Deep-fried bean curd made from various vegetables. It is also called "ganmodoki."
*3: A soup made from sake lees, a byproduct of the brewing process. The soup has a distinct, sake-like flavor.
Tamaiya also has a garden and a gallery, where the visitors can spend time in a quiet atmosphere admiring works created by local artists.
4. Usagida Winery
Picture courtesy of Usagida Winery
Usagida Winery, located in western Chichibu, uses locally-produced grapes in making a wide variety of wines.
Picture courtesy of Usagida Winery
In this area rain is scarce and there is a distinct difference in temperature between daytime and nighttime, so it is perfect for the grapes. Usagida Winery cultivates multiple types of grapes, and visitors can tour both the vineyard and the winery.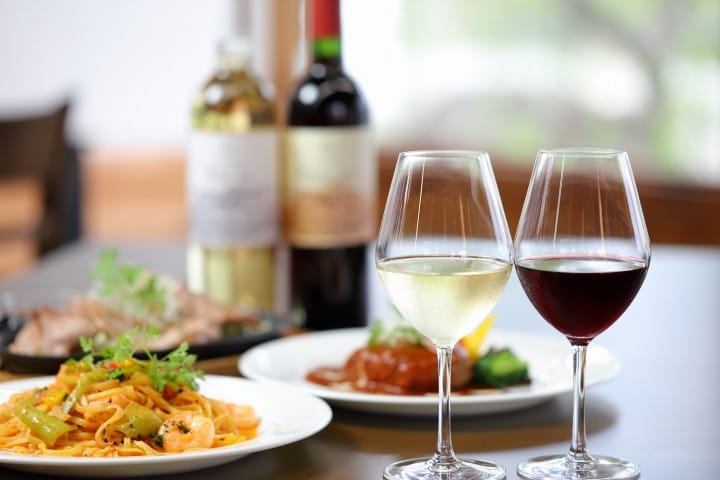 Picture courtesy of Usagida Winery
The Kai Blanc variety of grapes has a clear flavor, while the Seibel grapes have a sweet taste resulting in a wine with a good body. Muscat Bailey A is a type of grape for red wine which was cultivated in Japan, and has a velvety flavor.
Chichibu Rouge and Chichibu Blanc, the two main brands of Usagida Winery, can be purchased at the wine shop. There are also other brands that can be purchased only at this shop, so be sure to check it out when you visit.
Usagida Winery also manages the Kamanoue Farm Restaurant, and serves their wine with dishes made from local products. Be sure to spend some time in the spacious restaurant, and enjoy the fine products of Saitama.
In Conclusion
If you visit Saitama, be sure to try the local sake and wines along with the local cuisine. They should convince you to make another visit!

Sponsored by 埼玉県

The information presented in this article is based on the time it was written. Note that there may be changes in the merchandise, services, and prices that have occurred after this article was published. Please contact the facility or facilities in this article directly before visiting.