Breweries and Wineries in Yamagata: Three Must-Visit Spots!
If you love sake, you need to visit Yamagata! Famous as a rice production and grape growing region, Yamagata boasts many breweries and wineries. On your next trip there, be sure to sample tasty sake and wine made with fresh, local ingredients.
Discover the Regional Characteristics of Yamagata Sake
Yamagata Prefecture, known for its flourishing fruit production, is often referred to as the "kingdom of fruit."
But that's not all. The prefecture also boasts some 52 breweries and 17 wineries, making this region an ideal place to enjoy tasty sake and spirits.
Famous for its rice production, Yamagata holds the proud distinction of being the number one producer of Japanese sake in the Tohoku Region.
What's more, as one of Japan's four major wine-producing areas, Yamagata has been receiving widespread attention from wine enthusiasts.
Today we introduce three facilities that will steal the hearts of spirits lovers: a sake bar, a brewery, and a winery!
1. Yamagata Sake Museum and Yukemuri Bar Tsumami: Hot Springs, Skiing, and Tasty Sake
Picture courtesy of Yamagata Sake Museum and Yukemuri Bar Tsumami
For those who want to enjoy hot springs, skiing, and sake, we recommend Yamagata Sake Museum and Yukemuri Bar—a tourist spot located in the Zao Onsen area.
It opened for business in 2018, after the Tohoku Electric Power Company renovated a 3,552 square foot building into a resort facility.
The alcoholic beverages made in Yamagata have been awarded the GI Yamagata" designation. "GI", or Geographical Indication, is a system that preserves the production area's name as intellectual property. Some international examples include Bordeaux (wine), Champagne, and so on.
The Japanese sake sold on the shop premises is all GI Yamagata.
Sake production in the entire prefecture has received the GI Yamagata designation. Yamagata is the only prefecture in Japan that has been bestowed with this honor!
The shop offers roughly 50 sake varieties. If you're having difficulty deciding which one to try, we suggest checking the menu.
Each region in Japan features its own special products; the menu will introduce the products made in Yamagata and their unique characteristics. This will make it easier for you to choose one that looks interesting from this large selection.
We recommend the kikizake set, which allows you to sample a handful of different sake varieties. There are different kikizake sets including the Winter Limited Edition Course and the Original Dry Course, with prices in the 800 to 1,500 yen range.
Premium Course (Junmai Ginjo, Ginjo) 1,500 yen with tax
During the interview, our writer ordered the Premium Course. The Junmai Ginjo, Hakurosuishu, and Dewasanzan offered a smooth, refreshing taste with a delicate sweetness. They were easy to drink and left a crisp, fresh aftertaste.
Zao Beef Steak 2,500 yen with tax (Picture courtesy of Yamagata Sake Museum and Yukemuri Bar Tsumami)
At Yukemuri Bar Tsumami they also offer an extensive selection of local culinary specialties. One popular menu item is the Zao Beef Steak, featuring extremely tender and juicy meat.
Try it with a special Japanese sake called Shuho! The sake's slightly tart and sweet flavor matches perfectly with the steak, enhancing the meat's saltiness, and resulting in a superb experience.

2. Toko Brewery - Boasting a Tradition of More Than 420 Years
Toko Brewery has a history of more than 420 years, and is currently managed by the 24th descendant of the brewery's original founder. Since its early beginnings in the Yonezawa domain (*1), it came to be known as the exclusive sake supplier to the Uesugi clan, the local feudal lords.
The original brewery building—not far from the current Toko Sohonten (main building)—was restored, and part of it now serves as a Sake Brewing Museum that's open to the general public. Here, visitors get a glimpse into the sake making process and daily life inside a Japanese brewery.
(*1) Yonezawa: refers to the area surrounding present-day Yonezawa city during the Edo Period.
The warehouse—where the raw materials for the sake are fermented in preparation for brewing—is one of the largest in the Tohoku area.
When you look at the meticulously maintained environment with all the carefully restored tools, you can really feel the dedication of the hardworking people from earlier generations.
In the production warehouse, large barrels are neatly displayed in two rows. The huge barrels and expansive warehouse are simply overpowering, and you really feel like you're inside a brewery.
This is one of the most popular spots in the museum for taking photos.
Let's also take a closer look at how this building was constructed.
In one part of the main building, neither bolts nor nails were used, highlighting a traditional architectural style that utilized wooden wedges instead.
It's rare for a historic building of this kind to be preserved so magnificently. As a result, it has received widespread attention both domestically and from abroad. The structure has served as a filming location for movies, as well as commercials for some famous cosmetic companies.
We've also been told that this unusual building technique is very difficult to recreate, prompting visits from many people who have a keen interest in architecture.
Sake Museum Tour Admission: general 350 yen, junior and high-school students 250 yen, elementary school students 150 yen.
Ginjo Umeshu - 500 millileters: 1,650 yen including tax, 1800 milliliters: 3,960 yen including tax
Inside the museum, there's a store where you can purchase all of Toko Brewery's sake products.
Toko Brewery's Japanese sake has won numerous awards in recent years, and their sake is currently exported to 19 countries around the world. Taiwan was their first international customer!
At the present time, their most popular product is their Toko Ginjo Umeshu (plum sake), which has won awards in three different competitions.
It has a full-bodied fruity taste and is refreshing to drink, making for an unforgettable sake experience. Just what you would expect from a triple crown winner in Umeshu competitions!
3. Takahata Winery - The Heart of a Grape Growing Area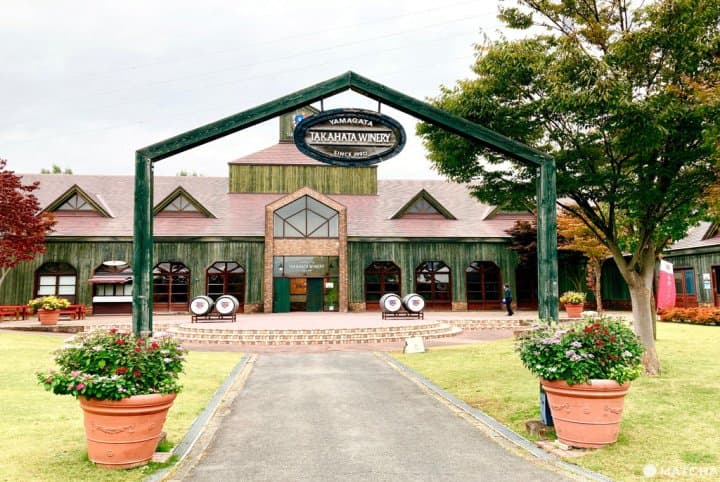 Takahata Winery is located in Takahata Town in Yamagata's southeast area. This region is a foremost production area for grapes and La France pears.
Located in a basin, this region has large differences in daytime and evening temperatures during the summer and fall, and relatively low levels of precipitation. The days are also marked by long hours of sunlight, making this environment ideal for growing high-quality grapes!
Here you'll find both a large vineyard and a European-style winery. It feels just like you're visiting an overseas winery.
A reference room teaches visitors the history of wine making and introduces Takahata Winery's numerous products. Many of Takahata Winery's top wines are proudly displayed on a nearby wall (see photo above).
The vineyard grapes cultivated for wine-making are about the same size as blueberries.
Different from standard table grapes, wine grapes are smaller and characterized by thicker skin, less flesh, and highly concentrated sweetness.
During fermentation, added yeast causes the sugar transform, creating the wine's alcohol content. That's why grapes with high sugar content are essential for producing high-quality wine.
The gift shop is lined with many kinds of wine. You may be tempted to sample each and every one of them!
The shop does offer taste testing sessions, so if you have an opportunity, give it a try. It's also a good idea to ask the shop staff for their recommendations.
The shop even sells sausages that make the perfect accompaniment for wine. The photo above shows Japan pork sausages made by a local meat processing company called smoke house fine.
Takahata wine is used during the production process, resulting in a sausage that gives off a subtle yet tantalizing aroma. We were told that these sausages have also won awards at international meat competitions.
Ifujin Pink Soft Ice Cream 350 yen including tax
One final thing to mention is the Mahoroba no Ifujin (Pink) Soft Ice Cream.
As soon as the ice cream touches the tip of your tongue, the wonderful fragrance of wine and its slight astringency quickly spreads through your mouth. We recommend this soft ice cream for visitors who aren't quite accustomed to the taste of wine.
Get Acquainted with Yamagata's Culture by Tasting Delicious Sake and Wine!
Even for visitors who prefer not to drink alcohol, we highly recommend a tour of a brewery or winery!
Learning about the nearby region through its food culture is one of the real pleasures of traveling, not to mention enjoying the delicious taste of local specialties.
This outstanding sake culture is a result of Yamagata prefecture's distinct geographical environment—from where the sake ingredients of fresh water and high-quality rice and grapes are found.
Take the time to visit a brewery or winery to make the most of your Yamagata excursion!
Written by Kenko
Sponsored by Yamagata Prefecture
The information presented in this article is based on the time it was written. Note that there may be changes in the merchandise, services, and prices that have occurred after this article was published. Please contact the facility or facilities in this article directly before visiting.