Shrines And Temples!? A Shibuya Tour Filled With Local Discoveries
Along Tokyo's Setagaya Line there are peaceful temples and shrines overflowing with nature, making you wonder if you really are in a big city. Today we'll introduce hidden sightseeing spots and suggestions for things to do in Shibuya's suburbs.
Shibuya, Tokyo: Places to Visit along the Setagaya Line
Shibuya is known as an area loved by the youth. With the Scramble Crossing, the Hachiko Statue outside the station, and shopping complexes that allow you to discover the latest trends, Shibuya is attracting attention from around the world.
But did you know that not far from the big city atmosphere of Shibuya, there are many attractive hidden spots known only by the locals? In this article we'll take a short jaunt from this metropolis and introduce some of the highlights along the Tokyu Setagaya Line (referred to as the Setagaya Line from here on).
The Setagaya Line is among one of the few train lines to receive the TripAdvisor Certificate of Excellence in 2019. The award reflects consistently high reviews across shops and facilities along this railway.
At the end of this article, we will introduce WANDER COMPASS SHIBUYA, an information center for those exploring areas around Shibuya and the Setagaya Line. For a limited time, WANDER COMPASS SHIBUYA will be handing out gifts to visitors. Please drop by!
What Does the Setagaya Line Offer?
Photo courtesy of Tokyu
The cute two-car trains of the Setagaya Line are used as a means of transport by the local Setagaya Ward residents. Looking like both a regular train and also like a tram car that navigates through the city, this is a unique train line. For a limited time since 2019, a train with a maneki neko (beckoning cat) on the front, the Lucky Maneki-Neko Train, will also be running. Check the specific operating times of this tram at WANDER COMPASS SHIBUYA.
When paying for your train fare, you can either use cash or an IC card. We recommend the Tokyu Line 1-Day Pass to get unlimited rides on all Tokyu train lines. Just show your pass before boarding the train. You can purchase the Tokyu Line 1-Day Pass at WANDER COMPASS SHIBUYA.
1. Carrot Tower - An Observation Deck Free of Charge!
To use the Setagaya Line, we'll first need to get to Sangenjaya Station, which is only five minutes away from Shibuya Station on the Tokyu Den-en-toshi Line.
Sangenjaya is one of Setagaya Ward's lively and energetic areas, and its appealing feature is that it offers visitors a glimpse into the daily life of Japanese people.
The Carrot Tower is looming majestically above the station area. A local landmark, this business complex contains a theater, a supermarket, a bookstore, and several dining establishments.
From the observation deck on Carrot Tower's 26th floor, there's a commanding view of Tokyo and the surrounding area.
If you visit in the daytime, Tokyo spreads out before you with its many homes and clusters of skyscrapers. Here you have a chance to see Tokyo's real landscape: a mix of residential and commercial buildings that co-exist side by side.
And if the weather cooperates, we've been told that it's possible to even see majestic Mt. Fuji in the distance!
Photo courtesy of Huber.
Also, if you drop in during the late afternoon, you can enjoy a stunning view of the city enveloped in a gorgeous sunset. Open from 9:30 in the morning until 23:00 in the evening, this observation deck is... yes, free of charge!
2. Setagaya Hachimangu Shrine - A Historic Shrine Surrounded by Lush Greenery!
Photo courtesy of Huber.
If you take the Setagaya Line from Sangenjaya Station, then ride for about ten minutes and disembark at Miyanosaka Station. You'll arrive at Setagaya Hachimangu Shrine.
This is a magnificent shrine with a history dating back as far as the Heian period (794 - 1185).
The shrine is surrounded by greenery and the precincts are usually quiet and tranquil. You wouldn't expect to find a shrine blessed with such an abundance of nature only minutes from a major urban area, so this makes for a memorable spot.
Photo courtesy of Huber.
In the past, ritual sumo competitions (honozumo, *1) used to be held in the shrine precincts, so even today a dohyo (sumo ring) remains. These days during the autumn harvest festival, members of sumo clubs from a nearby university stage an annual sumo competition.
In most cases, visitors are not allowed to set foot inside an actual sumo dohyo (ring), but at this shrine's dohyo, it's perfectly acceptable (see up and coming sumo wrestlers in the photo above)!
*1 Honozumo: a sumo-wrestling tournament that's held in the precincts of a shrine on its festival day, honoring both Shintoism and Buddhism.
Photo courtesy of Huber.
In one corner of the precincts, there is a shrine dedicated to the same deity as the one enshrined at Hiroshima's Itsukushima Shrine. With a pond, a red torii gate, and a bridge, this is a beautiful sight that is sure to be a delightful surprise for every visitor.
Everywhere inside Setagaya Hachimangu Shrine's precincts, there is something interesting to see, so, by all means, please enjoy exploring this area!
3. Gotokuji Temple - Beckoning Cats and Much More!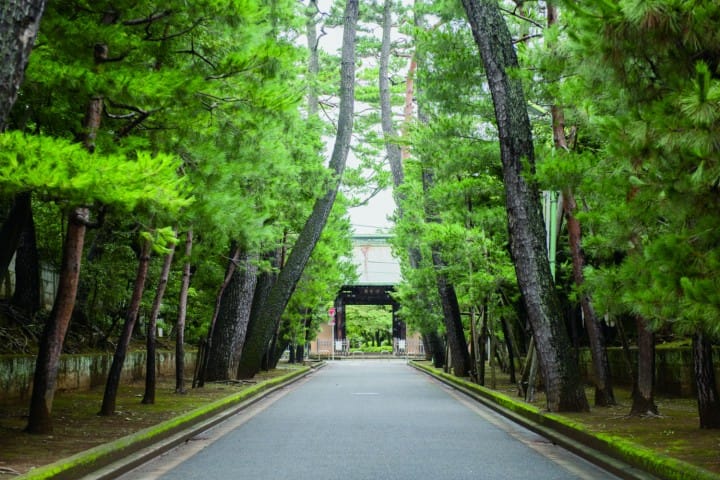 Photo courtesy of Huber.
After leaving Hachimangu, let's head back to the road we took to get here. If you go back to the area along the Setagaya Line, you can see Gotokuji Temple, located on the opposite side of the railway tracks.
Visitors from both within and outside Japan travel to this temple hoping to see the many maneki neko, or beckoning cats.
If you pass through the gate, you'll be greeted by the mystical sight of a road lined with pine trees. Some of the pine trees extend as far as thirty meters into the air, and walking under them will give you a brisk, refreshing feeling.
Photo courtesy of Huber.
If you pass under another gate along the tree-lined road, a majestic three-story wooden pagoda comes into view.
This impressive structure features magnificent detailed carvings and no matter how many times you look at them, one can never get tired of the seeing how sophisticated they are.
Photo courtesy of Huber.
In one corner of the precincts you can find an area dedicated to countless maneki neko, the main reason why Gotokuji Temple is known around the world. With cat figurines of every shape and size on display, this makes the perfect place for taking a photo to remember your trip by!
4. Sangenjaya at Night - Visit a Japanese Izakaya!
Photo courtesy of Tokyu
After visiting places like Setagaya Hachimangu Shrine and Gotokuji Temple, how about enjoying dinner at a cozy izakaya or one of the many other eating establishments located in the backstreets of Sangenjaya?
Cap off your day in Tokyo by grabbing a drink and enjoying delicious local cuisine with your friends.
5. WANDER COMPASS SHIBUYA - Your Guide to Sightseeing in Shibuya and Setagaya Line Areas
Picture courtesy of Tokyu
Stop by WANDER COMPASS SHIBUYA before exploring Shibuya and areas along the Setagaya Line. The information center is located directly under Shibuya's iconic scramble crossing and easily accessible from Shibuya Station.
The employees are extremely friendly and knowledgeable about the Tokyo area. They might even suggest some hidden gems in Shibuya that you won't find in any travel guide!
The way to WANDER COMPASS SHIBUYA. Picture courtesy of Tokyu
You can also purchase the Tokyu Line 1-Day Pass (680 yen for adults, 340 yen for children; both fares include tax) at WANDER COMPASS SHIBUYA.
MATCHA Reader, Project a Picture of Yourself onto Shibuya Scramble Crossing
Picture courtesy of Tokyu
WANDER COMPASS SHIBUYA is currently holding a giveaway for readers of this article. This time-limited gift will enhance your photos of Tokyo's famed Shibuya Scramble Crossing!
The staff at the information center will take any picture on your phone and print it on a plastic sheet. Line the sheet up with the large-screen monitor to project yourself onto the crossing! It will make for a one-of-a-kind photo to mark your memories in Shibuya! The giveaway is first-come, first-serve.
You can find WANDER COMPASS SHIBUYA near Exit A2 next to the SHIBUYA 109 building, a popular shopping mall for Tokyo's youth. Stop by on your next visit to Shibuya!

Sponsored by Huber., Tokyu Corporation
Main image courtesy of Huber.

The information presented in this article is based on the time it was written. Note that there may be changes in the merchandise, services, and prices that have occurred after this article was published. Please contact the facility or facilities in this article directly before visiting.