A Must For History Buffs! Japan's Top 100 Castles Stamp Rally
You will find many different examples of Japanese castles scattered across the country. If you would like a taste of traditional Japanese atmosphere, then Japan's Top 100 Castles is the best way to get it.
While shopping and enjoying gourmet foods are both enjoyable aspects of travel, the real pleasure of travel comes from getting a feel for the history and culture of the land.
If you'd like to experience Japanese history firsthand, then castle tours are your best option! In Japan, the era of those men who battled for a living, the samurai, lasted for hundreds of years. Because of this, many of their homes and castles are still standing today all across the nation. But of course, there are also castles that were unique to that age, and even earlier, still preserved to this day as well.
Ueda Castle gate
A castle that not only combines practicality as a fighting facility, but unique architectural beauty not found in castles in other countries, and a majestic style, is one of the must-see places for anyone considering a trip to Japan.
However, there are castles nationwide in Japan, and it is not always easy to tell which castles have historical significance, or if it is a recognized cultural property of Japan without some prior knowledge. In addition, of the castles that are open to visitors, some are reconstructions fully built in the post-war period. Furthermore, knowing just what to see in the castle itself and what its relevant sights are can be difficult too.
As a result, in this article, we will be introducing a trip using Japan's Top 100 Castles as a guide so that those not familiar with history can get the most out of their visit to a Japanese castle.
What Are Japan's Top 100 Castles?
Japan's Top 100 Castles refers to 100 castles located across Japan that have been selected by the Japan Castle Foundation. These are considered to be the best known of the tens of thousands of castles that once stood in Japan; many of which are now famous castle ruins.
These 100 castles were selected based on their value as a cultural asset as well as on the role that it played in the history of Japan, so Japanese history buffs are sure to find a visit to any of these castles to be quite the moving experience.
And, as many of these castles are located in well-known sightseeing spots, these areas are ideal for those who would not only like to see a castle, but want to see more of Japanese cultural as well.
Japan's Top 100 Castles Stamp Rally and How to Enjoy Japanese Castles
1. First, Pick Up the Official Guidebook!
"The Official Stamp Book of Japan's Top 100 Castles" published in 2012
Unfortunately, it is not easy to find information on Japan's Top 100 Castles at present in languages other than Japanese.
The first step is heading to a Japanese bookstore to purchase the official guidebook of Japan's Top 100 Castles. Currently there are two volumes of Japan's Top 100 Castles Official Guidebook (Historical Castle Images series) available.
Official guidebooks are sold in the history corner of Japanese bookstores, however they are not available at all bookstores, so it is best to look for them in larger shops. It is also possible that you will them sold at shops located within the 100 castles, or at bookstores by the nearest stations to these sites.
2. Read Through the Guidebook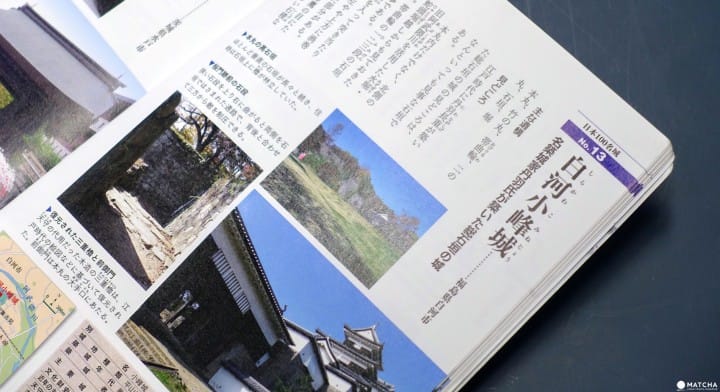 If you get your hands on an official guide book, take a look inside. There you will find Hokkaido, Tohoku, Kanto, Koshintetsu, Hokuriku, Tokai, Kinki, Chugoku, Shikoku, Kyushu, and Okinawa divided into 6 areas where the 100 most famous castles are introduced. If there is a place you'd like to go to, then it may be a good idea to first search for a castle located in that area. For more information on different areas of Japan, please refer to any of the above MATCHA articles.
Or, as the guidebooks have many gorgeous pictures in them, if you find yourself drawn to a particular castle, see something interesting about the area, or just decide that a castle "looks cool", then it's best to trust your own intuition.
You can also see some of the highlights of the castle by taking a look at these guidebooks too. If you can read Japanese, then these guidebooks will also help you as they contain the history of the castle, access information, and places where you can get your castle stamp, as described below.
3. Get Your Stamp!
The official guidebook comes with a stamp book like the photo above. At the 100 castles selected by the foundation, there are special stamps prepared at the castle itself, which you can stamp onto these pages when you visit. This is just one of the many ways to enjoy your visit to a Japanese castle!
These stamps are placed inside the reception area of the castle, in its museum, in the tenshu (*1), or other locations on site. And, if you are visiting a particularly big castle, there may be more than one stamp location as well. If you aren't sure where to look, just show the guidebook to the staff and they will be able to tell you where the stamp pad is located.
*1 Tenshu: the castle tower; the main or tallest portion of the castle that still remains; these are often the symbol of the castle itself..
4. Then Go See the Castle!
After you've collected your stamp, head out and view the rest of the castle and grounds. The beautiful castle, commemorative photography spots, and various events and activities can be found within the grounds.
And Finally - What Castle Do You Recommend?
If this is your first visit to a Japanese castle, then going to a famous one that is easily accessed and located near a major sightseeing area is your best option. In Tokyo there is Edo Castle, (the present-day Imperial Palace) which you can easily walk to from Tokyo Station, in Kyoto you will find Nijo Castle, and in Osaka there is Osaka Castle, all of which are part of Japan's Top 100 Castles.

In addition, Hyogo prefecture is home to Himeji Castle, which is not only a beautiful example of a modern Japanese castle, but also a recognized UNESCO World Heritage site.

By first visiting a famous castle, you will gain a greater appreciation for numerous aspects of Japanese culture and history. By all means, please check out Japan's Top 100 Castles!

The information presented in this article is based on the time it was written. Note that there may be changes in the merchandise, services, and prices that have occurred after this article was published. Please contact the facility or facilities in this article directly before visiting.