Nara Man'yoka Emaki Autumn Week: Experience History, Culture and Color!
This service includes sponsored advertisements.
From October to December visitors to historical Nara will have the unique opportunity to experience cultural events related to 'Man'yoka,' the stunning flowers of Japan's famed historical poetry! Events range from exhibitions to hands-on workshops!
This fall visitors to the historical city of Nara can get a taste of Japanese history and culture through events related to the flowers of Japan's ancient poetry!
Man'yoka Emaki Autumn Week will feature unique exhibitions and ikebana workshops, and promises to be both historical and colorful! The events are also entirely free of charge!
What are Man'yoka?
The word 'Man'yoka' refers to plants or flowers referenced within the Man'yoshu, the oldest anthology of Japanese waka poetry. Waka are 31-syllable poems, and just like the haiku, they feature references to seasons and nature. The ancient Man'yoshu text was compiled during the Nara Period (710 -784) when Nara was Japan's imperial capital.
Both the text itself and the plants referenced within its poems are seen as having great historical and cultural significance, and there are even botanical gardens in Japan dedicated to these plants!
Events
Man'yoka Emaki Autumn Week Exhibition
The exhibition features a number of unique and exciting displays.
Sculptures of historical poets made from Man'yoka flowers (also referred to as 'flower dolls') will be on display on the rooftop of the Nara Park Bus Terminal. Along with these colorful representations of the famed poets will be beautiful 'Hanachozu' water basins filled with floating flowers.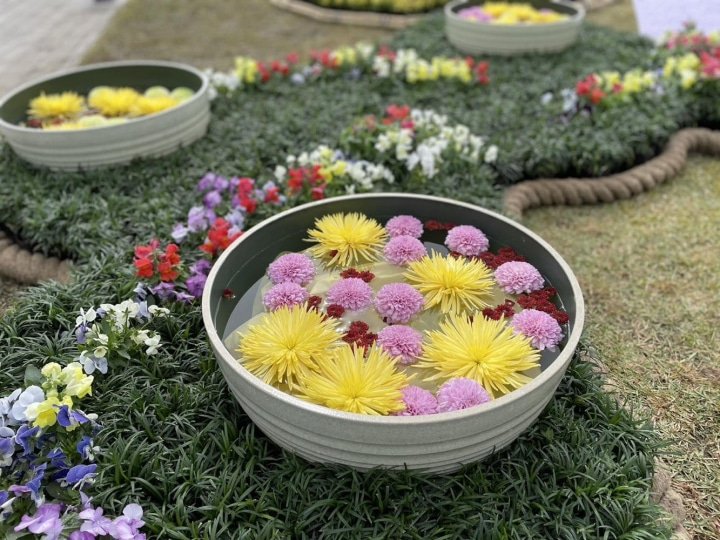 Stunning large chrysanthemums (Japan's national flower) will be displayed on the second floor, and exquisite works by Nara calligrapher Tokei can be viewed on the first floor of the station's East Building.
Dates: October 28 (Sat) - November 5 (Sun), 2023
Venue: Nara Park Bus Terminal
Time: 9:00 - 17:00
Admission: Free of charge
Official Website: https://www.pref.nara.jp/item/298605.htm (Japanese)
Ikebana Workshop and Kimono Experience
This December professional ikebana instructor Yusuke Takabayashi will teach students traditional flower arranging techniques, entirely using the Man'yoka flowers of Japan's historical poetry.
Students can participate while dressed in traditional kimono, helping further their feeling of connection with Japanese culture and history. The event is targeted toward overseas visitors and an English-speaking interpreter will be present.
The experience is a fantastic opportunity for those fascinated by Japan's ancient art of flower arrangement, as well as those who would like to experience wearing traditional dress. Both the class and kimono rental are also entirely free of charge! The maximum capacity for the event is 30 participants, so be sure to secure your spot early!
Application form (English): https://onl.sc/x8VyYU8
*Once the event capacity is reached, new applications will not be accepted. The organizers kindly ask for your understanding.
Date: December 22 (Fri) 2023
Venue: Nara Park Bus Terminal (1F)
Time: 13:00 - 16:00 (*the ending time is approximate)
Capacity: 30 participants
Admission: Free of charge
Official Website: https://www.pref.nara.jp/item/298605.htm (Japanese)
Enjoy Japanese Culture in Nara
Nara was the capital of Japan between 710 and 784 and is still considered the "cradle of Japanese culture." Take part in the events introduced above for a deeper experience of Japan.
Written by Kat
Sponsored by Nara Prefecture
All pictures courtesy of Nara Prefecture
Written by

MATCHA's promotional account for corporate and local government advertising. We aim to provide useful information to our readers in an enjoyable manner.

The information presented in this article is based on the time it was written. Note that there may be changes in the merchandise, services, and prices that have occurred after this article was published. Please contact the facility or facilities in this article directly before visiting. Some of our articles contain affiliate links. We kindly ask our readers to exercise careful judgement when making a purchase or booking a service online.