MIDETTE: A Fukushima Antenna Shop with Gourmet Seafood in Tokyo
Antenna shops selling regional specialties from across Japan can be found in various locations in Tokyo. In this article, we introduce Nihonbashi Fukushimakan MIDETTE along with well-known Fukushima specialties available here, our recommended products, and how to enjoy them!
A Treasure Trove of Food in Tokyo
Nihonbashi Fukushimakan MIDETTE
Historical buildings such as Mitsukoshi Nihonbashi, Nihonbashi Takashimaya S.C., and the Mitsui Memorial Museum line the streets of Nihonbashi, Tokyo. COREDO Muromachi is also home to Eslite Spectrum Nihonbashi, Japan's first and only Taiwanese bookstore.
Nihonbashi Fukushimakan MIDETTE (MIDETTE) is a regional specialty shop located in central Nihonbashi. In the Fukushima dialect, "Midette" is a phrase meaning "Come and look at this." It also sounds a bit like French.
The shop carries an abundant selection of well-known specialties and souvenirs from Fukushima.
Mr. Koyama—the manager of the specialty shop—works tirelessly daily with the desire for "those that have yet to visit Fukushima to learn about the prefecture." The shop had over 500,000 customers in 2015 and exceeded two million customers in 2019.
"We're visited by locals visiting Tokyo from Fukushima as well as by those living in the area seeking rare ingredients. Some customers have even told us that shopping here is as fun as a treasure hunt."
Tightly Packed with Fukushima's Essence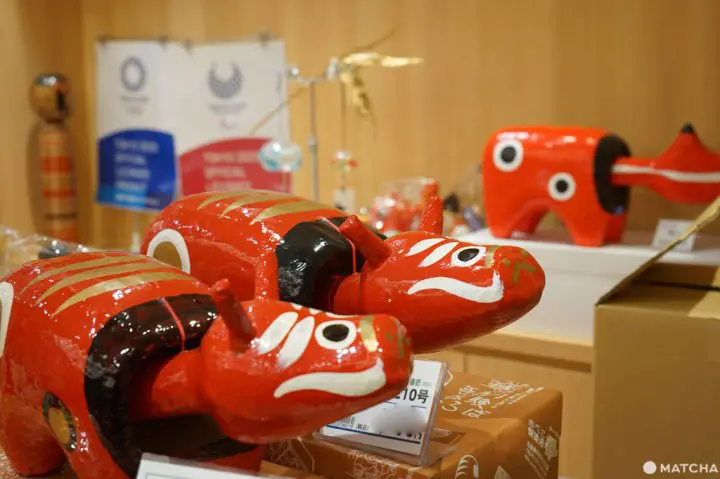 The small, cozy shop is lined with Japanese sake, rice, seasonal fruits and vegetables, and a traditional toy called Akabeko.
An online shop (Japanese) is also run alongside their brick-and-mortar shop. The online store makes it easier and more convenient to purchase heavier items like sake and rice.
The restaurant corner typically has a line of customers immediately after opening. That's because Kitakata ramen, ranked among Japan's top three ramen dishes from Kitakata City, is served here.
The restaurant corner is operated by a rotation of famous restaurants. At the time of our writer's visit, the corner was being run by Ramen Maruya, one of the top four Kitakata ramen restaurants.
Recommended Products
It's hard deciding what to buy at shops with a wide variation of products. However, Fukushima is known for its delicious seafood. As such, we recommend trying their processed seafood products.
Plum Vinegar Octopus by Kanesen Fisheries
Schools of fish converge in the waters of Fukushima due to its abundance in plankton. Among them, octopus caught here is reputed for its flavorful meat thanks to its main diet of abalone and crab.
Plum Vinegar Octopus is a processed octopus product that is easy to eat. Kansen Fisheries, the product manufacturer, are experts at processing octopus and squid. Fresh octopus is cooked until tender, then thoroughly pickled in a sweet plum-flavored vinegar.
The octopus's flavor with the sweet and sourness of plum is exquisite. Garnish it with sliced cucumbers to turn it into a little snack. It also comes in other flavors like vinegar sauce and yuzu pepper.
Baked Greeneyes Kamaboko and Pacific Saury Popoyaki Kamaboko by Kisen
Kisen in Iwaki is an established kamaboko (fish cake) manufacturer. A majority of the kamaboko factories in the city were washed away by the tsunami during the Great East Japan Earthquake in 2011. However, Kisen's factory miraculously managed to escape being swept away.
The company continues to develop new products. Especially popular is their Baked Greeneye Kamaboko.
Greeneye fish is such a famed specialty that it was designated as Iwaki's city fish. This kamaboko is firmly packed with the greeneye fish's delicious flavor. First, bake it in an oven until crispy, then garnish it with seaweed strips. It will be the perfect snack for adults and children alike.
The Pacific Saury Popoyaki Kamaboko is another recommended product.
Pacific saury popoyaki is a dish made by roasting miso, green onions, and ginger on minced pacific saury. It was initially cooked on boats by Iwaki fishers. The name "popoyaki" comes from the fact that oil from pacific saury would drip into the charcoal fire, causing the flame to furiously burn and become "popo" (burn well).
Kisen has adapted popoyaki into a kamaboko dish, giving it a texture and flavor that's easy for kids to eat. Garnish it with grated daikon radish for an elevated flavor.
Aonori by Kuroshio Nori
Kuroshio Nori, located in Minamisoma, is a seaweed specialty shop that has been operating for 55 years. Their fresh, roasted seaweed is famous for "becoming addictive after one bite."
Aonori—green laver that is rich in beta-carotene, vitamin B1, B2, C, and fiber—is an ingredient you'll want to introduce into your everyday life. Add shreds of seaweed to miso soup to give it a slight smell of the sea.
Bite-Sized Fried Flounder
Fukushima catches the most flounder in the country. Bite-Sized Fried Flounder is a frozen product that consists of delicious flounder cut into bite-sized pieces that are marinated in sauce, then coated in batter. It's popular for being an effortless at-home meal with frying as the only step.
Try it with lemon and tartar sauce!
Encounter Tasty Processed Seafood at MIDETTE
Many of Fukushima's processed seafood factories were damaged during the Great East Japan Earthquake. Some factories were swept away by the tsunami, while others became unable to obtain necessary ingredients for processing. Many also experienced a decrease in sales due to harmful rumors and misinformation.

Ten years after the earthquake, companies have emerged and taken a step forward by reconstructing buildings and developing new products. MIDETTE, the Fukushima specialty shop, is where you can purchase products from companies proactively moving towards the future. Be sure to stop by and encounter the delicious flavors of Fukushima!

Written by Lin
Sponsored by Fukushima Prefecture

The information presented in this article is based on the time it was written. Note that there may be changes in the merchandise, services, and prices that have occurred after this article was published. Please contact the facility or facilities in this article directly before visiting.