AEON MALL Nagoya Noritake Garden: Delicious Food, Art, and a Planetarium!
AEON MALL Nagoya Noritake Garden is a shopping complex near Nagoya Station that opened in October 2021. The facility is home to a TSUTAYA BOOKSTORE with a photogenic wall of books, the Konica Minolta Planetarium MANTEN NAGOYA, and excellent restaurants. Read on to find out more!
AEON MALL Nagoya Noritake Garden: The Closest Shopping Spot Near Nagoya Station
About 12 minutes on foot from Nagoya Station, you'll spot a building that is distinct from the cluster of nearby skyscrapers. This is AEON MALL Nagoya Noritake Garden.
The mall was designed as "a place where you can naturally be with nature." As a result, greenery is found throughout the space that makes you feel like you're in a forest.
Plenty of rest areas allow visitors to easily have an enjoyable shopping experience here.
Retail shops occupy the mall's first three floors, while floors four to six are commercial offices. There are about 150 shops, including restaurants, apparel shops, and cafes. You'll never get bored no matter how long you stay!
If you want to save time looking for your favorite shop, we suggest visiting the information counter, where friendly staff happily await to assist you.
AEON STYLE: Your Best Support for Beauty and Health!
We recommend AEON STYLE on the first and third floors for shoppers looking for local specialties, cosmetics, and medicine.
At AEON STYLE, you'll find a fruit and vegetable section with fresh and healthy local produce, a liquor shop, and a corner offering ready-made side dishes. In recent years, products for health-conscious consumers have also become popular.
In addition to everyday goods, Glam Beautique is a specialty shop with practical health and beauty products for daily life. The store offers a complete selection of cosmetics, health food products, and medicine. These will make your lifestyle beautiful, healthy, and fun.
You can feel AEON STYLE's commitment to providing shoppers with a large selection of products to find exactly what they want.
With AI camera technology, staff can detect whether or not a shopper requires assistance. This creates a smoother customer service experience.
TSUTAYA BOOKSTORE Noritake Shinmachi: See the Wall Made of Books!
In recent years, AEON MALL Nagoya Noritake Garden's TSUTAYA BOOKSTORE Noritake Shinmachi has been attracting attention on social media.
That's because visitors can marvel at a gigantic bookcase. A mirror reflection creates the illusion that the books are double their actual size. Many shoppers are overwhelmed by this surprising sight and end up snapping photos.
Picture courtesy of TSUTAYA BOOKSTORE(Photographer KOTA TOYAMA)
There's a staircase in front of the book wall, so be careful not to trip and fall. Please also adhere to the bookstore's rules if you want to take a photo.
The highlight of TSUTAYA BOOKSTORE Noritake Shinmachi is not only the photogenic book wall. Children will also find this bookstore full of attractions!
The shop has a full selection of picture books and study materials suitable for children. There are also toys for academic training and a kid's space.
Youngins and their parents can read books and play in a safe environment, making it the perfect spot for deepening family ties!
Konica Minolta Planetarium MANTEN NAGOYA: Sit Under a Mystical Starry Sky!
AEON MALL Nagoya Noritake Garden is the only AEON MALL in Japan to have its own planetarium.
Konica Minolta Planetarium MANTEN NAGOYA uses Japan's first LED dome system to create a realistic star-filled sky.
There are entertaining programs, including shows with interesting stories and enjoyable music. Even if you don't know much about constellations and the cosmos, you will have a fun experience!
Picture courtesy of Konica Minolta Planetarium MANTEN NAGOYA
MANTEN NAGOYA has reclining seats alongside luxurious, super-comfortable aurora seats. While lying on the aurora seats, you can gaze up at the starry sky encompassing your entire view (see photo above).
Couples and families with children can enjoy the planetarium. The gift shop sells many attractive items inspired by the stars and outer space. This is a must-visit place for star lovers!
Enjoy Gourmet Dishes and Sweets in the Tokai Region
AEON MALL Nagoya Noritake Garden has 48 eating establishments.
With so many restaurants, choosing which place to visit might be a dilemma. If this describes you, we will now introduce two eating spots where you can savor cuisine from the Tokai region.
1. Isshobin: Enjoy Matsusaka Beef Yakiniku-Style!
When visiting the Tokai region, you'll want to try premium Wagyu Matsusaka Beef, a specialty of Mie Prefecture. However, going to Mie Prefecture to try this expensive beef costs money and time.
Fortunately, there's a conveyor belt yakiniku restaurant at AEON MALL Nagoya Noritake Garden—something that's unique even in Japan. At Isshobin, diners can enjoy this delicious beef yakiniku-style at reasonable prices.
Isshobin opened for business in 1962. It's a long-established, premium Matsusaka Beef specialty restaurant in Mie Prefecture.
The shop can maintain quality control and cut costs by purchasing an entire cow. This, in turn, allows customers to enjoy beef more reasonably priced than other restaurants.
Customers can choose their yakiniku ingredients by taking them directly from the conveyor belt or ordering them using the menu tablet.
The menu offers 32 different cuts of beef―each one representing a different part of the cow. There's also premium Japanese Black Wagyu Beef, vegetables, and other single items.
When cooking the Matsusaka beef with vegetables on the grill, the meat's delicate fat brings out the delicious taste of the veggies.
2. Saijoen Matcha Cafe: A Must-Visit for Matcha Lovers!
After a delicious yakiniku dinner, we recommend dessert at Saijoen Matcha Cafe. This matcha specialty cafe is popular in the Tokai region.
Saijoen Matcha Cafe was established in 1988. It sources Nishio Matcha, a rare and organic matcha green tea. The shop offers various innovative sweets that combine tradition and modern-day sensibilities.
On this visit, our writer chose the Matcha Zukushi Parfait and Saijo Matcha Soft Float from the shop's popular menu.
The slight bitterness of the matcha perfectly matched the parfait's sweetness. It was so tasty that our writer couldn't stop eating! This was truly a blissful moment.
Enjoy a Special Time at AEON MALL Nagoya Noritake Garden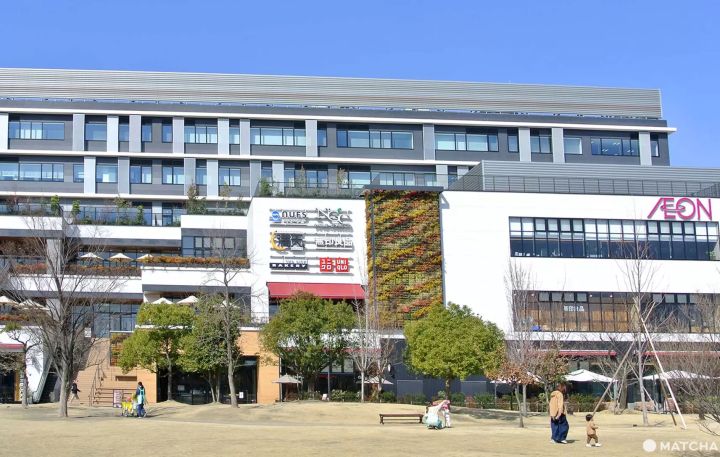 In addition to AEON MALL Nagoya Noritake Garden, there are many shopping spots near Nagoya Station where you can experience an enjoyable time.

Enjoying shopping and gourmet food while feeling close to nature is a special feature unique to AEON MALL Nagoya Noritake Garden. Feel free to spend the entire day here having a fun, relaxing experience!


Sponsored by AEON MALL
Written by FUJI

The information presented in this article is based on the time it was written. Note that there may be changes in the merchandise, services, and prices that have occurred after this article was published. Please contact the facility or facilities in this article directly before visiting.