Attention at the G7 Summit! What is the Setouchi sightseeing high-speed cruiser "SEA SPICA"?
A new high-speed sightseeing cruiser "SEA SPICA", which is most suitable for island tours, will be launched in the summer of 2020 so that more customers can enjoy the beauty of the many islands of Setouchi more luxuriously! It is gaining attention as the leaders of each country used it at the G7 Sum...
Ship name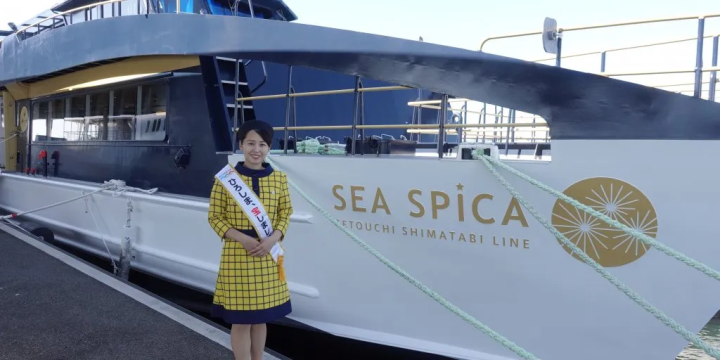 "SEA SPICA" SPICA is the brightest star in Virgo. It is one of the first-magnitude stars that shine pale in the spring night and form a large spring curve in the night sky, and is called a pearl star in Japan. A ship that invites people to a free and open journey while emitting a beautiful glow on the blue sea of ​​Setouchi. That is the Setouchi sightseeing high-speed cruiser "SEA SPICA".
The logo mark is expressed by superimposing the route connecting the islands of the Seto Inland Sea with the pearl star (SPICA), which forms the Great Triangle of Virgo and Spring, which is also derived from the ship's name "SEA SPICA".
Equipment on board <1F>
The custom-made sofa-type seats are completely different from conventional high-speed ships, and each seat is equipped with a table and a drink holder. In addition, in order to allow more passengers to enjoy the view from the window, the window seats are tilted slightly outward and the backrests are slightly lower.
Equipment on board
On the Spica Terrace on the 2nd floor, there are sofas shaped like the islands of Setouchi as well as counter tables, so you can relax and enjoy the view of the Seto Inland Sea while feeling a sense of openness. In addition, it is equipped with an elevator so that people with walking disabilities can go up, and consideration is given to barrier-free access.
Setouchi Matatabi Line
Setouchi Shimatabi Line is "SEA SPICA", a cruise around the islands of Setouchi.
There is a service course, and it goes around Okunoshima, which is famous as "Rabbit Island" floating in the Seto Inland Sea, Ondo Seto, and other islands in the Seto Inland Sea. Setonaikai Kisen "Setouchi Shimatabi Line" can also be reserved
Use at the G7 Summit
At the G7 summit held in Hiroshima from May 19th to 21st this year, it was used as a means of transportation for the leaders to Miyajima.

They were also seen chatting on deck.

The information presented in this article is based on the time it was written. Note that there may be changes in the merchandise, services, and prices that have occurred after this article was published. Please contact the facility or facilities in this article directly before visiting.

The contents on this page may partially contain automatic translation.