Delicious Fukushima Peaches! Visit A Special Seasonal Fair In Shinjuku
This summer, a special fair will be held in Shinjuku for visitors to enjoy freshly ripe Fukushima fruit used in beautiful jewel-like sweets! Check out the details in this article and do visit if you're in Tokyo this summer.
Taste Delicious Fukushima Fruit at a Popular Fruit Parlor
A special summer fair will be held in Shinjuku from July 30 (Tuesday) to August 12 (Monday, a national holiday). Participants will be able to enjoy fresh Fukushima fruit used in exquisite jewel-like desserts!
The venue will be Futaba Fruits Parlor, a shop where you can casually enjoy fruit.
With the cooperation of other representative fruit parlors in Tokyo, visitors will be able to enjoy parfaits, cakes, and other desserts made with generous amounts of fruit produced in Fukushima.
Another fair is scheduled to be held in autumn featuring grapes, pears, apples, persimmons, and other seasonal Fukushima fruit. MATCHA will continue to introduce upcoming fairs!
Part One: Eye-Catching Menu Items!
1. Whole White Peach Parfait (1,680 yen before tax)
This luxurious parfait is lavishly made with one whole white peach. Please enjoy the change in flavors with each bite, as the dessert is composed of six different layers.
2. White Peach Festival Plate (1,580 yen before tax)
This substantial set menu consists of a mini parfait, a vegan tiramisu with soymilk cream, and a rice flour pancake served together on one plate with a white peach! This is also a dish that will completely satisfy those with huge appetites.
3. White Peach Pancake (1,380 yen before tax)
This chewy pancake is made with rice flour. Enjoy this fabulous treat with sweet white peaches and a refreshing yogurt sauce.
Other tasty menu items are also available, including curry and a fruit salad.
Relish the Taste of Juicy Fruit! Savoring a Fukushima Peach Parfait
We actually visited the store and tasted four of their products!
One Whole White Peach Parfait 1,680 yen (before tax)
First, the One Whole White Peach Parfait (Marugoto Shiromomo Parfait), a dessert made with a generous quantity of peach pieces. It's actually pretty impressive!
The best thing about this dessert is that you get to fully enjoy the flavor of the peach. The ice cream at the center has just the right amount of sweetness, matching the freshness of the peach perfectly.
It's a dessert that fully showcases to deliciousness and sweetness of the peach, so do try it.
Left: White Peach Tart 700 yen (before tax); Upper right: White Peach Tiramisu 750 yen (before tax); Below right: White Peach Curry 980 yen (before tax)
White Peach Tart is a product that can also be enjoyed by vegans. It consists of a whole peach sliced to pieces over a tart. Inside the peach, there is a layer of tasty soymilk cream. This dessert has the flavor and texture of a delicious cake.
White Peach Tiramisu is also part of the vegan menu. The soymilk cream and the coffee flavor specific to tiramisu go so well with the freshness of the peaches!
The White Peach Curry is a rather unique dish. In Japan, it's quite customary to make the taste of curry sauce milder by using fruit. The combination of spicy curry and peach is surprisingly tasty. Try it!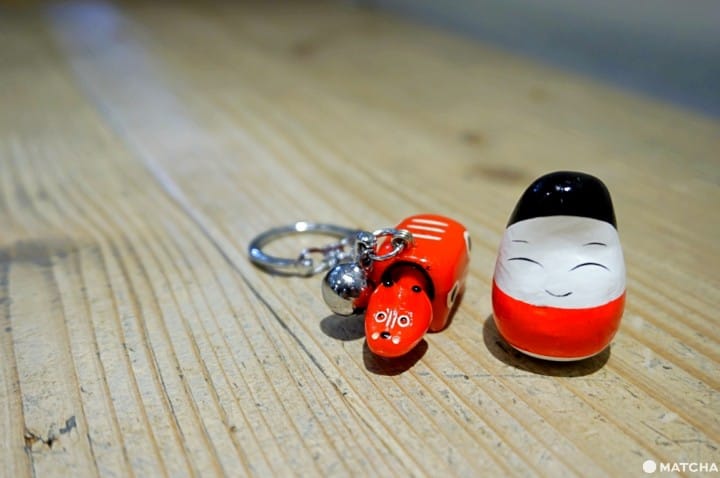 After enjoying some of these amazing dishes and deserts, share your photos on Facebook or Instagram tagging them with #FruitsaplentyFukushima.
Show the screen with your post and you'll receive a cute craft object from Fukushima on the spot! You can choose between a keychain with Akabeko, a local toy made in the image of Fukushima's famous brown cattle (left photo), or an Okiagari Koboshi, a traditional doll that rights itself when knocked over (photo right). Both objects are considered good luck-bringing charms.
Fukushima Prefecture: Japan's Leading Fruit Paradise
Fukushima Prefecture is quite close to Tokyo and accessible in an hour and 30 minutes via the shinkansen (bullet train). Additionally, it is the leading producer of fruits in Japan.
In Fukushima, visitors can experience all four seasons. Thanks to a favorable climate and highly skilled commercial farms, an abundant variety of fruit are cultivated such that there is no period when there is no fruit in season. These include premium quality peaches, pears, grapes, apples, persimmons, strawberries, and more!
Fukushima is ranked number two in the country for production output of peaches and accounts for over 20% of the domestic market. Fukushima's peaches are in season from early July to late September. During this period, the peach variety that is in season continues to change in what is coined a "peach relay."
The variety of peaches adds up to over 30 different types, all of which are brimming with sweet fruit juice and have their own distinctive features.
Some of the fruit Fukushima is known for are grapes, pears, and apples. Please look forward to part two and three!
*These photos are for illustrative purposes only.

Part One: Peach Festival Summary
Venue: Futaba Fruits Parlor Shinjuku Marui Main Building
Address: Tokyo, Shinjuku, Shinjuku 3-30-13 Shinjuku Marui Main Building 5F (Google Map)
Business Hours: 11:00 - 21:00 (Monday - Saturday); 11:00 - 20:30 (Sundays and national holidays)
Event Period: July 30 (Tuesday) - August 12 (Monday, national holiday)
Price: Special menu 700 - 1,680 yen (before tax)
Sponsored by Fukushima Prefecture

The information presented in this article is based on the time it was written. Note that there may be changes in the merchandise, services, and prices that have occurred after this article was published. Please contact the facility or facilities in this article directly before visiting.