Sighseeing and Sardine Cuisine in Kujukuri, a Historical Town in Chiba
Kujukuri is a town in Chiba famous for sardine fishing. From Tokyo, it's easily accessible by car on a  two-hour drive. We introduce popular places to visit in the area such as Seaside Plaza Kujukuri, as well as Kaneyon Marine Products, which manufactures tasty sardine dishes.
Bounty Brought by the Japan Current! The Sardine Fishing Tradition of Kujukuri
The town of Kujukuri in Chiba can be reached in about one hour and 40 minutes from Tokyo. Known throughout Japan as a sardine town, Kujukuri is an excellent destination for a food-themed day trip.
The origins of the local sardine fishing industry date back to the early Edo Period (1603-1868).
Adrift at sea, a fisher from Kishu (present-day Wakayama) eventually landed on Kujukuri Beach. He taught the locals how to fish for sardines (iwashi), thereby starting the town's close and enduring relationship with these fish.
Off the coast of Kujukuri, there's a warm ocean current called the Japan Current (Kuroshio). In terms of water temperature and salinity, the conditions are perfect for sardines. The high concentration of plankton also makes this the ideal sardine fishing ground.
During the Edo Period, sardines were a sought-after food source and essential ingredient for making agricultural fertilizers.
Under these conditions, sardine fishing began to flourish in this area. During the mid-Edo Period, Kujukuri's catch accounted for one-third of Japan's national sardine production. Tens of thousands of locals were also employed by the fishing industry, making Kujukuri the leading city of fishers.
Even today, Chiba Prefecture is proud to be Japan's leading producer of sardines.
Kaneyon Marine Products: A History Spanning a Century!
In this article, we'll introduce the appeal of Kujukuri sardines. We paid a visit to Kaneyon Marine Products, a long standing local company that specializes in seafood products.
Refusing to Compromise Quality and Taste
"Our business started during a time when there was no refrigeration. We've been making various products ever since, including small dried sardines (iwashi no niboshi), dried sardines seasoned with mirin (mirinboshi), and dried sardines (hoshika) as fertilizers for cotton production."
These are the words of Katsutoshi Furukawa, president and CEO of Kaneyon Marine Products. Founded in 1922, this company processes various types of seafood.
Mr. Furukawa has been instrumental in growing and developing this company with his flexible approach. This includes implementing online sales, the planning and introduction of new products, and additional side projects.
However, they suffered a huge setback in 2011 when the Great East Japan Earthquake struck northern Japan. The ensuing tsunami ruined many of their products, which had to be disposed of. The nuclear power plant accident created additional headaches, including damages caused by rumors of radiation contamination.
In the ten years since the natural disaster, business has steadily recovered. Currently, their products are such a hit that production can't keep up with demand. They've even been forced to turn down new orders.
The dedication to high quality and good taste stands at the center of the company's philosophy. This commitment hasn't changed since the launching of their business.
Mr. Furukawa continued, "We always use fresh fish that has plenty of healthy fat. Our processing method brings out the flavor of these fresh ingredients. For example, the recipe for dried sardines seasoned with mirin contains our original sauce. We've been using this sauce since we've established our company."
Tackling Challenges While Eyeing the Future
In recent years, Japan's sardine catch has declined. Additionally, there's been a drop in tourism due to COVID-19, and national sales are down. This industry continues to have an uncertain future.
Despite these circumstances, Kaneyon started building a new factory in 2019. Then in 2021, they introduced equipment allowing them to process other fish varieties. This aligned with their decision to keep their sights fixed firmly on the future.
Mr. Furukawa added, "Before the disaster, this area had over one hundred fish processing plants. Now there's less than half of that. If Kaneyon and other local companies expect a future, we have to be willing to experiment and try new things. While recognizing the importance of sardines, we plan on developing new fish products."
Recommended Products from Kaneyon
Sardines come in different varieties, including Japanese anchovies (katakuchi iwashi) and Japanese sardines (ma iwashi). These tasty ingredients are used to create various fish products.
Iwashi no Gomatsuke: A Popular Local Dish Using Sardines
Along with Iwashi no Mirinboshi, Iwashi no Gomatsuke (Pickled Sardines with Sesame Seeds) is one of Kaneyon's most popular products. It's even an officially certified Chiba Brand Top Class Marine Product.
"Among locals, there's not a single person who's not heard of pickled sardines with sesame," said Mr. Furukawa with certainty.
From ancient times, this dish was served on special occasions such as New Year's. But this Kujukuri dish is commonly eaten in daily life. He added, "Every household enjoys it with their own seasoning. My grandma often made it for us at our home."
In the past, Kaneyon exhibited their sesame sardine product at department store events. After positive reviews, they began commercial production and finally released it to the market. Nowadays, it's a popular Kujukuri souvenir.
The main ingredient are Japanese anchovies, which are caught off the Kujukuri coastline from October until February.
The anchovies are carefully cleaned and processed, one by one. After they are pickled in an original vinegar, a generous sprinkling of roasted black sesame seeds is added on top.
The anchovies, including the bones, are soft and tender. The refreshing vinegar and aromatic sesame seeds are an exquisite seasoning for this fish. The ginger and chili garnish also match perfectly! This dish has a taste you'll never tire of, so be careful not to overindulge.
Mr. Furukawa added, "It goes well with any type of Japanese sake, and many enjoy it on top of rice (like pressed sushi)."
Japanese anchovies contain calcium, vitamin B2, and vitamin D. They have a high content of unsaturated fatty acids, which help reduce cholesterol and triglyceride levels in the body. Also, the vitamin E in the sesame seeds helps the absorption of these nutrients.
The pairing of anchovies and sesame seeds creates a special dish that is both healthy and gentle on the body.
Homemade Kujukuri Pickled Sardines with Sesame Seeds (500 grams, pickled in vinegar) 1,188 yen (after tax)
Pickled Sardines with Vegetables: A Healthy Twist on a Long Time Favorite
Ma Iwashi no Yasaitsuke (Pickled Sardines with Vegetables) is a dish inspired by the Pickled Sardines with Sesame.
Japanese Sardines are caught fresh from May to October in Kujukuri's coastal waters.
Three sardine filets are combined with thin strips of daikon radish and carrots for this dish, then pickled in sweetened vinegar. Compared to the Pickled Sardines with Sesame, the Pickled Japanese Sardines with Vegetables has a somewhat smoother acidity.
This is a dish that considers the consumers' health. It also pairs well with sake and mealtime side dishes. The colorful red and white appearance makes it ideal for home parties and hand-rolled sushi.
Pickled Japanese Sardines With Vegetables (800 grams) 1,728 yen (after tax)
Enjoy Kaneyon Products at Home
The products introduced in today's articles, including Iwashi no Mirinboshi, are available in the outlet shop beside the factory. Kaneyon also has an online shop. Please enjoy the delicious taste of Kujukuri sardines at home.
Kaneyon Marine Products (Online Shop) (Japanese)
Seaside Plaza Kujukuri: Taste and Learn About Sardines!
We visited Seaside Plaza Kujukuri in search of souvenirs and fresh seafood.
At the entrance, we were greeted by some 3,000 sardines in a large fish tank!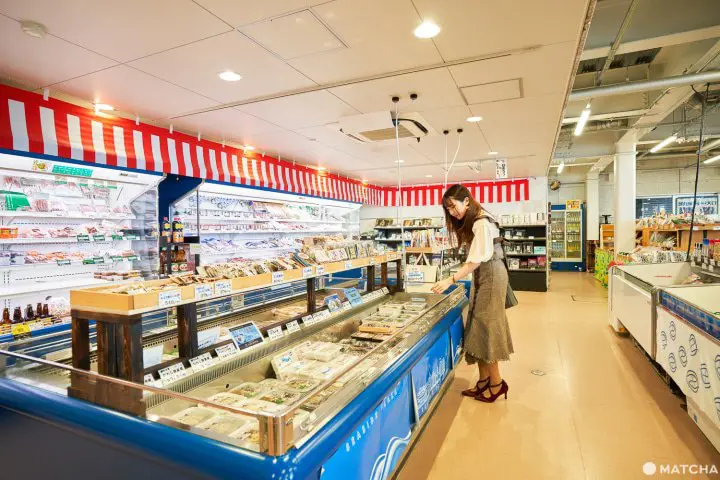 Inside this two-storey complex, there's a fresh fish corner. It's lined daily with the freshest seafood, which is directly unloaded at the fishing port in front.
It also has a full lineup of regional products, ranging from processed marine products to Chiba's specialty products and locally brewed sake.
Here, you'll find Japan's only circular, blue-colored mail drop-off box. This spot is perfect for taking photos to share on social media platforms!
Something you don't want to miss is the Sardine Museum. It has panel exhibits and photographs featuring the history of Kujukuri's sardine fishing industry from the Edo Period to the present. Visitors can also learn about changes in the fishing methods.
On display are actual fishing equipment and models of fishing boats. You'll be able to learn about the important relationship this region has with sardines.
On the second floor, there's a food court serving local specialties. On the outdoor terrace overlooking the ocean, our writer sampled a set called Haburi no Iwashizanmai.
The Iwashizanmai consists of a colorful and diverse range of freshly caught local sardines. Neatly arranged over rice, this dish is visually appealing (see photo above)!
In this entree, the fatty sardines are served fried, cooked into tempura, and sashimi. Additionally, there are some unique items such as kabayaki (grilled sardines) and namero (*1). This is a large serving, but nobody will have any problems gobbling it up!
*1 Namero: fish tartare. This cuisine is specific to the Boso Peninsula region in northern Chiba. Horse mackerel (aji), sardines (iwashi), Pacific saury (sanma), and other kinds of fish are combined with miso, onions, and other ingredients. This mixture is pounded with a knife until it reaches a sticky consistency.


Visit Inubosaki Lighthouse and the Choshi Railway Line
Inubosaki Lighthouse. Photo by Pixta
Kujukuri is a popular destination in the summer. It has the Sakuda Coastline (Japanese map) with its beautiful white sandy beaches, and the Katakai Central Coastline, a famed surfing area.
Local restaurants serve up a variety of seafood, including sardines and fleshy clams caught in the nearby ocean. Throughout the year, visitors can enjoy a wide range of marine delicacies.
Just an hour and 30 minutes by car from Kujukuri is another popular sightseeing spot called Choshi. The Choshi Fishing Port is home to Japan's largest annual fishery catch.
In addition to the views of mountain peaks and remote islands, Japan's earliest sunrise can be enjoyed here from Inubosaki Lighthouse (Japanese).
We also recommend hopping aboard the Choshi Electric Railway. The retro-like trains offer stunning views of the surrounding area!
In cooperation with Kaneyon Marine Products
Sponsored by Reconstruction Fishery Processing Industry Market Recovery Promotion Center


The information presented in this article is based on the time it was written. Note that there may be changes in the merchandise, services, and prices that have occurred after this article was published. Please contact the facility or facilities in this article directly before visiting.