Unforgettable Views! Hokkaido's Sea of Clouds: Access and How to Enjoy It
Hokkaido's sea of clouds is one of the most impressive natural phenomena in Japan. The sea of clouds can be enjoyed from UNKAI Terrace, which is located within Hoshino Resorts TOMAMU. We explain how to get there from the nearest airport and how to enjoy the sea of clouds to the fullest.
This article has been reposted with permission from GATE TO HOKKAIDO
UNKAI Terrace: Viewing the Sea of Clouds at Hoshino Resorts TOMAMU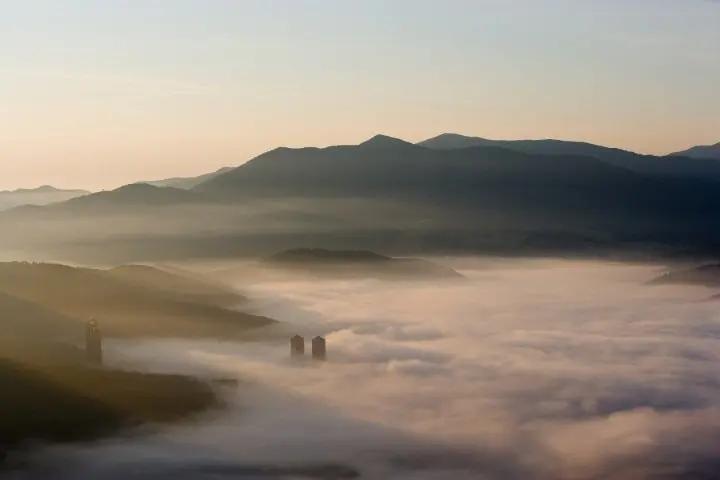 Picture courtesy of Hoshino Resorts TOMAMU
Hokkaido is a region home to incredible landscapes, but none quite as head-spinningly high as UNKAI Terrace. At this stunning facility – located in the central, mountainous area of Tomamu – guests can literally walk above the clouds.
In Japanese, the term 'unkai' translates to 'sea of clouds.' This stunning natural phenomenon is a scene everyone should experience once in their lives, and UNKAI Terrace is just where to do it.
UNKAI Terrace is part of Hoshino Resort's sprawling Tomamu development. In winter, the site becomes part of the ski resort. During the rest of the year, it's a gorgeous facility that combines rustic rural-influenced charm with upmarket luxury sophistication and enough attractions to keep all styles of travelers enthralled. The highlight, however, is the incredible morning views from atop the 1,088 meter-high UNKAI Terrace.
The Terrace opened in 2006 and has welcomed around 120,000 guests already. It has become widely known as a representative attraction of Hokkaido. It was renovated in the summer of 2021 and now features even more spectacular and unique vantage points to view the mountain peaks awash in the dynamic, ethereal surrounding sea of clouds.
See more information on exciting places to visit in Hokkaido!
How Is the Unkai 'Sea of Clouds' Formed?
Picture courtesy of Hoshino Resorts TOMAMU
The dynamic sea of clouds that can be enjoyed in Tomamu is made possible by the proximity of the Pacific Ocean. The phenomenon occurs in conditions of high atmospheric pressure, combined with sea fog and a weak east-southeast wind that blows towards the Tomamu area.
The need for such perfect conditions makes the unkai phenomenon famously elusive (according to UNKAI Terrace, the average percentage of occurrence is around 40%) so seeing it in real life is all the more exciting! If you're in town in the summer, between May and October, it's a must-not-miss experience.
How to Get to Tomamu
Picture courtesy of Hoshino Resorts TOMAMU
UNKAI Terrace is open to the public and can be enjoyed by anyone visiting Tomamu. The 'sea of clouds' phenomenon only happens in the earlier morning hours, so staying overnight in Tomamu makes the visit much easier. Our recommendation, however, is to stay at Hoshino Resorts RISONARE Tomamu or Hoshino Resorts Tomamu The Tower.
From the Hoshino Resorts facilities, guests can take a shuttle bus from the hotel lobby to the nearby ropeway pick-up location. Pick up is around 4:30 AM, but it's best to confirm with the staff at the front desk the day before. (*Operation hours for the UNKAI gondola and shuttle bus differ depending on the season.)
For those staying in another hotel in the area, the best way to reach the site is by car. (*The nearest taxi service is in Furano, so please make sure to pre-book if necessary.) It's just a five to seven-minute drive from nearby locations in central Tomamu such as Tomamu Station. There's car parking at the base of the UNKAI Gondola.
To reach the site via train from New Chitose Airport, you'll need to transfer at Minami-Chitose Station before reaching Tomamu Station. The journey takes an hour and 25 minutes. If you're traveling by car from the airport, the journey takes the same amount of time.
Those traveling from Obihiro Airport can take a shuttle bus to Obihiro Station and a JR train to Tomamu Station. The journey takes around 50 minutes. Bus company Hokkaido Access Network also operates a bus service from Asahikawa Airport to Tomamu Station. (*This bus service was canceled for 2021.)
For Hoshino Resorts guests, the hotel organizes a shuttle to pick you up at the Tomamu Station.
How to Get to the UNKAI Terrace
Picture courtesy of Hoshino Resorts TOMAMU
The UNKAI Terrace is located atop Mt. Tomamu at 1,088 m altitude. It is open from mid-May to mid-October; specific dates may vary depending on the year. For 2021, it's open from May 11 to October 14, 2021.
Even if you plan to visit in summer, it gets cold at this altitude, so bring a jacket no matter the season! The gondola ride from the foothills to the Unkai Terrace runs from 5:00 until 8:00 AM (starting at 4:30 in September and finishing at 7:00 AM in May). Of course, the earlier you get there, the better, as you'll have more opportunities to explore at the top. Sure, we know a 3:30 AM wake-up call isn't easy, but without question, it's worth it!
Tickets to ride the UNKAI gondola can be purchased on-site and cost 1,900 yen for adults (age 13 and over), 1,200 yen for children age 7-12, 500 yen for pets, and free for preschool children and younger, as well as for guests staying at RISONARE Tomamu or Tomamu The Tower.
Once you reach the cloud-viewing summit, you're free to roam the UNKAI Terrace's many artfully developed and incredibly photogenic viewing points, of which there are seven. Enjoy your time, but be sure to make a note of the clock so that you don't miss the last gondola.
How to Enjoy the Sea of Clouds at UNKAI Terrace
Picture courtesy of Hoshino Resorts TOMAMU
Let's take a quick look at the UNKAI Terrace's vantage points, some old and refreshed, and some brand new.
Cloud Walk
Picture courtesy of Hoshino Resorts TOMAMU
The view of the Cloud Walk is one of the most awe-inspiring views one can take in. That is until you step onto the walk itself and you're face to face with a view that is entirely nothing short of breathtaking, a once in a lifetime experience.
Built in 2015, Cloud Walk is one of the iconic features of UNKAI Terrace; this cloud-shaped walkway is suspended off the side of the mountain, held securely by a framework of poles and wires.
Its walk-through style allows guests to admire the view from several different vantage points. When the unkai is at its best, this spot enables visitors to get as close to the clouds as possible. Seemingly hanging off the edge of the world, walking on this bridge feels like the closest one can get to heaven!
Sky Wedge
Picture courtesy of Hoshino Resorts TOMAMU
Looking like the bow of a ship cruising out to sea, Sky Wedge is located a few stairs up from the cloud walk. The space is around 11 square meters in total, offering plenty of opportunities to get the best photo angle and making it one of the more popular photo spots. Stand right at the tip; arms stretched for that perfect 'Titanic' photo moment.
Contour Bench
Picture courtesy of Hoshino Resorts TOMAMU
Like a naturally crafted auditorium running up the side of the hill, Contour Bench is big enough to accommodate 200 seated guests. The benches run across the hill in a curved formation, allowing for plenty of unique perspectives. It's a typically spacious spot, so take your time, pull up a seat, and watch the cloud show.
Cloud Pool
Arguably, the most eye-catching viewing platform in the collection is Cloud Pool, with its woven spiderweb-hammock hybrid-like design. Climbing the Cloud Pool requires a little dexterity, but it's well worth the effort. Suspended meters above the ground, caught up willfully in the Cloud Pool's bouncy web-like net, what you feel is a mix of playfulness and adrenaline.
The highest point of the Pool sits eight meters above the ground, and with its net-like flooring – secure those phones – protruding from the side of the mountain, it's not for the faint of heart!
Cloud Bed
Picture courtesy of Hoshino Resorts TOMAMU
The Cloud Bed's bright white cushions scattered along the hillside, seemingly frozen in suspended bouncing motion, look like they could quite easily float off into the surrounding cloud sea. They were designed to look like water droplets that form the clouds, and they make for a great group photo backdrop.
Cloud Bar
Picture courtesy of Hoshino Resorts TOMAMU
While it may not be a 'bar' in the typical sense of the word, the Cloud Bar doesn't serve drinks but something much more special. What it does serve is unforgettable views of the impossibly soft unkai clouds bathed in floods of gorgeous golden morning light.
The Cloud Bar was completed in 2019 and, bathed in the colorful morning light, offers a spectacular view from atop its three-meter-high stools. There are two kinds of stools, single and double, and the bar can seat up to seven people at the same time. It's simply a bar designed for heaven!
UNKAI Terrace Observation Deck
Of course, there's also the UNKAI Terrace Observation Deck, the original three-floor viewing platform. With its indoor and outdoor seating, sweeping panoramic views, plenty of tables, and cafe, it's the perfect location to soak up the views, enjoy a treat, and contemplate the sheer beauty of what you're witnessing.
KUMO Cafe
As you reach UNKAI Terrace, you'll first walk through KUMO Cafe, where you'll find a variety of irresistibly cute cloud-centric delights. "Kumo" is the Japanese word for "cloud."
Highlights include Unkai soda, which comes topped with fluffy cloud-esque cotton candy, soft and irresistibly sweet, it's never too early in the morning to treat yourself. Other sweet-tooth highlights are the KUMO macaroons which are the perfect balance of crispy on the outside and soft in the center. Also, it's Hokkaido after all, so don't miss a chance to sample the KUMO soft serve ice cream, which, yes, of course, is cloud-shaped, rich, thick and creamy. The cafe also serves UNKAI coffee and other light refreshments.
A one-of-a-kind destination, a visit to UNKAI Terrace is one of the most inspiring ways to take in the abundant natural beauty of Hokkaido. Start at the KUMO Cafe, grab yourself a little treat and make your way through the lookout points. There's no right or wrong way to explore; just let your instincts guide you. But be sure to allow plenty of time to get the perfect shot while dangling above the oceanic clouds on the Cloud Pool (a personal highlight).
If you're visiting the region, this UNKAI Terrace should be a must-add to your itinerary. Start the trip with a visit here to properly appreciate just what makes northern Japan so special.
Places to Visit After Enjoying the Sea of Clouds
One of the benefits of getting up so early to witness the morning unkai is that you'll have the entire rest of the day to explore the other fantastic attractions around the area.
If you want to spend a little more time among the clouds, then you can always hike up from Unkai Terrace up to the peak of Mt. Tomamu, it's a 150-meter altitude hike, and it takes about 40 minutes one way. Lucky hikers can even encounter the breathtaking 360 degree Unkai-surrounded view, but be ready to catch the last gondola back down.
Breakfast at the Forest Restaurant Nininupuri within Hoshino Resorts TOMAMU is highly recommended. The variety of dishes on offer is immense, with both western and Japanese-style dishes available.
The NAMARA-don, a bowl of rice topped with exquisite seafood, is the embodiment of Hokkaido's culinary perfection. It's succulent salmon and ikura that bursts with flavor in your mouth, all artfully laid on a bed of pearly white rice. Follow it with the French toast made with Tomamu milk, and for the sweet tooth, there's also a self-service soft-serve machine on site.
If you want to stay within Hoshino Resorts TOMAMU, there's plenty to do. Hotalu street, a quaint little shopping and entertainment area, is home to restaurants, cafes, and even a wine bar called TOMAMU Wine House that offers a selection of local and far-reaching wines and delicious cheese made at Farm Hoshino to compliment it.
Seasonal events such as the Potato Salad Gelato Festival (September - October), which celebrates Hokkaido's delicious potato varieties, are often held at Hotalu Street so it's fun to visit at any time of the year! The salmon and ikura-topped potato salad is a highlight, and an excellent example of the region's culinary innovation and excellent seafood!
There's also an on-site farm, where visitors can relax on hay beds, taste delicious dairy treats made with Tomamu milk from the adorable cows raised here, get up close with friendly sheep, and nap in the hammocks. (*The farm area operates from July 1 until September 30.)
Once you sample the dairy products of Tomamu, you'll understand just why Hokkaido is world-renowned for its dairy products. The soft cream is smooth, cloud-like and creamy, the perfect balance of lightness and rounded rich body; if it's not within the top three soft creams you've had in your life, we don't know what is! These products can be bought at the Milk Stand, which operates from June 1 until September 30.
Access to the farm is free of charge for both staying and non-staying guests. For those with a driver's license, there are the Mow-Mow Carts available to rent for a fee.
Also within the facility, the Chapel on the Water, designed by architect Tadao Ando, is an impressive monument that can be visited in the evening hours when it is not used for wedding ceremonies. Its brutalist concrete finish, sliding floor to ceiling glass walls and illuminated cross, which sits partially submerged in a meticulously maintained body of water, blend design, museum-like reverence, and spirituality into one incredible structure.
Photo from Pixta
Looking out further, another attraction worthy of adding to the itinerary is Lake Kanayama in Minami-Furano, a picturesque lake backdropped by rows of vivid purple lavender fields, which is just 40 minutes away by car. If you're in the area and on the hunt for more lush nature scenes, Furano, home to Hokkaido's most famous flower and lavender fields – like Farm Tomita and Saika no Sato – is just a short journey up north.
For those traveling closer to the southwestern parts of nearby Hokkaido, towards New Chitose Airport, there are also countless attractions to suit all types of traveling groups, like the Chitose Aquarium, an excellent option for a rainy day.
Another highlight is Lake Shikotsu, a spectacular caldera lake with rental boats (paddle and motor) and plenty of restaurants and cafes. It's part of ​​Shikotsu-Toya National Park, so if you want to go a little deeper into Hokkaido's national park scene, pop by the information center located right by the lake for a little guidance.
With so much to see, do, and experience, Tomamu, is truly a place where you can come for the sea of clouds, and stay for the endless opportunities for an unforgettable adventure.
Hoshino Resorts TOMAMU UNKAI Terrace
Business period: mid-May until mid-October (Please check the exact dates for the current year on the official website)
Address: Hokkaido, Yufutsu, Shimukappu, Naka-Tomamu
Access: Tomamu Station can be accessed from New Chitose Airport in about one hour and 25 minutes by train or from Obihiro Airport by bus and train in about one hour and 30 minutes.

See more information on exciting places to visit in Hokkaido!

Written by Lucy Dayman
Main image courtesy of Hoshino Resorts TOMAMU
Sponsored by Hokkaido Airports Co., Ltd.

The information presented in this article is based on the time it was written. Note that there may be changes in the merchandise, services, and prices that have occurred after this article was published. Please contact the facility or facilities in this article directly before visiting.