A Unique Phenomenon! How to Enjoy Hokkaido's Drift Ice
The drift ice of the Okhotsk Sea is one of the most spectacular winter phenomena that can be enjoyed in Hokkaido. From going on a drift ice cruise to a drift ice walking tour, and even enjoying delicious ice-inspired sweet treats, we introduce fun ways to enjoy the drift ice to the fullest!
This article has been reposted with permission from Hokkaido Love!
Hokkaido's Drift Ice
The drift ice of the Okhotsk Sea is one of Japan's most spectacular sights and a must-add Japan travel bucket list. Known in Japanese as 'ryuhyo,' it floats along and around Hokkaido's northern coast during the depths of the region's harsh but beautiful winters.
It's nothing short of a spectacular natural phenomenon, forming in the Amur River in Russia and traveling through the Sea of Okhotsk, reaching Hokkaido typically in mid-January to early February. If you're in Japan during this time of year, be sure to add a visit to Hokkaido's drift ice capital of Abashiri and the western coast of the Shiretoko Peninsula.
Ryuhyo float, a treat available at the Roadside Rest Area Utoro Shirietoku
The locals know how to celebrate when it's the season, offering unforgettable drift ice-related experiences, as well as ryuhyo-inspired food and sweets. We will introduce a few highlights.
See more information on exciting places to visit in Hokkaido!
Drift Ice Cruise
Drift ice doesn't always make its way to the coast of Abashiri, which is why taking a drift ice cruise is one of the best ways to begin your drift ice journey, as it offers a chance to fully comprehend the natural beauty and sheer magnitude of this spectacular phenomenon. The cruise by Aurora Sightseeing Boats depart from Abashiri Port four times per day – but typically five times throughout February, as this is when the area is coldest.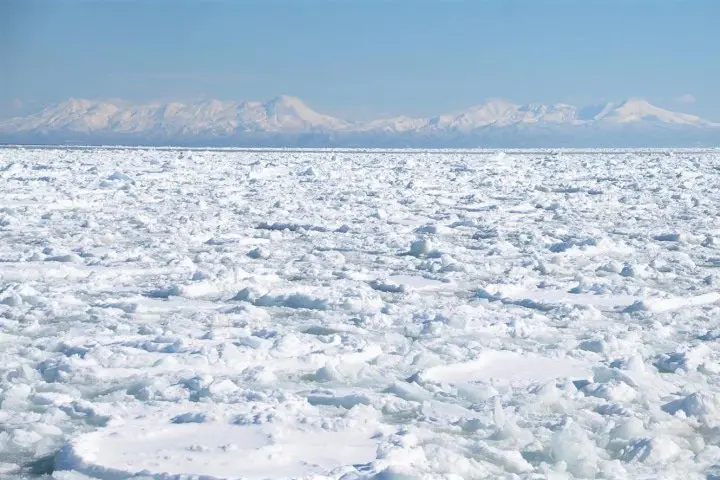 The cruise – which takes around an hour for a round trip journey – travels out into the ice-blanketed Sea of Okhotsk, offering unparalleled views of the drift ice, with some intact sections as big as half the size of a tennis court! The Aurora Cruise boats have been specially designed to cut through the bodies of ice smoothly without disturbing the surrounding landscape too much.
While you'll probably want to spend most of your time outside braving the cold to soak up the views of the Sea of Okhotsk's icy beauty, inside the boat is plenty of window-facing seating, from which you just might be able to witness wildlife such as white-tailed eagles, Steller's sea eagles, and seals that call the ryuhyo home. There's also a small kiosk where you buy light snacks and refreshments.
To hop aboard the cruise, make your way to the Abashiri City Tourist Association Road Station Tourist Information Center. Inside, you'll find the ticketing desk, a tourist information center, and a gift store selling a range of ryuhyo-inspired goodies. The cruise departure site is inside there too, and while you can always wait to buy tickets before hopping on, it does get quite busy on weekends and national holidays, so it's worth planning to get your tickets with time to spare.
Drift Ice Walk (Ryuhyo Walk)
For a more immersive drift ice experience, consider signing up for a drift ice walk, which will get you on the ice. The tours allow you to explore the phenomena up close as you walk along with the large floating chunks of ice under the watchful guidance of a local expert. One for the thrill-seekers, it's an experience you won't regret.
SHINRA is a local adventure company that has been running tours like these since 1997. Their drift ice walk is held in Utoro, Shiretoko, during February and March, when the ice is at its fullest. And one of the best parts? You don't have to prepare anything! The tour operators will organize a special dry suit to keep you warm and buoyant; ahead of time, you just have to send them your details when you sign up for the tour ahead of time.
While it looks a little dangerous, it's actually very safe. The ice is strong, and the drysuit has been designed to keep you warm and dry, even if you decide to hop into the waist-deep frozen ocean water. All of the guides know the area intimately, so as you explore the kilometer or so wide the drift ice area, you can rest assured you won't be crossing any dangerous areas.
For safety, it's worth emphasizing, please make sure to follow these rules: 1) during the tour, please pay attention to the guide's instructions and respect them; 2) don't attempt walking on drift ice except if you're on a guided tour and wearing proper equipment.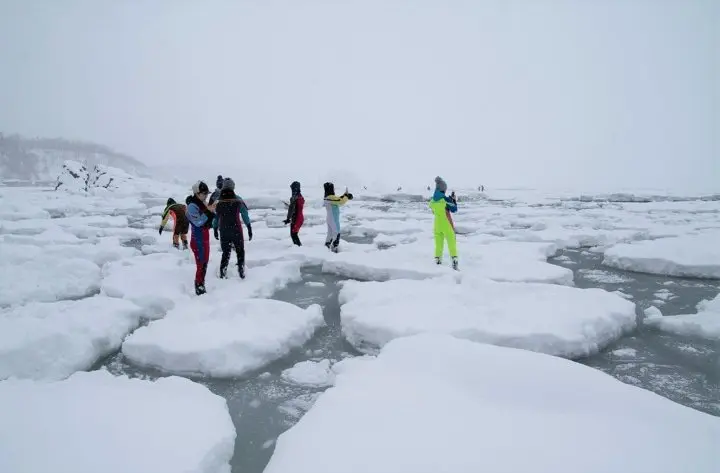 The tours run around four times a day. Please make your booking at least three days prior to the tour you wish to take part in; you will receive an email confirming that your booking was registered. Two days before the tour, SHINRA will send you an automated email with your guide meeting spot, from which the staff will pick you up and take you to the drift ice walking spot. The experience in total takes around two and a half hours, so it's worth planning accordingly.
Okhotsk Drift Ice Museum
The Okhotsk Ryuhyo Museum is a facility where you can enjoy drift ice all throughout the year! The exhibits explain the science behind the drift ice.
If you visit in the season when this phenomenon occurs, a visit to this museum is a worthy tag-on activity to the drift ice cruise, especially considering that the local bus regularly travels between both locations.
The museum features detailed displays – in Japanese with English translations available via QR code – explaining the creation of the drift ice, where it travels, the creatures that live within it, as well as its ecological importance.
Beyond the informative displays, the museum also boasts a number of unique features, including sweeping views of Abashiri and the neighboring mountain from the Tentozan Observatory. Also on the top floor is an open area with tables and WiFi, and incredible views, making it a great place to unwind with a book or even do a little remote work if you're so inclined.
The "Drift Ice Experience Room" is a space that not only exhibits real drift ice collected from the sea but allows visitors to feel the reality of Hokkaido winters, with a novel 'wet towel' freezing attraction, where guests can whip around a wet towel and literally feel it freeze in real-time, in your hand.
There's also the "Drift Ice Fantasy Theater", where you can admire the drift ice and see the tiniest creatures that call the drift ice home in crisp 4K footage.
Ryuhyo Monogatari - A Train to View the Drift Ice
Photo by Pixta
To see the drift ice from a whole different perspective, hop aboard the Ryuhyo Monogatari Train. This locally-famous sightseeing train allows guests to admire the area's spectacular drift ice views and runs between January to February only!
The train travels between JR Abashiri Station and Shiretoko-Shari Station, running along the Sea of Okhotsk coastline, making two round trips a day. During the journey, the train also stops at Kitahama Station, where you can hop out of the train and get a closer, in-person view of the Sea of Okhotsk and Shiretoko Mountain Range from the lookout. There's also a chance to see Oshin-koshin Falls, a stunning frozen waterfall and a 20 minute stop at Hama-Koshimizu Station, where you can pick up unique souvenirs from the Roadside Station Hanayaka Koshimizu.
The train departs from Abashiri Station at 9:45 and 12:45, and if you're boarding from the other side, then you can hop on the train at Shiretoko Shari Station at 11:30 or 13:48. Reserved seats can be purchased at major JR stations nationwide, or at the Internet reservation service "Ekinet."
Ryuhyo Glass Museum
While it may not be a point from which to see drift ice, a visit to Ryuhyo Glass Museum will give you a whole new perspective on the power, importance and sheer beauty of the ice. The museum is the creation of glassmaker Noboru Gunji, the head of the Ryuhyo Glass Museum and studio, and Chieko Gunji, the museum's general manager.
Noboru, a local of Abashiri, was inspired to build the studio as a way to showcase the natural beauty of the area and explore his creative side, "I saw a link between the ice, snow and lake water and beautiful glasswork," he explained. The museum, however, has become more than just a place to admire glasswork representative of ryuhyo, but also a destination where visitors can learn about how their behaviors can have environmental impacts through the prism of glass making and the study of the drift ice and global warming's impact on the ice.
While you'll find a few hand-selected pieces from other makers and workshops, most of the glass displays you'll see here were created in the on-site studio, made by Noboru and his apprentice.
Most of the pieces made here are from recycled long, fluorescent bulbs, like the types you'll find in office buildings; as Noboru discovered during his time studying sustainable ways to craft glass, these types of bulbs have a similar composition and melting point to blown glass.
You can often see Noboru in action making glass pieces in the studio both for the museum and for clients all over Japan, like major restaurant chains. He has also discovered new, novel, and more sustainable ways to color glass by using recycled materials like scallop shells and old batteries. Each offers its own rich color qualities and textures.
Clearly passionate about ryuhyo and the joy it brings to visitors of Abashiri, every morning around 9:30 AM, you'll find Noboru and the staff of the Ryuhyo Glass Museum outside the museum waving to the departing Arora Cruise boats as it heads into the Sea of Okhotsk, making for a perfect little full-circle moment.
Sample Drift Ice Inspired Food!
As you can probably see by now, drift ice is a source of inspiration for Hokkaido and the folks who visit. But the love of this drift ice isn't just on display. It's also made its way into the culinary expression of Abashiri and beyond. Here are three unique drift ice inspired foods to try when you're in town!
1. Ryuhyo Curry at Food Court Kinemakan
Food Court Kinemakan is located on the second floor of the Abashiri City Tourist Association Road Station Tourist Information Center, the same facility from which the drift ice cruise departs. Here, you'll find a wide range of food options, from ramen to spaghetti and kaisendon (rice with seafood toppings).
But the most eye-catching dish on the menu is the Ryuhyo Curry. This bright blue curry features small; cream surrounded chicken pieces – the chicken being the drift ice in the blue curry ocean – is as tasty as it is photogenic. The chef uses a type of edible flower to color the dish and flavor is close to a more Indian style of curry, which makes sense that it's served with naan bread.

2. Drift Ice Soda at the Scenic Cafe Boshi-Iwa
Scenic Cafe Boshi-Iwa is located inside the Ryuhyo Glass Museum. This quaint cafe offers delicious local sweets, excellent coffee and the most picturesque views of the coast of Abashiri.
However, the cafe menu's feature star has to be the near-luminescent blue Drift Ice Soda, which comes complete with a mega-sized piece of ryuhyo-ice cream in the middle. It's simple but deliciously and artfully done.
3. Ryuhyo Soft Serve at the Drift Ice Museum
According to Okhotsk Drift Ice Museum staff, this particular soft cream is so popular that folks line up out the door to get their hands on it. A collaboration with the museum and local gelateria brand and Hokkaido ice cream legends Rimo, the ryuhyo inspired ice cream is a salted caramel combination that mixes blue sea salt with rich, creamy caramel ice cream. Perfectly balanced, rich, creamy and sweet, it's worth the journey to the museum for this ice cream alone. And that's no exaggeration.
Enjoy Hokkaido's Drift Ice!
If you want to spend more time exploring and adventuring through the drift ice, then the website Connectrip Okhotsk offers plenty of winter activities, including ice fishing and frozen waterfall hiking.

Most of the attractions you'll find on this list are located in the town of Abashiri. If you want to explore the drift ice properly, it's recommended you spend at least two nights in the town.

To get to Abashiri, you can fly from Tokyo or Sapporo to Memanbetsu Airport, and then travel 30 minutes by bus from Abashiri. Alternatively, if you want to get there by train, the JR Okhotsk limited express travels between Sapporo and Abashiri and a one-way journey takes around five and a half hours.

See more information on exciting places to visit in Hokkaido!

Written by Lucy Dayman
Supported by Hokkaido Airports Co., Ltd.

The information presented in this article is based on the time it was written. Note that there may be changes in the merchandise, services, and prices that have occurred after this article was published. Please contact the facility or facilities in this article directly before visiting.