6 Splendid Gardens and Flower Fields in Tochigi: Ashikaga Flower Park and Others
Tochigi, a region located north of Tokyo, has abundant nature and boasts several flower gardens, including the famous Ashikaga Flower Park. Read on to learn about six spectacular gardens and use the information when planning a trip to Tochigi!
Tochigi: A Region Bursting with Flowers
Tochigi Prefecture, located north of Tokyo and home to Ashikaga Flower Park, is famous for its natural beauty.
The region has mountains, highlands, valleys, and plains with many spectacular locations where visitors can enjoy seasonal flowers.
This article showcases six charming flower gardens in Tochigi. The list includes major attractions and places worth visiting that are hidden gems. We hope you discover a destination that appeals to you!
1. Ashikaga Flower Park: Marvel at the Magnificent Wisteria
Picture courtesy of Ashikaga Flower Park
Ashikaga Flower Park is the most famous park in Tochigi. The scenery changes seasonally, with 30,000 tulips blossoming in March and 2,500 rose bushes blossoming in May.
The highlight is the abundance of wisteria, which blooms from mid-April to May. The overflowing wisteria trellis and wisteria tunnel spanning 80 meters long are sights exclusively found at this park. During the seasonal event "Tale of Fuji no Hana," the wisteria trees are illuminated in a magical scenery at night.
The park is a three-minute walk from Ashikaga Flower Park Station, which is easily accessible from Tokyo. Additionally, there are many hotels near Ashikaga Station, the next stop from Ashikaga Flower Park Station.
Ashikaga Flower Park
Address: Tochigi, Ashikaga, Hasama-cho 607
Business Hours: 10:00 to 17:00 *The hours will change according to the season.
Admission Fees: Adults 400 yen to 2,100 yen/ Children (from 4 years old to elementary school students) 200 yen to 1,100 yen *The fees will change seasonally and on the entrance time.
Closed: The second Wednesday and Thursday in February/ December 31
Official Website: https://www.ashikaga.co.jp/english/index.html
Book an Accommodation in Ashikaga
2. Ichikai-machi Shibazakura Park: Be Amazed by a Pink Carpet of Flowers
Ichikai-machi Shibazakura Park is a garden with about 200,000 shibazakura (moss phlox) covering the ground like a carpet. This breathtaking scenery of red, pink, mauve, and white flowers that create a riverine pattern is visible from the observation deck.
The Shibazakura Festival is held annually from early April to May when the flowers begin blooming. During this period, visitors can enjoy savory dishes and buy local products.
It is a 45-minute drive to the park from Utsunomiya Station, the gateway to Tochigi Prefecture. After enjoying the view, it might be fun to order some gyoza (pan-fried dumpling)—a signature dish from Utsunomiya—and stay at a hotel in the city.
Shibazakura Festival
Address: Tochigi, Haga, Ichikai-machi, Miage 614-1
Admission Fees: Adults (from junior high school students) 300 yen
Date: The festival is held annually from early April to late May *The date is subject to change.
Official Webite: https://www.ichikai-sibazakura.jp/ (Japanese)
Book an Accommodation in Utsunomiya
3. Kisuge-daira Park (Kirifuri Highlands): Take in the Grand View from the Corridor in the Sky
Kisuge-daira Park is located in the highlands at an altitude between 1,350 and 1,600 meters. It is a magical place to enjoy over a hundred types of flowers in full bloom from spring to autumn.
The Nikko-kisuge, which resembles a lily, is the most famous flower here. The highland turns yellow from mid-June to July when these yellow flowers bloom. Visitors can walk along the promenade or view the flowers from the Tenku Kairo, a 1,445-step stairway described as a corridor in the sky.
After the stroll, take a break at the rest house. You can also try various dishes, including curry using Kirifuri highland beef, or sip their original blend of coffee.
It is a 30-minute bus ride to the park from Nikko Station, located near the hotels and restaurants.
Kisuge-daira Park
Address: Tochigi, Nikko, Tokorono 1531
Admission: Free
The Nikko-kisuge blooms annually from mid-June to July.
Official Website: http://www.kirifuri-kogen.jp/english/
Book an Accommodation in Nikko
4. Nasu Flower World: Like Viewing a Portrait of Flowers on the Floor
Picture courtesy of Nasu Flower World
At Nasu Flower World, visitors can enjoy a vibrant field of flowers that looks like a painting drawn on the canvas that is Nasu Highland. Every year from late April to late October, flowers of various colors—such as roses, cockscombs, and cosmos—greet visitors at this famous spot.
Several hundred types of tulip bloom in mid-May, prompting park-goers to flock here during the most popular period. With the Nasu mountain range in the backdrop, visitors will be wowed by the grand view visible on clear days.
From Nasu Flower World, it takes about 20 minutes by car to Nasu Onsen Resort, which has several wonderful accommodations. Nasu Flower World is ideal for those interested in enjoying seasonal flowers and soothing onsen (hot springs).
Nasu Flower World
Address: Tochigi, Nasu, Nasu-machi, Toyohara-hei 5341-1
Admission Fees: 500 yen to 800 yen *The fee changes seasonally.
The park will be open annually from late April to late November. The date is subject to change.
Official Website: http://www.flower-world.net/ (Japanese)
Book an Accommodation in Nasu-machi
5. Mashiko and Nogi: Lighten Up in a Field of Sunflowers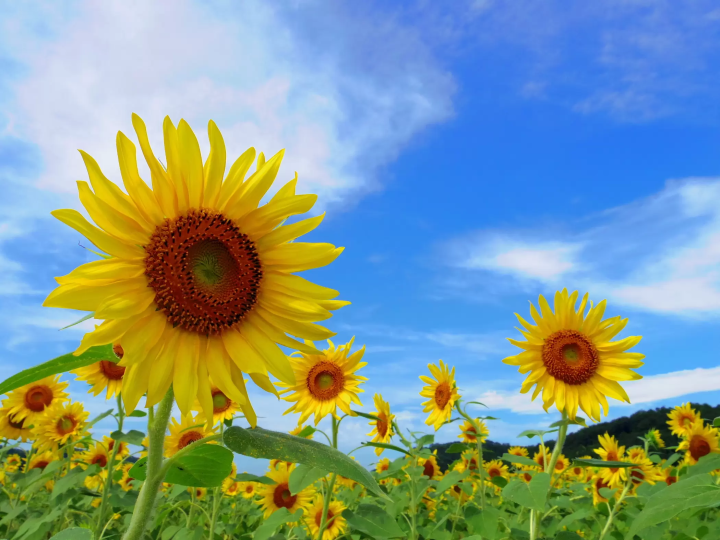 Mashiko, a town famed for its pottery, is also known for its vast fields of sunflowers. The sunflower festival is held every August, allowing visitors to view a million sunflowers from the observation deck while tasting fine food. Those looking for an attractive photo location will find several spots with benches and structures that can be used as a frame for the photographs.
Nogi, located in southern Tochigi, holds a similar festival in July. Visitors will be greeted by a promenade through sunflower fields while savoring local cuisine and watching live performances and fireworks.
Both towns are accessible from Utsunomiya Station, an ideal place to spend the night with a number of hotels nearby. It takes about an hour by car or roughly an hour and a half by train and bus to the festival sites.
Mashiko Sunflower Festival
Address: Tochigi, Haga, Mashiko-machi, Nagatsutsumi 2271
Admission: Free
The festival is held annually from mid to late August. It will be canceled in the event of rain.
Official Website: https://www.town.mashiko.lg.jp/page/dir000394.html (Japanese)
Nogi Sunflower Festival
Address: Tochigi, Shimotsuga, Nogi-machi, Nogi
Admission: Free *Please note that some activities will be charged.
Date: July 30 and 31 from 9:00 to 17:00 *The time is subject to change.
Official Website: https://www.town.nogi.lg.jp/page/page001245.html (Japanese)
Book an Accommodation in Utsunomiya
6. Mitsumata Colony: Be Delighted by a Fantastic World of Flowers
Mitsumata colony is a whimsical and rare site situated in a valley.
With sunlight streaming through the leaves, the yellow mistsumata (paper bush) flowers uncannily resemble elves. This is why the spot is also called the forest of fairies. Visitors strolling on the promenade can relish in the beautiful scenery from various viewpoints.
Every year when the flowers bloom from March to April, several bus services depart from Utsunomiya Station. Other local facilities like Midori Farm, an estate to enjoy strawberry picking, and Michi no Eki Motegi, where visitors can view the riverside cherry blossoms, are also accessible by bus (*).
*Please note that bus routes and fees are subject to change. Be sure to check the official website of Motegi-machi for the latest information.
Mitsumata Colony
Address: Tochigi, Haga, Motegi-machi, Ii
Admission: 300 yen
The flowers bloom from early March to April.
Official Website: https://motegi-k.com/ (Japanese)
Book an Accommodation in Utsunomiya
Relish the Spectacular Flowers of Tochigi
Tochigi offers a different scenery for every season and is filled with flowers, most notably wisterias, tulips, and sunflowers.

Look for a location showcasing your favorite flowers and plan a visit when they are in full bloom!

Main image courtesy of Ashikaga Flower Park
Sponsored by Tochigi Prefecture

The information presented in this article is based on the time it was written. Note that there may be changes in the merchandise, services, and prices that have occurred after this article was published. Please contact the facility or facilities in this article directly before visiting.