7 Exciting Places to Visit Near Haneda Airport! Two Days in Kawasaki, Ota, and Shinagawa
Haneda Airport, an excellent transportation hub, is one of the major gateways for those visiting Tokyo. Ota City, Shinagawa City, and Kawasaki City are located near the airport and offer a variety of wonderful places to visit. This article features a two-day tour of seven destinations in this area.
Two-Day Tour of Great Places to Visit near Haneda Airport
Haneda Airport, or Tokyo International Airport, has undergone major changes in recent years. The international terminal is now called Terminal 3. Additionally, the Keikyu Line and Tokyo Monorail—the main transportation lines for accessing the airport—have been changed to Haneda Airport Terminal 3 Station.
However, these changes are not only occurring inside the airport. There are changes in areas surrounding the airport, such as Ota and Shinagawa, which are part of Tokyo, and Kawasaki City.
This article recommends a two-day itinerary of seven exciting places to visit in this area. This itinerary was created based on the latest information, including some hot spots that will make you feel nostalgic!
1. Day One at Sundown: Footbaths and Spectacular Views at HANEDA INNOVATION CITY
HANEDA INNOVATION CITY is a large-scale complex connected to Tenkubashi Station along the Keikyu Line and Tokyo Monorail. It is the next stop from Haneda Airport Terminal 3 Station.
This facility is based on cutting-edge research and culture.
It consists of company offices developing the latest technology, restaurants, and hotels featuring Japanese culture, a hall for live performances, and a relaxation spot.
At HANEDA INNOVATION CITY, you'll find the Ashiyu Sky Deck furnished with a foot bath. Visitors can experience this soothing service free of charge.
Since Haneda Airport is visible from the Sky Deck, visitors can enjoy the fusion of airplanes, a product of modern technology, and a traditional foot bath.
The sky deck is frequented by amateur photographers taking snapshots of the sunrise, sunset, and nighttime view. Depending on the weather, you can see Mt. Fuji, the iconic mountain of Japan, from here!
The site also has a towel vending machine, so visitors don't need to worry about bringing something to dry their feet.
The Ashiyu Sky Deck is open from 5:30 to 23:30. After enjoying a stroll or dinner at HANEDA INNOVATION CITY, it might be fun to relax at the foot bath while enjoying the view.

2. Day One at Night: A Heaven for Budget Gourmet Bites at Kamata Station
For dinner on the first night, let's visit the area around Kamata Station to taste the local cuisine. The station is connected to the JR Keihin Tohoku, Keikyu, and Tokyu lines.
You'll discover a wide variety of budget-friendly eateries that serve crispy-winged gyoza, ramen noodles, and tonkatsu (deep-fried pork cutlets) along the streets. The area turns even more lively at night when the izakaya pubs start to open.
Kamata is famous as the battleground for several popular ramen restaurants. Visitors can taste innovative dishes created by chefs who showcase their creativity. Ramen enthusiasts will be thrilled by the depths of these new experiences.

3. Day Two in the Early Morning: Visit Kawasaki Daishi to Ward off Bad Luck
Kawasaki Daishi (Kongozan Kinjoin Heikenji) is a temple with over 890 years of history.
From Kamata Station, it takes about 30 minutes by train to reach the temple. Ride the JR Keihin Tohoku Line to Kawasaki, switch to the Keikyu Daishi Line, and get off at Kawasaki Daishi Station. It is an eight-minute walk to the temple.
The Nakamise Dori shopping street is located along the approach to the temple. You'll find shops selling daruma dolls to ward off evil, Japanese confections, and rice crackers.
The most famous local confection is the kuzu-mochi, a gelatinous dessert served with soybean flour and sugar cane syrup. There are various dishes to be savored during a stroll while enjoying the sights.
Kawasaki Daishi was founded in the year 1128. A statue of Kobo Daishi (Kukai), the founder of Shingon Buddhism, is enshrined in the main hall.
At the temple, goma (fire) rituals are performed daily to fulfill visitors' wishes, including warding off evil. Goma, or "homa" in Sanskrit, is a ceremony of cleansing worldly desires by the fire emanating from Buddha's wisdom.
There is a building called Hakkaku Gojunoto (Chukoto), an octagonal five-storied tower on the temple grounds. The octagon is said to be the shape closest to a circle, symbolizing magnanimity and integrity.

4. Day Two in the Morning: Be Smitten by Cuteness at Noborito Station
Noborito Station, servicing the JR and Odakyu Lines, is the nearest station to the Fujiko F. Fujio Museum.
After off-boarding the Odakyu Line at Noborito Station, you'll notice the interior filled with motifs inspired by Doraemon, a very popular manga and animation character in Japan, created by manga artist Fujiko F. Fujio.
The ticket gates are painted in Doraemon colors, and the bell on Doraemon's collar is visible on the station's sign, restrooms, and lockers.
Elevators are designed with the iconic "Dokodemo Door" ("Anywhere Door"), which appears in the Doraemon comic series. Visitors will have fun wondering if they might be teleported somewhere.
Additionally, Odakyu Noborito Station has many features that will immerse you in the world of Doraemon!
Ⓒ Fujiko-Pro 2011 Fujiko-Museum
A statue of Dorami, one of the characters in the comic, is found in front of the station. This is near the bus stop where buses bound for Fujiko F. Fujio Museum depart.
There are four types of vehicle designs, all with different stop buttons and seat designs!

5. Day Two in the Morning: Return to Childhood at the Fujiko F. Fujio Museum
Kawasaki Fujiko F. Fujio Museum is a facility displaying the works of Fujiko F. Fujio, the creator behind Doraemon. Museum-goers of all ages can experience his art via original drawings and other works.
You may think that the exhibitions are limited to Doraemon. However, the museum shows aspects of the author's life unknown to the public alongside his inspirations and creative process.
In addition to Doraemon, a famous character worldwide, there are all-time favorites such as Kiteretsu Daihyakka and Perman on display.
At the museum, visitors can meet the characters created by Fujiko F. Fujio.
"Harappa," an outdoor garden on the third floor, features Korosuke, Perman, and Q-Taro, stirring the childhood memory of visitors. Woodcutter's Pond, one of Doraemon's gadgets, is re-created in the exhibition room on the second floor alongside a reimagined Gian (Big G), who appears clean-cut and gentle.
Obake no Q-Taro Ⓒ Fujiko-Pro・Fujiko Studio
The museum cafe serves popular dishes inspired by the works of Fujiko F. Fujio.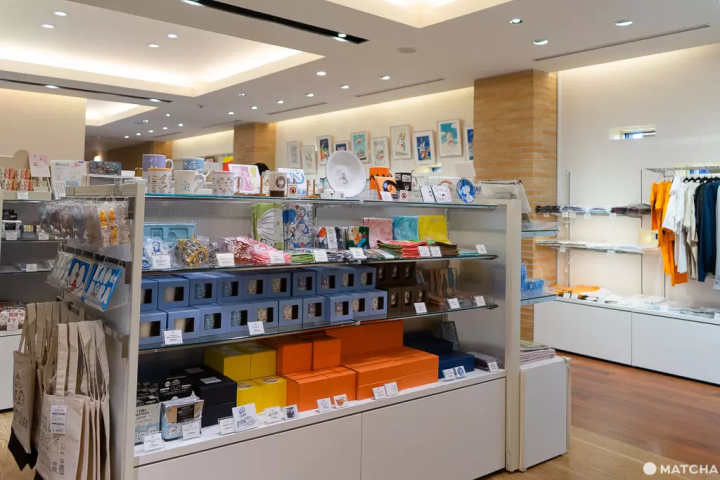 The museum shop and Gift Corner Fujikoya sell items that can only be purchased at this facility. A souvenir would surely make a nice memory of your visit.
Ⓒ Fujiko-Pro
6. Day Two in the Afternoon: Have a Great Time Shopping at Togoshi Ginza Shopping Street
Togoshi Ginza, located near Haneda Airport, is the longest shopping street in the Tokyo metropolitan area. The total length stretches for 1.3 kilometers.
It is accessible from either Togoshi Station (Toei Asakusa Line) or Togoshi-Ginza Station (Tokyu Ikegami Line).
While many places in Japan have "Ginza" in their name, Togoshi Ginza is said to be the first of its kind.
The original Ginza district in Tokyo's Chuo Ward was devastated by the 1923 Great Kanto Earthquake. The legend goes that Togoshi residents removed the debris, using it to repair local roads. This ended up with the street being named Togoshi Ginza.
More than 350 shops line the street. Cars are temporarily shut out daily, so pedestrians can enjoy shopping without worrying about vehicles.
Visitors can taste inexpensive local cuisine, shop for general merchandise, or relax at a cafe like the locals.

7. Day Two in the Afternoon: Enjoy One of Japan's Leading Art Areas in Tennozu Isle
Picture courtesy of Warehouse Terrada. Ⓒ Tennoz Art Festival 2019 Art Work by ARYZ, Ⓒ Tennoz Art Festival 2021 Art Work by KINJO
The area around Tennozu Isle Station, connected to the Rinkai Line and Tokyo Monorail, is one of the prominent districts in Japan to enjoy art.
Terrada Art Complex I and II consist of about 20 art galleries, introducing young artists gaining prominence in the domestic and international markets.
There are also chic cafes near the galleries, where art enthusiasts can take a break.

WHAT Cafe
Picture courtesy of Warehouse Terrada
WHAT Cafe is a hybrid cafe and gallery displaying works of new artists on the rise. The artwork can also be purchased on-site. Visitors can enjoy a space filled with art while relaxing with a cup of tea.
The facility functions as an exhibition space for artists. This allows them to have conversations with gallery visitors, allowing artists to broaden their horizons.

Outdoor Public Art
Picture courtesy of Warehouse Terrada ©Tennoz Art Festival 2019 Artwork by DIEGO. Photo by Shin Hamada
Tennozu Isle has a graceful and chic ambiance, making it the number one district in the Kanto region to appreciate art. The town is filled with art!
There are colorful murals and places to take photographs everywhere. Visitors will feel at the center of the contemporary art scene.
Enjoy the Exciting Area Around Haneda Airport!
This two-day tour of places to visit around Haneda Airport includes the latest foot bath facility, nostalgic places like Kamata, ramen hot spots lining traditional streets, and the Togoshi Ginza district.

Please use this article as a reference if you wish to discover various aspects of Tokyo, from the old to the new!

Written by Lin
Sponsored by Ota City, Shinagawa City, and Kawasaki City

The information presented in this article is based on the time it was written. Note that there may be changes in the merchandise, services, and prices that have occurred after this article was published. Please contact the facility or facilities in this article directly before visiting.