Experience Classic Tokyo: 4 Hotels and Inns in the Heart of the City
We introduce the features of four reasonably-priced hotels and ryokan located in districts around Tokyo Station. As a guest, you'll be able to enjoy cozy Japanese hospitality in tastefully decorated rooms. Some of the facilities have large Japanese bathing areas, a rare feature for central Tokyo.
Enjoy Japanese Hospitality in Central Tokyo
Photo by Pixta
If you've always wanted to stay at a hotel in central Tokyo but are worried about the rooms being too pricey, then rejoice! The four accommodation facilities introduced in this article are not only affordable but also give guests the chance to enjoy cozy hospitality and leisure.
These hotels and inns are located in districts that can be accessed in just about five minutes by train or subway from Tokyo Station.
1. Sumisho Hotel: Tastefully Decorated Rooms and Kappo Cuisine
Sumisho Hotel is located near Ningyocho Station, on a quiet alley in Tokyo's foremost business district: Nihonbashi. Originally a rice shop with roots in the late Edo period (1603-1868), Sumisho became an accommodation facility after World War II.
With the majority of their guests being dealers and businessmen from all around Japan visiting Tokyo for work, the staff at Sumisho Hotel like to introduce the facility as a "business ryokan" - a business hotel that offers the leisure and hospitality of a traditional Japanese inn.
The hotel has 83 rooms, of which almost half are Japanese rooms with tatami flooring and futon bedding. Guests can choose between single and twin rooms depending on their needs. The rooms are cozy and bright, decorated in a tasteful manner that makes one feel at home. Some of the rooms have enhanced accessibility for wheelchair users.
One of the distinctive features of Sumisho Hotel is that it has two large bathing areas on the first floor; after soaking in a hot bath the Japanese way, you'll feel relaxed and rejuvenated.
At Kappo Sumisho, the Japanese restaurant on the first floor, guests and visitors can enjoy original takes on classic cuisine: Japanese course menus, grilled dishes, soba noodle dishes, rice seasoned with chicken and vegetables, and even celebratory course menus. They even offer baked sweet potato and amazake drinks as take-out, as well as desserts made with these very popular Japanese ingredients.
We recommend Sumisho Hotel to visitors who wish to relax in a cozy lodging with a laidback atmosphere that feels like home while feeling the pulse of Nihonbashi, a thriving business center with a long history as a hub for merchants.
2. Ito Ryokan: Enjoy Japanese Culture Workshops During Your Stay!
Entering Ito Ryokan is like taking a step back in time.
Located in Tokyo's Ningyocho district, this traditional inn features many distinctive details of Japanese architecture. Natural materials such as woven bamboo and cherry blossom wood are used in the gorgeous ceilings, and it has been constructed using traditional Japanese building methods that don't require nails or adhesives.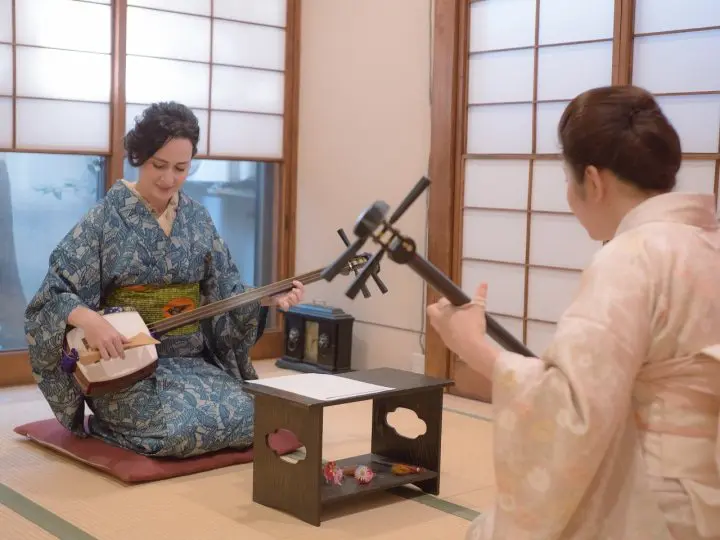 Photo by Roza Akino
The ryokan has a fascinating history which can be seen throughout the property; photographs of the former proprietress in traditional clothing and with her guests from almost 80 years prior are displayed.
During this time the Ningyocho area was teeming with geisha houses and traditional theaters, and many actors were guests at the property. This history still feels very much alive at the inn, and the current owners still use many cups and dishes from this time, as well as display beautiful antique kimonos for guests to appreciate.
The ideal location for those who wish to delve deep into traditional Japanese culture, Ito Ryokan offers its guests the chance to take part in exciting cultural experiences such as lessons in Japan's iconic traditional instrument, the shamisen, as well as in the art of Japanese calligraphy.
As a guest, you'll be staying in comfortable tatami rooms with futon bedding, carefully laid out in the room by the staff. Some of the rooms are decorated with displays of Japanese art and crafts such as traditional dolls and kimonos.
The ryokan's first floor is connected to Nihonbashi SANO, an authentic traditional Japanese restaurant serving classic dishes such as pickled mackerel sushi. The restaurant also offers a range of Japanese sake to customers!
This traditional Japanese inn, located in a historical area of the city, is the perfect place to immerse oneself in Japanese history and culture.
3. Hotel 1899 Tokyo: A Stylish Tea-Themed Hotel!
The unique Hotel 1899 Tokyo, located close to Shimbashi Station, one of the major transportation hubs in the city, is truly a tea lover's paradise!
Born from the desire to share Japan's unique tea culture with its many fans and established in 2018 by the historical Ryumeikan Ryokan, a genuine passion for Japanese culture as well as excellent design shines through at this hotel.
The staff is passionate about tea and eager to share their knowledge and enthusiasm with visitors. Each day from 15:00 until 22:00 guests can enjoy delicious matcha, sencha, and seasonal tea blends at the hotel's tea counter, expertly prepared to suit their tastes.
The modern hotel also cleverly incorporates elements of traditional Japanese tea culture throughout its design. The guest room decor has been created to evoke the atmosphere of a traditional tea room, and each room features an aesthetically beautiful tea-inspired color scheme, as well as many traditional Japanese touches.
Picture courtesy of Hotel 1899 Tokyo
The hotel's first-floor cafe, Chaya 1889 Tokyo, offers a variety of tea beverages and also features chic tea-inspired decor. The cafe's stylish and distinctive light fixtures were even inspired by the parasols used at open-air tea ceremonies.
Breakfast for hotel guests, served in the cafe, features a wide range of delicious foods infused with the delicate and aromatic flavor of Japanese green tea. These unique delicacies range from mouth-watering matcha breads to green tea-infused sausages!
Hotel 1899 Tokyo offers a truly unique experience not to be missed by Japanese tea aficionados.
4. Ochanomizu Hotel Shoryukan: Cpzy, Affordable, and Close to Akihabara!
Starting out life as a traditional ryokan over 70 years ago, Ochanomizu Hotel Shoryukan has evolved throughout the decades and is now a classic hotel that wonderfully blends modern comfort with traditional Japanese design.
Photo by Roza Akino
The hotel features both Japanese and Western rooms, as well as many delightful touches found at traditional Japanese-style hotels and ryokan!
Rooms provide all the comforts of a hotel, and every room has a private bathroom and toilet. Special rooms feature a tatami dining area, veranda, and even a traditional open-air cypress bathtub.
Photo by Roza Akino
There is an in-house public bathing area, where guests can unwind and relieve their stress, as well as experience a quintessential aspect of Japanese culture. After bathing, visitors can wrap themselves up in one of the comfortable yukata provided by the hotel and relax in the lounge area for a truly authentic Japanese bathing experience.
The hotel is located near Tokyo's lively Ochanomizu Station in a district famous for musical instrument stores and cafes. Ochanomizu Station is also located within walking distance of famous Akihabara, the center of anime, manga, and gaming culture in Tokyo. The entire Kanda area, where the hotel is situated, comprises one of the most character-rich sections of the city.
Perhaps one of the most unique and exciting aspects of Shoryukan is that there is a jazz cafe/bar located downstairs - it is here where breakfast is served to hotel guests! At night the cafe transforms into an atmospheric jazz bar, where visitors can enjoy great music and vintage records.
Music lovers will truly appreciate this excellently located hotel and will cherish their time exploring this district's lovely cafes and musical instrument stores.
Discover Classic Tokyo
If one of the purposes of your trip is to experience at least one core aspect of Japanese culture, or maybe even to understand what the average Japanese person perceives as "homey" or "nostalgic," then staying overnight at one of the facilities introduced above might offer you the insights you're looking for.

Although their rooms are available at affordable rates, these hotels and inns offer the soothing comfort that any traveler needs, along with a classic charm that is brimming with Japanese hospitality.

Sponsored by Japan Ryokan and Hotel Association Tokyo Branch
Main image by Pixta

The information presented in this article is based on the time it was written. Note that there may be changes in the merchandise, services, and prices that have occurred after this article was published. Please contact the facility or facilities in this article directly before visiting.