[2023 edition] Spend time outdoors elegantly! 10 Glamping Spots in Okayama
Did you know that the much-talked-about leisure "glamping" (glamorous = attractive x camping) can also be enjoyed in Okayama Prefecture? There are various places where you can have an elegant outdoor experience that is different from usual, such as forests and plateaus surrounded by greenery, uninha...
SETONITE (Tamano City)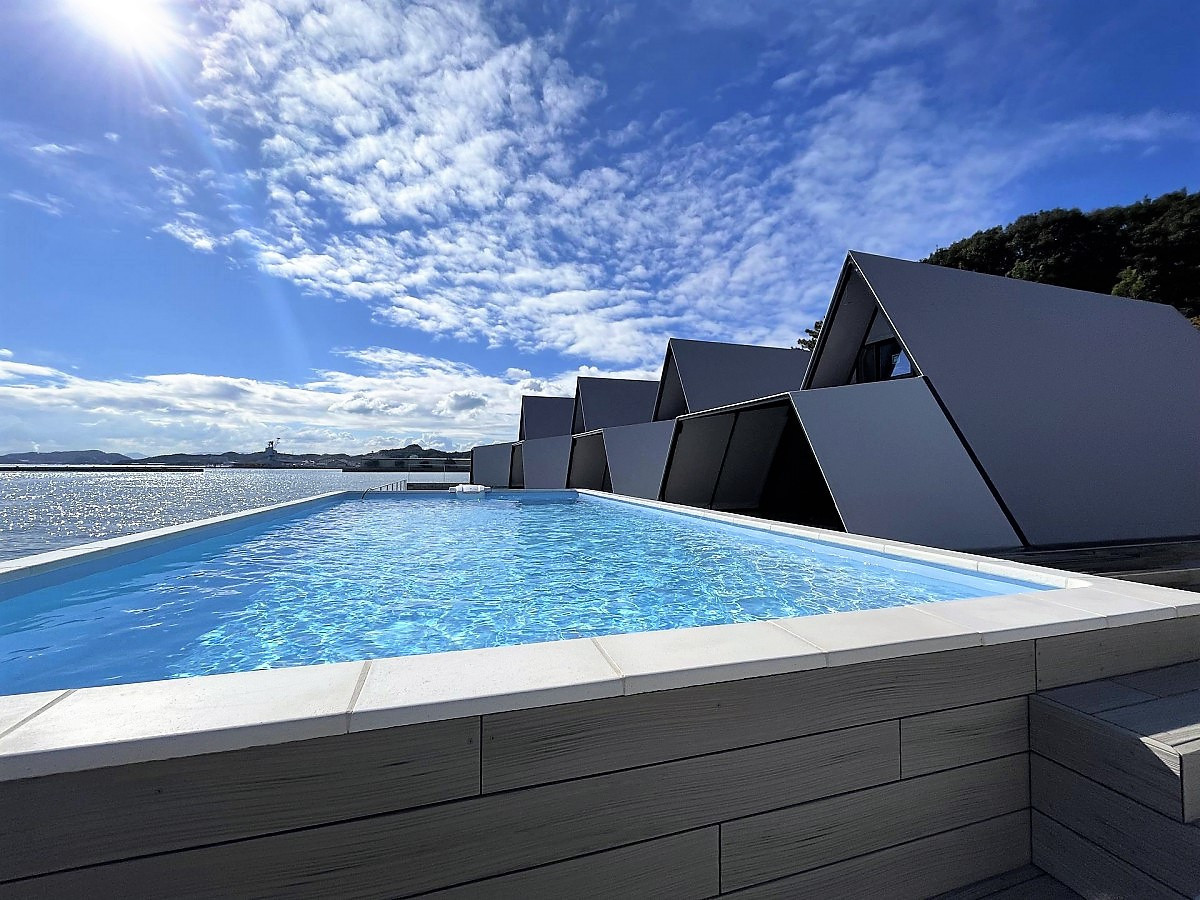 Private glamping "SETONITE" opened on December 13, 2022. The accommodation building has a total of 8 villa-type tents where you can enjoy the feeling of a resort. You can see the sea from every room. In the original barrel-shaped sauna, you can spend a luxurious time overlooking the sea from the window like a picture frame. There is also an infinity pool available only during the summer. You can experience the feeling of becoming one with the Seto Inland Sea in front of you. You can also enjoy outdoor and barbecue-style course meals in the private dining space of each room.
Address: 5-28-30 Tai, Tamano City TEL: 0863-33-1888
Starry Sky Resort HIRUZEN (Maniwa City)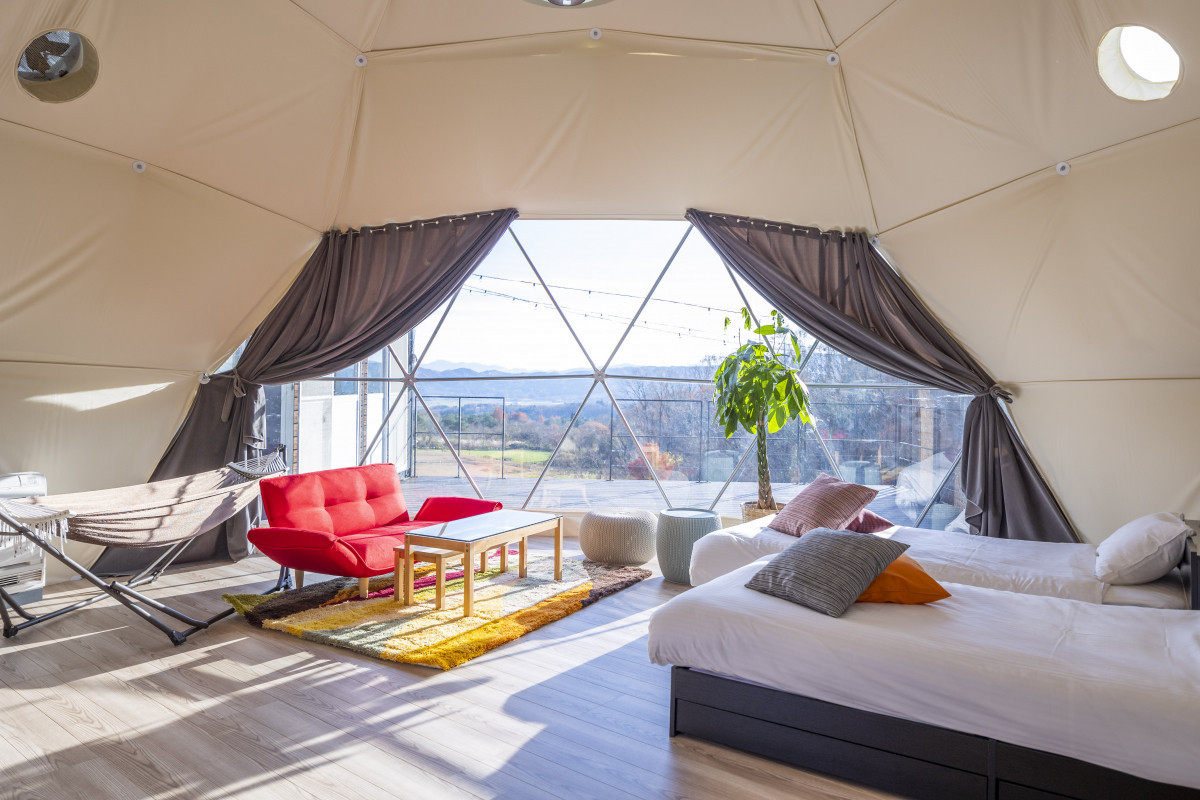 A resort facility with lodging facilities such as an accommodation management building, a grand pin dome tent, and a grand cabin on a vast site of about 6,000 tsubo. In addition to a large dome-shaped tent with a diameter of 7m and a stylish container cabin building, there is also a pet-friendly dog ​​suite cabin. In the background, you can see Chu-Hiruzen, one of the three places of Hiruzen, and below you, the magnificent view of the Hiruzen Plateau. Meals are barbecued using local ingredients and can be enjoyed on the deck space or in the dining space of the administration building.
Address: 694-60 Toyamane, Hiruzen, Maniwa City TEL: 0867-45-1715
Hoshizora Resort HIRUZEN Official Site
OKAYAMA GLAMPING SORANIA (Kurashiki City)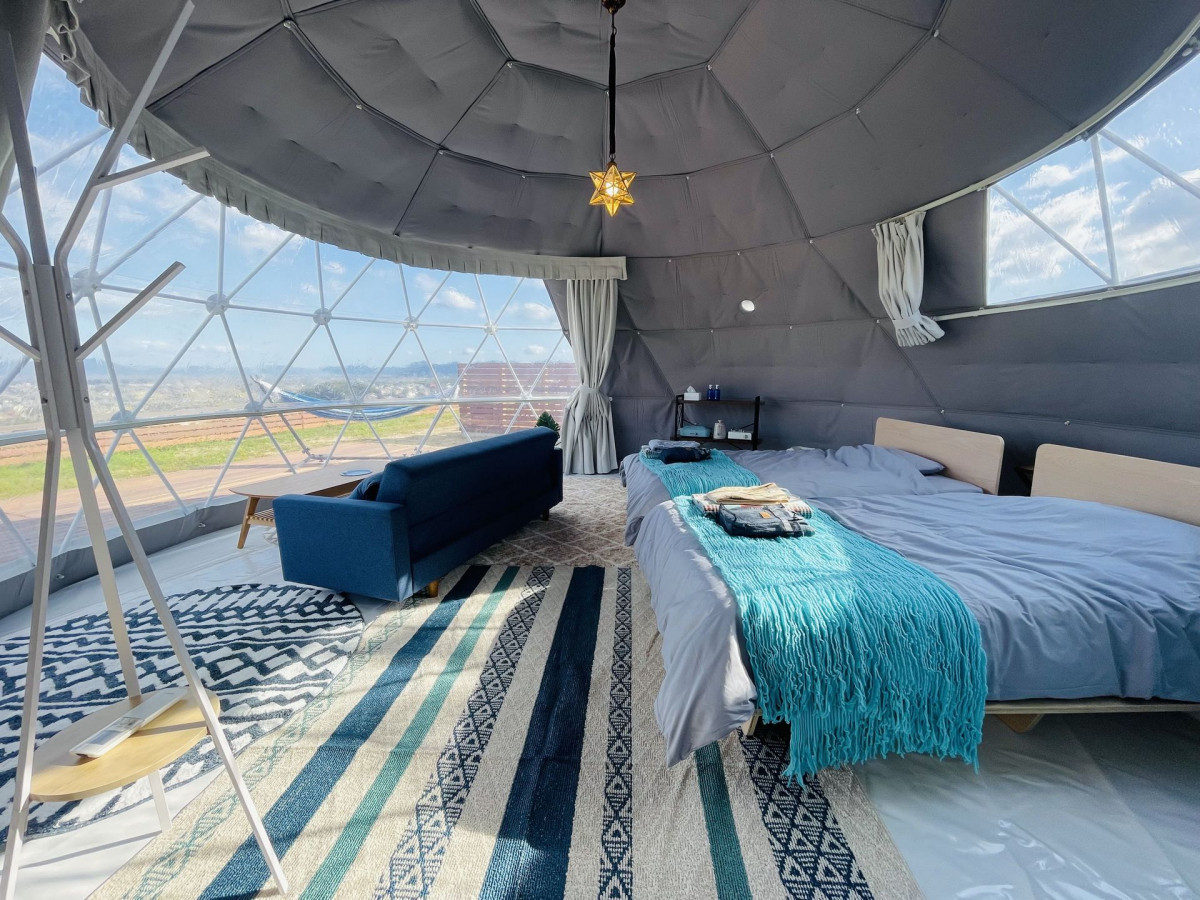 A glamping facility on top of a mountain, 15 minutes by car from the center of Kurashiki, which opened on October 31, 2022. It is a location where you can enjoy the view that overlooks the cityscape of Kurashiki and the beauty of the "sky" that opens up to the full field of vision. You can refresh yourself with glamping, empty-handed BBQ, camping, cafes, etc. while watching the flowing clouds! We have dome style, glamping style, cabin style and parcel sites.
Location: 762-2 Futsukaichi, Kurashiki City
OKAYAMA GLAMPING SORANIA official site
Suntopia Okayama Soja (Soja City)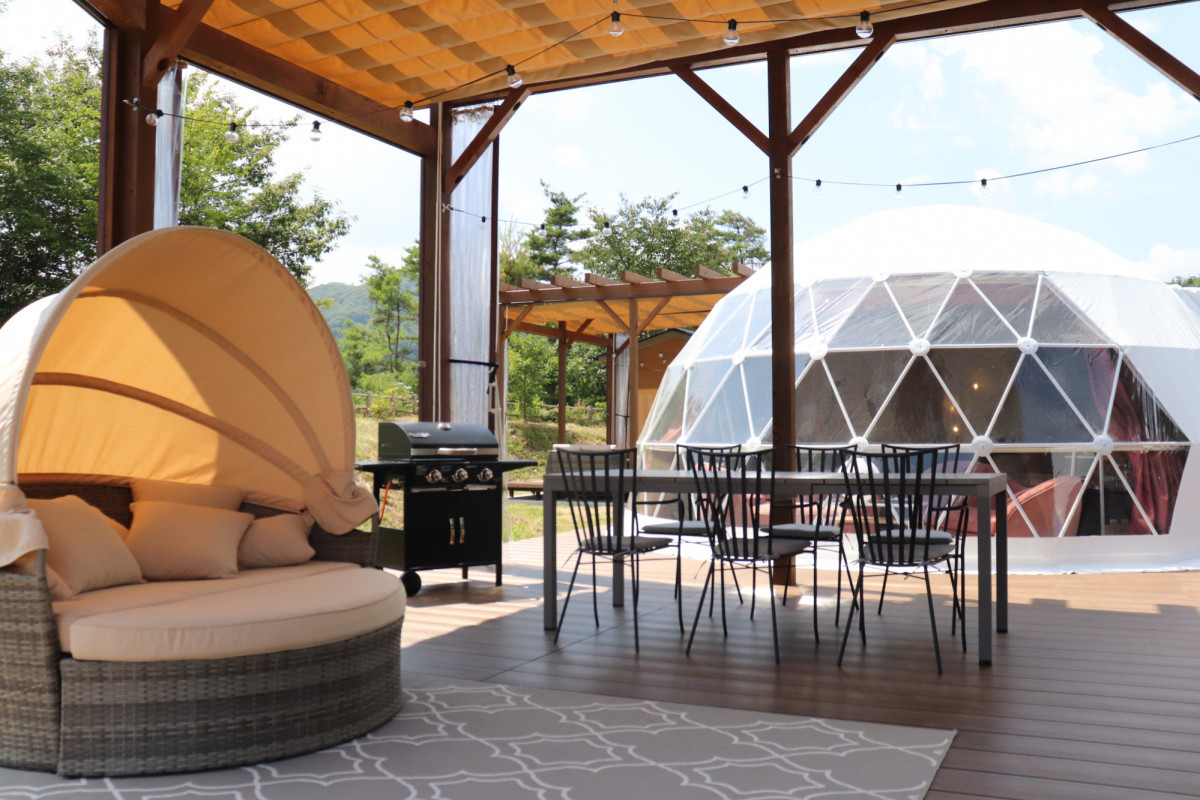 On August 1, 2021, 7 glamping facilities that can be used for luxury camping will be opened at Suntopia Okayama Soja, one of the largest leisure accommodation facilities in Okayama Prefecture. There are two types of guest rooms: 6 exotic African rooms inspired by overseas resorts, and 1 romantic French building inspired by a gorgeous European style. All rooms are equipped with air conditioning and heating, so you can enjoy a luxurious meal without preparing a barbecue or cleaning up, and you can enjoy the resort feeling slowly. In the hot summer, you can also enter the largest pool in the prefecture and use the large public bath. In addition, in cooperation with nearby facilities, 13 types of activities such as canoeing, fishing, and stone oven pizza are available (advance reservation required).
Address: 1215 Hata, Soja City TEL: 0120-310-126, 0866-95-8811 (9:00-21:00)
Suntopia Okayama Soja Official Website Experience Report
Setouchi Glamping (Kurashiki City)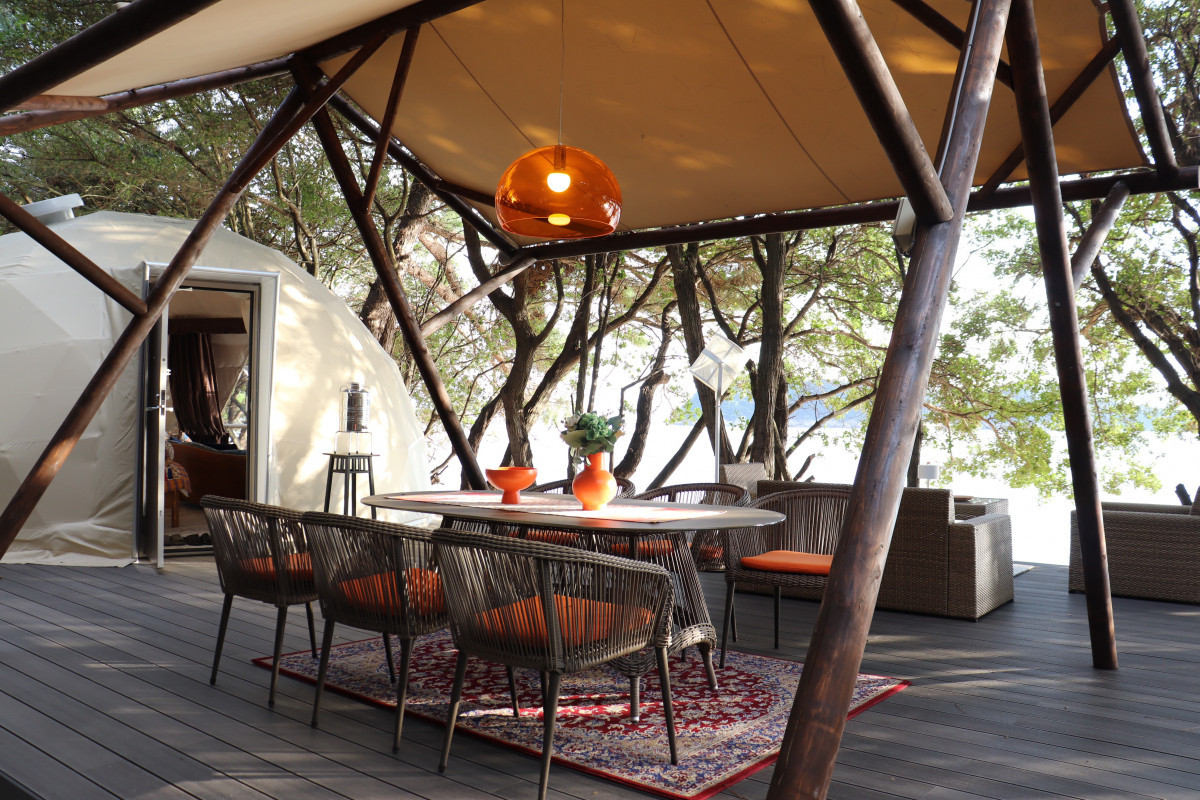 Surrounded by the rich nature of the Seto Inland Sea National Park's "Special Scenic Area", the best location to see the Seto Ohashi Bridge and the beauty of the many islands of the Seto Inland Sea right before your eyes! There are beds and sofas inside the tents, air conditioners and Wi-Fi, and outside the tents there are sofas and tables where you can relax while looking at the sea. You can use the hotel's large public bath and restroom, and enjoy camping as if you were in a hotel. You can enjoy a resort camping in a space that avoids the three honeys, such as cruising where you can see the Great Seto Bridge from below, watching the sunset on an uninhabited island, experiencing barbecues and bonfires, and morning yoga on the beach.
Location: Ohama Beach, Kurashiki City TEL: 086-479-7111
Setouchi Glamping (Shimoden Hotel) Official Website Experience Report
Setouchi private uninhabited island KUJIRA-JIMA (from Tamano city)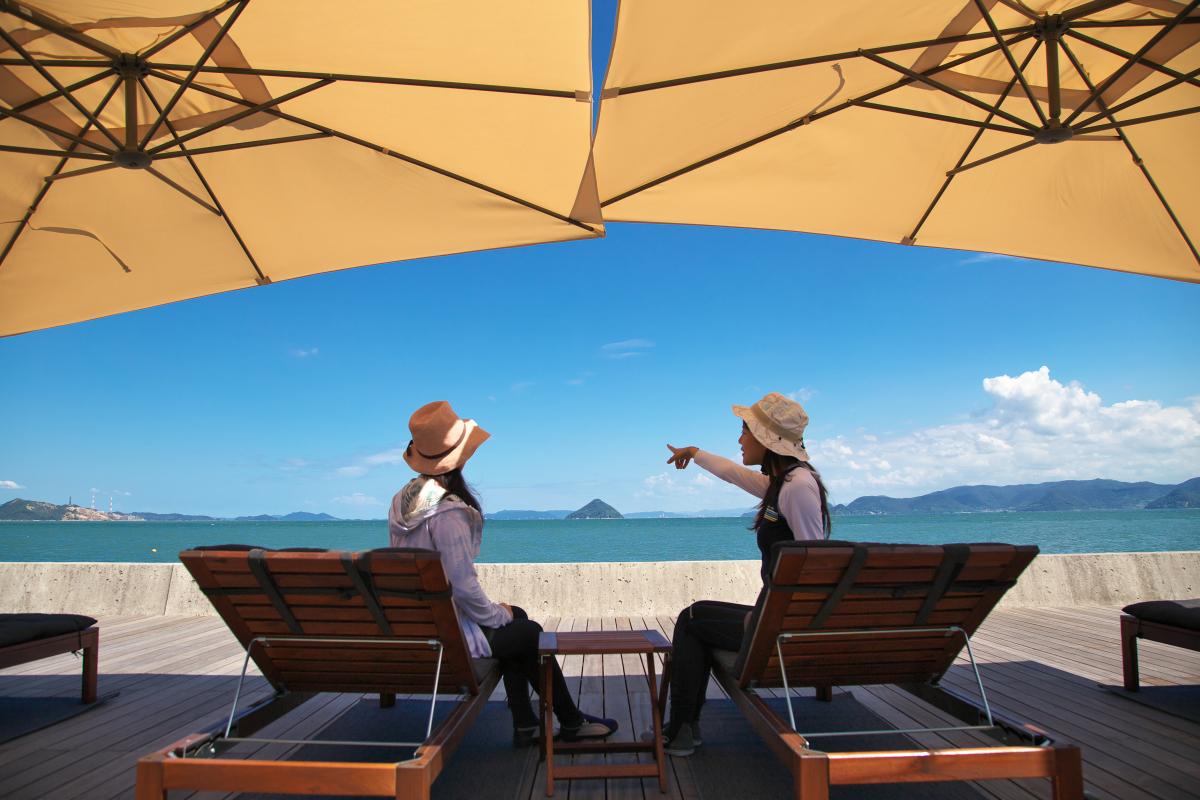 An uninhabited island floating in the calm Seto Inland Sea, commonly known as "Whale Island". Here, you can rent out the entire island for private camping, limited to one group per day. There are facilities such as tents, barbecues, showers, and marine activities such as SUP and sea kayaking (a catering service is also available with a separate order), so you can spend a comfortable time on an uninhabited island. Families, couples, groups of friends, etc. Why don't you spend an extraordinary island time with like-minded friends without being disturbed by anyone?
*Reservation required KUJIRA-JIMA official website experience report
Hiruzen Shiogama Camping Village (Maniwa City)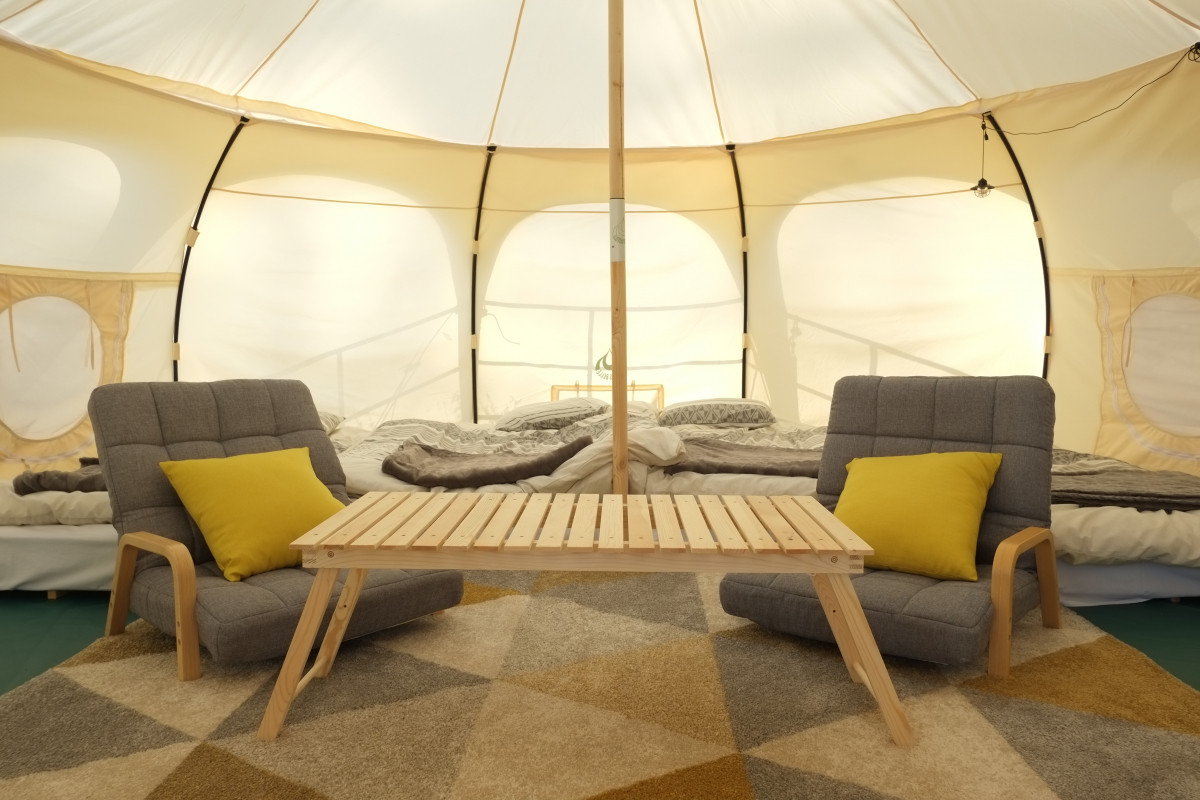 This is a glamping spot in Hiruzen Kogen that opened on July 26, 2018. You can enjoy a rich outdoor experience in an environment surrounded by rich nature. There are various types of camping equipment that can be purchased or rented, so you can come empty-handed. There is also a lodge restaurant, a shaved ice hut using ice from Shiogama Reisen, and a shop on the premises, making it a facility that can be enjoyed outside of camping.
*Reservations required for camping
Address: 27-50 Shimofukuda, Hiruzen, Maniwa City TEL: 0867-66-3959
Hiruzen Shiogama Camping Village Official Site
The Lantown Abamura (Tsuyama City)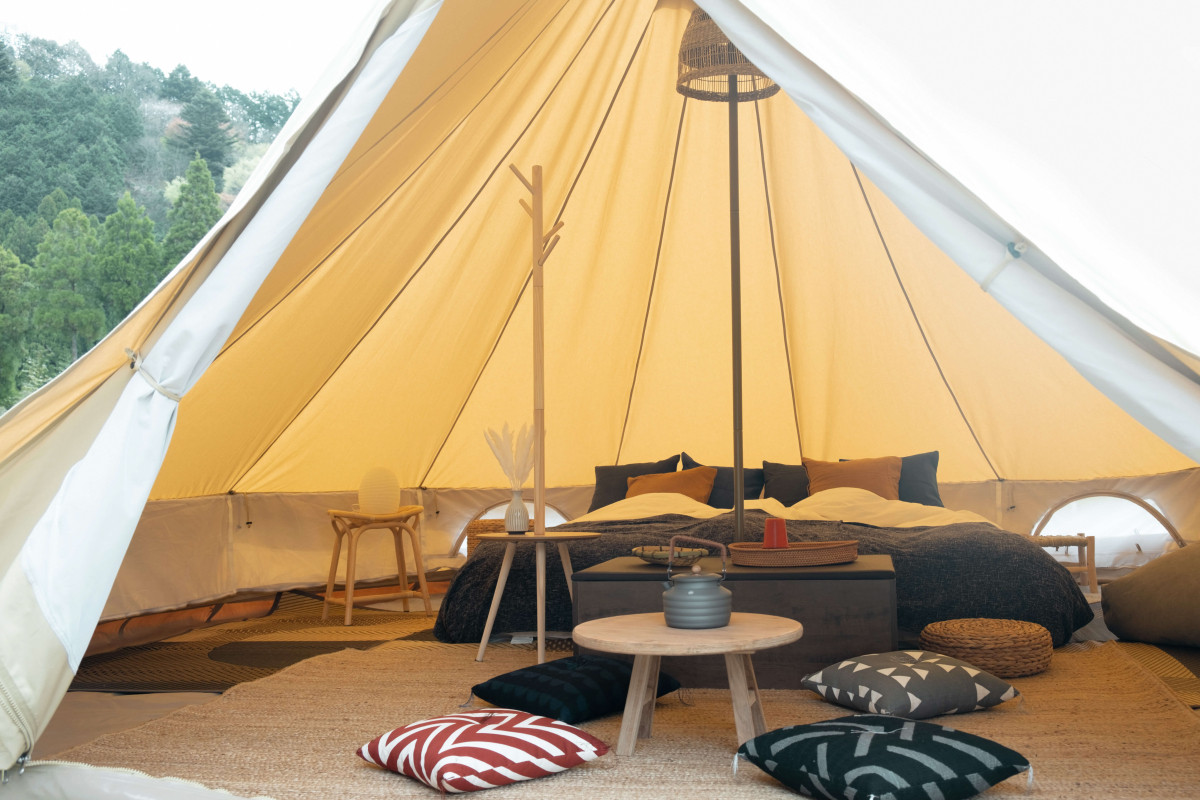 Grand opening in July 2021. It is a glamping facility located in a village forest where the original scenery remains. Dinner is an original barbecue, and breakfast is a Japanese breakfast using locally grown rice and vegetables. You can fully enjoy plenty of nature, fulfilling facilities, and delicious local food. Showers are installed in the facility, and "Aba Onsen", which is about 5 minutes by car, is also available. There is a mountain stream nearby where you can enjoy fishing and other activities. *Reservations required Address: 3108-4 Awa, Tsuyama City TEL: 090-1254-3842 Za Lantern Aba Village Official Website
Okayama Farmers Market North Village (Katsuo Town)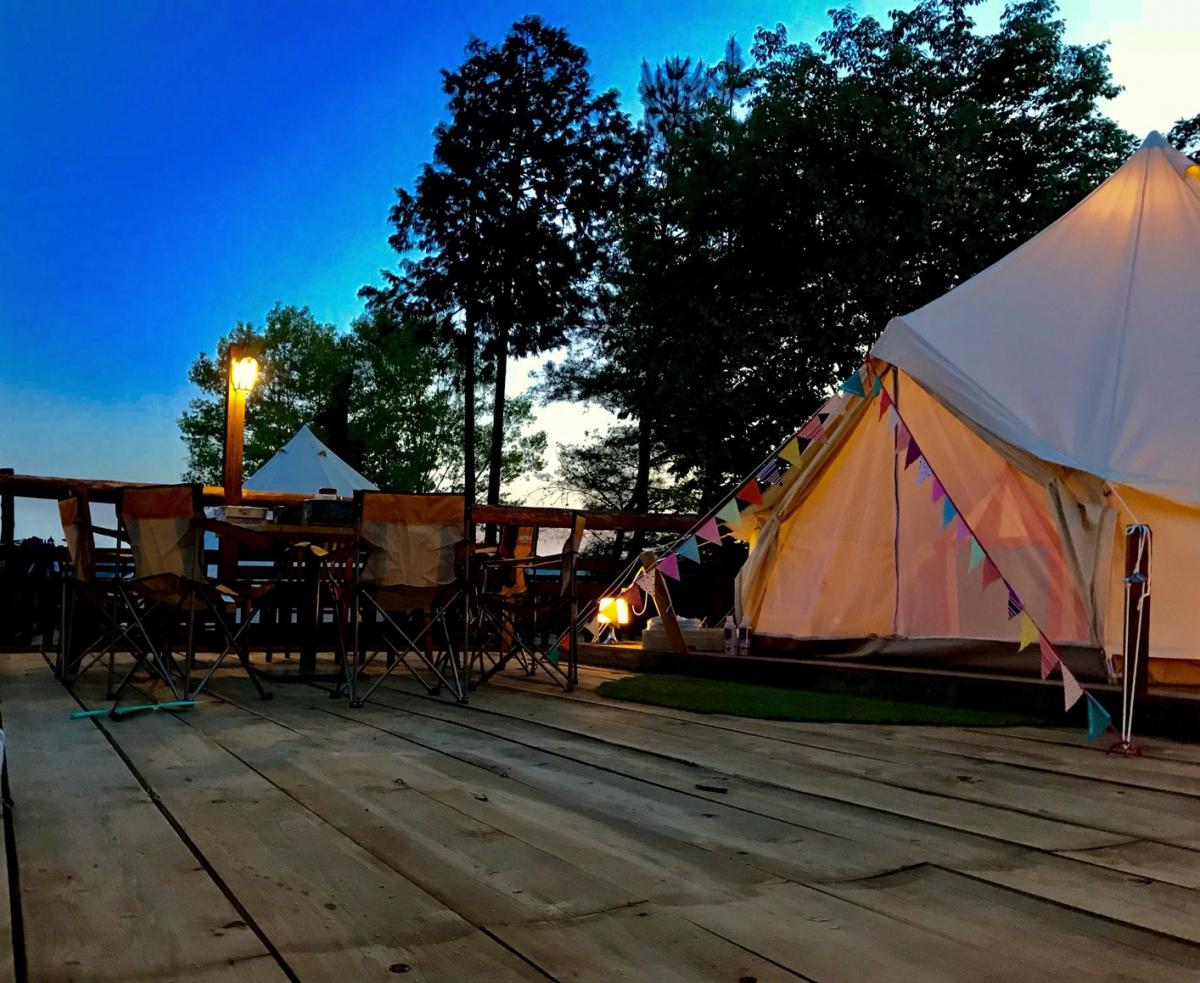 This is an easy glamping site inside the leisure facility "Okayama Farmers Market North Village". The permanent outdoor stay facility, which has a bell tent and sleeping bag, allows you to easily enjoy an outdoor stay by bringing only personal belongings such as a change of clothes. The clubhouse shared by guests is equipped with a kitchen, living room, and toilet. The shared kitchen is equipped with hot water supply equipment, stove, refrigerator/freezer, ice machine, range, cooking table, etc. It is also recommended for people who do not have camping equipment or groups of women only.
*Reservation required
Address: 1100 Oka, Katsuta-gun, Katsuta-gun TEL: 0868-38-1234
Okayama Farmers Market North Village Official Site
Glamping & Cafe Base Beach (Setouchi City)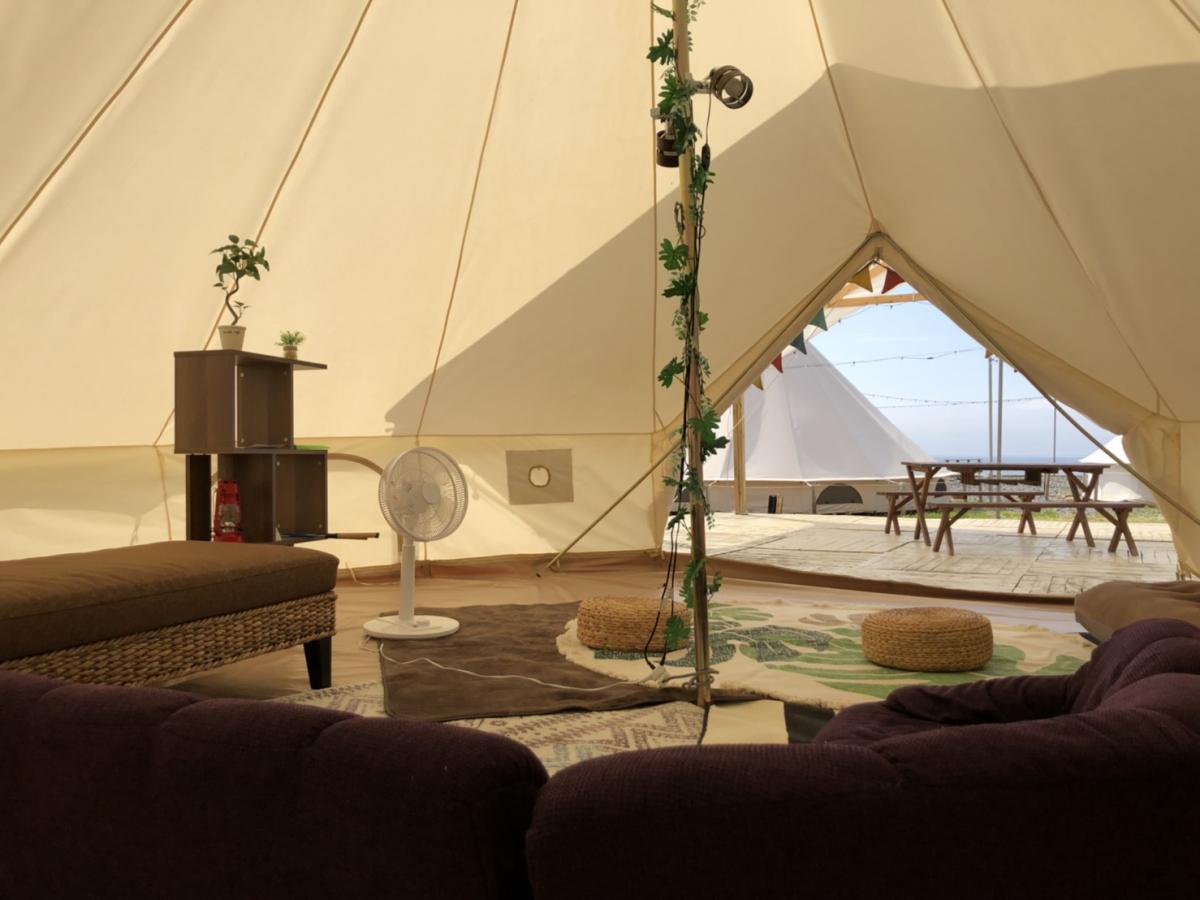 The beautiful sandy beach and the Seto Inland Sea can be seen in front of you, and the silhouette of Shodoshima Island in the distance. A glamping cafe in such a luxurious location. Sofas and tables are prepared in the tents on the beach side, creating a relaxing atmosphere. The staff will prepare the equipment and start the fire for meals, so guests can only enjoy a good time. In addition to the "Bring Your Own Ingredients Course," you should also check out the "BBQ Course," where you can leave the preparation of the ingredients to us and enjoy American-style skewers, grilled foil, bagna cauda, ​​ajillo, and paella.

*Reservation required. 2 shifts per day (daytime and evening)

Address: 6679-5 Shikanobu, Ushimado-cho, Setouchi City TEL: 0863-68-5083

The information presented in this article is based on the time it was written. Note that there may be changes in the merchandise, services, and prices that have occurred after this article was published. Please contact the facility or facilities in this article directly before visiting.

The contents on this page may partially contain automatic translation.