Relish Roses and Hydrangeas in Nagasaki! Flower Festivals at Huis Ten Bosch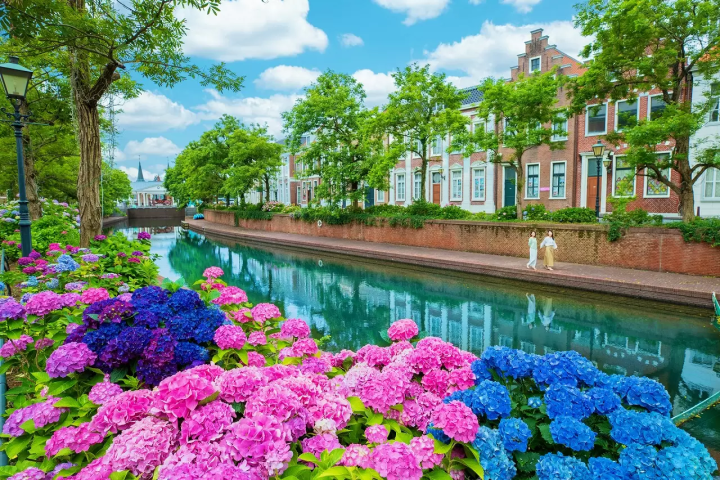 Nagasaki's Huis Ten Bosch is hosting a Rose Festival in May featuring over one million blooms and a Hydrangea Festival in June 2023! These events are a chance to enjoy splendid scenery and European townscapes, flower cruises, delicious wine and cuisine, and many other highlights.
Stunning Views! Flower Festivals in Nagasaki
Starting in May 2023, Nagasaki's Huis Ten Bosch is holding a series of events that allow visitors to enjoy beautiful flowers along with delicious cuisine and music performances.
The Rose Festival (May 8 - 28) and the Hydrangea Festival (May 27 - June 25) will be a one-of-a-kind experience! Highlights include over one million roses, spectacular European townscapes, illuminations, flower cruises, a wine festival, and so much more! Read on to learn more about each event.
Early Summer Events at Huis Ten Bosch in Nagasaki
1. Rose Festival (May 8 - 28)
2. Early Summer Wine Festival (May 8 - 28)
3. Hydrangea Festival (May 27 - June 25)
Over One Million Roses! The Rose Festival (May 8 - 28)
The Rose Festival at Huis Ten Bosch will be featuring over one million roses of 2,000 varieties! The sea of roses against the backdrop of European-style buildings that this facility is famous for creates a type of scenery that cannot be found anywhere else in Japan.
The Grand Rose Garden is the main venue of the event but there are many other places and photogenic spots that will leave you breathless! The flower canal cruise, the Flower Square, and the White Rose Garden of the Palace are just a few of them. Read on for details.
1. Grand Rose Garden
The Grand Rose Garden is a sight to behold! Walking through rose archways, you'll be feeling as if in a fairytale.
The beauty of the garden can be experienced throughout the day until the night. Illuminations light up the Grand Rose Garden in the evening, turning this already stunning environment into a magical sight.
For a limited time, there will be a rose market where visitors can buy their favorite types of roses to take home.
2. Flower Canal Cruise
Travel back in time cruising through a canal of roses! The Canal Cruiser travels through the European-style landscape of Huis Ten Bosch along beautiful, historic streets.
Enjoy this magnificent scenery via cruise or on foot. There are roses in full bloom on both sides of the canal.
3. Flower Photo Spots
The Flower Square is full of seasonal flowers all year round! Why not take some photos here with the crown-shaped display and the roses?
The Palace of Roses features a gorgeous front garden, divided into two sections. The White Rose Garden is full of pure white roses while the Palace Rose Garden grows elegant roses named after royalty such as Maria Theresa.
4. Hotel Europe: Stay at an Elegant Rose-themed Hotel
Around 20,000 roses decorate the interior of Hotel Europe's splendid lobby and lounge.
This fancy hotel features special designer rooms adorned with rose-themed interiors. By staying here, guests can visit the fragrant rose gardens in the morning.
Rose Festival at Nagasaki Huis Ten Bosch
Dates: May 8 (Monday) to May 28 (Sunday), 2023
Hours: 11:00 - 20:00
Website: https://english.huistenbosch.co.jp/event/earlysummer/rose/
Early Summer Wine Festival: Enjoy Drinks and Desserts Surrounded by Roses!
The Early Summer Wine Festival coincides with the Rose Festival offering stunning scenery and sophisticated violin music.
The event takes place in the beautiful rose-filled gardens. Visitors can choose from over 25 different delicious wines to taste alongside snacks and seasonal sweets. The wine varieties include five types of barrel wines from countries such as France and Italy.
There are many non-alcoholic options so that everyone can enjoy the event.
While wandering through the delightful grounds of Huis Ten Bosch, why not take a relaxing rest and enjoy some wine and snacks?
Early Summer Wine Festival
Dates: May 8 (Monday) to May 28 (Sunday), 2023
Hours: 11:00 - 20:00 (Saturdays until 21:00)
Prices:
1) All-you-can-drink course of 30 types of wine (25 types of wine + 5 types of draft wine): 2,700 yen *Single glass also available
2) All-you-can-drink juice + non-alcoholic beverage menu: Adults 1,200 yen, Children (elementary school students and under) 600 yen, Infants (under 4 years of age) Free of charge
Website: https://english.huistenbosch.co.jp/event/earlysummer/winefes/
A Magical Rainy Season! The Hydrangea Festival (May 27 - June 25)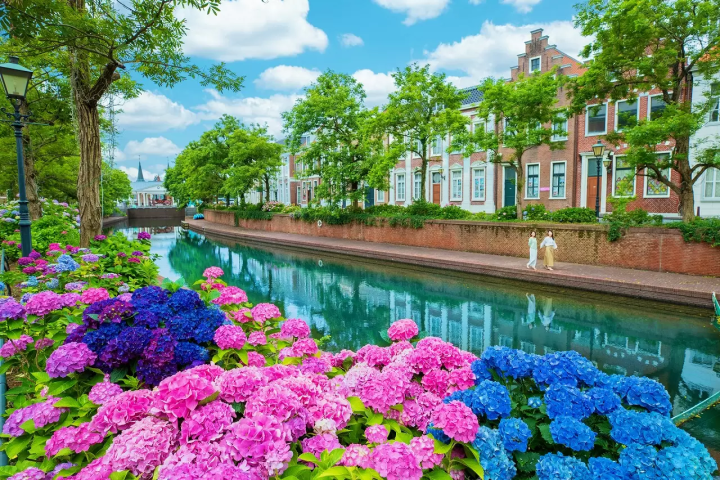 The hydrangeas can be enjoyed in the rainy season, adorning the paths of Huis Ten Bosch's streets and along the canal banks.
Thanks to these gorgeous blue, white, and purple blooms, the rainy season at Huis Ten Bosch is full of color. Take a stroll and witness the vibrant hydrangeas along the reflective canals, painting beautiful scenery that resembles a scene from a fairy tale.
Philipp Franz von Siebold (1796- 1866), a German physician who lived for several years in Japan in the 1820s, was the first to introduce hydrangeas to Europe. He originally discovered these magnificent flowers in Nagasaki!
The hydrangeas along the canal with the European townscape as a backdrop create the perfect spot to take beautiful photos!
Hydrangea Festival at Nagasaki Huis Ten Bosch
Dates: May 27 (Saturday) - June 25, 2023 (Sunday), 2023
Hours: 11:00 - 20:00
Website: https://english.huistenbosch.co.jp/event/earlysummer/hydrangea/
Visit Nagasaki to Enjoy Gorgeous Flowers!
Nagasaki is full of beauty and history: the amazing events held in May and June at Huis Ten Bosch in Sasebo add to the appeal of this region!

Why not take a trip to Nagasaki to enjoy one of these splendid festivals?

Information and photo source: PR Times


Written by

Kate_T

The information presented in this article is based on the time it was written. Note that there may be changes in the merchandise, services, and prices that have occurred after this article was published. Please contact the facility or facilities in this article directly before visiting.