For Hot Spring Lovers! Japanese Pecan Nuts: Sweet Treats Offered at Ryokan Inns
Japanese-style pecan nuts are a sweet treat that can be enjoyed at hot spring inns and hotels. Read on to learn more about the custom of receiving guests with welcome sweets, an essential aspect of Japan's onsen culture, and the increasingly popular Japanese-style pecan nuts.
Sweets Offered at Hot Spring Inns and the Popular Japanese-Style Pecan Nuts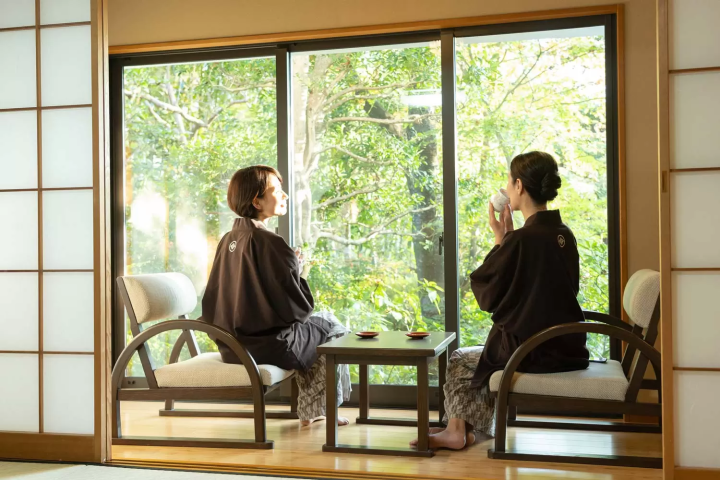 Photo by Pixta
The healing powers of onsen hot springs have been a beloved form of relaxation for centuries in Japan. So, it's no surprise that a profoundly ingrained onsen culture has evolved, which has become an integral part of the omotenashi hospitality found in traditional Japanese ryokan inns. One example is the sweet treats welcoming your arrival as you enter your ryokan inn room for the first time.
You'll typically find these treats neatly presented on the table, providing your first taste into Japan's rich onsen hot spring and ryokan heritage. These desserts are often exclusive to each respective onsen ryokan inn, sold in its souvenir shops, or found in regional roadside stations in Japan.
In this article, we'll introduce the unique culture surrounding sweets offered at hot spring ryokan inns, as well as one of the sweets recently growing in popularity: Japanese-style Pecan Nuts!
Table of Contents
1. Sweets Offered at Hot Spring Ryokan Inns
2. What Are Japanese-Style Pecan Nuts?
3. Our Recommended Ways to Enjoying Japanese-Style Pecan Nuts
4. Where to Buy the Japanese-Style Pecan Nuts?
Sweets Offered at Hot Spring Ryokan Inns
Japan is famous for its omotenashi hospitality, a deeply-rooted cultural practice of caring for guests wholeheartedly. An overnight stay in a traditional ryokan inn is one of the best ways to experience omotenashi at its finest, with Japanese cuisine, sweets, and onsen hot springs making up a large part of this unforgettable experience.
My first time in a traditional Japanese inn was one of my most memorable experiences in Japan. I had just arrived at my Japanese-style tatami-mat room, with my suitcase stowed in the corner of the room. A tray with a tea set was neatly arranged on the room's low table, and a small dish of refreshingly sweet citrus jelly awaited my arrival.
While this treat was a refreshingly sweet moment to appreciate Japan's famed omotenashi hospitality and onsen culture, it also had a practical element. By gently raising my blood sugar levels, it was effectively readying me for the relaxing, hot spring soak I was about to enjoy next.
Photo by Pixta
One of the many health benefits of hot springs is their remarkable ability to lower one's blood sugar levels. However, after a long day of travel, you wouldn't want to lower it too much, and these sweets help maintain a healthy balance.
The sweets that guests at ryokan inns find in their rooms are often referred to as "welcome sweets." This culture of receiving guests with a small treat led to the development of an impressive variety of Japanese confections.
The sweets that you get to taste at a ryokan are usually available at the inn's souvenir shops so you can take them home to friends and loved ones.
Japanese-Style Pecan Nuts: Available at Onsen Ryokans and Hotels
The Japanese-style pecan nuts produced by Salon de Royal are gaining popularity among the sweets sold at traditional hot spring inns.
First established in 1935, Salon de Royal is a long-established chocolatier that fuses decadent Western flavors with Japanese tastebuds, earning them a reputation as one of the premier chocolatiers in Japan.
Each of Salon de Royal's lineup of pecan nuts is wrapped in a luscious layer of white or milk chocolates, mixed with a delightful infusion of flavors such as caramel, cocoa, and gyokuro and matcha green tea.
Pecan nuts are also naturally rich in essential fatty acids such as omega-3 fatty acids, complementing the creamy chocolate texture for a well-balanced decadent sweet. They are perfect to enjoy right before a relaxing hot spring soak, as a treat when relaxing at home, or as gifts to family and friends.
These Japanese-style pecan nuts are growing in popularity, especially after winning an award at the National Confectionery Exposition, Japan's most significant sweets fair. And with Japan's famous artistry for sweets and desserts, this is no small feat.
Our Recommended Ways to Enjoying Japanese-Style Pecan Nuts
Photo by Pixta
Nothing pairs quite as well with a Japanese sweet or dessert as a soothing cup of green tea, and these pecan nuts are no exception. The refreshing, fragrant aroma of green tea gives the right balance to these sweet treats and is one of our recommended ways to enjoy these Japanese chocolates.
In addition, black coffee pairs wonderfully well; its slight bitterness nicely offsets the sweetened pecan nuts.
Enjoy them as a dessert after a savory meal or an afternoon snack with tea on the side. The smooth texture of chocolate coated in typical Japanese flavors such as kinako (roasted soybean powder) or green tea powder is a true delight!
Where to Buy the Japanese-Style Pecan Nuts?
The Japanese-Style Pecan Nuts are sold exclusively at hot spring hotels and resorts. You won't find them at stations, airports, roadside stations, or regular souvenir shops.

An overnight stay in one of Japan's onsen hot spring inns is a truly memorable experience. If the souvenir shop of the ryokan in you're staying at carries Japanese-style Pecan Nuts, do try these delicious sweets!

Written by Mika
Sponsored by Salon de Royal

The information presented in this article is based on the time it was written. Note that there may be changes in the merchandise, services, and prices that have occurred after this article was published. Please contact the facility or facilities in this article directly before visiting.