We searched supermarkets for ingredients unique to Hokkaido's autumn | Prices included
This service includes sponsored advertisements.
For those who want to enjoy autumn gourmet food in Hokkaido. We searched supermarkets for autumn ingredients unique to Hokkaido, such as fish and agricultural products. When you come to Hokkaido, you can either eat locally or buy ingredients as souvenirs to take home. So, this time we will introduce...
1: Autumn salmon
When it comes to Hokkaido's signature autumn flavor, it's salmon!
Salmon born in Hokkaido and raised in the sea return to Hokkaido's rivers from September to November. Salmon caught at this time of year is truly representative of Hokkaido's autumn taste. The taste of autumn is also called akiaji.
A famous and typical way to prepare and eat autumn salmon is salmon chan-chanyaki. The miso-flavored chanchanyaki is a dish of miso-flavored chanchanyaki, which is made by steaming raw salmon with various vegetables such as onions, cabbage, and potatoes.
Of course, you can eat it at izakayas and local restaurants in Hokkaido.
The market price for raw salmon varies depending on the season, but it's usually around 200 yen for 100g.
2: How much (sujiko)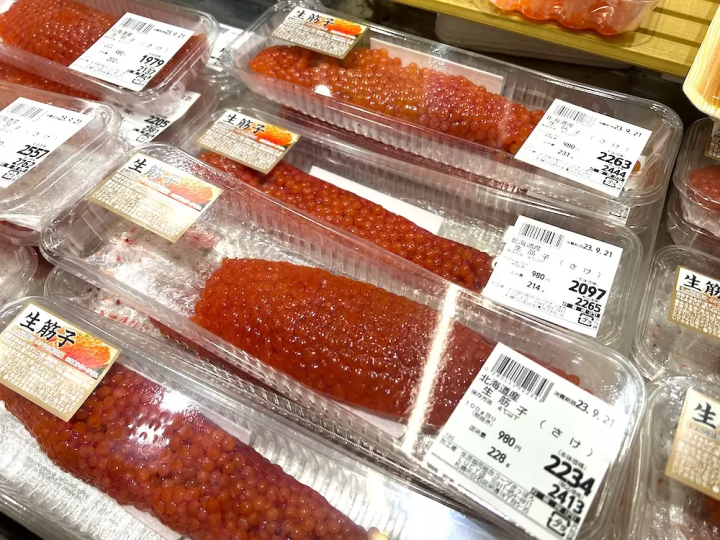 Now, along with autumn salmon, another autumn delicacy that can be found in stores is ``sujiko,'' an egg made from salmon. Making salmon roe from sujiko is the standard for Hokkaido households in autumn.
I bought raw suji roe, took it home, loosened it, and seasoned it with soy sauce and alcohol. The home-style autumn taste of salmon roe pickled in soy sauce is ready.
There are many ways to make salmon roe on YouTube and other sites, but the one you should be careful of is "anisakis." Anisakis is a long, thin, whitish parasite about 2cm long. There is no need to worry about frozen products, but raw muscle roe often has anisakiasis attached to it, so be sure to check it carefully when loosening the muscle roe.
The unit price of ikura has been on the rise in recent years. The general price is around 800 to 1000 yen per 100g. Still, it's a lot cheaper than buying a finished product.
3: pacific saury
Along with salmon, saury is a popular seafood. The main production areas are Nemuro and Kushiro in Eastern Hokkaido, but recently the catch has been poor here as well, and it is becoming an expensive fish.
The best way to eat saury is to grill it as is! In addition, the freshest seasonal sanma can be eaten as sashimi or sushi toppings.
Regarding the market price of saury, it used to be sold for 100 yen or less per fish, but in recent years, due to poor catches, it can cost more than 200 yen per fish. As you can see in the photo, if it costs about 150 yen (excluding tax) per animal, it can be said to be a passing grade. Choose as large a piece of fatty saury as possible.
4: Onion
There are many Hokkaido agricultural products that are representative of autumn, such as potatoes, pumpkins, and long yams, but the one that I would like to recommend is onions. Hokkaido is a major onion producing region, producing approximately 60% of the nation's onions. Among them, Kitami City in eastern Hokkaido boasts the highest production volume in Japan. Recently, high-quality branded onions such as ``Sapporo Yellow'' grown near Sapporo have also been attracting attention.
Around the beginning of September every year, you can see onions dug up in onion fields lying around, a typical autumn scene in production areas such as Kitami.
As for the delicious way to eat onions, they are also essential in the aforementioned ``Salmon Chan-chan-yaki'' and ``Genghis Khan,'' a gourmet dish unique to Hokkaido.
In recent years, the market price for onions has been around 40 to 50 yen per piece in the fall.
5: Rice
The last thing we would like to introduce to you is rice, which is essential to the dining table! Hokkaido, known as a major producer of branded rice, is full of delicious rice such as ``Yumepirika'', ``Nanatsuboshi'', and ``Oborozuki''. In Hokkaido, new rice begins to become available around September, a little later than in Honshu.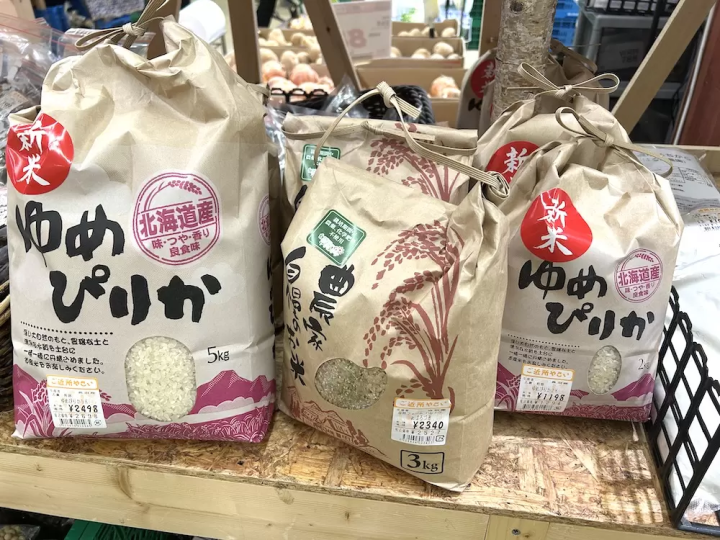 At this time of year, you can find freshly harvested and freshly milled rice sold by rice farmers, with the exception of the roadside stations scattered throughout Hokkaido, so we recommend you buy some. Yo.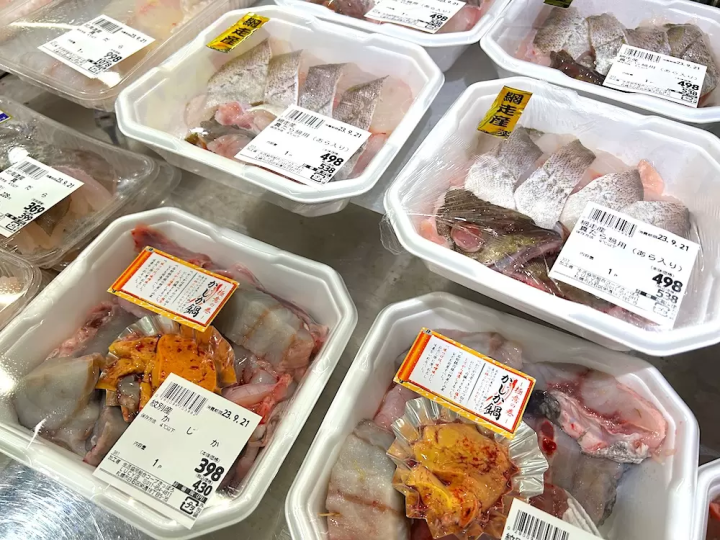 So far, we have introduced five of Hokkaido's typical autumn flavors. Of course, there are other ingredients that are in season in autumn, such as natural shishamo, which is in season in October, kajika, which is delicious when made into a hot pot, and matara, which is in season through winter, as well as potatoes, carrots, and lily bulbs. .
Please come and enjoy the taste of autumn in Hokkaido!
Image taken by: Coop Sapporo Lucy store (Sapporo Shiroishi Ward)
Co-op Sapporo, a consumer cooperative, operates over 100 supermarkets in Hokkaido. We sell a variety of food products including ingredients from Hokkaido.
Website Consumers' Co-op Co-op Sapporo
Written by
Co-op Travel Co., Ltd. (Sapporo City) is a travel business company of Co-op Sapporo, a consumer cooperative with 1.95 million members in Hokkaido. We plan and sell tours unique to Hokkaido, such as gourmet, hot springs, and sightseeing. The planning staff, who know everything about Hokkaido's attractions and gourmet food, will introduce you to information that will make your trip to Hokkaido even more enjoyable. We will also introduce articles and tours related to model courses.

The information presented in this article is based on the time it was written. Note that there may be changes in the merchandise, services, and prices that have occurred after this article was published. Please contact the facility or facilities in this article directly before visiting. Some of our articles contain affiliate links. We kindly ask our readers to exercise careful judgement when making a purchase or booking a service online.

The contents on this page may partially contain automatic translation.