[Shiso City] "YAMASAND" is a sandwich shop that gives you energy with lots of vegetables.
This service includes sponsored advertisements.
``YAMA SAND'' is a sandwich specialty store with an orange container shop, play equipment, and tables made of drums and electric wire drums, spread over approximately 400 tsubo (400 tsubo). Not only because of the deliciousness of the sandwiches, but also because of the fun location, it has become o...
Opened with the desire to create a place where people can gather
The owner, Takuya Yamauchi, has a wonderful smile. A native of Tamba City, he is a chef who honed his skills at hotels such as Hotel Okura. In 2021, by chance, my family moved to Shiso City, my wife's hometown.
``I wanted to create a place where people could gather,'' he said, so in November of the same year he opened a sandwich shop in a corner of his home using orange containers. It became so popular that so many customers came that it became too small, so in 2022, it moved to its current location and opened.
The new location is along Prefectural Route 26 (Shiso Shingu Line) near the Ona intersection. It's in a great location, 5 minutes by car from Yamazaki IC on the Chugoku Expressway, and it's an easy-to-understand location with a home center and other facilities. The spacious area of ​​approximately 400 tsubo (400 tsubo) is equipped with complex play equipment, a sandbox, and tables made of drums and electric wire drums, making it a fun place that even non-children can get excited about.
There are many families who eat sandwiches while letting their children play, and some even come all the way from Hanshin-ma, Aichi, and Wakayama just to visit this shop. ``There aren't many playgrounds for children in Shiso, so I'd like people to come and make some memories during their holidays,'' says Yamauchi.
Introducing the sandwich lineup
There are about 5 types on the menu, including seasonal items. The bread we use is original bread baked at an employment support office in Shiso City, and the vegetables and fruits we use are mainly grown in Shiso City. Each item is processed separately. The eggs we use are from Kajimoto-san, a local farmer who has been working on eggs for 40 years.
By far the most popular ``Vegetable Gorogoro Sandwich.'' This product has been featured in various media such as TV, radio, and magazines. This sandwich uses over 10 types of vegetables, including carrots, lettuce, pumpkin, and purple cabbage, and has a cute, colorful cross section that you won't find anywhere else.
The ``Ebi Mayo Sandwich'', which is popular among girls, sells well even on hot days. It has a lot of shrimp in it and has a luxurious feel to it.
">
The ``Teriyaki Sandwich'', which is full of volume and contains a piece of chicken thigh, is a product that has been available since autumn. In the summer, ``Salt Lemon Chicken'' with a refreshing taste made with special lemon sauce will be available for 750 yen.
The harmony of thickly sliced ​​bacon and eggs is exquisite, making it popular among people of all ages.
">
The contents of the ``Fruit Sandwich'' change depending on seasonal fruits and events. Until the end of May, they will be using strawberries from a strawberry farm in Shiso, and in the summer they are experimenting with Shine Muscat. He may have already made his debut. All of them have their own characteristics, and there are some fans who only eat them.
``A senior couple in my neighborhood comes here three or four times a week, and each time they buy a thick-sliced ​​bacon and egg sandwich, they eat one piece each for dinner.We're happy to have customers like that, too.'' Mr. Yamauchi. In addition, ``roast beef'' and ``ginger grilled'' may appear depending on the manager's whim.
Drinks are also popular
">
Recently debuted and is very popular "Drink! "Coffee Jelly" is a product that Mr. Yamauchi "loves so much that he drinks it every day." They focused on creating a balance between the jelly and milk, and deliberately left the texture of coffee jelly. It's more of a dessert than a drink.
``Fruit Tea'' is lemon tea with frozen raspberries, blueberries, and pineapple. This is a popular drink with the exquisite sweetness from the fruit.
">
The "Strawberry Milk" that appears at the event is also popular. The 200 cups of this product, made with plenty of strawberries, prepared at an event in Shiso City sold out in no time. It has a fruity taste and I can see why it is so popular.
Monthly quizzes and lots of fun on the back of the container.
After ordering a product, you will be given a buzzer and a quiz sheet while waiting for it to be ready. The sheet contains a quiz called ``Challenge from the Store Manager'' that focuses on junior high school entrance exam questions.
The customers who were waiting looked bored, so I thought it would be a good idea to give them a challenge while they were waiting. It comes out once every 1-2 months, and the 9th issue is now out, and some people come looking forward to it.
Also, pay attention to the back side of the orange container. There is also a permanent marker so you can write your own messages. ``I want you to enjoy your holiday here. Why don't you write me a message so I can keep memories?'' The containers with their own personal messages written on them seem to bring smiles to customers' faces.
Various activities to energize the region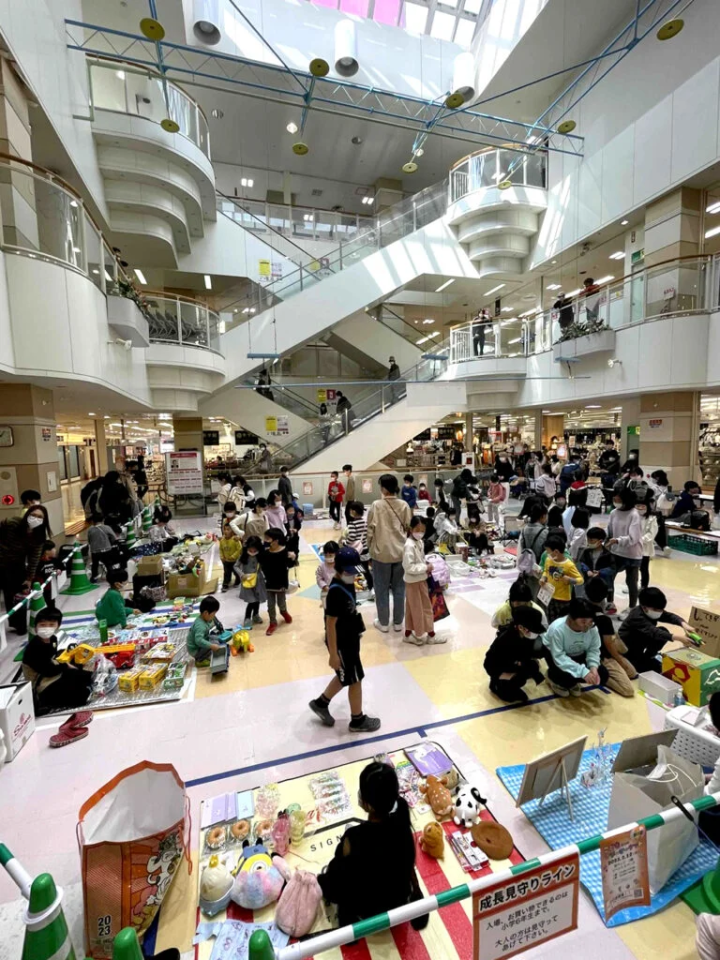 ">
At the same time, Mr. Yamauchi is also conducting activities to revitalize the region.
Once a year in 2022 and 2023, we sponsored a ``Children's Flea Market'' as part of the ``Shiso Genki Genki Daisakusen'' project, which was planned with free ideas and revitalized the region. This is literally an event where only elementary and junior high school children manage the store on the day of the event, as well as from the preparation stage. Held in collaboration with Kyoto University of the Arts and Himeji University Faculty of Education students who aim to become teachers. Students are in charge of explaining the rules, while adults just watch over them. It seems that this event was a great success.
The items sold vary depending on the store. Selling unnecessary items at home, buying prizes and winning lots, playing traps and dice games, making accessories, etc. It seems that each booth was creative to liven up their shop.
``We deliberately asked for a fee to open the store.We did the marketing ourselves, and if the items didn't sell, we each tried to come up with ideas, such as selling sets or offering discounts,'' says Yamauchi. YAMASAND will promote its ``Children's Playground Project'' based on this event, which was well-received by both adults and children, saying ``Shiso doesn't have many places to play, so I'm happy.''
Furthermore, Mr. Yamauchi shows no signs of stopping to take on new challenges: ``I want to support people in realizing their dreams,'' ``I want to increase employment,'' ``I want to enter the nursing care business,'' and ``I want to do activities that connect people who are working hard.'' yeah. We look forward to seeing you in your future endeavors.
(Writer Utami)
*This article is information as of July 2023. Prices include tax. Product contents and prices may change.
great value bus tickets
『Hyogo Amazing Pass』
With this ticket, you will not only be able to ride the route bus (Orange Shinki Bus) that runs within Hyogo Prefecture as many times as you like for one day, but also the City Loop and Port Loop, which connect Kobe's main tourist spots. Unlimited rides! Why not take a local trip by bus? *Limited to foreign visitors tourists visiting Japan
how to access
In the case of Shinki Bus (1 transfer)
Take the Shinki bus bound for Yamazaki from platform 4 at Himeji Station (North Exit) and get off at the Yamazaki (Shiso City) bus stop. At Yamazaki (Shiso City), transfer to either the Daicel-bound, Tatsuno-bound, or Shingu-bound bus, get off at the "Joshita" bus stop, and walk 4 minutes to your destination.
For cars
5 minutes by car from Chugoku Expressway Yamazaki IC to the destination.
basic information
YAMASAND

Address: 140 Yamazakicho Ona, Shiso City, Hyogo Prefecture

Phone number: 090-9546-6981

Business hours: Weekdays 10:00-15:00, Saturdays, Sundays, and holidays 9:00-15:00

Closed: Monday

Parking lot: 20 spaces

SNS: Instagram

Written by

What are good things and good experiences? There are many characteristics such as having a story to tell, overflowing with the thoughts of the creator, having a history, and being loved by the locals. Have you ever come across a special thing or experience that made you want to tell someone about it? And as a result of telling, someone new leads to something. We think that's what "good" is all about. In order to deliver such encounters to our customers, we discover Hyogo's good things based on the concept of "talk, communicate, and connect", and provide information that will shorten the emotional distance between customers and the region of Hyogo Prefecture.

The information presented in this article is based on the time it was written. Note that there may be changes in the merchandise, services, and prices that have occurred after this article was published. Please contact the facility or facilities in this article directly before visiting. Some of our articles contain affiliate links. We kindly ask our readers to exercise careful judgement when making a purchase or booking a service online.

The contents on this page may partially contain automatic translation.