A Taste Of Japan - Seasonality In The Snack Aisle
A Taste Of Japan - Seasonality In The Snack Aisle
A cultural affection for seasonality is apparent in the wonderful and ever changing variety of snacks and drinks at the local convenience store. Discover for yourself a new favorite treat each time you go to the combini!
Seasonality is a word often heard when talking food in Japan. That's why for instance we enjoy bamboo shoots in spring, persimmons in autumn, and yellowtail in winter. And it follows, as foods harvested or caught in season are at their peak in flavor, and so best enjoyed at the time.
This is good news for the consumer, as it creates an amazing variety of foods at the market that changes as often as do the seasons. What's more, this holds as true in the snack aisles of the local conbini (convenience store), as at the stands at the local green market.
Calbee Potato Chips
If you've ever visited Japan you've most likely seen a bag of Calbee brand potato chips, as these are just about everywhere. And for good reason, as they're scrumptious! The Lightly Salted is a main flavor, and as you'd expect of most chips, it's light, crispy and delightful.
Calbee's main flavors also include Consomme Punch! on the left and Seaweed & Salt on the right. The seaweed taste inflected chips are savory yet mild, whereas the consomme flavored chips carry a bit more bite (Puuuunch!).
French Salad in the green bag, and Japanese Plum in the red, is where the flavor varieties really start to get noticed. The potato tout (wearing the hat) is talking up the sour yet rounded french salad taste, and his twin is pitching the quality of its plums, as they're grown in the Wakayama region of Japan.
Calbee Kettle Chips
Calbee also offers a Kettle Cooked line of chips, which are thicker and with a heftier crunch. Seaweed & Salt on the left is mild and savory, and a main flavor. Yuzu-kosho on the right is entirely different. It's seasoned with a combination of Yuzu (a citrus fruit), chili peppers, and salt, and tastes simply divine.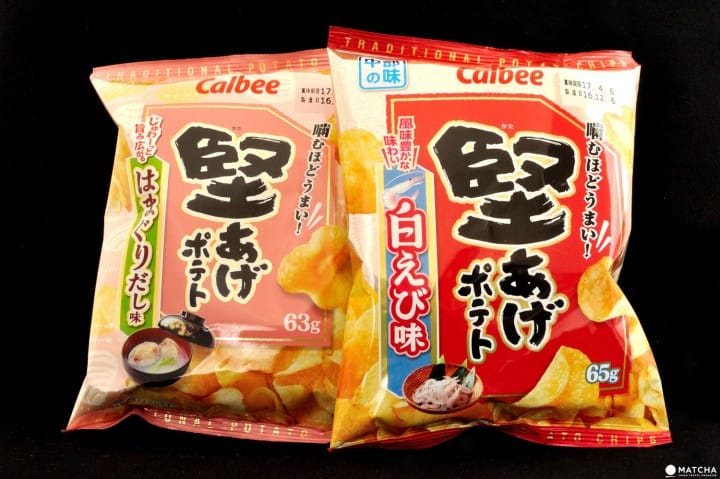 Packaging designs artfully convey a mouthful with a single image. The steaming bowl of Hamaguri Clams on the left, and the shimmering serving of White Shrimp on the right are both irresistible. White shrimp is very much so regional as its caught almost entirely off the coastline of Toyama Prefecture.
Beers for Hanami
Seasonality can also be discovered in the packaging design. In the case of beer, Cherry Blossoms and other Spring flowers grace the beverage aisles each year for a few weeks from early Spring, and just a step ahead of hanami (cherry blossom viewing) season. If you know hanami, then you also know that it means picnics, friends and cheerful Kanpai!, and the seasonal designs are very much in tune with the occasion.
And in case you've missed hanami season this year, enjoy instead a fireworks display at a summer festival, or a stroll underneath the foliage during Autumn. There are seasonally designed cans made to match these occasions as well, and always add that extra touch.
Treats for Exam Time
Packages are also designed for other occasions, such as in spring when students are preparing for High School and College entrance examinations. Chocolate treats designed with blossoms and emblazoned with messages exhorting students not to give up in their studies are often sent from friends and family in a show of support. In fact some treats are designed to be mailed as is via the post, with space on the package itself for writing personal messages.
Pocky (pokki! pokki!)
Pocky biscuit snacks are a sheer delight, and are named for the pokki! pokki! sound of the biscuit stick as it snaps. It also boasts, as its maker puts it, a "Handle Innovation", and are perfect for on the go, and sharing with friends. Chocolate Pocky as pictured front and center is the original, and from there the flavor varieties expand out into literally the dozens.
Matcha Pocky has green-tea flavored chocolate, and its design as expected conveys grace and sophistication. Coconut Pocky on the other hand seems a bit unruly, and so is dressed appropriately in a Hawaiian shirt inspired motif. Almond Crush Pocky is literal in design, and so for almond lovers I think a no-brainer. (One tip by the way if you have the time - cool your Pocky for a bit in the fridge before you eat, so as to give it that extra pokki!)
Snack makers as often collaborate with others in offering promotional campaigns, and these days it's the Peanuts gang that's hanging around the conbini aisles. As part of the campaign, customers are invited to download an app from the promotional site, and using information on the packaging itself to hunt down the mysterious silhouette!
Nissin Cup Noodle
Nissin Cup Noodle is I think pretty much known the world over, or at least if you've ever been in a dormitory. They're instant noodles in a styrofoam cup and all you need is hot water, a few minutes, and Voila!, grab your chopsticks and enjoy. Personally, I've eaten more than I'd like to admit, and as it stands right now my absolute favorite would have to be the Tom Yum flavor on the right. It's wonderfully rich and spicy, and I'm a fiend for it!
Matcha Seafood in the center has both matcha flavor infused noodles and soup broth. It's no doubt delicious, but quite honestly I was entirely sold by the design alone, adorned as it is with iconic images from both past and present day Japan. Cheese Curry is one of the main flavors, and if you've ever had the fortune of enjoying the Curry flavor, think curry plus cheese, and then get yourself as fast as you can to the conbini!
Nissin Cup Noodle also just recently offered its own version of Ippudo New York's, Clam Chowder Noodle. Ippudo is a ramen chain that first opened in Fukuoka, and over decades spread across Japan before expanding overseas. As it expanded it also adapted its menu to better suit local palates, and the East Village shop in New York City has since offered up its own original Clam Chowder ramen.
Apparently, it's been a huge hit, and Nissin thought to offer it back here in Japan. And so, in a funny sort of way I found myself at the local 7-Eleven conbini, picking up a Cup Noodle for a taste from my own hometown, NYC.
In Closing
A cultural affection for seasonality plays out in wonderful and unexpected ways at the local conbini. The ever changing variety in flavors and designs, brings a whole new level of fun (and taste!) for when you're looking to cure the munchies.

The information presented in this article is based on the time it was written. Note that there may be changes in the merchandise, services, and prices that have occurred after this article was published. Please contact the facility or facilities in this article directly before visiting.