Kazuma Sake Brewery - Revitalizing Noto's Sake Brewing Tradition
Kazuma Sake Brewery is located within the idyllic environs of Noto Peninsula. Established in 1869, its brewery walls hold a long tradition of quality craftsmanship. Pay a visit, see for yourself how sake is made, and find your own favorite type of sake!
The refreshingly crisp and clean taste of Chikuha junmai sake with a dish of mackerel tartare makes for a wonderful pair. The delectably rich mackerel with minced herbs contrasts wonderfully with the sake's fruity aroma and mild edge. Kazuma Sake Brewery in Noto Peninsula has been brewing Chikuha sake for 150 years.
Noto Peninsula - Home to Excellent Sake Breweries
Noto Peninsula's rich natural environs are home to a total of 17 sake breweries. Its low mountains yield soft waters which are ideally suited for sake brewing, and contribute to the characteristically mild and sweetly nuanced taste of Noto sake.
Noto received Japan's first GIAHS (Globally Important Agricultural Heritage System) designation, in acknowledgment of its rich biodiversity and sustainable agriculture. Much is borne of tradition, and Noto often serves as a model for other parts of Japan and globally.
Kazuma Sake Brewery - A 150-Year Long Tradition in Sake Brewing
Kazuma Sake Brewery was established in 1869, and prior to producing sake, it had been brewing soy sauce from the Edo era (1603-1868).
The brewery sits on a quiet street between rising green hills and the blue waters of the coastline. This proximity to both the riches of the low mountains and to the sea is common to so many communities in Noto.
On the first floor of the brewery building is the sake bottling and labeling area. When I visited, I found it bustling with activity. July is the start of matsuri (summer festival) season in Noto, and limited edition Chikuha sake's are labeled appropriately. This connection between the regional breweries and the culture and traditions of the communities they exist in is one of the charming facets of ji-zake (local sake).
Picture courtesy of Kazuma Sake Brewery
The Abare Festival is one of several summer festivals held in Noto, and occurs at the start of July. Massive lanterns (called kiriko) and portable shrines (mikoshi) are paraded through the streets. The festival climaxes in the evening with a cacophony of taiko drumming, bells ringing, and dancing. Japanese sake is an important part of the festival, and is blessed by priests before being poured upon the kiriko and the portable shrines.
Take A Tour Of The Kazuma Sake Brewery!
Brewery tours are offered year round with reservations in advance, although visits may be restricted during the winter brewing season (early winter through spring).
On the tour, visitors are received into the reception area where they're introduced to the brewery's history, sake types, and other information. Also, a video with English captions explains the sake brewing process, as well as Kazuma's links to the Noto region.
Picture courtesy of Kazuma Sake Brewery
The brewing season starts in early winter with the newly harvested rice being milled and then washed in preparation for steaming. The steamed rice is then used to make koji rice, as well as in the moromi (fermented mash), which is composed of koji rice, steamed rice, water, and shubo (seed mash).
Picture courtesy of Kazuma Sake Brewery
Koji rice is steamed rice which is germinated with a culture of koji (aspergillus oryzae). After propagating for two days, the koji seeded rice is added to the moromi. The enzymes released from the koji break down the starch in the rice into simple sugars for fermentation.
Rice lies at the heart of making sake, and Kazuma sources theirs entirely from the Noto region. This linkage has significance not just for the brewery, but for the region itself.
Rejuvenating Local Agriculture
The scenic landscape of Noto is a veneer of a reality of abandoned agricultural fields and unmanaged land. Aging communities with younger generations leaving for the big cities are one of the leading causes.
In light of this, Kazuma has contracted with local young farmers in cultivating previously abandoned fields. The farmers grow types of sake rice such as Ishikawa-mon, which after harvesting is purchased by Kazuma.
Picture courtesy of Kazuma Sake Brewery
Kazuma Brewery also collaborate with local university students in what's appropriately named the "N-Project", where "N" stands for Noto, "nihonshu" (Japanese sake) and "nogyo" - agriculture. Young farmers work hand-in-hand with students in planting and harvesting sake rice, which is then brewed together at Kazuma. The bottle design is also fashioned by N-Project students, bearing a slick and youthful sensibility.
Picture courtesy of Kazuma Sake Brewery
I had the great pleasure of meeting Minobu Mataki who, as a university student, conceived the idea for the N-Project. Fittingly, Mataki-san has since started working at Kazuma Brewery, and continues in his endeavors of introducing sake to younger generations.
Picture courtesy of Kazuma Sake Brewery
In their efforts to broaden the appeal of sake among the younger generations of Japan, Kazuma Brewery has been refashioning the image of Japanese sake, in an attempt to offer something decidedly fresh and new. The sake types and labels change as often as do the seasons, and appeal to all the senses.
Find Your Favorite Sake at the Chikuha Sake Tasting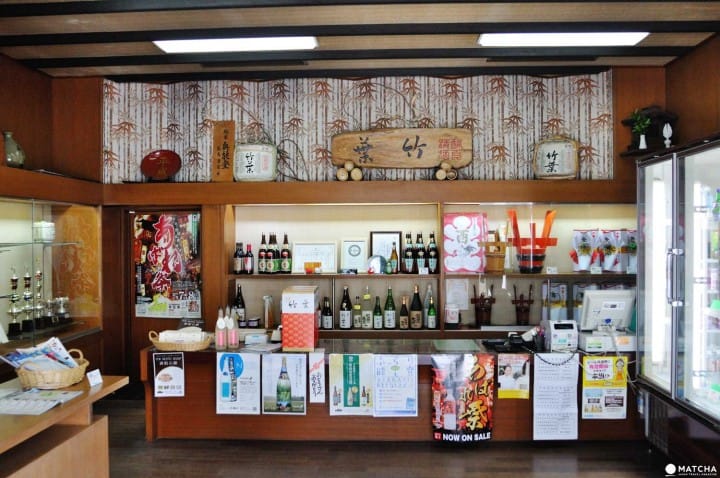 At the end of the brewery tour, the visitors are welcomed into Kazuma's shop where a wonderful selection of Chikuha sake awaits. Brewery staff introduce the various types of sake for the visitor's tasting pleasure.
Chikuha offers the main sake types such as honjozo, junmai, and ginjo, which have been recognized with top honors in national sake competitions. Sake, depending on the type, is best savored chilled, warmed, or at ambient temperatures, and there is no better place to inquire about that than at a sake tasting.
Use this occasion to find the type of sake that matches your own tastes and preferences!
In Conclusion
Kazuma Sake Brewery and its president, Kaichiro Kazuma (pictured right), carries on a rich tradition of brewing quality sake in the heart of Noto. Plan a visit to Kazuma Brewery and see for yourself how sake is made, and its interconnection to the local culture and community.

The information presented in this article is based on the time it was written. Note that there may be changes in the merchandise, services, and prices that have occurred after this article was published. Please contact the facility or facilities in this article directly before visiting.