A Must For Wrestling Fans: Complete Guide To New Japan Pro-Wrestling!
If you are interested in wrestling, you have to check out this article! Here you'll learn all about the appeal of New Japan Pro Wrestling, how to watch it, how to access Korakuen Hall (their main venue in Tokyo), how to buy the tickets, and more!
Pro wrestling is of course, the sport where professional wrestlers fight one another in a ring.
The basic rule of the match is simple: the wrestler must pin both of their opponent's shoulders to the ring mat while the referee gives a count of three and announces either fall, or give up in order to win. *There are other means of winning a match too.
There are single matches of one on one, bouts of two on two, or three on three called tag matches, and Battle Royale, wherein several wrestlers fight one another.
Professional wrestlers are amazing, and completely unbothered by the attacks of their opponents. Although there is naturally risk involved when fighting one another, they fight diligently, have their own special signature moves, and skillfully avoid the attacks of their opponents. One of the best parts of watching wrestling is not who wins or loses, but to see the struggle of the match itself.
In this article, we will take a look at the history of Japan's longstanding pro wrestling organization, New Japan Pro Wrestling, how to watch a match, access routes to its main venue, how to purchase tickets and other points of interest.
Table of Contents:
1. The Appeal of New Japan Pro Wrestling and How to Watch It
2. How to Reach NJPW's Main Venue
3. How to Purchase Tickets to a Match
The Appeal of New Japan Pro Wrestling and How to Watch It
What Is New Japan Pro Wrestling?
New Japan Pro Wrestling is a professional wrestling organization known for its "burning fighting spirit" founded by Antonio Inoki, a figure known to all Japanese people, in 1972.
With star wrestlers like Choshu Riki, Tatsumi Fujinami, Tiger Mask, in the 1980s, Keiji Muto, Masahiro Chono, Shinya Hashimoto in the 1990s, New Japan Pro Wrestling (NJPW) had great popularity through to the 2000s, but suffered slightly due to the departure and retirement of some of its stars.
But, many stars remained and with the arrival of new talent, NJPW continues to thrive and holds numerous sold-out events all year long, including its massive Wrestle Kingdom (Tokyo Dome Taikai).
And, its popularity is not just limited to Japan. Thanks to its overseas exclusive video distribution service, "NJPW WORLD", over 10,000 subscribers from around the world watch NJPW online. In addition, there are special televised events shown in various countries including the United States, Taiwan, and recently, Thailand as well.
In July 2017 they held an independent event in Los Angeles. The tickets to this event sold out within two hours of the box office opening, which just goes to show how incredibly popular NJPW is around the world.
How Do I Watch a NJPW Match?
Depending on which country you live in, the events may be televised, but you can also easily watch all NJPW events via their video website. If you haven't seen it yet, please check it out!
NJPW WORLD Official Website: http://njpwworld.com/
For those who want to see the events live, we will introduce their main venue as well as how to purchase tickets in the second half of this article, and in the following article, you can check out the atmosphere of an actual event for yourself, via a live report by one of our writers. Take a look!
Japanese Wrestling Report: Go Watch A New Japan Pro-Wrestling Match!
Must Know - NJPW's Top Stars!
Kazuchika Okada
He earned the IWGP Heavyweight Championship title, the highest honor of NJPW at the age of 24, and has been one of the top wrestlers for New Japan ever since.
Standing 191 cm tall and able to pull off drop kicks that hit higher than most thanks to his excellent physical ability, his special move is the Rain Maker, where, grabbing his opponent's wrist, he pulls them forward into his extended arm, knocking or sometimes flipping them over and down onto the mat.
Tetsuya Naito
Although there was much anticipation surrounding his debut, Naito also suffered from numerous injuries and other misfortunes. However, thanks not only to the support of his fellow wrestlers but his organization, Naito became increasingly popular, and is now one of the top wrestlers in NJPW.
His team is known as "Los Ingobernables de Japón", which means "The Uncontrollables", and his special move is the Destino, where he slings himself over his opponent's shoulders, grips them by the neck, spins backward and drops them down on the mat.
Hiroshi Tanahashi
A star wrestler who weathered the difficulties of the 2000s and acted as a foothold during the revival of the organization, Tanahashi has won the IWGP Heavyweight Champion the most, defended his title the most consecutive times, and overall defended the most titles, which makes him the wrestler with the highest overall record, (as of October 2017).
His special move is his High Fly Low, where he takes out his opponent via a jump from the corner, knocking them down flat with his whole body. He's an all around star popular not only for his showy techniques but his precise wrestling moves too.
Kenny Omega
Made his debut in Canada. When his videos of wrestling near lakes and on sand dunes were posted on YouTube, he gathered a lot of attention and was invited to come to Japan.
Along with his tag team partner, Kota Ibushi, he formed Golden ☆ Lovers, and the duo took the IWGP Jr. Tag title. From 2014, he joined NJPW, and was the first non-Japanese wrestler to win the toughest match, G1 CLIMAX 26.
A fan of Japanese anime and video games, his special move One Winged Angel comes from a song featured in Final Fantasy VII.
What's the Appeal of New Japan Pro Wrestling?
We talked to Wataru Inoue, a former wrestler and current PR/Advertising department member of NJPW about the appeal of New Japan Pro Wrestling.
PROFILE: Wataru Inoue
Born in Tokyo in 1973, Inoue made his debut in 1999. He gained popularity for his lively fights, and won the IWGP Tag, IWGP Jr. Tag, IWGP Jr. Heavyweight and other titles. He retired from wrestling while still on top in 2014, and moved into the office side of New Japan Pro Wrestling where he still shares the appeal of NJPW today.
Appeal #1: Great Unique Wrestlers
Fantastical entrance by EVIL
The "Once in a 100 Years Talent" Hiroshi Tanahashi
"First of all, we want to draw attention to individuality-rich players, since 30 to 40 players will compete in one event, so for those watching at the venue itself, you can easily find your favorite wrestler," said Mr. Inoue.
By finding a wrestler that catches your attention, you'll soon find another that does, and from there, the matches and sport itself will become even more interesting.
Appeal #2: Feeling as if Your Are Fighting Alongside the Wrestlers
The Aerial Assassin, Will Ospreay
Kazuchika Okada's special move, the Rainmaker, in action!
Why do so many people go to the live events to see New Japan Pro Wrestling?
Mr. Inoue says that it's because the fans know that "feeling" is more important than just "watching" when it comes to wrestling. It's only by being at the venue itself that you can take in the sight of the wrestlers breathing, the shock of the techniques, the great enthusiasm of the audience, and other aspects of the overall event.
After see one of these spectacular events live, you might find yourself hooked!
Appeal #3: the Power to Thrill
The Young Lion (younger wrestlers) doing their best in the ring
"When you find yourself needing to confront something yourself, the sight of wrestlers battling it out is very empowering," says Mr. Inoue. He seems to have learned a lot from wrestling.
When you need power, when you want to really put your back into something, if you take a look at the pro wrestlers of New Japan Pro Wrestling, who stand up and fight no matter how many times they are hit, you're sure to feel like you can take on anything!
Where Can I Watch NJPW Events?
When it comes to NJPW venues in Tokyo, Tokyo Dome, Ryogoku Kokugikan, the National Yoyogi Stadium, and Korakuen Hall are the most common. Of these venues, Korakuen Hall is most used, and is often referred to as the sacred ground of NJPW by its devoted fans.
How to Reach the Sacred Grounds of Korakuen Hall
Korakuen Hall is easily accessed from JR Suidobashi Station, Korakuen Station on the Marunouchi/Namboku lines, or Kasuga Station on the Oedo Line.
Here are the best routes to take from each station.
From JR Suidobashi Station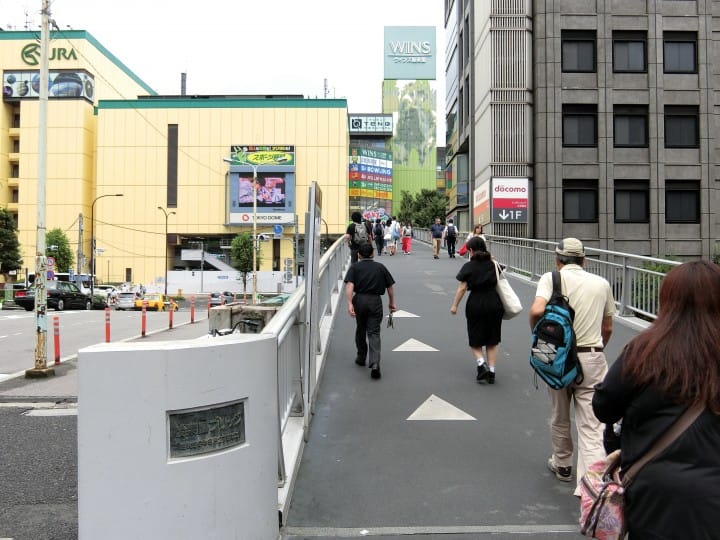 As you head out of the east exit, cross the pedestrian cross and then head over Korauken Bridge right in front of you. Continue straight ahead. You'll see family restaurants, cafés and convenience stores on the way.
If you go straight ahead, you'll see a place selling lottery tickets; when you get there, take a right and head up the stairs.
At the top of the stairs, you'll find yourself outside the entrance to Korakuen Hall.
From Suidobashi Station on the Toei Mita Line
Head out of the A3 exit, and you'll see rows of coin lockers ahead of you. Follow straight along that street.
Once you get through the square where you can see Tokyo Dome, you should find the entrance to PRISM HALL on your left, continue going straight, and you will reach the hall.
From Korakuen Station on the Tokyo Metro Marunouchi/Namboku Lines
Directly connected to the Exit 2 of the station, just head over the pedestrian bridge and continue straight along the outer wall of Tokyo Dome.
Keep going and you will come to a stairway on your left, head down, and you will have arrived.
From Kasuga Station on the Toei Oedo Line
Head out of Exit 6 and walk along the road towards Tokyo Dome.
Take the stairs up to the pedestrian bridge and then you can follow the same route as you would if arriving from Korakuen Station on the Tokyo Metro lines.
How Do I Get Tickets to See the Events?
If you are buying wrestling tickets domestically in Japan, you can get them from any Ticket Pia counter, like at the airport, or from ticket machines at convenience stores, but perhaps the easiest option for travelers is to purchase tickets on the day of the match.
Buying Same Day Tickets at the Entrance
Same day tickets can be purchased at the Same Day Ticket Counter on the first floor of Korakuen. The hall is on the 5th floor. If you buy a ticket, then take the elevator up to the fifth floor.
** Same day tickets may sell out very quickly, or may not be available in the case of exceptionally big events. If you want to guarantee your spot at an event, you should purchase your ticket in advance.
** Events are not held every day, for more information on events, scheduling, etc, please refer to the New Japan Pro Wrestling Official Website
When you exit the elevator, the hall entrance will be right in front of you.
The exhibition hall to the right from the entrance is where you will find special goods for sale. Please note that you will need to have your ticket with you in order to re-enter the hall.
Then it's time to wait for the event to start in the seat indicated on your ticket.
Here you can see the balcony area where those with standing room only tickets go. This is a good spot for those that don't mind standing and want to see the entire ring from above.
Please use this article as your guide to watching live New Japan Pro Wrestling events in Japan!
New Japan Pro Wrestling Official Website: https://www.njpw1972.com/
Photos and text by Yuichiro Hotta.
Sponsored by New Japan Pro-Wrestling Co.,Ltd.

The information presented in this article is based on the time it was written. Note that there may be changes in the merchandise, services, and prices that have occurred after this article was published. Please contact the facility or facilities in this article directly before visiting.