Want To Buy NJPW Goods In Tokyo? Visit This Suidobashi Shop
If you want some unique Tokyo souvenirs, head to New Japan Pro Wrestling's Tokon Shop in Suidobashi for T-shirts, bag straps and even original perfume!
The matches you can see at a New Japan Pro Wrestling (NJPW) event will leave you in awe. After seeing the wrestlers in action, you'll want to pick up some merchandise as a souvenir from the show, or to support your new favorite wrestler. However, oftentimes you'll miss out on your chance to buy goods at the event venue, or the items you might have wanted may already be sold out. If that happens to you, head to the Tokon Shop in Suidobashi, directly operated by NJPW. The Tokon Shop is one of the few shops which sells NJPW merchandise outside of event venues, and has a massive selection. Let's take a look at some of their most fascinating goods!
For more on the allure of NJPW and information on how to buy tickets, read these articles: A Must For Wrestling Fans: Complete Guide To New Japan Pro-Wrestling! and Japanese Wrestling Report: A New Japan Pro-Wrestling Match!
What the Tokon Shop in Suidobashi Is All About
The Tokon Shop is three minutes away from JR Suidobashi Station on foot. Suidobashi is the closest station to Tokyo Dome and Korakuen Hall, two venues where NJPW often runs shows. It's in a great location if you want to drop by after an NJPW event. Happily, it's also close to sightseeing hotspots like Akihabara and Ueno. The shop is on the second floor, so head up the stairs.
Even before entering the Tokon Shop, you can enjoy its decorative flourishes, as many wrestlers have signed their names on the walls of the stairwell! The signatures are arranged in order of when they joined NJPW, so the veterans' names are on the first floor. The rookies' names are up on the second floor, and are easy to find if you look.
The Top Recommendations from the Bountiful NJPW Selection!
When you enter, the first thing that will draw your attention is the exhibition space, modeled after a wrestling ring. There is even a replica championship belt on display.
According to the staff, there have been more and more international customers coming to the shop recently. NJPW fandom transcends borders, and is on the upswing. Let's start exploring the Tokon Shop!
The Tokon Shop's Most Popular T-Shirts!
T-Shirts - 2500yen to 4200 yen each (with tax)
Much of the display space is set up for clothing, and t-shirts are the top sellers. There is a wide variety, from shirts with pictures of wrestlers' faces to collaborations with the popular character Hello Kitty. Towels and caps are also popular in the clothing corner.
Championship Belt Straps
IWGP Intercontinental Championship Belt Strap - 1800 yen (with tax)
There are all sorts of other goods as well. Among these, we recommend the championship belt strap. You can use it to accentuate your bag or even your key ring. It's quite eye-catching!
Feel Like a Champion With this Cushion
Soul Sports IWGP Intercontinental Championship Belt Cushion - 3000 yen (with tax)
Put this championship belt-patterned cushion against your waist, and you will feel like a champion!
Get a Miniature Wrestler Bus, Too!
Tomytec Bus Collection NJPW Wrestler Bus A (Yellow) / Tomytec Bus Collection NJPW Wrestler Bus (Red) - 1620 yen each (with tax)
When pro wrestlers go on tours, they travel via bus, and miniaturized versions of those buses are also sold at the Tokon Shop. You can see pictures of the real buses below. It's amazing how accurate they are!
Convenient Battery Packs
Kazuchika Okada's Sixth Rainmaker Dollar Battery Pack - 3500 yen (with tax)
When the popular wrestler Kazuchika Okada makes his entrance, he scatters "Rainmaker Dollars," and the Tokon Shop has battery packs with the Dollar pattern printed on them. You'll want to have this when using your phone to watch events on the NJPW World on-demand service!
Along With Your T-Shirts, Get Hangers With Wrestlers' Pictures!
Wrestler Hangers - 1000 yen each (with tax)
When you buy t-shirts, how about also buying hangers with wrestlers printed on them?
Realistic-Looking Key Holders That Also Serve as Action Figures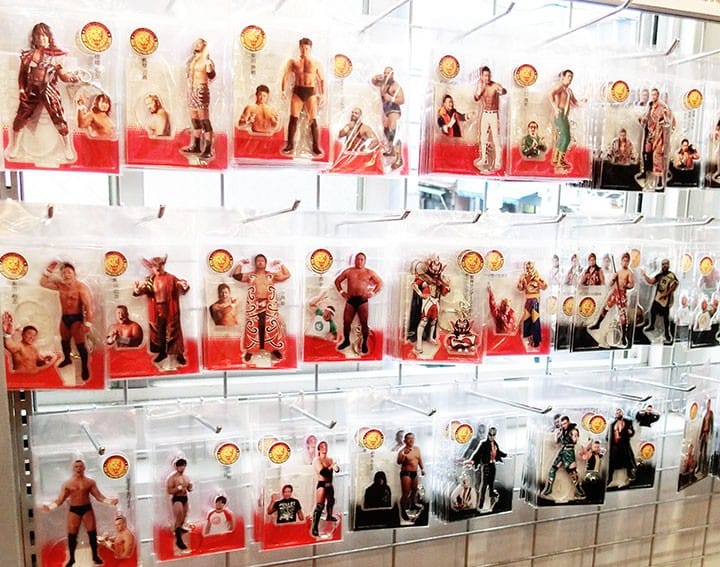 Figure Key Holders - 1400 yen each (with tax)
These figure key holders, made of clear acrylic, have wrestlers printed on them. They are sold in sets of two, with one figure of the wrestler in their full ring gear, and one figure from the chest up. The figures also come with stands, so you can use them to decorate desks and shelves.
Two Original Fragrances
KING of KING Eau de Toilette 50ml・Fighting SPIRIT Eau de Toilette 50ml - 650 yen each (with tax)
The Tokon Shop also has two types of perfume themed around NJPW: the powerful "King of King" and the refreshing "Fighting Spirit."
You Can Also Buy Tickets at the Tokon Shop!
The Tokon Shop also handles NJPW event tickets. You can choose where you want to sit from a seating chart, so long lines form when tickets go on sale, even before the shop is actually open. They often sell out, so buy your tickets early.
We've only mentioned a few items, but the Tokon Shop has plenty of other merchandise available, so when you visit Tokyo, check it out! You can also buy goods from the online Tokon Shop. The online shop ships abroad, so feel free to try it out!
NJPW Official Site:https://www.njpw1972.com/
View Information
Tokon Shop in Suidobashi
| | | |
| --- | --- | --- |
| | Address | Tokyo, Chiyoda, Misaki 2-10-5 #1 Ikkoku Building 2F |
| | Business Time | 11:00 - 20:00 |
| | Fixed holidays | New Year's |
| | WiFi | Not Available |
| | Accepted Credit Cards | Not Available |
| | Nearest station | JR Suidobashi Station |
| | Access | Three minutes away from JR Suidobashi on foot |
| | Telephone number | 03-3511-9901 |
| | Website | NJPW Shop |
Photos and text by Yuichiro Hotta.
Sponsored by New Japan Pro-Wrestling Co., Ltd.