Tokitarazu - Enjoy Refined Japanese Cuisine And A Special Time In Tokyo
Tokitarazu is located in Tokyo's elegant Hiroo area, home to many non-Japanese residents and embassies. At this restaurant, you can enjoy genuine Japanese food that is both tasty and visually appealing.
Tokitarazu - Famous for Their Genuine Japanese Food
Photos of various Tokitarazu menu items courtesy of Tokitarazu
Washoku, or Japanese cuisine, is currently registered as a world cultural heritage. However, there are several hurdles that international visitors must overcome if they wish to eat genuine Japanese food.
For example, established traditional Japanese restaurants are not cheap and are difficult to make reservations at even for Japanese people. There are also times when it is necessary to bring along someone who can speak Japanese to have a relaxing meal as many of these restaurants are not accustomed to serving international customers.
Among the traditional Japanese restaurants that shouldn't be missed out by visitors to Japan, Tokitarazu is one restaurant that we can confidently recommend for their services.
Tokitarazu - A Special Time That's Hard to Part with
"Tokitarazu" means to "not have enough time" in Japanese. Just as its name describes, you're able to spend such a special time at the Japanese restaurant Tokitarazu that it becomes difficult to part with once you're finished with your meal.
The secret of Tokitarazu lies in the hospitality that is unique to Japan. Without further ado, let's take a look at the restaurant.
Tokitarazu - A Japanese Presence in a Vibrant City Street
The restaurant is a six minute walk from Hiroo Station on the Tokyo Metro Hibiya Line. When you pass through the shopping district at the front of the station, walk along the quiet tree-lined avenue and a Japanese-style building will come into view. This particularly eye-catching restaurant is Tokitarazu. Sake barrels are placed to the side of the entrance.
Picture courtesy of Tokitarazu
The front of Tokitarazu will change completely come nighttime. It's as if the restaurant is absorbing you into its faint glow.
An Interior with a Relaxed Atmosphere
Picture courtesy of Tokitarazu
A counter, tables, high tables, and private seats are available at Tokitarazu so that customers can choose their seating according to the setting and purpose of their meal. In the atmosphere created by the wooden interior, it's almost as if you can feel the sense of security that you feel when you're at home.
The interior has a proper sense of distance that isn't too narrow nor wide. Even if you're leisurely enjoying your food by yourself, you can drink together with the people sitting next to you. Please spend your time as you like.
We recommend the high tabled seats. Surprisingly, it appears that these seats were specially made for the physiques of international customers. The high tabled seats will be out on the open terrace on days with good weather. The front of the restaurant is lined with cherry blossom trees, so you can enjoy your meal while viewing the flowers in the spring.
Enjoy a Carefully Selected Menu of Japanese Food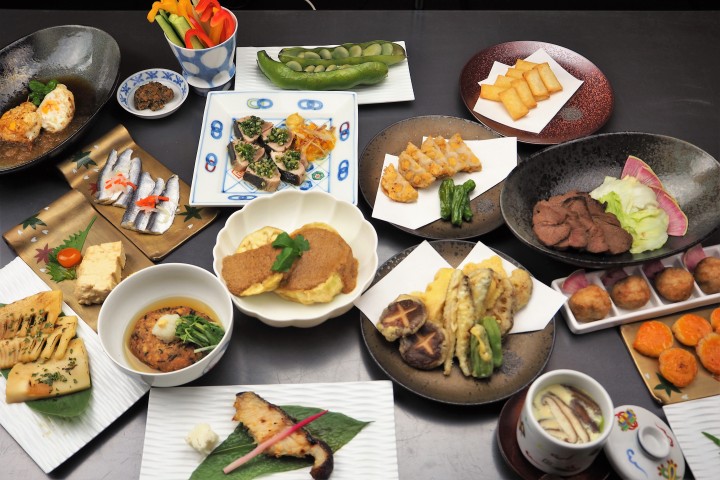 Picture courtesy of Tokitarazu
The menu at Tokitarazu is based on the kaiseki cuisine (a traditional multi-course Japanese dinner) originally served at tea ceremonies. That is why it is filled with attentiveness for the guests who will be consuming it.
For example, Tokitarazu's Special Lunch Course "Felicity" (2500 yen) is served for lunch. It is a set that comes with two appetizers, sashimi, chicken or beef, five-grain rice, soup, and dessert, making it a very generous menu item.
Many of the menu items at Tokitarazu, including this course, use seasonal ingredients and focus on cuisine that is high in protein and low in calories.
* The sashimi toppings will vary depending on the season.
When we visited, it was the beginning of spring. As such, a cherry blossom petal was placed on top of the rice, which was of a special type called gokoku-mai (*1).
Every menu item has been prepared with an emphasis on the best of the natural flavors of a variety of fresh ingredients. For example, the chicken Tatsuta-age (*2) uses shio koji (a seasoning of malted rice, salt, and water) to draw out a balance between the sweet and saltiness and to soften the fibers of the meat.
*1 Gokoku-mai: cooked rice that is a mix of five grains. It has a flavor that you wouldn't be able to taste with just white rice and has a rich texture.
*2 Tatsuta-age: a type of deep-fried dish. Ingredients such as chicken are marinated in seasoning, then coated in potato starch before frying.
Beautifully Arranged on Arita Ware
Picture courtesy of Tokitarazu
"Eating with your eyes" is a Japanese expression that means enjoying not only the taste but also the appearance of food. All the dishes at Tokitarazu can be best experienced by enjoying them with your eyes too.
Arita ware is used for almost all of the tableware in the restaurant with each menu item elegantly arranged onto these wares. Please also pay attention to the beauty of the tableware and its compatibility with the food.
Japanese Drinks That Go Well with the Food
A majority of the dozens of types of alcoholic drinks prepared at Tokitarazu are made in Japan. They not only include sake, which is also famous internationally, and Japanese whisky, but also Japanese-made champagne, liqueur, and more. Of course, these drinks have an outstanding compatibility with the restaurant's food.
If it comes to sake, we recommend Nanbu Bijin, Hakurakusei, and Mizubasho. There are few restaurants that carry Hakurakusei after a strict quality control check, so definitely do try tasting this brand here.
* Some international alcohol brands are also available.
English-Speaking Chefs And Staff
When it comes to enjoying yourself at a restaurant, pleasant conversations with the chef and staff come to mind. If you learn about the charms of the menu and the secret behind its ingredients, then your food might taste even more delicious.
Tokitarazu is a restaurant created with international visitors in mind. An English menu is available at the restaurant and the staff, including the chefs, are proficient in English. When you're thinking of having your friends visiting Japan from overseas or guests tasting traditional Japanese cuisine or having them drink Japanese alcohol, then all those requirements will be met at Tokitarazu.
Savor the Best of Japanese Cuisine at Tokitarazu!
Tokitarazu serves their food at a reasonable price in comparison to the typical kaiseki cuisine restaurant so that international visitors can easily try kaiseki cuisine. Those who wish to try eating genuine Japanese food, but are a little worried, can visit with ease.
If you want to spend a special time in Japan, then please visit Tokitarazu in Tokyo's Hiroo area.
View Information
Tokitarazu
| | | |
| --- | --- | --- |
| | Address | Tokyo, Shibuya, Hiroo 5-1-39 |
| | Fixed holidays | Sundays |
| | WiFi | Not Available |
| | Accepted Credit Cards | VISA,MASTER,JCB,American Express,Diners Club |
| | Languages | English |
| | Menu/Pamphlets in Other Languages | English |
| | Nearest station | Hiroo Station (Tokyo Metro) |
| | Access | 6 minute walk from Hiroo Station |
| | Price | 5000 - 7000 yen |
| | Telephone number | 03-6277-1577 |
| | Website | https://tokitarazu.com/en/index.html |
Traveler Friendly Information
Taberukoto (Traveler Friendly Information): Tokitarazu
What Is Taberukoto?
Making dining out in Japan enjoyable for travelers.
Taberukoto is an information platform for international visitors to help them during their stay so that they are able to enjoy eating out anytime and anywhere in Japan. It is also a support service to help restaurants prepare to receive international customers and become traveler friendly.
Sponsored by Tokitarazu
Written by Kayano Oyama