Chasai Ito, Roppongi - Authentic Matcha And Japanese Cuisine In Tokyo
Chasai Ito, located in Roppongi, Tokyo, is a traditional Japanese restaurant and cafe that also serves high-grade matcha and sweets. Take a break from the bustling metropolis and step into this hidden spot for a delicious and relaxing meal and teatime.
Chasai Ito - A Hidden Haven of Japanese Cuisine in Roppongi
Lower-right picture courtesy of Chasai Ito
Chasai Ito is a Japanese restaurant and cafe nestled in the back alleyways of Tokyo's lively Roppongi area. With a reasonably-priced menu including traditional Japanese dishes, matcha you can make yourself, and wagashi sweets, visitors can enjoy authentic and delicious food in a peaceful setting.
Continue reading to learn about this lesser-known spot to immerse yourself in a classic Japanese environment and take a break from the bustle of the Tokyo metropolis.
Recommended Japanese Dishes - Beautiful Gozen Meals and Savory Chazuke
Chasai Ito is open on weekdays from 11:30 - 19:00 for lunch and teatime, serving gorgeously prepared Japanese food and sweets. The restaurant focuses on gozen set meals, which come with various side dishes and chazuke, or tea poured over rice. The restaurant provides a chance for visitors to try this normally hard-to-find cuisine and tea culture in an elegant and warm environment, in the middle of Roppongi.
Much of the high-quality ingredients, like the tsukemono pickles and all of the matcha here come from Kyoto, as the owners have close ties to the region. Kyoto is known for its rich vegetable agriculture and tea, making the offerings at Chasai Ito truly special.
One of the most popular lunch choices is the Wappa Gozen (1,100 yen without tax) set, containing a variety of seasonal dishes, tamagoyaki (Japanese-style omelet), seafood, meat, and vegetables. It gets its name from the circular wappa bento box used.
The bento box adds a playful element of surprise, recreating the experience of opening a packed bento lunch made ordinarily by a parent or loved one in Japan.
Picture courtesy of Chasai Ito
Hanakago Gozen (2,500 yen without tax) is a set meal that comes in a gorgeous flower basket. This is a voluminous option that allows you to try many different ingredients and dishes.
As this set meal takes time to prepare, it is recommended to call the restaurant in advance with a friend who can speak Japanese.
Picture courtesy of Chasai Ito
The Taichazuke Gozen (1,800 yen without tax) is a recommended selection made with fresh sea bream, one of Japan's delicacies. The well-prepared fish is full of flavor and texture. Diners who like seafood are highly recommended to try this exquisite lunch.
A Delicious Way of Eating Rice - How to Prepare Traditional Chazuke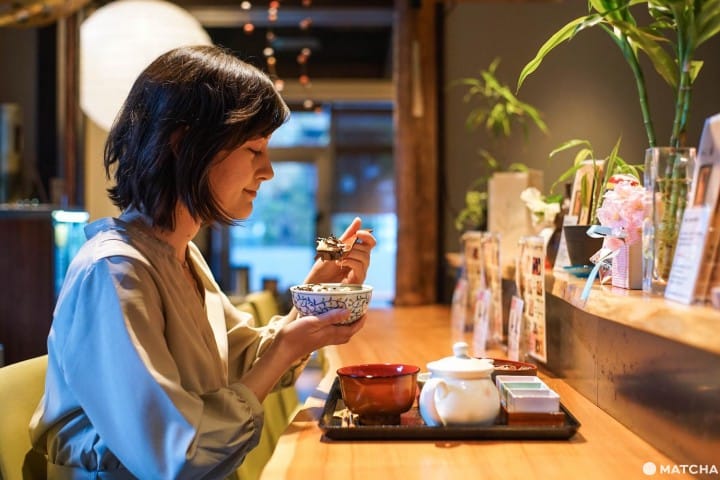 Each gozen set above comes with a generous helping of rice, which can be enjoyed while eating the different dishes and with miso soup, but also for chazuke (broth poured over rice) to create a savory, soup-like rice. Chasai Ito also offers free refills of rice and miso soup, ideal for guests with larger appetites.
To make the chazuke, first top the rice with the condiments, like wasabi and green onion, and other dried seasonings (Picture 1). The colorful chazuke topping (Picture 2) is arare, or crispy rice crackers.
After adding the condiments and toppings, simply pour the broth over the rice to the level you desire. Use the wooden spoon provided to scoop up the rice and enjoy the different mesh of flavors and textures.
Make Your Own Matcha
Chasai Ito is unique in that it allows diners to try making and mixing their own matcha from powdered green tea and hot water. For 820 yen (without tax), you will receive a set that includes seasonal Japanese sweets along with all the items necessary to make matcha.
The powder is high-quality and comes from Uji, an area in southern Kyoto renowned for aromatic, full-bodied matcha.
To make the matcha, first pour the hot water from the kettle into the mug. Use the bamboo whisk with brisk, zig-zag motions to mix in the matcha with the water. The tea is ready when it is frothy. It may take more time and physical movement to complete the process than you think!
Chasai Ito sells an affordable and high-quality matcha kit (3,800 yen without tax) with a teacup, matcha powder, and bamboo whisk in the souvenir area, which would allow you to continue to make matcha for yourself after visiting which would make a nice gift for a loved one or to yourself. The matcha in this kit is also from Uji.
Save Room for Dessert! Suggested Japanese Sweets
Diners can also satisfy their sweet tooths with the traditional confections on the menu. One of the most popular items is the homemade warabi mochi (*1) (740 yen without tax) designed like a goldfish scooping game, typically seen at Japanese festivals. It is a whimsical take on this classic dessert.
*1 Warabi mochi is a Japanese dessert consisting of rice flour dumplings and roasted soybean powder.
To eat the warabi mochi, scoop the clear mochi and goldfish shapes into the white dish. Top it with roasted soybean powder (kinako), then pour some of the kuromitsu brown sugar syrup on top. The mochi is velvety-soft, and pairs well with the rich kinako and sweet syrup.
Picture courtesy of Chasai Ito
For more Japanese sweets, guests can also try the soba dango parfait. The mochi is made from soba flour used in buckwheat noodles, and the vanilla ice cream is topped with mitarashi glaze and sauce from rice flour. Be sure to let yourself indulge in this delicious and original Chasai Ito dessert.
Oshiruko, a sweet red bean soup with mochi typically eaten in colder months, is another popular choice.
Take Home Traditional Souvenirs
After you finish your meal and sweets, be sure to go over to the souvenir corner. Visitors will find a curated selection of high-quality gifts and souvenirs, including dolls, cosmetics, loose leaf green tea, and a matcha-making set.
Colorful pouches and a trove of other items line the shelves. Any of these goods would make a thoughtful present for a loved one or fun memorabilia for yourself.
Coupon for a Free Okiagari-koboshi - Get a Traditional Japanese Doll
Visitors who show the coupon below to the staff at Chasai Ito are eligible to receive one okiagari-koboshi, a Japanese doll that stands upright by itself, free of charge. These dolls are designed as common Japanese characters and are small enough to fit in your pocket.
Wasai Tsumugi - Go Downstairs for Evening Japanese Kaiseki
Picture courtesy of Wasai Tsumugi
While Chasai Ito is only open during the day, visitors wanting a serene, memorable dinner experience can go to Wasai Tsumugi, a restaurant on the basement level with kaiseki, a high-class multi-course Japanese meal. The restaurant has a refined and cozy Japanese atmosphere, with six counter seats and one table to accommodate guests.
The course meals here are created by the chefs for customers based on price, starting from 6,000 yen and up. Reservations are required, and the entire restaurant space will be rented out to you when you make a reservation.
Picture courtesy of Wasai Tsumugi
Another special feature of Tsumugi is the extensive beverage menu, which includes highly-ranked Japanese sake from throughout the country. The drinks along with the carefully prepared meals here are sure to create a special night.
Hours and Accessing Chasai Ito and Wasai Tsumugi
Chasai Ito is open from 11:00 to 19:00, with lunch served 11:30 - 15:00. The restaurant is closed on Saturdays, Sundays, and public holidays, so make sure your visit is on a weekday. Wasai Tsumugi is only open on a reservation-basis between 17:00 and 23:00 on weekdays.
The location of Chasai Ito and Wasai Tsumugi is in a quiet residential area of Roppongi, located around six to seven minutes walking from Roppongi-itchome Station on the Tokyo Metro Namboku Line. It is also convenient to go to the restaurant from Roppongi Hills, a major shopping and entertainment facility in the area.
Savor Atmosphere-Filled Meals in Roppongi
Located in the heart of Japan's largest metropolis, Chasai Ito provides a refuge from the business of the busy city with traditional and unique dishes, matcha you can make yourself, and a relaxing environment for a reasonable price.

Be sure to visit when in Roppongi to catch your breath and experience a slower, rare pace in Tokyo.


Written by Jasmine Ortlieb
Sponsored by Rokusaikyo Co., Ltd.


The information presented in this article is based on the time it was written. Note that there may be changes in the merchandise, services, and prices that have occurred after this article was published. Please contact the facility or facilities in this article directly before visiting.