Mohri Garden In Roppongi - Taking A Break From The City In The City
Roppongi, known as the busy international district of Tokyo, is actually full of nature. The Mohri Garden in Roppongi Hills is a calm and relaxing Japanese-style garden with a beautiful pond and seasonal plants surrounding it.
The Roppongi area, home to many companies and offices, is also famous for its energetic nightlife and luxurious atmosphere. Although it is known as a busy area, Roppongi is full of nature with numerous parks and gardens.
Mohri Garden, or Mohri Teien, in Roppongi Hills is a Japanese style garden that provides people with a quiet and relaxing time away from the crowded streets.
Roppongi Hills: A Complex Facility with Something for Everyone
Roppongi is only a 15-minute bus ride from Shibuya. It's a lively place with many interesting sightseeing spots. It is widely known as an international district because many international companies hold their offices in the area. There are many non-Japanese businesspeople working in the area as well.
Roppongi Hills is a complex facility connected to Roppongi Station. It includes restaurants, shops, offices, residences, a museum and a movie theater. Inside Roppongi Hills is Mohri Teien, a small garden that we will be introducing in this article.
Mohri Garden - The Best Place to Relax in Roppongi
The Mohri Garden, located near the Asashi Television company and the Roppongi Hills Arena, is a Japanese garden that opened in 2003, when Roppongi Hills was built.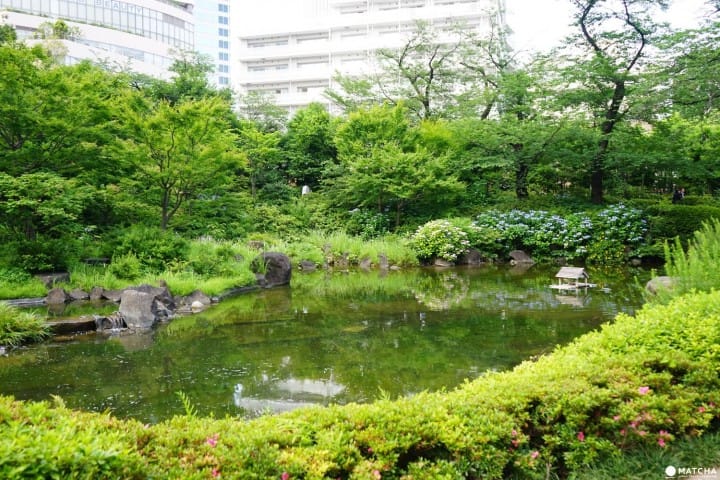 The 4,300 square meters large garden is composed of a big pond in the center, with a special type of Japanese killifish called the "Space Medaka". These killifishes were named "Space Medakas" because they are descendants of a fish that was born in space during the flight of the Space Shuttle Columbia in 1994. In 2003, an astronaut named Dr. Mamoru Mohri released approximately 10,000 Space Medakas into the pond turning Roppongi Hills into a symbolic place where the old and new ideas unite.
Around the pond, there are various trees and plants, such as camphor trees, cherry trees, azalea flowers and iris japonica flowers. These plants and trees transform the scenery of the garden in accordance with the change of the seasons.
In the spring, pink cherry blossoms bloom, while in autumn, visitors can enjoy the bright orange and red maple leaves. There are benches and seats inside the garden for those who want to sit down and enjoy the nature. The garden is so calm and relaxing that you almost forget that you are in the central area of Tokyo.
On the edge of the pond stands a big, golden heart figure. This is a perfect photo spot for families and couples to take a cute photo with the beautiful pond and the garden in the background. The heart figure and the garden is lit up at night so you will be able to enjoy the scenery regardless of when you decide to visit.
During the day, the garden is filled with a vibrant yet peaceful atmosphere. At night, the garden has a motionless, isolated and tranquil feeling.
This garden is a great place to visit if you are:
1. Interested in visiting a Japanese style garden.
2. If you want to take a break from the busy streets of Roppongi.
3. If you need to take a walk to help digest all the tasty food you have eaten (Roppongi is full of international cuisine!)
4. If you need some time to reflect on the amount you have spent on shopping at the stores inside Roppongi Hills.
In the winter, the garden is filled with Christmas lighting and illuminations. Walking through the bright lights in the cold winter is a very special experience.
During the summer season (usually from July to August), Roppongi Hills hosts a beer garden on the pond where you will be able to enjoy delicious barbecue type foods and alcoholic (and non-alcoholic) beverages. If you are lucky enough to visit during the beer garden season, make sure to enjoy the beautiful scenery with a beer in one hand and some delicious food in the other!
For those who will not be able to make it during the beer garden season but still want to enjoy food and drinks while overlooking the garden, there is an Italian restaurant called Mohri Salvatore Cuomo with an outside patio next to the garden. Mohri Salvatore Cuomo also has a "to go" counter where you can buy their tasty pizzas if you decide to eat out in the garden.
Things to Keep in Mind When Visiting the Garden
There are regulations you must keep in mind when visiting the garden, in order to preserve the plants and to ensure the safety of all visitors. Some of them are: not touching the killifishes, not releasing other creatures into the pond, not bringing in alcohol, keeping the area clean, and not smoking.
It is important to remember that this is a garden, not a park, so it is not a place to hold gatherings or parties. Make sure to be respectful and mindful of other visitors that are enjoying the garden. And don't forget to enjoy your visit!
View Information
Mohri Garden
| | | |
| --- | --- | --- |
| | Address | Tokyo, Minato ward, Roppongi, 6-10-1 |
| | Business Time | 7:00 - 23:00 |
| | WiFi | Not Available |
| | Accepted Credit Cards | Not Available |
| | Nearest station | Roppongi Station |
| | Access | 2-minute walk from Roppongi Station Exit 3 |
| | Price | No charge |
| | Telephone number | 0364066000 |
The information presented in this article is based on the time it was written. Note that there may be changes in the merchandise, services, and prices that have occurred after this article was published. Please contact the facility or facilities in this article directly before visiting.