A 3-Day Outdoor Retreat On Japan's Remote Oki Islands
This service includes sponsored advertisements.
The Oki Islands in the Sea of Japan, reachable only via ferry or plane, boast some of the world's most rare and beautiful landscapes, and glistening waters for as far as the eye can see. Separate yourself from everyday stresses and bask in the slower pace of life on Oki and its Dozen islands.
Nothing but Nature! 3 Days on the Oki Islands
Japan's Oki Islands, located off the coast of Shimane Prefecture, is one of the most ideal nature destinations in the world. Rugged shorelines, crystal blue waters, gorgeous sunsets, and charming villages make up the islands of Dozen, one of the areas of Oki, particularly special.
You won't find any convenience stores on Dozen. There are only enough amenities to keep life on the island sustainable––a stark difference compared to the relentless pace of Tokyo and big cities. This simpler philosophy and island charm, combined with the stunning scenery, more than compensate for its distance from the lavish comforts of modern society.
With nothing else to do but allow Mother Nature to whisk you away from the stresses of daily life, we recommend spending three days, or more if you can, on these delightful islands. Below is a recommended itinerary for a three-day nature retreat on Oki and access information.
Table of Contents
About the Oki Islands
Thought to have been created around six million years ago via volcanic activity, Dogo, Dozen, and approximately 180 small, uninhabited islands make up the Oki archipelago. Dogo Island is the largest in geographical size and population, followed by Dozen, a group of three major islands (Nakanoshima, Chiburijima, and Nishinoshima). The islands are part of Shimane Prefecture and located in the Sea of Japan.
The Oki Islands UNESCO Global Geopark encompasses Dozen, Dogo, and the majority of the Oki Islands. Due to the unique island topography, complete with calderas* and remaining natural geographical sites that are both very valuable and beautiful, visitors are drawn here every year from all around the world.
The Oki Islands are also represented in historical Japanese poetry. During the 1200s, Emperor Gotoba was banished to Oki, where he wrote poems describing what he felt and saw on the island. The connection to this traditional art form continues, as national contests for tanka (a short, 5-line poem) are held in Nakanoshima.
*Calderas are craters formed when a volcano opening collapses after an eruption.
↑ Return to the top of article.
How to Get to and Around the Oki Islands
Island hop via inter-island ferries
Visitors can reach the Oki Islands via ferry or airplane. Ferries leaving from Shichirui Port in Shimane Prefecture or Sakaiminato Port in Tottori Prefecture are convenient, and take around 2 to 2.5 hours, depending on your destination on Oki.
Oki Airport is on Dogo Island and is connected via one daily direct flights from Itami Airport in Osaka (55 minutes one-way) and Izumo Airport in Shimane. Connecting flights from Haneda, Fukuoka, with a change at Izumo, also fly once per day.
To get from Dogo Island to Dozen Island, take a ferry from Saigo Port. It takes around hour, depending on your destination on Dozen. To get between the islands of Dozen, take an inter-island ferry. The islands are close together, so the rides are quick and cost just 300 yen. Written English guidance is available at each of the ferry terminals and English-speaking staff work at the nearby tourist association centers.
↑ Return to the top of article.
Day 1: Trek Majestic Coastlines and See an Island Sunset
The first day includes the journey to Dozen from the main island, beginning with Chiburijima Island, or Chibu Village (Chibu-mura), the smallest in size and population of the inhabited Oki Islands. On the island, take in the red hues of the cliffs known as Sekiheki and the great view from Mt. Akahage. In the afternoon, island-hop to Nakanoshima, or Ama Town (Ama-cho) to check into your hotel and spend the rest of the evening.
9:30 - Ride the Ferry to Chiburijima
To get to Chiburijima, take the 9:30-departure Ferry Kuniga from Shichirui Port in Matsue. Tickets costs vary by seat type; most passengers will be comfortable with second class (standard ticket), but there are more expensive tickets with different seating or private rooms. The journey is around two hours to reach Kurii Port, the ferry terminal on Chibu Village.
To pass the time, take along a book to read, or let yourself be lulled to sleep by the gentle waves.
Take a sightseeing taxi for a stress-free way to explore the island (those with an international driver's license can also rent a car). After arriving at around 11:30, head to the Chiburijima Tourism Association Center, located next to the ferry building, and inquire about one.* English support is available.

*Advanced reservations for taxis and rental cars are highly recommended. Please refer to this booking page for more information (Japanese).
11:45 Eat Local on Chiburijima
A view of the Kuri Port area, Chiburijima. Photo by Pixta
After arranging your navigation, head to lunch at Dining Cafe DONA, a charming Japanese restaurant close to the port offering seafood meal sets, miso soup, and other delicious island comfort food. Another option is the Oki specialty of sazae (turban shell sea), made into a tempura rice bowl at Kanjima Restaurant next to Chibu no Sato Hotel.
12:30 - See Sekiheki and Mt. Akahage
After a delicious island meal, begin your nature adventure at Mt. Akahage and Sekiheki, two areas that will take your breath away with their beauty.
Photo by Pixta
On the way, keep an eye out for the island's cows and horses, who may even wander onto the roads. Please admire them from a distance and do not approach them.
Mt. Akahage, the highest point on Chiburijima (325 meters or 1,066 feet), is around a 20-minute drive from Kurii Port. Climb to the observation deck to be rewarded with a fantastic panoramic view of the Sea of Japan, the Dozen Caldera creating an inland sea, and the surrounding greenery and ocean.
The nearby Sekiheki offers a one-of-a-kind view of earthy red hues created by lava on the rugged cliffs' surfaces. The colors contrast beautifully against the vivid blue sea and green grass. Feel the ocean breeze and sunshine stimulate your senses as you explore the picturesque cliffs. Stay as long as you'd like in this natural paradise.
After visiting the gorgeous Mt. Akahage and Sekiheki, it's time to see the second Dozen island, Nakanoshima (often called "Ama-cho" or "Ama") and check into the hotel. Return to Kurii Port and say goodbye to the sightseeing taxi. Ride the 15:00-departure Isokaze Inter-island Ferry to Hishiura Port in Amacho (300 yen, around 37 minutes).

15:45 - Check-in At Marine Port Hotel Ama
After arriving on Ama-cho, check-in at Marine Port Hotel Ama, an elegant seaside lodging nearby the ferry terminal. Marine Port Hotel Ama wants its guests to experience the true essence of Ama during their stay, offering meals with local ingredients, and information and opportunities to try outdoor activities. The comfortable Japanese-style and Western-style rooms here have an oceanfront view that is especially gorgeous at sunset. English language support is available, too.
After checking in, you can rest in your room, but it's also fun to explore the surrounding area. Stroll down the nearby Rainbow Beach, a small beach open for swimming in summer, or rent a bicycle from the Ama Town Tourism Association. Fishing is another option––your catch can be prepared as part of your dinner at the hotel.
See more on Marine Port Hotel Ama: https://www.oki-ama.com/en/


Savor the Seaside Sunset and Kaiseki Dinner
The sunset on Nakanoshima (not taken from the hotel)
Make sure you're in your room around sunset (ask the hotel staff for the time) to see a rainbow of warm sunset colors as the sun sinks into the sea.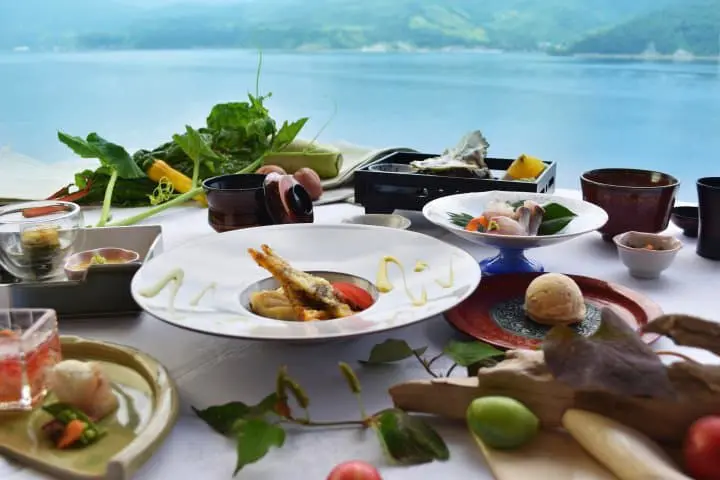 After savoring the fading sunlight, it's time for kaiseki, a traditional Japanese course dinner, at the hotel. No ordinary meal, the ingredients are seasonal and kept local. Fish caught on the island, Oki beef, and vegetables from the islands are used for a wonderful, authentic island experience.
If you're celebrating or want to relax further, the menu contains a variety of Oki beverages, from high-quality sake to shochu.
↑ Return to the top of article.
Day 2: Explore the Majestic Kuniga Coast Area
On the second day, island-hop once more to visit Nishinoshima, famous for its Kuniga Coast. After hiking, explore more of Ama-cho in the evening with a special shrine visit at night.
8:00 - Have Breakfast and Head to Nishinoshima
Prepare for a full day with breakfast at the hotel. Welcome a quiet morning with more delicious island food, sip on coffee, and take in the ocean views before heading out to the port. Before heading outside for the day, make sure you are wearing weather-appropriate clothing: long sleeves and long pants are encouraged to protect you from the sun and sudden changes in weather. Bring bottled water or a beverage with you for when you get thirsty.
From Hishiura Port, take the 9:00-departure Dozen Inter-Island Ferry to Beppu Port on Nishinoshima. The ride costs 300 yen and takes just around 15 minutes.
After reaching the island, rent a bicycle from the Nishinoshima Town Tourism Association (English-speaking employees are available) to cycle to the Kuniga Coast area. The ride is about 40 minutes, so an electric-assisted bicycle is recommended. Rental cars and sightseeing taxis are also available, so be sure to ask about rates.
10:00 - Hike with a Sea Breeze
Stop at Kuniga Bay Carpark, a parking lot, lock up your bike, and prepare for some light hiking. The Kuniga Coast trail goes through a couple of famous landmarks, like Tsutenkyo Arch and Matengai Cliff, one of the tallest sea cliffs in Japan.
Similar to Chiburijima, you may see horses and cows nearby. You can admire these beautiful creatures, but be quiet and courteous when exploring.
Photo by Pixta
Pictured above is Tsutenkyo Arch, a gorgeous, multi-colored arch formed by erosion. Look carefully at the water surrounding the rugged coast to see a multitude of brilliant emerald hues in the sea.
You'll want to linger for as long as possible, but after you've completed the hike, head back to your bicycle or transportation for a midday meal.
13:00 Try a Fisherman's Lunch at Urago Port
For a local experience, try the sashimi teishoku (meal set) at Nishiwaki, an eatery located near Urago Port. The ingredients are fresh, featuring delicious fish and other seafood from the area, allowing you to get a taste of everyday life on Oki.
14:00 - Coffee at the Community Library
Relax further after lunch at the Nishinoshima Community Library, located just past where you had lunch. This quaint library is a community space that welcomes all guests. There is also a space where you can enjoy coffee. Use this time to reflect on the morning and previous day on the Oki islands or plan for the rest of the trip. You can also just sit quietly and relax, focusing on the current moment.

By 15:00, head back to the port again to take the ferry to Hishiura Port in Amacho for a relaxing early evening and night. The 15:30-departure Isokaze Inter-Island Ferry is 300 yen one-way and takes just seven minutes.
16:00 - Unwind in Amacho
A fishing spot in Amacho
Spend the rest of the afternoon savoring the peaceful island atmosphere. Try doing whatever you didn't do on the first day––fishing, exploring via cycling, or walking––to immerse yourself in Ama-cho's one-of-a-kind local scene.
For dinner, choose the barbecue option to experience an Oki-style grilled meal. Full of fresh, flavorful fish, seafood, and vegetables, it will surely satisfy you after a long day of island adventures.
20:00 - Night Time Visit to Oki Shrine
Celebrate the second night with a special evening visit to Oki Shrine, a prominent local Shinto shrine dedicated to the deity of waka that commemorates the artistically-talented Emperor Gotoba. It has an ethereal, mysterious atmosphere in the dark.
↑ Return to the top of article.
Day 3: Try Cultural Activities in Ama-cho
On the final day on Dozen, finish off your vacation with nature or culture-related activities that will further introduce the wonders of the Oki Islands. Before leaving Oki, you will be sent off by the friendly locals.
9:30 Underwater Cruises and Cycling
After checking out, head to the Kinnyamonya Center near the port to inquire about island activities. From cruises to kayaking, cooking lessons, and fishing, there is a variety of outdoor and cultural activities.
Riding the underwater viewing boat Amanbow is highly recommended. Passengers ride on a boat with partially glass walls, allowing full view of the sea. You'll see Ama's three famous rocks jutting out of the water, known as Saburo-iwa, and ocean plants, and sea creatures. The boat peacefully glides through the water, allowing you to see the marine world up-close.
After the cruise, head out on a bicycle to explore some of the other areas of Ama. Head for Akiya Coast and Kitabu Ohashi Bridge, two scenic spots. The refreshing sea breeze is pleasant during the ride, and the gorgeous red and emerald colors along the Akiya Coast and the seaside paths by the bridge are the rewards. Don't forget to stop to take pictures at Uzuka-mikoto Shrine, a beautiful Shinto shrine.
For lunch, head back to the port to savor a final island specialty––Oki beef. This type of wagyu is born and raised on the Oki Islands and is one of the highest quality beef in Japan. Oki Gyuten, the restaurant serving this delicacy, is right next to the port and information center. You can savor it in a meal set with rice and sides, yakiniku (shown above), or in a rice bowl.
15:15 - Be Sent Off by the Locals
Unfortunately, all good things must end. Get ready to say goodbye to Ama-cho and the rest of the Oki Islands by going to the ferry terminal. Take the 15:15 ferry back toward Shichirui Port in Shimane. As the ferry pulls away from the dock, the locals will send you off with colorful streamers for a heart-warming, one-of-a-kind experience that will make you start planning your second trip to Oki.
↑ Return to the top of article.
Find Your Refuge on the Dozen Islands
The breathtaking nature spots listed above in the Dozen area of the Oki Islands are just part of the charm of this region. Put Ama, Chibu, and Nishinoshima on your dream destination list and visit to learn a more peaceful way of being.
Route Summary:
Shichirui Port → Kurii Port, Chiburijima → Mt. Akahage, Sekiheki → Kurii Port → Hishiura Port, Ama-cho (Nakanoshima) → Marine Port Hotel Ama → Beppu Port, Nishinoshima → Kuniga Coast → Urago Port → Beppu Port → Hishiura Port → Marine Port Hotel Ama → Oki Shrine → Marine Port Hotel Ama → Amanbow Underwater Viewing Cruise → Akiya Coast, Kitabu Bridge, Uzuka-mikoto Shrine Shrine → Hishiura Port → Shichirui Port
Expenses:
Marine Port Hotel Ama - around 15,000 yen per night (depends on the room and season)
Transportation - around 7,000 yen from Shichirui Port to Dozen (round-trip), around 10,000 for sightseeing taxi, 900 yen for island hopping, and 2,000 for bicycle rental
Food - around 10,000 yen
Activities - 2,000 yen for a ride on Underwater Viewing Boat AMANBOW
Learn more about the Oki Islands: http://www.travel-oki-islands.net/
Learn more about Ama-cho and Dozen: https://oki-ama.org/ (Japanese only)
Written by Jasmine Ortlieb
Sponsored by Shima Factory, Ama Town Tourism Association
Main image by Pixta
Written by

MATCHA's promotional account for corporate and local government advertising. We aim to provide useful information to our readers in an enjoyable manner.

The information presented in this article is based on the time it was written. Note that there may be changes in the merchandise, services, and prices that have occurred after this article was published. Please contact the facility or facilities in this article directly before visiting. Some of our articles contain affiliate links. We kindly ask our readers to exercise careful judgement when making a purchase or booking a service online.