Lunch Pack: Japanese Sandwiches Perfect From Breakfast To Lunchtime
When heading out for a day of sightseeing, it can be a hassle to find someplace to eat breakfast. That's when Lunch Pack sandwiches come in handy! This article covers the amazing features of these popular portable sandwiches that are available at convenience stores across Japan.
Start Your Day with a Delicious Breakfast
What do you typically have for breakfast? In my home country of Thailand, breakfast usually consists of white rice and Kai-Jeaw (Thai-style omelet). If I leave my house, I can find a street food vendor serving Moo Ping (grilled pork skewers) or Nam Tao Hoo (soy milk). Another option is heading to a local mom-and-pop shop and picking a couple of side dishes to eat with rice.
What do people have for breakfast in Japan? When I stayed at a Japanese friend's house, his mother prepared a breakfast that seemed straight out of a Japanese television drama. We had grilled fish, vegetables, tamagoyaki omelet, rice, and miso soup.
However, many people do not have time to cook breakfast on a regular workday. Some don't even have time to eat in the morning.
During your visit to Japan, you may plan to leave your lodging early to go sightseeing. Unfortunately, most restaurants are not open at this time. What you'll want is a portable meal that can be easily purchased anywhere and eaten on the go.
Lunch Pack sandwiches meet all the criteria above!
Lunch Pack: Sandwiches on the Go
When I was a kid, the crust was my least favorite part of the bread. I would always wonder, "Why does bread need to have a hard, dry exterior?"
Whenever I bought a sandwich, I would only eat the middle and waste the crust.
When I first came to Japan ten years ago, however, I instantly fell in love with Lunch Pack.
Open the bag and you'll find two square sandwiches. The slices of bread are pressed together, so your hands won't get dirty while eating. And, of course, there are no crusts!
Lunch Pack's Chocolate Flavor
The bag is filled with air to prevent the sandwiches from getting flattened in a backpack or handbag. Above all, these crustless sandwiches are soft and fluffy!
Sweet and Savory Options
Another selling point of Lunch Pack is its wide selection of fillings, from sweet to savory.
We will cover the sweet flavors first. This selection includes sandwiches with jam, custard, chocolate, and a variety of cream fillings. Japanese flavors are also available, most notably red bean paste and matcha cream.
Next are the savory flavors. Some of these fillings will make you wonder how the company came up with them. You can, of course, find popular combinations like ham and egg, tuna mayonnaise, and menchi katsu (*). There are also creative fillings, including hamburger steak and spaghetti Napolitan.
*Menchi katsu: a deep-fried breaded minced beef patty.
Regional Varieties of Lunch Pack
In addition to the regular flavors sold across Japan, Lunch Pack has regional flavors only available locally. This means that a region's staple food is turned into a speciality sandwich. Pictured above is the Kumamoto tomato curry flavor sold exclusively in the Kyushu region.
Look for these regional exclusive Lunch Pack when traveling in Japan. You'll experience a new flavor while learning about a specific area's food culture.
Lunch Pack sandwiches can be found at your nearest convenience store or supermarket. This article, however, will introduce the Lunch Pack Shop inside Akihabara Station in Tokyo.
Lunch Pack Shop: Tsukuba Express Akihabara Station Branch
The Lunch Pack Shop sells exclusively Lunch Pack sandwiches. There are two locations: one inside TX Akihabara Station and the other in Ikebukuro. This article features the TX Akihabara branch, located near the B1F ticket gate inside of Tsukuba Express (TX) Akihabara Station.
The two kids sitting on top of the store are Lunch Pack's mascots: Lunch-chan and Pack-kun.
Walk inside and you will find a wide variety of Lunch Pack sandwiches. The colorful display is a dazzling sight.
Labels listing the most popular flavors by category are also on display. Take a look at the photo above. The top left label is for the sweets category, the top right for the savory sandwiches, the bottom left for new flavors, and the bottom right for limited-quantity flavors.
The limited-quantity flavors are the regional sandwiches that were specifically ordered for the Lunch Pack Shop. As such, the lineup changes frequently. To see which flavors are in stock for the month, check the announcement on the left side of the store.
At the time of our reporting, there were about ten flavors, including tarekatsu (*) from the Chubu region and Fukuoka strawberry jam and whipped cream from the Kyushu region.
If you count the standard flavors, there are about 40 different types of sandwiches sold each month. The store likely has the largest selection of Lunch Pack flavors in Japan.
What makes the Lunch Pack Shop TX Akihabara unique is that you can collect stamps to trade in for a file folder, tumbler, or other merchandise. If you fill up seven stamp cards, you'll receive a Lunch Pack toaster free of charge!
By this point, you may be wondering how many flavors exist or who comes up with these tasty combinations. To answer these questions, we asked the people at Lunch Pack's manufacturer, Yamazaki Baking.
*Tarekatsu: a deep fried pork cutlet topped with a soy-sauce based glaze.
Lunch Pack Trivia with Yamazaki Baking!
Upon entering the room, we noticed a dozen Lunch Pack sandwiches on the table. They were provided by Yamazaki Baking (or Yamazaki, for short), the manufacturer of Lunch Pack. Founded in 1948, there's no one in Japan who is unfamiliar with this major Japanese bakery company.
1,600 Fillings and 400 Million Sandwiches
Mr. Yasuda (left) and Ms. Akai (right)
When asked how many fillings of Lunch Pack exist, the two employees replied, "Over 1,600."
We had the privilege of interviewing Mr. Yasuda and Ms. Akai, who both work on Lunch Pack's product development team. The 1,600 fillings that Mr. Yasuda referred to only include the flavors on record. Since the earliest sandwiches were not registered, the total number remains unknown.
New flavors line store shelves every month. There are also limited seasonal flavors (such as cherry blossom bean paste in spring and sweet potato in fall) and re-released fan favorites available in stores.
Some 40 to 50 different flavors are produced every month. In 2019, there were about 400 million sandwiches produced in that year alone!
Peanut cream, egg salad, and tuna mayonnaise are the mainstays among the over 1,000 types of fillings. These three have remained the most popular fillings throughout the years.
The peanut cream sandwich, in particular, has been sold since Lunch Pack was launched in 1984. There were only four flavors—peanut cream, red bean, yogurt, and green apple—when the portable sandwich brand started.
The Meaning behind the Marks
A peanut mark is branded on the peanut cream sandwich. This informs customers with peanut allergies to know what is contained in the product. It's cute and has a practical purpose.
The bread mark indicates a Lunch Pack with two fillings. Pictured above is the fried fish and egg macaroni salad variety. The bread mark is branded on the egg macaroni sandwich.
While some Lunch Packs contain two flavors, there's also one with four different fillings. Each sandwich is half the normal size, in exchange for a greater variety of flavors. The fillings included in this Lunch Pack are egg salad, tuna, roasted ham, and sausage.
English Labels, Too!
The product's name on the front package and the allergy label on the back are both written in English.
Since I'm originally from Thailand, I occasionally have difficulty reading Japanese kanji characters. Starting in January 2020, Lunch Pack began putting English labels on their packages to help those who cannot read Japanese. This effort began with six sandwich types, and eight more were added in April 2020.
In May 2020, Lunch Pack released flavors that capture the essence of Japanese culture. Among the newest editions are matcha chocolate bar and matcha cream, as well as katsu-ni (*). These two sandwiches also have English labels. While many are still labeled in Japanese, this initiative has helped Lunch Pack appeal to English-speaking customers.
On the other hand, picking a sandwich at random can be an exciting surprise.
*Katsu-ni: deep fried pork cutlet stewed with egg.
What Happens to the Crusts?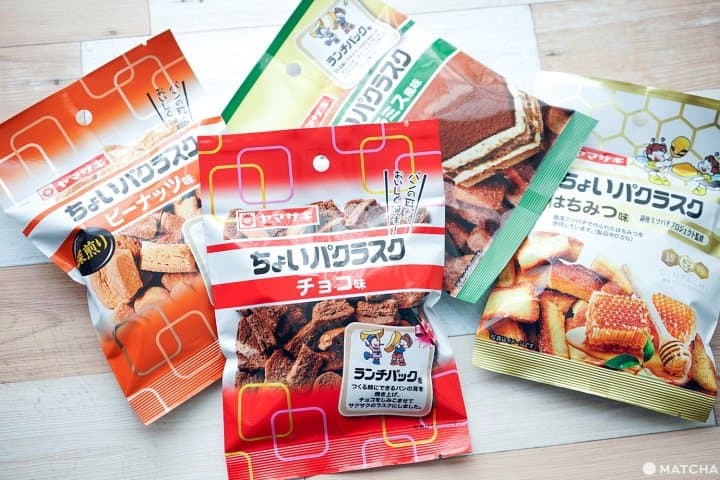 The crusts sliced off from Lunch Pack sandwiches are not wasted. Instead, they are baked into rusks (a hard, baked biscuit) of various flavors.
If you look closely, you can tell that these are actual bread crusts. Rusks are a great snack to munch on during the day!
We asked Mr. Yasuda and Ms. Akai what filling they would recommend to someone trying Lunch Pack for the first time. They both replied, "The peanut cream sandwich." If you have never had one before, try one during your next trip to Japan!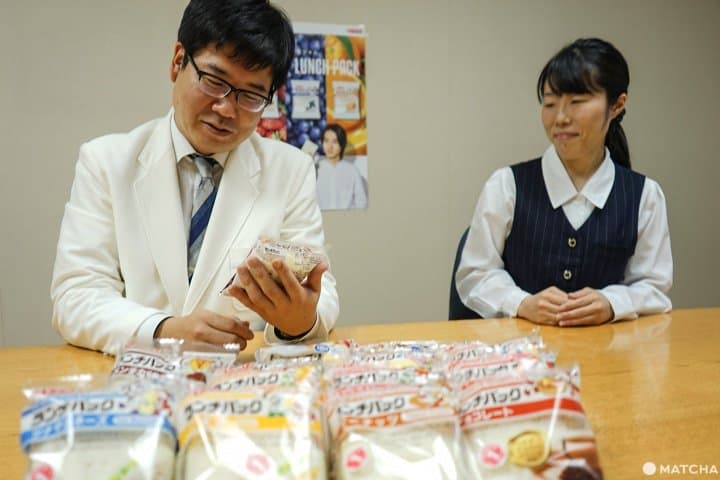 What is the hardest part of making a Lunch Pack sandwich? "It's coming up with the filling for a new sandwich," answered Mr. Yasuda and Ms. Akai. During the interview, I could not help but nod. With over 1,600 existing flavors, new ideas must be hard to come by.
Typically, the product development team brainstorms ideas for new flavors. Sometimes other teams request new fillings.
I suggested a Pad Kra Pao (pork and holy basil stir-fry) flavor. In the past, Lunch Pack released Korean cheese dakgalbi (spicy grilled chicken) along with Italian gratin and spaghetti fillings. I assumed they have yet to introduce a Thai filling, but a Thai green curry Lunch Pack was released in 2017!
According to Mr. Yasuda, the team first needs to taste authentic Pad Kra Pao before making a new Thai-inspired variety. This is the endeavor of a true professional!
Creative Ways to Enjoy Your Lunch Pack Sandwich
Before concluding our interview, we asked for some tips on how to further enjoy Lunch Pack sandwiches. There are many ways to take your sandwich to the next level!
Toasted
Place your Lunch Pack sandwich in the toaster for two minutes until it's slightly browned. The crispy exterior and soft filling are a different texture when eating it straight out of the bag. To add more variation, you can toast one sandwich and leave the other as is. Sweet and savory Lunch Pack flavors are ideal for toasting, but watch out for those with whipped cream. The cream will melt when toasted.
If your lodging does not have a toaster, you can ask to have your Lunch Pack toasted at the Lunch Pack Shop's Ikebukuro Branch.
Vietnamese Banh Mi Sandwich
The Vietnamese Banh Mi sandwich is usually made with a baguette. For today, we will use peanut cream and egg salad Lunch Pack sandwiches. You can add any vegetables or protein of your liking.
On the first bite, you will taste the sweet and savory peanut butter, smooth egg salad, and the textures of fresh vegetables. As you continue chewing, the ingredients will come together for a refreshing aftertaste. Add some chili sauce for a spicy kick to your sandwich.
French Toast
Our last recommendation is French toast.
Mix one egg, milk, sugar, and a hint of vanilla extract together in a bowl. Then, add the peanut cream Lunch Pack and let it soak. After the sandwiches have sat in the batter, fry it in a pan until the bread is browned. Add banana slices for a tasty garnish.
Top it with cinnamon, nuts, and either maple syrup or honey. The warm peanut butter is like heaven in your mouth!
You can find more recipes like this at Lunch Pack de Ouchi Cafe (Japanese).
Lunch Pack: A Different Kind of Japanese Breakfast
While these popular portable sandwiches are called Lunch Pack, they can be enjoyed at any time of the day. In addition to the mainstay fillings, be on the lookout for regional flavors during your travels in Japan!
The information presented in this article is based on the time it was written. Note that there may be changes in the merchandise, services, and prices that have occurred after this article was published. Please contact the facility or facilities in this article directly before visiting.