4 Best Breakfast Spots In Kyoto To Jump Start The Morning
Kyoto is a great place to enjoy a nutritious, traditional breakfast in Japan. This article recommends four Japanese restaurants picked by a local. Out of the many excellent eateries in Japan's ancient capital, here are several spots that are reasonably priced and filling!
A Japanese Breakfast Enjoyed in Kyoto
Breakfast is a must to start the day off right. Have you ever tried an authentic Japanese-style breakfast with white rice, miso soup, and grilled fish?
This time we will introduce four amazingly delicious Japanese breakfast spots in Kyoto, curated by a local!
1. Obanzai Buffet at IZAMA
Picture courtesy of IZAMA 
Mitsui Garden Hotel Kyoto Shinmachi Bettei is northwest of central Kyoto in Shijo Karasuma, where the Japanese restaurant IZAMA is located on the first floor.
Once you walk through the dark blue noren, you will find a calm and chic Japanese-style interior. The white shikkui (*1) walls and private rooms using the storehouse structure is unique.
*1 Shikkui: A paint used for walls and ceilings. It is made using limestone, clay, water, and funori glue.
Picture courtesy of IZAMA 
At the restaurant, you can enjoy Kyoto-style obanzai (*2) at the buffet (2,400 yen before tax).
There are small dishes such as sauteed hijiki seaweed, scallion nuta (*3) along with buckwheat soba noodles and yuba (*4). Each dish is carefully prepared—all packed with unique Japanese flavors.
Since the meals are served buffet-style, you can try a little bit of everything. Take this opportunity to taste a wide assortment of Japanese breakfast dishes at IZAMA.
*2 Obanzai: Side dishes typically served in homes in Kyoto.
*3 Nuta: Vegetables such as scallions, fish, shellfish and seaweed marinated in miso and vinegar.
*4 Yuba: A thin skin formed on the surface of soymilk when it's boiled down. Frequently used in soups or eaten as-is with soy sauce.

2. One Rice, One Soup: A Balanced Breakfast at Choshoku Kishin Kyoto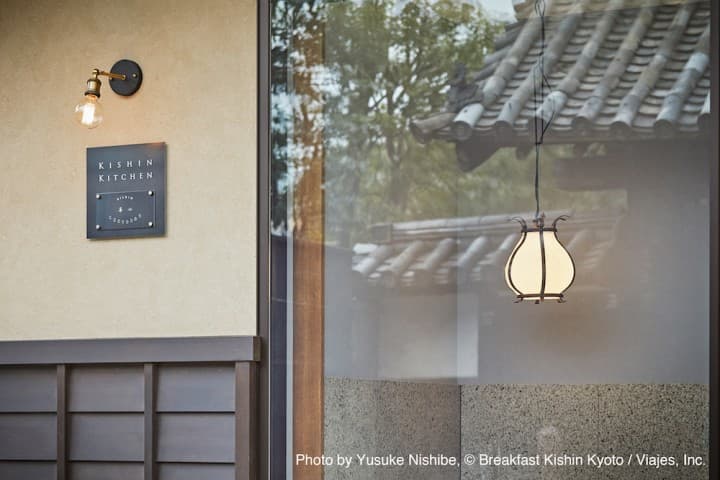 Picture courtesy of Choshoku Kishin
Choshoku Kishin is a restaurant just west of the stone-covered paths of Hanami-koji Street.
The name of the shop derives from a Zen Buddhist teaching: "Eating and cooking are all part of daily practices and a part of life. It is an act that brings joy."
Picture courtesy of Choshoku Kishin
The motto of the shop is "to face food with a sense of happiness."
The "Kishin no Choshoku" meal (2,700 yen with tax) comes with rice cooked in a clay pot along with a selection of three types of soup. Soups such as tonjiru (pork-broth) made with white miso from Kyoto or the summer-limited chilled hiyajiru (*5) soup are available.
On the side are freshly-made yuba, grilled dried round herring, and pickles. The meal looks like an authentic Japanese breakfast.
*5 Hiyajiru: A chilled soup eaten in the summer using dashi broth, miso, and vegetables.
Picture courtesy of Choshoku Kishin
It is open five times between 7:30-8:50, 9:00-10:20, 10:30-11:50, 12:00-13:20, 13:30-14:50. Reservations are prioritized, so it's advised to reserve in advance to secure a spot. While the dishes are simple in taste, you can enjoy the wonderful flavors of Japanese food.
3. Great Access and Budget-Friendly Meals at Kyosaimi Nomura
Picture courtesy of Kyosaimi Nomura 
Kyosaimi Nomura can be found in the central Karasuma area in Kyoto. There are many hotels, train stations, and bus stops, making it a convenient place to visit during your tour around Kyoto.
You can enjoy breakfast at Kyosaimi Nomura, beginning at 7:00.
Picture courtesy of Kyosaimi Nomura
The interior is spacious with white walls and wood tones, giving the interior a warm feeling. Here, you can enjoy the Breakfast Obanzai Set for a reasonable price of 620 yen with tax.
Consisting mostly of vegetables, you can select four small obanzai from a selection of the ten dishes of the day. It also comes with white or mixed rice, miso soup, and coffee.
There is also a yuba rice bowl set that is a great dish to start off your morning.
Picture courtesy of Kyosaimi Nomura 
Have a delicious breakfast with tasty obanzai dishes for a reasonable price!
4. Authentic Japanese Home-Style Breakfast at Rojiusagi
Picture courtesy of Rojiusagi
Rojiusagi can be found near the Kamogawa River, just southeast of Shijo Kawaramachi where the famous department store Takashimaya stands.
This restaurant is inside a cute machiya townhouse that has been renovated.
Picture courtesy of Rojiusagi
Like a typical Japanese household, you first enter the restaurant by removing your shoes. This way, you can enjoy a meal on a tatami matted floor.
Guests can choose from two types of breakfast menus.
One of them is the Kyoto Breakfast (900 yen with tax) that has grilled or stewed fish, two small side dishes, rolled egg omelet, miso soup, and pickles.
Picture courtesy of Rojiusagi
Another breakfast is the Rojiusa Curry (900 yen). It's a scrumptious homemade curry with plenty of vegetables.
Enjoy some leisure time relaxing inside a Kyoto townhouse while savoring heartwarming dishes.
Let's Enjoy a Delicious Japanese Breakfast
While on vacation, many travelers tend to have a simple breakfast at the hotel.
If you're visiting Kyoto, be sure to try the traditional Japanese-style breakfasts introduced in this article for a memorable experience during your stay?
In cooperation with IZAMA, Choshoku Kishin, Kyosaimi Nomura, Rojiusagi
Main picture courtesy of Rojiusagi

The information presented in this article is based on the time it was written. Note that there may be changes in the merchandise, services, and prices that have occurred after this article was published. Please contact the facility or facilities in this article directly before visiting.