Kiyomizudera Temple - A Must-See in Kyoto
This article guides you through the precincts of Kiyomizudera Temple of the iconic temples in Kyoto. Learn how to make the most of your visit with things to do and how to get there at this historic, grand temple.
A Guide to Kiyomizudera Temple
Kyoto is one of the best-known cities in Japan that is home to many famous shrines and temples. You can also find shops with long histories, craftsmen's workshops, and traditional sentō bathhouses here too. This makes Kyoto a great place for lovers of Japanese history and culture - you'll be amazed by everything you find.
But first, we will introduce you to some areas that almost every Kyoto traveler heads to.
Your days in Kyoto will fly by in a flash just by visiting the standard destinations such as Fushimi Inari Shrine and Kinkakuji Temple.
Today, we will tell you about another Kyoto travel staple, Kiyomizudera Temple, giving you an insight into what you can witness on this popular spot on the travelers' route.
The Backstreets of Kiyomizudera Temple
Kiyomizudera sits on Mt. Otowa in eastern Kyoto. Reaching the temple is in itself a bit of an uphill battle. It can get pretty tiring to climb the sannenzaka (road built specifically to get to temples or shrines) hills, but the souvenir shops lining the streets will ensure it won't be a monotonous trek.
When you reach the summit, the great red Niomon Gate will greet you. The three-storied pagoda off to the right creates a very picturesque, temple-like atmosphere. This makes this place a popular spot for taking pictures.
This is what the pagoda looks like from below. If you stand directly under it, you'll have a completely new and enthralling view.
Once you walk past the pagoda and climb a few stairs, you'll reach the ticket gate. This is the entrance to the main part of Kiyomizu-dera Temple. The entrance costs 300 yen for high school students and adults; middle school students and under have to pay only 200 yen.
Through the Gates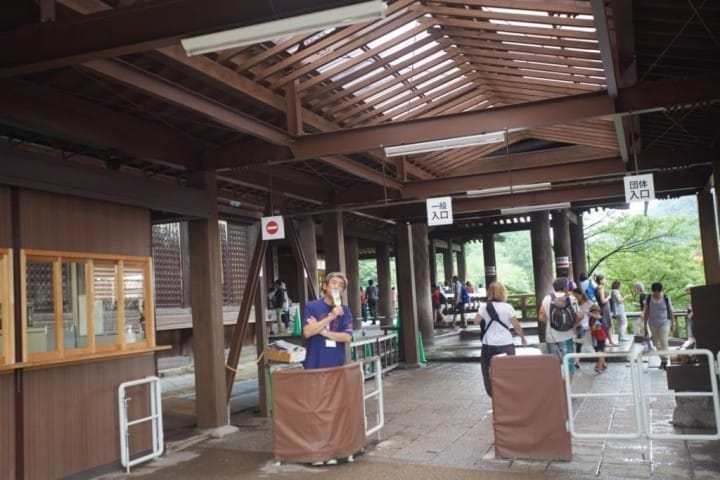 Show your ticket at the ticket gate and pass through heading toward Kiyomizudera.
As soon as you enter, you'll notice this rusted metal pole. It is called tetsushakujo, and it is a staff made of iron and tin. It was a gift presented to the temple by religious followers who train and study in the mountains, and it weighs over 90 kg.
It's too heavy for most people to lift alone, but it is said it brings good luck to the one who manages to lift it. At the base of the tetsushakujō is a pair of takageta, traditional Japanese footwear. Being able to successfully walk in a pair of these is also said to bring good luck.
This humorous-looking figure is called the Statue of Daikokuten. It might look a little strange, but it's actually a depiction of a very revered god whose presence is said to bring good luck in finances and business. You can buy an omamori charm of Daikokuten at the temple.
This is Fureai Kannon, located near the Statue of Daikokuten. Kannon is a Bodhisattva revered in every region of Japan, and is actually the main deity revered at Kiyomizu-dera Temple. Touching a temple's main god is normally not permitted, but in the case of Fureai Kannon, it is allowed.
Behind the Fureai Kannon stands the main temple building, which is the heart of Kiyomizu-dera. As long as you take off your shoes before entering the main building, you can walk around inside.
This is what it looks like inside. It's slightly dark and mystical.
What you see here is the symbol of Kiyomizudera: the Kiyomizu Stage. This historical structure, built over 1000 years ago, has seen many kabuki and noh theater performances. It has even been host to some sumo matches.
This stage was built without any nails, yet it stands on a 4-story tall building. You can enjoy a spectacular view of Kyoto from the edge of this stage. When the Kiyomizu Stage was first built, there were very few buildings that reached a similar height in Japan. That made its lofty view particularly thrilling for some of its first patrons. An old saying in those times went like "If you can jump off of Kiyomizu Stage and land without harm, your wish will be granted."
Of course, many people who tried doing this lost their lives, but the phrase "jump off Kiyomizu Stage" has become synonymous with "give your all for something."
Continue along the route and you'll see a staircase to your left. This leads to Jishu Jinja Shrine, a Shinto shrine. For visitors to Japan, it might be a little confusing to see both Buddhist and Shinto structures together in the same area. However, it's not such a rare sight in Japan.
From here on, the route takes a lot of twists and turns. Continuing along this path for a while will lead you to the Inner Shrine. The Inner Shrine offers a picture-perfect view of Kiyomizu Stage and Kyoto's streets. Many visitors stop here to take a picture, but take care not to cause any traffic jams!
Walk past the Inner Shrine and go down the stairs.
You'll find this place at the bottom of the stairs. This is the waterfall, Otowa no Taki. The waters that flow from the waterfalls are from Mt. Otowa, and they are known by the names of Ogonsui ("Golden Water") and Enmeisui ("Water for Long Life"). Visitors to the temple stop here to cleanse both body and mind while praying. There's always a line, so it might be a good idea to come at a time when it's not so crowded.
On a side note, Kiyomizu-dera's "kiyomizu" translates to "pure water." The pure waters of the Otowa Waterfall are what inspired the temple's name.
This is a view of Kiyomizu Stage from Otowa Waterfall. From here, you can walk past the building.
Finally, you'll come to a gentle downhill slope. You can exit the temple grounds down this path. Now you're free to do some souvenir shopping or visit some other sightseeing spots.
Despite Kiyomizu-dera's large size, it is always packed with sightseers. It takes a lot of time and effort to see everything that the temple has to offer. Please use this article as your guide to seeing Kiyomizu-dera and its charms!

The information presented in this article is based on the time it was written. Note that there may be changes in the merchandise, services, and prices that have occurred after this article was published. Please contact the facility or facilities in this article directly before visiting.