Kyoto Sightseeing Guide - Don't Miss On These Must-Visit Places!
Kyoto is full of amazing sightseeing spots but sometimes it is hard to keep the overview. In this article, we introduce a simple map and system to make the structure and important places in Kyoto easier to understand and plan your visit accordingly.
Kyoto's Easy to Understand Map
Kyoto offers a variety of charming sightseeing spots such as Kinkakuji Temple and Kiyomizudera Temple that you'll want to visit at least once during your stay.
Something you'll want to keep in mind when visiting Kyoto is its geography. The city of Kyoto is divided into an easy to understand grid.
This is due to the fact that roads were created in a grid-like pattern with the Emperor of Japan's residence, present-day Kyoto Imperial Palace, as its center when the city of Heian-kyo was built approximately 1200 years ago. The city's current pattern has been inherited from this structure and is roughly divided in the same way.
In this article, we'll introduce you to the important spots you can find in each respective district by dividing the city into east, west, south, and north to easily understand the central area of Kyoto.
Feel free to use this article to help you locate the main sightseeing spots and hotels of the Kyoto area.
Table of Contents:
1. East Area: Kiyomizudera Temple, Ginkakuji Temple, Heian Shrine, and Gion
2. West Area: Kinkakuji Temple, Ryoanji Temple, Uzumasa, and Arashiyama
3. Central Kyoto: Kyoto Imperial Palace, Nijo Castle, and Nishiki Market
4. North Area: Shimogamo Shrine, Shugakuin Imperial Villa, and Kurama
5. South Area: Fushimi Inari Shrine, Daigoji Temple, and Uji
1. East Area: Kiyomizudera Temple, Ginkakuji Temple, Heian Shrine, and Gion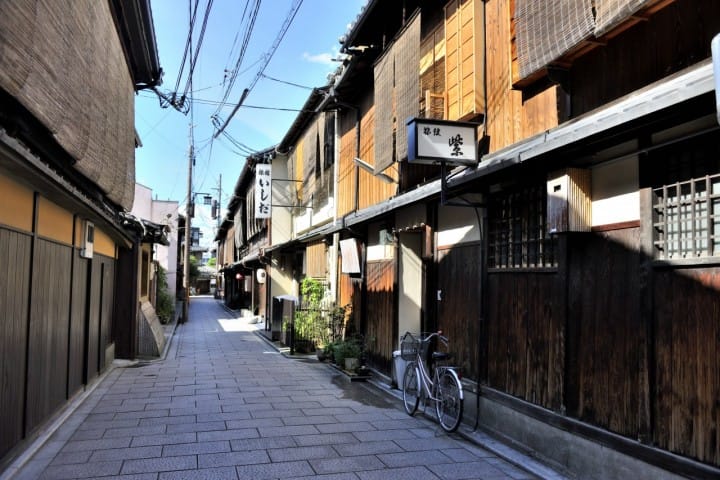 An alley in Gion ©JTA/ ©JNTO
The east area of Kyoto is also called Higashiyama. Found in this area is Kiyomizudera Temple a location that shouldn't be left out of your Kyoto sightseeing.
Other popular spots include Ginkakuji Temple, Heian Shrine, home to a beautiful garden, Yasaka Shrine and Maruyama Park which is famous for its shidare zakura (weeping cherry trees) in the spring.
Gion, a historical part of Kyoto also known as geisha district frequented by maiko (apprentice geishas) and Kyoto's oldest Zen temple, the Kenninji Temple are also located in this area.
Read Also
Gion's Best Sakura Spots
A Dreamlike Townscape: Come Walk The Streets Of Gion At Night
2. West Area: Kinkakuji Temple, Ryoanji Temple, Uzumasa, and Arashiyama
Togetsukyo Bridge in Arashiyama
The Kinkakuji Temple, a World Heritage Site covered in shimmering gold, and the Ryoanji Temple, famous for its Zen rock gardens, are located in this area. The Kitano Tenmangu Shrine, which is constantly visited by exam-takers because it houses the God of Scholars, and Nishijin, the famous fabric district of Kyoto, can be found here as well.
Other places worth visiting in the west area are the nature-rich Arashiyama and Uzumasa. They are home to the Toei Kyoto Studio Park theme park which is modeled after an Edo period town. However, these two locations are best accessed by train as they are quite far away from central Kyoto.
Arashiyama (Togetsukyo Bridge Landmark) Google Map
Toei Kyoto Studio Park Google Map
Read Also
A Public Bath Turned Into A Café? Sarasa Nishijin In Kyoto
A Kyotoite's Recommended Travel Route For Saga And Arashiyama
Take The Romantic Sagano Rail To See Early Summer In Arashiyama, Kyoto
3. Central Kyoto: Kyoto Imperial Palace, Nijo Castle, and Nishiki Market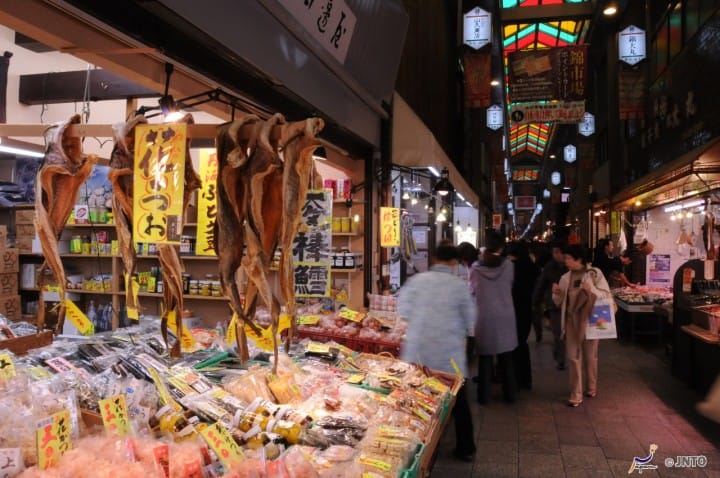 Nishiki Market © Y.Shimizu/© JNTO
This area is covered in places that served central roles in the history of Kyoto such as the Kyoto Imperial Palace, where the Emperor of Japan once resided, and Nijo Castle, a castle that served as the stage for important moments in history.
We also recommend Pontocho, a narrow alley lined with restaurants and bars, for evening walks. You can also experience slightly different charms of Kyoto through the lively Nishiki Market, where you can get delicious snacks and souvenirs, and the Kyoto International Manga Museum that is home to a collection of about 300,000 manga.
Kawaramachi, where you can find department stores and souvenir shops, is another area where you can enjoy shopping. Several lodging facilities such as hotels are also located in this area while Gion, which we previously introduced in the east area section, is within walking distance.
The Area of Kyoto Station
You can use the baggage storage and coin lockers at JR Kyoto Station to store any bags or souvenirs and fully enjoy your sightseeing. The bus terminals and taxi stands are found right outside the station. Most of the hotels are also found in this area, making it the most suitable place for the center of your sightseeing tour. 
The Higashi Hongwanji Temple and the Nishi Hongwanji Temple will leave you breathless with their gigantic wooden architectures. The Toji Temple is home to Japan's tallest five-storied pagoda at 55 meters tall. They are all within walking distance from Kyoto Station.
Read Also
Jo-Social Sake Bar: Sake Tasting in Pontocho, Kyoto
Finding Japanese Souvenirs – The Best Shopping Spots In Kyoto
4. North Area: Shimogamo Shrine, Shugakuin Imperial Villa, and Kurama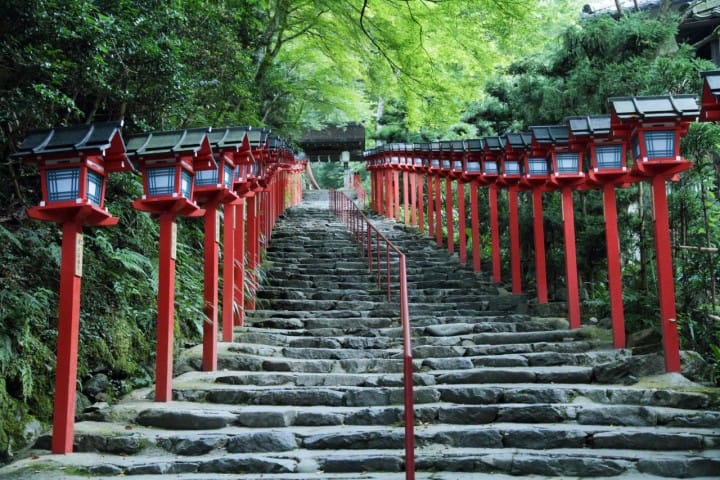 Kifune Shrine ©JTA/ ©JNTO
Sightseeing spots situated north of the metropolitan area include the Shimogamo Shrine, a World Heritage Site and the Shugakuin Imperial Villa where you can enjoy the verdant and vast landscape. It is necessary to make a reservation beforehand to visit the Shugakuin Imperial Villa, so please apply for a visit through the official website.
Kurama and Kifune
Kurama and Kifune are approximately 30 minutes away by bus or train from central Kyoto. These areas are famous for Kuramadera Temple and the Kifune Shrine. The road connecting Kurama to Kifune is called the "Tree Root Path" and consists of a unique landscape that stretches far with tree roots crawling over the earth's surface.
You will be walking on hill and mountain roads when visiting this area, so we recommend to wear clothes and shoes that are easy to walk in.
Read Also
The Forest Market of Handcrafts at Shimogamo Shrine, Kyoto
Cool Down In Spiritual Places This Summer: Kurama And Kifune, Kyoto
5. South Area: Fushimi Inari Shrine, Daigoji Temple, and Uji
A tea plantation in Wazuka, Uji
South from Kyoto Station is the Fushimi Inari Shrine, famous for a stretch of approximately 10,000 red torii (shrine gates), and Daigoji Temple, which is known for its beautiful cherry blossoms.
Uji
Further south of the metropolitan area is an area called Uji. It will take approximately 20 minutes by train from Kyoto Station. A famous temple of this area is the Byodoin Temple. The sight of its Phoenix Hall reflected in the pond's surface has a beauty that is beyond imagination.
Uji itself is an area mainly known for producing high-quality tea. It's a great place to enjoy matcha green tea and matcha sweets.
Read Also
Bring Home A Souvenir Fox From Kyoto's Fushimi Inari Shrine!
When In Kyoto, Visit Uji! A Sightseeing Guide To The Town Of Tea
Enjoyable Sightseeing by Understanding the Kyoto Area
Kyoto is a city full of Shinto shrines, Buddhist temples, and other historical attractions. However, be sure to set a schedulethat is not to tight and allows for the respective distances between each location.

For example, it is best to take a whole day to visit spots which are further away from central Kyoto such as Uji and Arashiyama. By giving yourself two or three days for traveling, you also don't need to worry about limiting yourself to the main sightseeing spots like Kinkakuji Temple or Kiyomizudera Temple in central Kyoto.

Popular spots will be crowded and roads in Kyoto will often be congested so it might take time traveling from one place to another.

It'll make sightseeing remarkably easier when you have an understanding of the Kyoto area beforehand. So why not make use of this article while traveling to Kyoto?

The information presented in this article is based on the time it was written. Note that there may be changes in the merchandise, services, and prices that have occurred after this article was published. Please contact the facility or facilities in this article directly before visiting.