Kyoto's Hidden Gems! 3 Local Cafes For Relaxing Teatime
Kyoto is best known to travelers for Kiyomizu Temple, Nijo Castle, and the historic Gion district. This ancient Japanese capital is also home to many quiet cafes and coffee shops. Read to learn about three hidden cafes known well among locals with great coffee and sweets.
Three Hidden Cafes in Kyoto
From historical buildings—such as Kiyomizu Temple, Nijo Castle, and Heian Jingu Shrine—to the gorgeous traditional Japanese restaurants lining the Gion district, Kyoto is well-known for its myriad of sightseeing spots.
There are also many old machiya (town houses) that have been renovated and transformed into stylish cafes. In this article, we have chosen three of our top cafes to share with you.
1. Have a Serene Coffee Break at mag
Picture courtesy of mag
mag can be found tucked away just off to the side of Kyoto's bustling Kiyamachidori.
This charming cafe is only 15 minutes from Gion's crowded main street, Hanamikoji Dori, and 10 minutes from "Kyoto's Kitchen," Nishiki Market.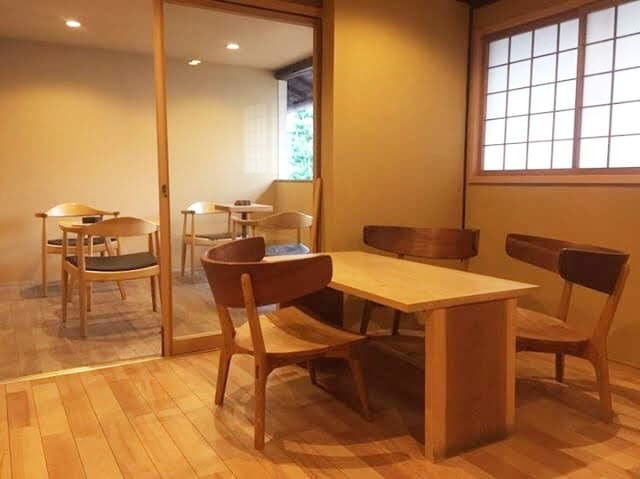 Picture courtesy of mag
The interior design to the drinks and desserts show the dedication and earnest passion of the cafe owner at this hidden gem. Within the warm, wooden interior consisting of tatami and shoji (sliding doors), you can feel the essence of traditional Japanese design etched throughout the premises.
The choice in tableware is impeccable, which helps to immerse you in the cafe's luxurious and relaxing atmosphere.
Picture courtesy of mag
Picture courtesy of mag
To pair with the coffee at mag, be sure to try the seasonal homemade cakes and baked desserts. Additionally, you can sample their Rich Cheesecake—which is moist and plain in taste, yet possesses a delectable richness without any unnecessary ingredients. The cheesecake is available throughout the year.
It comes with a scoop of vanilla ice cream so you can have fun mixing and changing the flavors.
mag will feel like you're in a secret hideout and is very welcoming to those traveling alone. So if you ever feel worn out while sightseeing in Kyoto, why not stop by and take a breather here?
mag
Address: Kyoto, Kyoto, Nakagyo, Shijo-agaru, Shimokoriki, 191-3 Google Map
Official Facebook Page: https://www.facebook.com/magcoffeemag/

2. Indulge in Specialty Coffee And Cheesecake At Ashijima Coffee
Picture courtesy of Ashijima Coffee
Ashijima Coffee is on the 5th floor of the Bunmeido Building along Kawaramachi Sanjo, a busy road in one of Kyoto's main neighborhoods. It's about an 8-minute walk from the Takashimaya Kyoto Department Store.
When the elevator doors open to the cafe, a serene space that is quite opposite from the hustle and bustle outside will greet you.
Inside, you can choose to spend your time sitting at the counter watching the staff make coffee or relaxing at a table.
Ashijima Coffee roasts its own coffee using carefully selected green coffee beans. They usually have five or six different types of beans to choose from to match individual tastes.
Picture courtesy of Ashijima Coffee
If you tell the staff, "I prefer a brew with acidity" or "I like my coffee strong," they can make personalized recommendations. Each cup of coffee is made specifically for each customer.
You will, of course, want to try Ashijima's cheesecake while you're visiting. They usually have five varieties to choose from to pair perfectly with your beverage.
Out of the five choices, the Sanjo Cheesecake (700 yen with tax) is a must-try for its melt-in-your-mouth creaminess and rich cheese flavor.
Ashijima Coffee
Address: Kyoto, Kyoto, Nakagyo, Daikoku 37, Bunmeido Building, 5th floor Google Map
Official Site: https://ashijimablog.com/ (Japanese)
3. Satisfy Your Sweet Tooth with Fine Desserts! cafe quarirengue
Picture courtesy of cafe quarirengue
quarirengue means "a flower that blooms strongly and beautifully even in the center of a blaze." More simply put, it means growing through adversity. cafe quarirengue is between two of Kyoto's main streets, Karasuma and Kawaramachi.
Warm rays bathe the inside of the refurbished merchant house and you can relax in peace and quiet among the understated furnishings.
Whether you want to share a precious moment with a close friend or simply relax by yourself, this is the cafe to visit.
Picture courtesy of cafe quarirengue
Along with its charming atmosphere, you can also enjoy quarirengue's organic coffee and desserts made from finely-selected ingredients.
Our recommendation is their exquisite Cafe Latte (650 yen with tax). The balance of strong coffee and rich milk is simply delicious, and the mug it comes in is gorgeous. Isn't it interesting how great coffee tastes even better when served in a beautiful cup?
We also recommend quarirengue's Shaved Ice topped with handcrafted syrup during the summertime (1,300 yen, tax included).
Even finding the hidden cafe while looking at a map in the quiet alleys is its own adventure.
cafe quarirengue
Address: Kyoto, Nakagyo, Yanaginobanba, Aneyakoji-agaru, Yanagihachiman 74-4 Google Map
Official Site: https://cafequarirengue.wixsite.com/rengue2
Recharge at Kyoto's Tucked-Away Cafes
While the cafes we introduced today are highly regarded and hidden gems, well-known among a select few. Take a break from sightseeing to simply relax and savor coffee and dessert.

The information presented in this article is based on the time it was written. Note that there may be changes in the merchandise, services, and prices that have occurred after this article was published. Please contact the facility or facilities in this article directly before visiting.