Jujo Ginza Shopping Arcade: Get a Taste of Local Tokyo Life!
Already visited all of the famous spots in Tokyo? How about taking a walk for cheap eats in an area frequented by Tokyo natives? Learn about Jujo Ginza Shopping Arcade in Kita Ward for a different experience from classic sightseeing spots.
Feel Like a Tokyo Native at Jujo Ginza Shopping Arcade
When it comes to Tokyo sightseeing, many imagine shopping areas filled with trendy stores or business districts with high-rise buildings. But that's just a slice of what this metropolis has to offer.
In some ways, people in Tokyo live similarly to residents from hundreds of years ago. Venture out from famous sightseeing spots and business districts to discover the local side of Tokyo.
People in residential areas often shop at a shotengai, or a shopping street. We'd love introduce to these pillars of community to anyone looking to learn more about Tokyo and Japan!
Jujo Ginza Shopping Arcade: Attracting Customers for Over 50 Years
This time, we're going to Jujo Station along the JR Saikyo Line to visit a residential area in northern Tokyo. It can take from 5 to 25 minutes on a direct train, depending on whether you depart from Shibuya, Shinjuku, or Ikebukuro.
Leave the station's North Exit and you'll see Jujo Ginza Shopping Arcade to your right.
Entering the arcade, you'll see a street lined with stores on both sides. These include restaurants, grocery stores, candy shops, supermarkets, 100-yen shops, and more!
Among them are delicatessens selling ready-to-eat meals. In this article, we'll be stopping by to taste what Jujo Ginza Shopping Arcade has to offer!
Before our walk, we met with Mr. Hiroshi Ishii, executive director of the Shopping Street Promotion Association. He shared the history of the shopping street and its roots in the community.
Jujo Ginza Shopping Arcade's history goes back 82 years! The Merchant Association was established in August 1938, and the arcade was officially formed in March 1977. Mr. Ishii explained, "In reality, the stores have been around for 100 years or more. This has long been a shopping area for residents."
It's been said that people moved here after the Great Kanto Earthquake in 1923 to open their own business.
As time passed by, so did the shops and locals.
The store with the longest history in the shopping street is Uosuzu, a fish market that has been in business for 50 years. Eventually, a small supermarket appeared on the shopping street. Later, 100-yen shops joined the storefronts. Some shops have been handed down for generations while others changed hands under new management.
These days, an increase in international residents has resulted in a diversity of customers frequenting Jujo Shopping Arcade daily to buy food.
Embark on a Walking Food Tour of Local Shops!
Without further ado, we'll guide you on a walk through Jujo Ginza Shopping Arcade. It's famous for having ready-to-eat meals, side dishes, and other food at reasonable prices.
According to Executive Director Ishii, "A food tour is fun and easy way to experience Jujo Ginza's charms."
Meat Delica Shioya
Start from Jujo Station. Walk a little way along the arcade and you'll see Meat Delica Shioya on your right.
This shop is famous for their deep-fried food. There's also an abundant selection of salads, roast beef, char siu pork, and bento lunch boxes. You can purchase quality cuts of meat to cook at home, too.
Their deep-fried items are sold individually from a large case. A popular item is the menchi katsu (fried minced meat), 120 yen with tax. Our writer recommends the curry croquette (70 yen with tax), and beef croquette (90 yen with tax)!

Toridai
Continue down the shopping street while enjoying some window shopping. You'll approach an intersection as the street to the right widens. Turn right and walk a little further to find Toridai: a deli that specializes in chicken dishes. This popular shop has been featured on TV programs numerous times. There's always a line of customers out the door.
It first opened as an egg shop in 1961 before specializing in chicken dishes in 1964. Several ready-to-eat meals are displayed in the storefront, while fresh poultry is sold inside.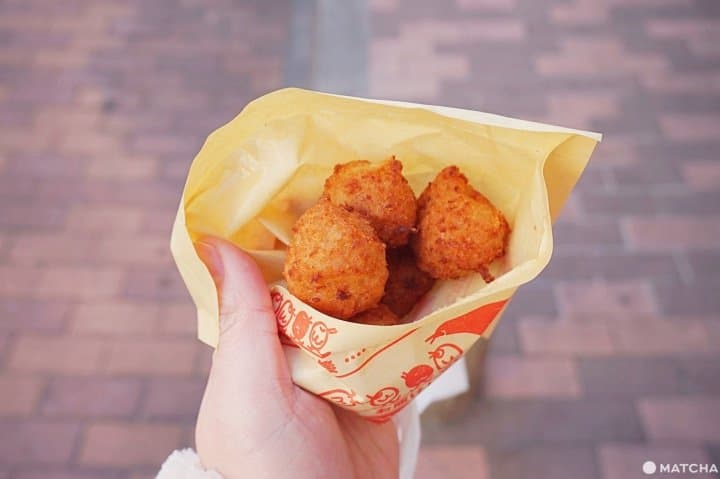 A fan-favorite is the Chicken Balls. They're just 10 yen each!
Aside from fried food, you'll find yakitori (grilled chicken skewers), teriyaki and saikyo-yaki (a Kyoto-style miso marinade), and chicken steaks starting from less than 100 yen.
Aisaika
Aisaika is a delicatessen that has been open for over a decade.
They have a selection of tasty grab-and-go dishes at reasonable prices. No wonder they're so popular!
Since they first opened, one of their most popular items is their huge Deluxe Chicken Katsu. It's only 260 yen! Other types of fried food include squid and sardines, karaage (fried chicken), chicken cutlet, croquettes, and a variety of yakitori.
We were pleasantly surprised that desserts were sold here, namely muffins and cheesecake. Normally, side dishes and ready-made meals are the only products sold at Japanese delicatessens.
The Natural Cheesecake is 260 yen per slice. After taking a bite, you'll fall in love with the rich cheese flavor. It was absolutely delicious down to the last bite. What a perfect dish to end your meal!
*Aisaika is not a member of the Shopping Street Promotion Association.
Musashiya
Musashiya, a traditional Japanese sweets shop, has a history spanning over 50 years. Hand-baked senbei (rice crackers) are their most popular products. In the past, they were praised by retired Prime Minister Shinzo Abe for their amazing taste. Hand-baking demonstrations are held on the weekends and holidays at their storefront.
Don't miss their special Jujo Mangetsu; these red-bean pancakes were selected as one of the 30 best products in Kita Ward, where the shopping street is located.
Jujo Mangetsu with Mochi
The Jujo Mangetsu's soft and plump exterior has a fragrant aroma. Inside, it's filled with a red bean paste that is simmered for over ten hours. They cost 140 yen each.
Another thing that caught our eye was the filling options for the Jujo Mangetsu. The selection includes mochi (170 yen/pancake), butter (180 yen/pancake), and chestnut (180 yen/pancake), so make sure to give them a try! All prices are before tax.
In addition to traditional confections, they also sell desserts with a mix of traditional and modern flavors. The display case captures the neighborhood's history and changes!
Bonnel Cafe's Jujo Location
The last shop we'd like to recommend is Bonnel Cafe. This cafe is a bit different from the rest because of its modern and cute ambience. Our writer loves this location, because you can feel how this shopping street steeped in locality is shifting with the times.
A fun item to order is the Hot Stick Chocolate. A ball-shaped chocolate is served on a stick with a mug of warm milk, a marshmallow, cookie, and whipped cream.
First, stir the chocolate into the hot milk. Once it's melted, it's ready to drink! The rich, aromatic flavor will undoubtedly have chocolate lovers hooked!
The Hot Stick Chocolate is available in four different flavors. The milk and cinnamon flavor is 680 yen, while the earl grey costs 700 yen. They even have seasonal flavors! The chocolate stick can also be purchased to go and enjoyed at home (500 yen and up per stick).
Meals and cakes are available at the cafe, too. Hungry and want a quick break? Be sure to stop by this cafe!
Tired from Walking? Rest in the Break Room
Feeling tired from walking? Not used to eating and walking or want to consolidate your purchases? Drop by the Break Room. Desks and chairs are set up inside so shoppers can rest. The facility has a sign with the words "Oyasumi Dokoro" (break room) printed in huge letters.
In addition to the seating area, there is a diaper changing table and hand sink. Smoking, alcohol consumption, and pets are not allowed inside the room. Please refrain from staying for a prolonged period to allow others to use the facility.
There are no trashcans, so please take your trash with you. Bathrooms can be found by exiting the room and climbing the nearby staircase to the second floor.
Experience the Everyday Life of Tokyo Locals
Jujo Ginza Shopping Arcade is one of many bustling community-based shopping arcades. However, there's no denying that customers are decreasing due to department stores, supermarkets, and new commercial areas.
The association is implementing various initiatives to revitalize Jujo Ginza Shopping Arcade. At the time of our writer's visit, they were distributing scratchcards that could be exchanged as coupons equivalent to 50 to 20,000 yen. Other initiatives include stamp cards that can be used as shopping coupons and more.
A walk through Jujo Ginza Shopping Arcade is perfect for experiencing local Tokyo life with a traditional atmosphere. Get a small glimpse of what a local shopping street is like right here!
In cooperation with Jujo Ginza Shopping Street Promotion Association and each shop
The information presented in this article is based on the time it was written. Note that there may be changes in the merchandise, services, and prices that have occurred after this article was published. Please contact the facility or facilities in this article directly before visiting.