Shimofuri Ginza Shotengai: A Tokyo Shopping Street for All Ages
Shimofuri Ginza Shotengai is a five-minute walk from JR Komagome Station. You'll find a shopping street stretching for 250 meters lined with about 50 stores. Established in 1953, these retailers have strived to keep up with the times. Read on to learn about its history, shops, and local delicacies!
A Shopping Street in the Komagome District
A shotengai, or shopping street, is where you can find various stores lined up in one place. It's a convenient location for locals to buy food and daily necessities.
Shimofuri Ginza Shotengai, located near Komagome Station on the JR Yamanote Line, is popular for its hospitality and close-knit community. Once you become a regular customer, the shopkeepers will remember your preferences. Some patrons even come to simply chat. Community is a vital thread that connects store owners with their clientele.
There's a butcher shop with 90 years of history, a tofu store that uses domestic soybeans, a grocery that sells affordable fruits and vegetables, and a household goods store. These retailers are the pillars of the local community.
However, certain measures must be taken to maintain these mom and pop businesses. If there isn't interest from a new generation of local customers, or if the local population decreases, it will be a blow to the shotengai.
Mr. Nakamura, a third-generation shoe-store owner, manages the official website (Japanese) for Shimofuri Ginza Shotengai.
According to Mr. Nakamura, he renewed the site so "overseas visitors and Japanese customers could both appreciate this shopping district." The two-month process involved him visiting each of the stores, taking photographs, and doing interviews. As a result, the website attracted people from across Japan to visit here.
The following article features Mr. Nakamura's store, alongside other unique shops he recommends visitors stop by.
Paris Shoes: Supporting Customers From the Soles Up
In addition to general footwear, the store carries special shoes for nurses, cooks, and construction workers. In fact, they sell more than 2,000 types of shoes, including those aimed at infants and senior citizens. Paris Shoes was established 63 years ago by Mr. Nakamura's grandfather, who first started the custom-made shoe business. Over the years, they shifted their focus to general footwear.
Mr. Nakamura is a certified shoe fitter. He can confidently assist customers in selecting an item that best fits them.
With a smile, Mr. Nakamura revealed, "I'm a little envious of kids these days since they can choose from a wider variety of colors and designs than my childhood." The sneakers and rain boots for children on display were indeed very colorful.
Paris Shoes also carry designated indoor shoes (uwabaki) for neighboring schools.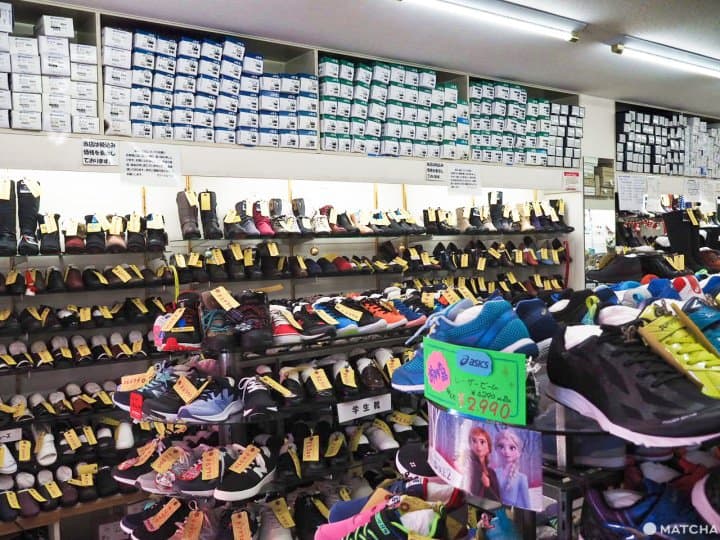 Mr. Nakamura opened up about what he has in store for the future: "I hope to support customers throughout their lifetime from childhood. We'd like to assist with their shoes during all stages of life, including graduating from school, entering the workforce, getting married, and having children."

Jeans First: Find One-of-a-Kind Denim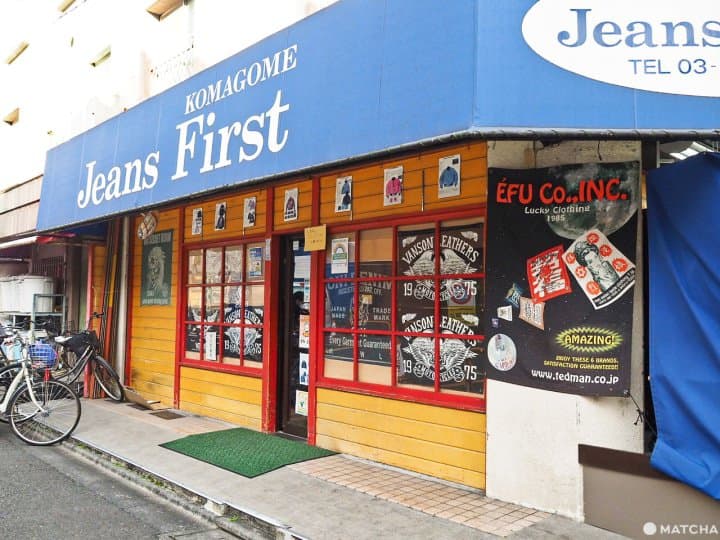 The 67-year-old owner of Jeans First has been a fan of American clothing from his youth.
"I started this store about 50 years ago, and still wear the items we sell today," said the owner, who also models his own clothes.
All the items sold each season are selected by the owner, who checks out various exhibitions and catalogues from apparel makers. Most of the designs feature bold patches and patterns that really stand out. He also mentioned how many customers are motorcycle enthusiasts.
The owner revealed that tourists from Asian countries often purchase items by Oni Denim. This Japanese brand employs heavy-duty materials and elegant colors created by natural dyes.

Pankoya: A Bakery Loved by Locals
Pankoya may look small, but it sells 70 to 80 types of bread daily. The bakery is adored by locals who love popular items, such as ebi-katsu (shrimp cutlet) bread, sweet buns with fruits and whipped cream, and melon bread. All three baked goods are perfect for breakfast.
Each item is prepared differently according to the type of bread. For instance, the anpan (red bean bun) and wheat germ bread contain natural yeast, which gives them a soft texture.
Kodomo-pan ("Kids Bread") is one of the bakery's signature products. The recipe contains natural yeast and only costs 30 yen!
Although the name suggests that its intended for kids, the staff explained that the bread was named for its small size. Adults and kids alike love its fluffy texture and delicious taste.
Our writer was also impressed by the staff's hospitality; when regular customers entered the store, the staff immediately knew which products they wanted.
"We just like making small talk," explained a staff member. The genuine attention and care given to customers makes Pankoya a place worth visiting!

Hyaqtoh Coffee: Sip High-Quality Brew at a Local Coffee Shop
There are two Hyaqtoh Coffee locations near Komagome Station. The owner named the shops after his love for Prague—known as the city of "hyaqtoh," a hundred towers.
The Czech-inspired interior has a retro atmosphere. The store located in Shimofuri Ginza Shotengai was renovated from a former cosmetics shop.
The menu items, including hand-dripped coffee and espresso, can all be ordered to go! If you don't have time to sit down, there's no need to worry. This coffee shop is frequently visited by staff from the nearby florist and fish market, too.
Hyaqtoh Coffee uses a roaster by Fuji Royal, a brand known for producing fragrant coffee. The coffee beans are carefully selected by the barista each morning. The excellence of their product can be confirmed with just a sip!
Our writer recommends the hot latte, made with rich milk and mild coffee.
Hot Latte (small, 490 yen with tax); Matcha and White Chocolate Muffin (380 yen with tax)
Although quantities are limited, there are also homemade seasonal sweets sold daily. They contain various ingredients, such as tangy oranges in summer and luscious chocolate in winter.
Our writer ordered a matcha and white chocolate muffin. The fluffy cake packed with chunks of white chocolate was fragrant with matcha. It was a light and satisfying treat!

Experience Daily Life at the Shotengai
Since the COVID-19 pandemic, the number of overseas visitors to the shotengai has decreased. Asked to refrain from non-essential outings, residents have been rediscovering the charms of these local shopping districts.
Daily life can be heard in the music flowing through the store-lined streets and the chat between customers and staff. When you visit Japan, head to Shimofuri Ginza Shotengai and experience life as a local!
In cooperation with Shimofuri Ginza Shotengai
The information presented in this article is based on the time it was written. Note that there may be changes in the merchandise, services, and prices that have occurred after this article was published. Please contact the facility or facilities in this article directly before visiting.