Walk and Eat Through Retro Japan! Tokyo's Kirakira Tachibana Shotengai
The 'Shitamachi Ninjo Kirakira Tachibana Shoutengai' is a 400-meter arcade of quaint, nostalgic shops and food offering an authentic peek into retro Japan! Here we'll guide you through this slice of history and reveal some of our favorite spots.
A Deep, Fascinating History - Shitamachi Ninjo Kirakira Tachibana Shopping Street
When you're exploring Tokyo's Sumida ward, it's hard to miss the ultra-modern Tokyo Skytree. But if you're looking for a peek into an older side of Tokyo, just 1 kilometer away in the Kyojima Area you can enjoy the retro charm of the Shitamachi Ninjo Kirakira Tachibana Shotengai shopping street.
A change of pace from the convenience stores and fancy boutiques occupying much of Tokyo, this quaint street humbly aims to provide the local community with their daily essentials.
Kyojima's Miraculous Escape
The market in 1927. Picture courtesy of the Mukojima Tachibana Ginza Shopping Arcade Union.
In Japan, the notion of 'shotengai' shopping streets is said to have its origins in the 'Shotengai Promotion Association Act' of 1962. Historically, residents would have to rely on these local shops for all of their needs.
During the early Showa period (1926-1989), Kyojima and the northern areas of Sumida were packed with small factories and quickly developed into a bustling community of people looking for work and entertainment. While the intense bombings of WWII destroyed Sumida's southern district, Kinshicho, Kyojima remained mostly undamaged. The markets grew bigger and better, with the construction of a movie theater completing the town's transformation into a thriving community. While larger chains have replaced some of the local shops, the lively spirit of Sumida can still be felt in its traditional shopping street!
Locals, Visitors, Shopkeepers - It's All About the Fun!
Being close to the Tokyo Skytree, you might expect the shopkeepers of Kirakira Tachibana Shotengai to try reeling in customers on their way home from sightseeing. However, in the words of the shopping street's executive director: "I wouldn't say we're trying to reel in customers - we're just working hard to make sure everyone is having a good time! Happy customers will surely come back again - maybe even with a friend! Those are the kind of customers we want."
One way the shopkeepers are working to create a fresh, energetic environment is the store for rent initiative. This system allows old vacant stores to be remodeled with monetary assistance from the city and leased out to anyone wanting to open a business. After the initial period, business owners can negotiate with the landlord directly, creating an environment ideal for young entrepreneurs wanting to grow.
The most important aspect of a shotengai lifestyle is community living. Adults and children can shop for daily essentials at their own pace, while regular events pull the community together, deepening local ties and nurturing a friendly neighborhood. The store owners are always searching for new ways to promote their businesses, creating a dynamic environment.
"Fun comes first!" With jovial shop staff, smiling locals, and excited children, the words of the executive director can be seen all around Kirakira Tachibana Shotengai! So what kind of shops and people will you run into? Let's take a look at the stores that caught our eye!
Takoyaki Konkon - Service with a Smile!
While it sits in the middle of the bustling shopping arcade, Takoyaki Konkon stands out from its surroundings. It's always surrounded by people chowing down on delicious takoyaki (fried snacks made with octopus)! According to the staff, take-out is the name of the game!
The owner, Teragura, exudes warmth and energy, lighting up her shop. While her friendly smile was behind a mask, her passionate greetings were unabated!
First introduced to the shotengai by a friend, Teragura took a leap of faith in 1995 and opened up her own shop making Kansai-style takoyaki with octopus from the Toyosu Fish Market. Watching her hand-make these scrumptious delights will leave you hungrier than you could believe!
Takoyaki with spicy sauce
Along with the regular mayonnaise, Konkon offers unique flavors like curry, pizza, plum, and more! Takoyaki Konkon's unique seasoning really stands out. 6 pieces are 350 yen, 8 are 450 yen, and 10 are 550 yen - a seriously great deal!
Covered in a generous helping of dried bonito slices, you won't be able to walk past without trying a bite yourself!
Hatoya Bakery - A Retro Relic Worth Protecting!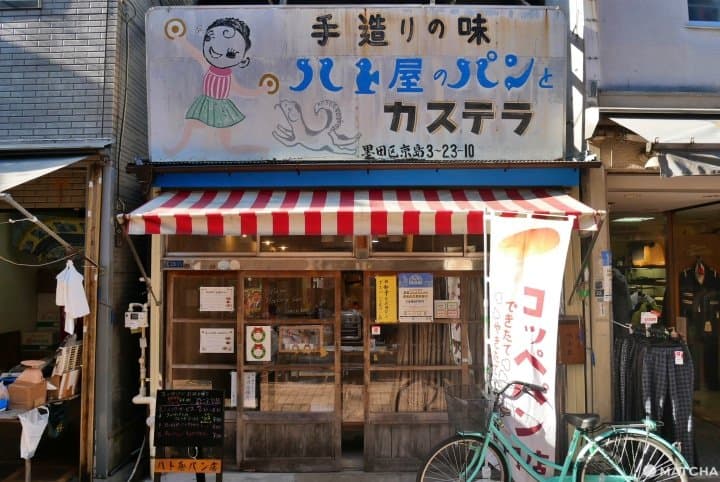 Lovers of old-fashioned architecture will be blown away by this next entry!
Hatoya Bakery opened in 1912 and has occupied the same building since 1928 - only pausing business in 2017 when the previous owner passed away.
One day, when passing by, we noticed the inside was under construction! The current owner, Kamita, was doing some much-needed renovations, and the store successfully reopened with a fresher-look in November 2020.
The machine in the picture above is the original oven, which was used all the way up to 2017! Looking at the thick black metal casing and bulky exterior gives one a profound sense of history. While it is no longer being used, it is well looked after as the store's treasured relic.
Along with experience running a cafe, Kamita is a first-class architect with a PhD - a true jack-of-all-trades! Falling in love with the charming nagaya (*1) architecture in Tokyo, he moved to Kyojima to pursue his calling.
One day, when browsing the internet, he noticed the building for sale on a real estate website. Naturally, his only thought was "I need to save this precious building and its priceless billboards!" He decided to buy and renovate the bakery while keeping the original signs and aesthetic.
*1... Nagaya architecture - a kind of narrow row house with multiple homes sharing walls stretching inward from the street.
Hatoya Bakery's selection uses only Japanese-style koppepan rolls handmade by Kamita himself. Each morning, a French-toast style koppepan is on offer, making for a satisfying breakfast! While the range isn't too extensive, the bite and texture of the bread is exceptional.
"When I brought Hatoya back to life, the regular customers were thrilled! The retro atmosphere also caught the eye of new customers, creating another generation of Hatoya lovers!" said Kamita. If you're around Kirakira Tachibana Shotengai, pop by for a quick pick-me-up on your shopping adventure!
Machiyasu - Fruity Sweets From a Former Fruit Store!
Further into Kirakira Tachibana Shotengai, you'll find Machiyasu. Opened in 1924 as a specialist fruit store, the original founders were the grandparents of the current owner Machiyama!
Machiyama himself was originally a broker in the fruit trade and continued to work in the industry for as long as he could. As fruit sales declined, he changed gear and revamped the store as a stylish café in September 2020. With pasta, sorbet, pancakes topped with fresh fruits, and more, the menu at Machiyasu is diverse and delicious!
The pancakes here are particularly delightful! Machiyama studied at a legendary pancake outlet, learning to cook these heavenly treats on a copper pan until they're perfectly browned on the outside and lavishly fluffy inside. Adding to the taste are generous helpings of ripe, seasonal fruits, allowing you to truly savor the best flavors of the season!
Born 30 years ago when the café was still a humble fruit outlet, the most popular menu item is the fruit sorbet. Gaining traction after huge online sales, it was chosen by the Sumida City Office as their Furusato Nozei hometown tax present.
Of course, you can enjoy this icy creation in-store! When we visited, we were lucky enough to try the limited-edition Amaou strawberry and Alphonso mango flavors. These juicy and flavorful masterpieces truly flaunted Machiyama's expertise as a fruit broker!
Depending upon the season, the arrangement can also vary. Ripened fruit will be made into sorbet or frozen to preserve its flavor, allowing each piece to be used at its maximum potential.
The Heart of Any Neighborhood is in its Shotengai!
While shotengai shopping streets can be found across Japan, each one has a characteristic unique to its surrounding neighborhood. Shopping streets allow genuine glimpses into everyday Japanese life, so for those after more 'local' journeys in Tokyo, don't miss popping by the Shitamachi Ninjo Kirakira Tachibana Shotengai!
In cooperation with Shitamachi Ninjo Kirakira Tachibana Shotengai
The information presented in this article is based on the time it was written. Note that there may be changes in the merchandise, services, and prices that have occurred after this article was published. Please contact the facility or facilities in this article directly before visiting.