LOOK Shotengai: Retro Goods, Cafes, and Lovely Shops in Koenji, Tokyo
LOOK Shotengai is a convenient shopping street for locals with an array of mom-and-pop stores only found here. There's an endless variety from long-established retailers to newly-opened shops where the owners achieving their dreams! Learn more about these unique stores in this article.
A 70-Year-Old Shopping Street Selling Everything Imaginable
Where do you go when you want to buy vegetables, find comfy footwear, or enjoy a meal? Nowadays, department stores will have everything you need in one place.
In 1951, Movie Theater Shopping Street opened in the Koenji neighborhood of Tokyo. Just like department stores, it had everything you needed for everyday life. As its name suggests, there was also a movie theater that added liveliness to the streets as a place of entertainment.
In 1962, the Shopping Street Association was established and later renamed to the present-day Koenji LOOK Shotengai. While the storefronts have changed over time, it's still a street with stores for everything imaginable.
The street is home to a post office, drugstore, dental clinic, thrift stores, variety shops, cafes, izakayas (Japanese pubs), an art gallery, and much more! Walk down the street, and you'll realize just how much diversity this single spot offers.
Take a Stroll Through Historic Buildings
Koenji LOOK Shopping Street is nestled between JR Koenji Station and Shin-Koenji Station. There are close to 170 shops located along this 600-meter-long avenue.
Even the newest retailers are in row-house style structures—a design from the Edo Period. The street's architecture creates a historical feel; shops built into row houses sit side by side sharing the same wall. Seeing each store compactly lined to the next makes them seem like a cross between historical shopping districts and modern department stores!
What types of shops are found in a shopping street with everything? We visited stores less than a decade old, as well as with long-established shops with nearly 80 years of history. Here are some of our favorites!
1. Grandpries: Find Adorable, Retro Goods
This small store is packed with a variety of quirky products from second-hand clothes, retro goods, dagashi (old-fashioned sweets) to handmade products. This is Grandpries, a Showa-style goods and thrift store that opened in 2014.
The owner, Ms. Omura, frequently visited the Koenji neighborhood since she was a student. Her purpose was to head to thrift stores and collect retro items.
We asked Ms. Omura why she decided to open this store. Right away she replied, "This was the only thing on my mind."
The yellow roof is the store's trademark. Mannequins, capsule toy machines, and second-hand clothes with eye-catching designs line the storefront. When curating items for her shop, Ms. Omura is always on the lookout for something interesting. It's as if the store is an embodiment of Ms. Omura's worldview!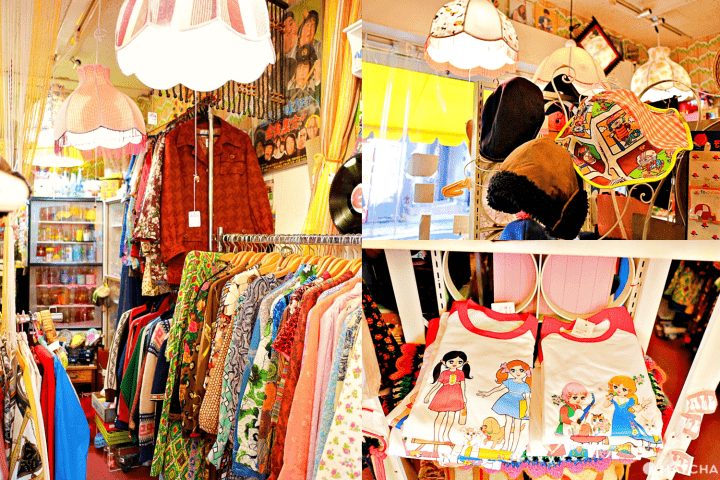 Second-hand clothes are sold from 2,800 yen for dresses and 1,800 yen for men's shirts. They also carry original Grandpries clothes. There's a fitting room inside, so customers can try on anything that catches their eye.
Many overseas customers come to buy character goods, such as Anpanman or Snoopy. Ms. Omura cheerfully stated, "I hope many people from around the world continue to visit our store in the future as well!"
The store also sells handmade products by artists. They have a collection of reinvented yet retro goods, including washi (Japanese paper) tape, stuffed animals, accessories, and bags made from recycled vinyl records.
While browsing the shelves, we stumbled upon a nostalgic mascot; the pink elephant to the left is Satoko-chan, a pharmacy mascot. In the past, you'd often find this mascot outside drugstores.
Just when we thought that this mascot was a nostalgic memory, we saw one right along the shopping street.
The orange elephant is Sato-chan. No one knows when it became custom to be place the two outside pharmacies.
We spotted these retro elephant mascots in front of Fujiya Pharmacy! Let's visit this pharmacy next.
2. Fujiya Pharmacy: A Neighborhood Store with 90 Years of History
Fujiya Pharmacy first opened in 1933. It occupied a large, western-style building built during the Taisho Period. Surprisingly, it withstood both the 1923 Great Kanto Earthquake and World War II without damage.
Inside the store is the pharmacist Mrs. Konishi. She previously worked at a hospital, but took over her husband's family business after their marriage. We asked for her thoughts on running the pharmacy after her husband had passed. She replied, "As long as people need this pharmacy, I want to keep it open so they can come without worries."
When overseas customers drop by, Mrs. Konishi asks for their symptoms using simple English and gestures. This allows her to recommend which medicine to take. The pharmacy also sells daily necessities, such as bandaids and detergents.
We soon saw why Mrs. Konishi has so many loyal customers. Some even stopped by just to chat with her on their way home!

3. Nanatsumori: A Cafe That Provides Comforting Meals
Nanatsumori, a cafe located across the street from Fujiya Pharmacy, is another place where you can feel the area's deep history. The owner opened it in 1978 in a former teahouse.
We asked about how the cafe came to be. At the time, the owner was influenced by its historical backdrop.
She replied, "The 1960s and 70s was a period of rapid economic growth and the town was full of activity. However, it was also a period when environmental issues grew serious as there was frequent pollution."
Amidst coverage on health hazards, the owner thought that opening a cafe could contribute to the community. She aspired to be spot where people can gather by creating a menu using ingredients that are comforting and safe for consumption.
The owner's passion has remained the same and her menu continues to be completely homemade. Their popular curry (*) is made from scratch starting from the roux. No wonder customers have mistaken the cafe for a curry restaurant!
The Custard Pudding (625 yen with tax) is quite firm and topped with heaps of caramel. This dessert follows an original recipe used since the cafe opened in the 1970s.
*: The curry comes in three flavors: Vegetable Curry, Keema Curry, and Coconut Curry. All dishes are served with a soup and salad for 1,185 yen with tax.
The cafe's interior hosts a collection of Showa-themed items dating from 1955 to 1965. The red chairs and warm glow of the lights create a cozy atmosphere.
When Nanatsumori first opened, the owner revealed that it was difficult for a woman to enter a restaurant by herself. This inspired her to create a soothing space for anyone at her cafe.
"The Internet didn't exist back then, so we had limited ways to share information. This encouraged us to come up with unique ideas to make our cafe memorable."
One such method is setting the menu prices to end in five-yen increments. Customers will then receive a five-yen coin strung with a ribbon as their change. This symbolizes their wish for customers to form a lasting relationship with the cafe ("go-en," or relationship in Japanese, sounds similar to five yen).
4. Tennou: A Chinese Restaurant Speaking Volumes With Flavor
Tennou was opened during the Showa Period, in 1984. At the time, hole-in-the-wall Chinese restaurants were all the rage for their delicious food and reasonable prices. The current owner inherited the restaurant in 1999.
First-timers may need some courage to enter. However, you'll end up wanting to visit again after tasting dishes by Mr. Omata.
There are two tables in the back and counter seats in the front. Menus are set out on the tables, so take your preferred seat and decide on what to order.
Ginger Soy Sauce-Flavored Ramen (650 yen with tax)
Mr. Omata graduated from a prestigious culinary school and worked at an upscale Chinese restaurant. He began working at Tennou at the invitation of his predecessor. "The study of flavors never ends," Mr. Omata said. Their famous Ginger Soy Sauce-Flavored Ramen is a dish he created.
The springy noodles are added to a light, yet fully flavored soup. We thought it might be a complicated recipe and asked how the dish is made. According to Mr. Omata, "It's all about faithfully following a basic recipe." The dashi stock is only made with three ingredients: ginger, soy sauce, and pork.
Half-sized Fried Rice (280 yen with tax). The regular-sized fried rice is 600 yen with tax.
Their Fried Rice is another popular dish that customers claim to be the most delicious in the world. Mr. Omata confessed, "Cooking fried rice is tough. I'm still in the process of learning." You can sense his fastidiousness in the pursuit of delicious flavors.
The timing when ingredients and rice are added will influence the taste. Cooking is a test of strength. He even does 100 sit-ups every day!
Making basic ingredients taste delicious is why Tennou has a never-ending line of customers.
A Shopping Street Packed With Nostalgic Memories
"LOOK Shopping Street is full of incredibly unique shops. Some have been open for over 50 years, while some have owners who always dreamed of having their own store. You'll only find owners who run their shops with pride and love here. It's hard to pinpoint our 'distinguishing feature' because of this variety."
In addition to the ones introduced in this article, there are many shops with various themes, as explained by the association representative above. These include the science and art-themed Uptown Koenji Gallery (Japanese), Cafe & Bar Blue MOON (Japanese), and Icing Cookie Shop (Japanese) which is perfect for finding presents and souvenirs.
The shopping street is also actively working on implementing smartphone payment services. Their efforts to maintain what's important and the willingness to accept change are why customers and store owners gather here.
This shopping street is packed with unique merchandise and the memories of people from all walks of life.

In cooperation with Shin-Koenji Street Shopping Street Promotion Association, Grandpries, Fujiya Pharmacy, Nanatsumori, Tennou
The information presented in this article is based on the time it was written. Note that there may be changes in the merchandise, services, and prices that have occurred after this article was published. Please contact the facility or facilities in this article directly before visiting.