Oyama Happy Road - Local Food And Shopping Near Ikebukuro
Oyama Happy Road can be reached in about six minutes by train from Ikebukuro Station. It is one of the oldest shopping streets in Tokyo, offering plenty of places to shop, drink and try local delights, which visitors can enjoy without having to face crowds of people.
Ikebukuro is one of Tokyo's most popular neighborhoods but it can get very crowded. Close to Ikebukuro is Itabashi ward, a more calm, residential area. Itabashi is home to many hidden gems such as Oyama Happy Road.
1. Oyama Happy Road - One of Tokyo's Last Remaining Traditional Shopping Arcades
Oyama Happy Road is said to be one of the oldest and longest shotengai (shopping arcade) in Tokyo. It first appeared after WWII, when the street was lined with stalls offering food and essentials.
Originally called "Oyama Ginza," the shopping arcade as we see it today was established after 1977. It was around the same time when it was renamed "Happy Road."
One of the charm points of Oyama Happy Road is that many of the small businesses here are family-owned. Sometimes you will see two or three generations working together. The withered signboards and the older folks reading newspapers while waiting for customers are just some of the charming points of this area.
The locals are often amused about what kind of random shops tend to pop up between the traditional stores: the popular takoyaki chain GINDACO or the affordable GENKI SUSHI, a modern cheese dog vendor or yet another bubble tea store. You can also find various fast-food chains from McDonald's to Mister Donut in close proximity to the station. The old and new co-exist peacefully in Oyama Happy Road.
Nevertheless, although it is the to-go place for local shopping, at certain times of the day, the street looks surprisingly deserted. You might even wonder whether this is really Tokyo!
2. Easily Reachable from Saitama and Ikebukuro
Oyama Happy Road is located near Oyama Station, which is on the Tobu Tojo Line that connects Ikebukuro to various cities in Saitama, including the famous Kawagoe.
Oyama Station is only three stops away on the local train line from Ikebukuro Station. The South Exit directly leads to Oyama Happy Road.
3. Family-Owned Businesses and Handmade Food
I suggest visiting Oyama Happy Road with an empty stomach. There are plenty of traditional shops where you can pick up delicious snacks.
Bakery & Cafe MARUJU - Fresh Bread All Day
Bakery & Cafe MARUJU is right in front of Oyama Station's South Exit. While it might not be the most traditional shop in Oyama Happy Road, it is one of the most popular.
Their bread and pastries are baked fresh all day long. Little red plates indicate that they've just come fresh out of the oven.
The most popular items at MARUJU are Japanese staples such as curry pan, a deep-fried, savory pastry filled with curry, and anpan, a pastry filled with red bean paste. MARUJU also offers freshly made pizza.
Yakitori Hamakei - Chicken Skewers and Karaage
Yakitori Hamakei is located just a few steps away from MARUJU. Their main attraction is the large variety of chicken skewers, which usually retail for 80 to 140 yen each. You can watch them being freshly made.
Yakitori is not the only delicious chicken-based snack available at Hamakei. They have a selection of karaage (Japanese fried chicken), dumplings with hashed meat, seasonal chicken dishes as well as Kabuto, which is essentially a whole grilled chicken without the legs and the head. Their Kabuto retails for only 670 yen and is one of my personal favorites at Hamakei.
Soft Cream Pierrot - Delicious Japanese Crepes
Walking down Happy Road you will find a tiny crepe shop to your right. The extensive menu is written on colorful papers at the storefront.
Pierrot, a shop with a retro atmosphere, has been in business for over 40 years.
Once you try their crepes, you'll understand why they've been loved by customers for such a long time. Their crepes are rather simple but that is their true charm.
If you can't read Japanese, it might be slightly difficult to figure out what to order. Their standard fillings are apple, banana, strawberry, and chocolate, which can be paired with cream or custard, or enjoyed plain. They retail for 300 to 400 yen.
Meat Arai - Juicy Cutlet Featured on TV
Meat Arai has been around since 1936. They offer fresh, high-quality meat for home cooking, as well as fried snacks.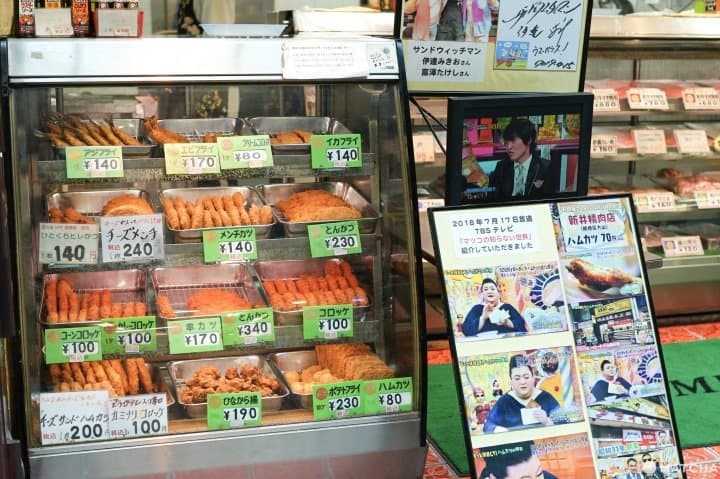 Meat Arai has been featured on TV several times. Their breaded and fried ham, or ham katsu (80 yen), is their most popular item. All of the fried items are made fresh in small batches and often still hot when purchased.
My personal recommendation is the cheese menchi katsu (240 yen). Menchi katsu is breaded and fried hashed meat, which, in this case, is mixed with cheese.
Iseya Oyama - The Freshest Mochi, Dango, and Rice Balls
Iseya Oyama specilizes in mochi rice cakes, dango (mochi filled with sweetened bean paste), and rice balls, many of which cost just about 90 yen.
Iseya Oyama is one of the rare places in Tokyo where you can get mochi so soft and fresh that they melt off your hand. Everything is homemade and sold by two generations led by their otosan (father) who is still the owner of the store.
Shigezo - Tofu and Soymilk Shop
Shigezo is located right besides Iseya Oyama. It is not a family-owned business but a chain store. However, if you love soymilk and tofu, it is worth a visit.
Nearly everything in this shop is made with soymilk or tofu. Some of the items are vegan.
I highly recommend their dango. The outer layer is made of mochi rice and soymilk, which makes them extremely creamy. Usually, they come in a pack of six for about 360 to 380 yen.
4. Eat-in Options - Restaurants and Izakaya
Most of the eat-in establishments are located on the other side of Oyama Happy Road. To reach them, simply cross the railway tracks.
Izakaya Uminchu - Authentic Okinawan Food
There are several hidden izakaya on this street. My personal favorite is Okinawan Izakaya Uminchu, located right besides the Mister Donut store. It's a great place to eat authentic Okinawan food in Tokyo for a reasonable price.
Sanpomichi - Handmade Soba Dishes
Sanpomichi is a soba (buckwheat noodles) shop located at the very end of the restaurant side of Happy Road. They offer a variety of homemade soba and tempura dishes.
A soba set with rice costs usually around 1,000 yen. The warm atmosphere and the delicious food make this a perfect place for lunch.
Yanaka Coffee - Freshly Roasted Coffee
Yanaka Coffee is located behind Soft Cream Pierrot. They sell fresh coffee beans to take out, but you can also sit down and relax with a freshly brewed cup of coffee.
Yanaka Coffee is a small chain store as well but they have a really homely atmosphere. The whole store smells of delicious coffee and the warm interior invites you to relax.
5. General Shopping - Everyday Supplies and Stores
Oyama Happy Road is located in a residential area so there are many drugstores, supermarkets, as well as fashion stores.
One of my favorites is the second-hand store Tifana. It's a great place to find small souvenirs or gifts.
Close to Tifana, there's an organic food store called Toretate Mura. They offer, among others, Japanese brown rice by the kilo. If you prefer white rice, they will process it for you freshly after you place your order. The rice retails for 400 to 900 yen per kilo.
Enjoy Local Food and Shopping in a Relaxing Environment
If you are in Tokyo and want to take a little break from the crowds while still enjoying shopping and delicious food, how about visiting Oyama Happy Road? The traditional atmosphere of the retro shops will make you forget that you're in the bustling city of Tokyo.
The information presented in this article is based on the time it was written. Note that there may be changes in the merchandise, services, and prices that have occurred after this article was published. Please contact the facility or facilities in this article directly before visiting.