Craving For Soft Rice Cakes? Try The Freshest Mochi At Iseya Oyama!
Craving For Soft Rice Cakes? Try The Freshest Mochi At Iseya Oyama!
Iseya is a traditional, family-owned mochi shop in Oyama, Tokyo. If you love the soft Japanese rice cakes, you should definitely visit this shop which offers an incredible variety of fresh mochi and delicious treats made with soft rice.
Most people coming to Japan enjoy mochi, the soft cakes made of glutinous rice. They are part of the Japanese cuisine and you can find them in some kind of version at every supermarket.
You can enjoy mochi with soy sauce, nori (roasted seaweed) or sweet with anko (red bean jam). Mochi are also part of traditional Japanese soups such as ozoni (traditional New Year's soup) and the popular oden (Japanese one-pot winter dish).
However, no mochi bought at the supermarket will ever compare to the fresh, soft, melt-in-your-mouth mochi you can get at a little shop just a short train ride away from Ikebukuro on the shopping street called Oyama Happy Road.
Iseya Oyama - The Place to Find Delicious, Fresh Mochi!
Iseya has been around since 1955. It is a traditional family-owned Japanese rice and mochi shop located close to Oyama Station on the Tojo Tobu Line. The elderly gentlemen with the big smile is the shop owner and he is there most of the time but you might encounter his daughter at the register as well.
The main items you can buy at Iseya are mochi rice cakes, daifuku (bean jam filled rice cakes) and rice balls. Everything is made fresh at the shop in small quantities.
Although they don't speak English, they are always very helpful and you can just point at whatever you would like and state the amount you would like.
The Freshest Mochi In Tokyo
Most people know mochi as the small rubbery blocks one can find in packages at supermarkets. You have to toast them in an oven or pan to make them soft and edible. Even most Japanese are only used to this kind of mochi.
If you pick up one of Iseya's mochi you will feel the difference right away. Most of their mochi are so fresh and soft that they will bend over the sides of your hand.
This quality is stronger with some of their mochi then with others. They have a millet mochi which hardens within hours while their edible grass mochi stays soft for days.
Three Different Types of Mochi
1. Cut Mochi in Three Different Flavors
Left to right: millet mochi and edible grass mochi
Their rectangular-shaped regular mochi comes in three different flavors. They only make small batches of their mochi to guarantee a fresh product, so it happens very often that just one or two kinds are available. Your best chance of getting all three kinds is on the weekend during the winter.
The rectangular-shaped mochi comes in packs of five which cost 550 yen.
White Rice Mochi
This is a simple mochi made with a white rice flour base. It has the same base as the dried mochi you can get at the supermarket but it tastes completely different due to its freshness.
You just have to slightly toast it and it will be creamy and melty. It is perfect to add in soups as is or wrapped in fried tofu skin (Inari age).
Millet (Kibi) Mochi
Mochi is already quite healthy as it is basically just rice flour based. However, if you want to opt for the healthier variation you might want to try Millet (Kibi) Mochi.
This mochi is made with rice flour infused with millet. Millets is a type of small-seeded cereal grain, grown all around the world. It is rich in vitamins and fibers and considered very healthy. This is the mochi that hardens the fastest due to the millet absorbing the water. However, rest assured that this type of mochi is just as easy to toast back to perfection as the white rice mochi mentioned above.
Kusamochi
If you like the taste of leafy greens and don't mind experiencing new flavors, I highly recommend the edible grass (kusa) mochi. It might look a little odd as it is dark green in color but it is really flavorful.
It tastes great by itself or in fried tofu skin. The grass aspect also keeps this mochi soft the longest.
2. Namako Mochi
Black sesame namako mochi
Namako is the Japanese word for "sea cucumber". This mochi gets its name because it has the same shape as a sea cucumber. It is long and flat and you cut it yourself.
You can also buy bags of precut Namako Mochi but they will harden faster as they are just small slices.
At Iseya you can get Namako Mochi in four different variations. They have a white mochi base infused with Black Sesame, Edible Grass, Dried Shrimp or Black Beans. You can also get a pack with samples of all four variations.
A Namako Mochi is priced at 550 yen.
3. Bean Mochi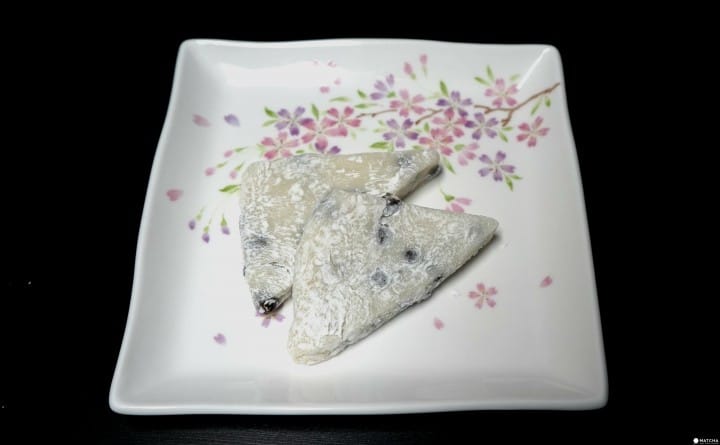 The Bean Mochi at Iseya is a slightly salted white flour base infused with black beans. It is extremely smooth and soft and it stays this way for an extended period of time. Testing it side by side with their Mame Daifuku (bean rice cake filled with bean jam), I came to the conclusion that this is the Mame Daifuku skin without the red bean jam.
You can buy one of the big triangular Bean Mochi for 110 yen.
Please be aware that the shop sometimes stops making mochi all together in the hotter months because they can't keep it fresh in the humidity. The mochi can be kept in the fridge but they harden very quickly this way and they should still be eaten within two or three days.
Daifuku and Dango - Fresh and Creamy Rice Cakes
One of the best treats at Iseya Oyama are the daifuku (red bean jam filled mochi) and dango (small round mochi on a skewer).
Their dango line up always includes Isobe Dango (slightly salty, seaweed-wrapped mochi), Yaki Dango (grilled mochi dipped in sweet soy sauce) and Andango (edible grass mochi covered in red bean jam).
Their dango is priced at a very affordable 80 yen per piece.
Iseya's daifuku line up changes each season. This time, I decided to get Mame (Bean) Daifuku and Kusa Daifuku.
Kashiwa Mochi (a rice cake wrapped in an oak leaf) falls in the daifuku category as well. This spring treat is very tasty, with a slight hint of the oakleaf aroma, but please be aware that the leaf is not edible, so you should remove it before eating the cake.
The daifuku rice cakes cost 120 yen each. If you come all the way to Oyama, it would be a real pity not to taste these excellent, truly Japanese sweets!
Onigiri (Rice Balls) and Other Items at Iseya
At Iseya you can also satisfy your curiosity about the popular onigiri (rice balls), which come at 100 yen each. Some will even come with a fresh sheet of seaweed you can wrap them in. They are perfect if you crave something savory to eat right away.
I recommend their Karaage (fried chicken) rice ball, which is especially savory and filling. The red bean rice balls (akameshi) or their tea rice balls are also excellent choices.
At Iseya, you can even buy homemade smooth and coarse anko (red bean paste) that goes so well with the mochi. It is also delicious on lightly buttered toast.
Affordable, Delicious and Fresh Mochi - at Iseya Oyama!
In a big city like Tokyo, it is rather difficult to find a shop like Iseya which specializes in handmade mochi for an affordable price. The atmosphere of Iseya is warm and you can clearly feel its a family business and that everything is made with love.
On top of this, it is just three short stations away from Ikebukuro Station. So if you are in this area, why not give the freshest mochi in Tokyo a try?
In cooperation with Iseya Oyama

The information presented in this article is based on the time it was written. Note that there may be changes in the merchandise, services, and prices that have occurred after this article was published. Please contact the facility or facilities in this article directly before visiting.