Explore Sugamo's Specialities And Learn Calligraphy With Arigato Japan
Arigato Japan Food Tours provides fun culinary tours in Tokyo, Osaka, Kyoto, and Hiroshima. Today we take you on their tour through Tokyo's Sugamo to explore traditional snacks, a healing temple, and Japanese calligraphy.
Arigato Japan Food Tours - Taste Japan
The founders of Arigato Japan (picture courtesy Arigato Japan)
Arigato Japan Food Tours had its beginnings with founder's wish to introduce local Japanese cuisine, history, manners, and culture to the world in a fun way. The tours are held by tour guides who have been living in Japan for many years. They introduce their personal favorite spots alongside recommendations from locals.
Arigato Japan offers food tours in Tokyo, Osaka, Kyoto, and Hiroshima. They are constantly expanding their network, so you can expect to see more cities on their food tour list in the near future.
Recently, Arigato Japan took us on their Food, Culture and Calligraphy Tour in Sugamo which takes place in Tokyo. In this special tour, you get to sample traditional sweets and local delicacies, as well as join a Japanese calligraphy lesson.
Virtual Tours with Arigato Japan - Explore Japan Online
If you aren't traveling or aren't in Japan right now, Arigato Japan also offers online experiences that allow people from around the world participate and learn about food and culture in Japan without leaving home.
Three types of experiences are currently available: a cocktail hour, a green tea workshop, and a virtual tour of Shinjuku and Shibuya. All are led by locals in English and offer a fun, easy way of learning a new skill and socializing. Click here to see details and to book.
Sugamo - Fun Shopping and Leisurely Strolls
Sugamo is known as "Grandma's Harajuku". It may be due to the fact that the main shopping street is filled with traditional stores that have been around for centuries that are known and beloved by older people.
Sugamo is popular with the locals but not well-known as a tourist spot. This means that Sugamo is usually not very busy. It is easy to stroll the street to one's heart content without battling the crowds.
While exploring Sugamo on your own is entertaining, some shops are hidden and easy to miss. The Arigato Japan tour makes sure you get introduced to the essence of Sugamo. Their tour also provides fun facts and insights, such as why so many shops here sell red underwear.
Arigato Japan Sugamo Food Tour - Eat, Pray, Shop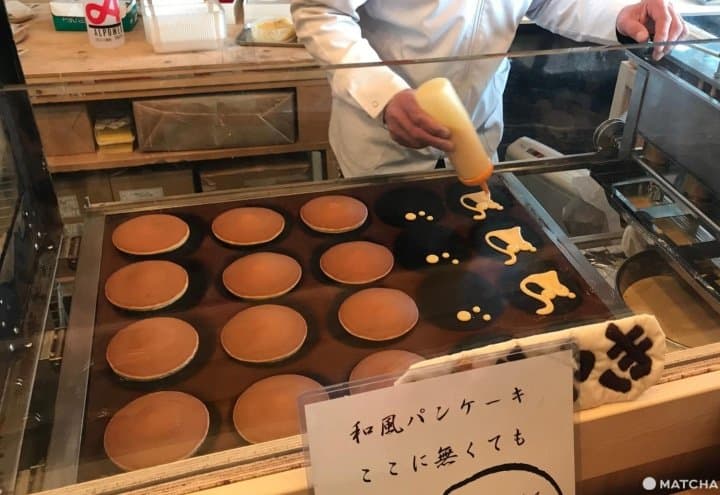 The Arigato Japan tour starts out introducing you to the freshest dorayaki (pancakes filled with red bean paste) in Tokyo. Dorayaki is usually not served fresh but rather packaged for take-out. This shop also has take-out dorayaki, but it is mostly famous for its freshly made butter anko dorayaki. These just-made dorayaki is the shop's pride and they are only available as eat-in.
For the butter anko dorayaki, red bean paste is topped with high quality butter and sandwiched between two pancakes. The butter is slightly salted and it melts into the red bean paste, cutting through the sweetness. An amazing sweet treat that even many Japanese people have never experienced this way.
The shop is also famous for their monaka, another traditional Japanese snack. Monaka are crisp wafers made from mochi (glutinous rice cake) filled with sweetened bean jam. At this shop they are shaped like adorable gourd puppets and the anko (bean jam) filling has many unique flavors such as sesame and pickled plum.
Pickles, or tsukemono, are a big part of Japanese cuisine. Sugamo is home to one of Tokyo's oldest pickle shop. besides traditional pickles like miso and wasabi pickles, they also offer modern twists such as onions pickled in red wine or tumeric.
Sugamo is also filled with homemade rice cracker (senbei) stores. One of the most famous stores lets you decide how strong you wish for the senbei (rice cracker) to be. The rice cracker can be dipped in soy sauce up to ten times, making it very flavor intensive. These kinds of senbei go great with alcoholic beverages.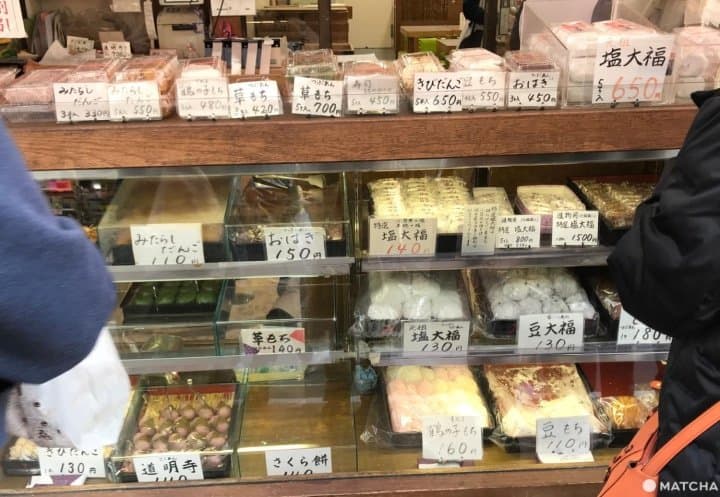 Salt daifuku is another Sugamo specialty. Usually, daifuku is mochi filled with sweet red bean jam but in this case, salt is added to the anko inside. This intensifies the flavors.
If you are a sesame lover you are in luck. Sugamo is home to a sesame shop that is not very old, but the quality and variety is impeccable. They have everything from sesame soup to sesame sweets. Their black sesame mayonnaise was even shown on TV.
Since older people frequent Sugamo, shops and food advertising health benefits are very common in the area. Soba, for example, is believed to offer such benefits.
Lunch for this tour is held at a very popular soba store halfway down the shopping street. The shop prides itself on using many nutrition-filled ingredients in its dishes to promote health, beauty and a long life.
Sugamon, Sugamo's mascot, can be found besides the storefront spilling boxes of soba. "Su" means nest and "gamo" is duck in Japanese so the mascot is a duck. It will appear everywhere throughout Sugamo and on many souvenirs throughout the shopping street.
The next stop is the most famous stop of Sugamo, and one of the reasons why Sugamo became so popular with the elderly, the Koganji Temple. This temple is believed to have the power to heal illness.
Legend has it that if you wash the kannon statue and wipe down the part that concerns you with a towel, it will help you heal. Ideally, this ritual should be repeated on a regular basis to bring the effect one is hoping for.
The temple also offers small kannon papers for purchase. Some visitors stick them onto suffering body parts or even swallow them, hoping to provide healing power from within.
It is highly recommended to visit Sugamo on the 4th, 14th or 24th of each month. The Koganji Temple holds small festivals on these days.
Right in front of the temple is a famous hard candy shop. They have traditional as well as unusual flavors. All of their candy is handmade, and their spiced candy such as ginger and cinnamon is delightfully flavorful. They are also tongue-numbingly spicy, so it is better to go with milder flavors for children or people who are sensitive.
Calligraphy Lesson - Deep Relaxation and Art
The Arigato Japan Sugamo Food Tour can be booked with or without a calligraphy lesson, which, if you can spare the time, it is truly something you shouldn't miss out on. The lesson is beginner-friendly and held in English. It will teach you the basics of Japanese calligraphy, the artful way of writing kanji (Chinese characters).
After making your own ink and practicing a simple kanji with all of the nine main strokes, choose your favorite word or saying to write in calligraphy. The school will provide a list of words but you can choose any word you wish or even your name.
After a couple of tries, the teacher will choose your best version and it will be printed on a t-shirt. This is a unique souvenir with which you can proudly show off your new skill.
The teacher assists and corrects you every step of the way. It is a great experience, even for beginners and children. In fact, Japanese schoolchildren learn calligraphy at a very young age.
Sugamo Tour with Arigato Japan - Fun and Delicious
Arigato Japan makes sure that you feel like being shown around by local friends. All of their tours provide laughter and a lot of delicious food.
Sugamo is a quieter part of Tokyo worth exploring, but, due to largely older shop owners population, English is not a common language in this area. Using Arigato Japan's tour to explore the area is the perfect way to enjoy a little time-travel in the heart of Tokyo without worrying about the language barrier.
See a 10% off Coupon for MATCHA readers for Arigato Japan tours.
If you aren't in Japan or aren't traveling, click here to see online experiences.
For more information on tours and to book, see Arigato Japan's official website.

The information presented in this article is based on the time it was written. Note that there may be changes in the merchandise, services, and prices that have occurred after this article was published. Please contact the facility or facilities in this article directly before visiting.