Kagurazaka Stroll - 12 Places You Should Drop Into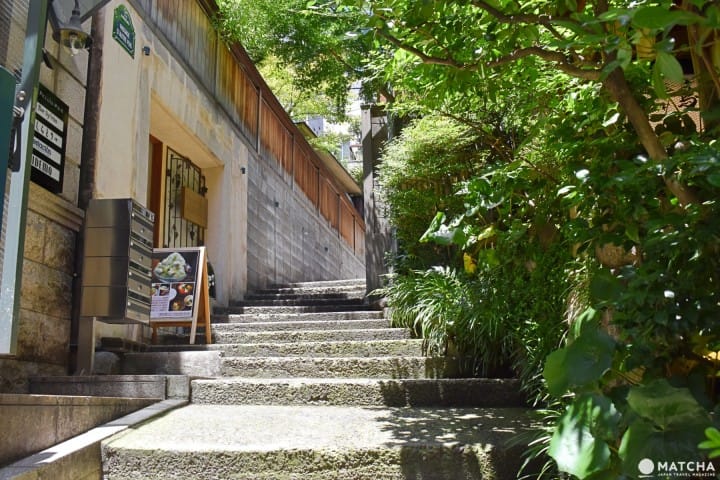 Kagurazaka, brimming with shrines, cafes, and hip shopping areas, is impossible to tire of. Although it is in Shinjuku, going down an alley will reveal a town with influence from historical Edo Japan. We introduce where to visit while strolling around.
Take a Walk Around Kagurazaka
Kagurazaka might be one of the most interesting neighborhoods to take a stroll in Tokyo. Take a step off the main thoroughfare, with its rows of chain stores and other new establishments, and you will wander into a mysterious district of narrow alleys where influence from the Edo period remains.
In the past, this area developed as a place for geisha to gather. While it still retains that atmosphere today, many stylish shops and cafes have converged on the area in recent years.
In this article, we'll introduce twelve places you'll want to drop into when you're strolling around Kagurazaka, including historical spots and local gourmet specialties.
Start on Main Street - Walk Down Kagurazaka Dori
New businesses like fast food joints along with long-standing establishments line both sides of Kagurazaka-dori, the main avenue. You could enjoy just walking down this road, but there is much more to see and do here.
There are narrow alleys that will pique your curiosity. Step off the beaten track and head into the back alley, which beckons visitors. This is the start of your Kagurazaka stroll.
1. Three Charming Alleys
Narrow alleys that split off from the main street are known as yokocho. There are plenty of yokocho in Kagurazaka that you'd never notice if you just walked down the main street. Let's take a look at three--Hyogo Yokocho, Geisha Alley, and Kakuren Yokocho--three alleys you'll want to wander down.
Hyogo Yokocho
Hyogo Yokocho, an old alley in Kagurazaka
Hyogo Yokocho is located further down the narrow alley we just entered. Continue through the alleyway, which is just wide enough for one person to pass through. Along the stone-paved road, refined-looking restaurants and residences packed together will come into view.
In the Sengoku period, weapons merchants lived in the area, which is how Hyogo Yokocho got its name ("hyogo" means "arsenal")
Proceed down Hyogo Yokocho and Wakana will come into view, a now-closed traditional inn surrounded by painted black walls. In the past, Wakana was known for famous novelists and movie directors, who stayed here and produced art.
*Wakana is currently closed and you are unable to enter the building.
Geisha Alley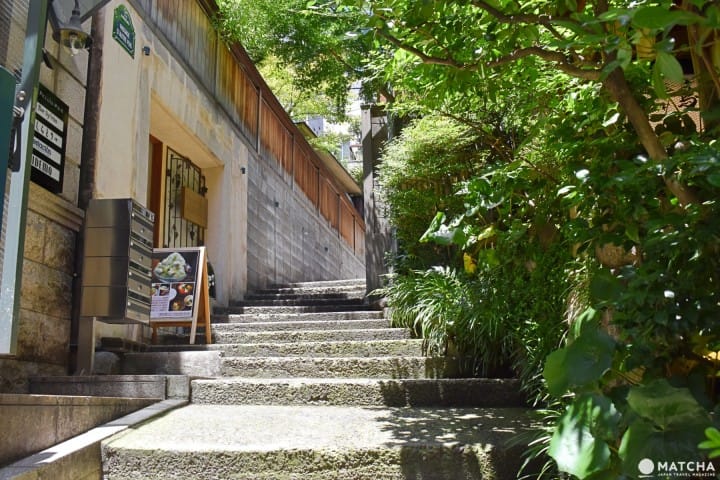 Geisha Alley, also known as Geisha Dori
Walking down Geisha Alley (Atami-Yu Kaidan) will make you feel like you're passing through a secret base. There are small restaurants and bars hidden along the way as you go down the stone steps.
Go up the stairs and the path connects to Kenban Yokocho, where an office for coordinating geisha and shamisen (*1) practice hall still exist today. This narrow road is called Geisha Alley due to the office located here.
*1: The shamisen is a Japanese stringed instrument. It has three strings, and its body is covered with dog or cat skin.
At the bottom of the stairs, you'll find the Atami-Yu public bath. The public bath has towels, shampoo and body wash for you to use, available free of charge, so you can visit easily without bringing your own supplies. If you're tired from your walk, it might be a good idea to refresh yourself here.
Kakurenbo Yokocho
Kakurenbo Yokocho, an alley now lined with small restaurants and izakaya
Kakurenbo Yokocho (*2) is made up of a complex maze of streets and dead ends that you could really get lost in, as its name implies. It apparently got its name from the story that if you tried to trail nobility or a VIP who snuck into the geisha district, you'd lose them completely once they entered the alley.
*2: Kakurenbo is the name for "hide-and-seek" in Japanese.
Kakurenbo Yokocho alley
There is a simple and beautiful black wooden fence running along the street. As you walk down the path, you will feel the atmosphere of a traditional geisha district come to mind.
There are many other small alleys in Kagurazaka! Find the one that you like the most.
Zenkokuji, a Symbolic Temple of Kagurazaka
Bishamonten Zenkokuji
The temple that springs into view as you walk down the main street is Bishamonten Zenkokuji. Constructed in 1595, it is a Nichiren Buddhist temple. Facing out onto Kagurazaka-dori, it has roots in the community as a symbol of the area.
Bishamonten, a Buddhist image, has long been worshipped in India as a god of riches. For that reason, Bishamonten receives prayers from many people, looking to be bestowed with luck in financial matters or receive a better fortune.
3. Tokyo Daijingu, A Shrine for People Seeking Connections
Picture courtesy of Tokyo Daijingu
Tokyo Daijingu in the Iidabashi area is famous as being a shrine for connections. It enshrines gods including Amaterasu-omikami, who occupies the highest spot in the Shinto pantheon.
The shrine also enshrines the first three gods of Shinto, who connect all things and brought everything into existence. This is why the shrine is said to bless people searching for love and help make romance a reality. There are more than 20 types of charms for love sold at Tokyo Daijingu!
Tokyo Daijingu is also the birthplace of the tradition of Shinto weddings at shrines. If you drop by on a weekend, you may be able to see a traditional wedding.
4. la kagu, A New Kagurazaka Landmark
Picture courtesy of la kagū
Let's head to a spot that's received a lot of attention in recent years. la kagū is a commercial complex built in a renovated warehouse owned by Shinchosha, a publishing company of long standing. There are rows of chic products like apparel, general merchandise, furniture, and books here.
Visitors who are hungry should order the specialty at Madrague, a cafe on the first floor, which is a fluffy egg sandwich. There is also outdoor terrace seating, so with a coffee in hand, you can happily savor your hefty sandwich. At Soko on the second floor, there are book sales and art exhibits, in addition to book-related events and more.
The impressive stairs built of wood at la kagū, were designed by the famous architect Kengo Kuma. The stylish Akagi Shrine, located five minutes away, was also designed by Kengo Kuma.
5. Makanai Cosmetics, An Array Of Health-Focused Items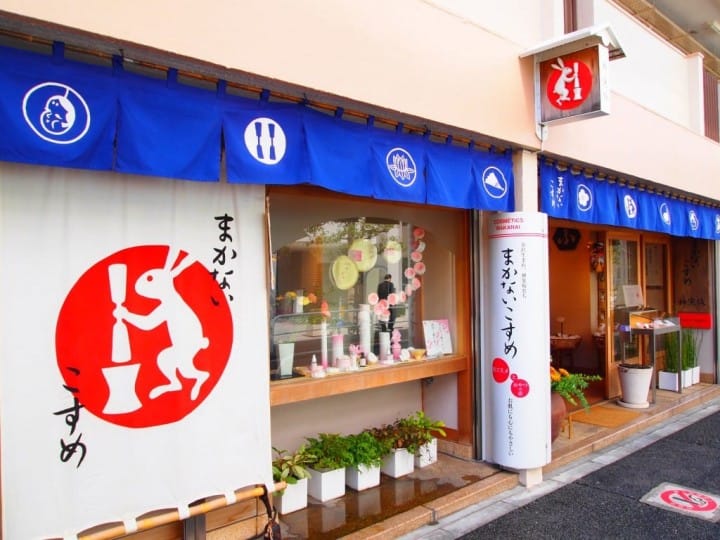 Picture from Japanese Beauty: Makanai Cosmetics In Kagurazaka
Makanai Cosmetics produces Japanese cosmetics made with natural ingredients. Makanai has an array of items containing ingredients from Japan like konjac, rice bran (*3) and soybeans, which blend seamlessly into your skin and are thought to help with health and beauty.
The hand cream is a popular product which can be used in all seasons. It is also made exclusively with natural ingredients, it can be safely used by all ages.
You can buy other items that are healthy and kind on the body, including skin care products, healthy teas, and seasonings.
3: Rice bran is powdered rice husks and germ created from milling brown rice.
6. Noren Kagurazaka, Perfect For Gifts and Souvenirs
Picture from Noren Kagurazaka - Cute Japanese Items You'll Want To Take Home!
Noren is a popular store that also has branches in locations like Kyoto and Asakusa.
Noren also has a location in Kagurazaka. Enter the shop to encounter a number of traditional Japanese trinkets which have been remade into practical and stylish products.
These useful, classy items include kimono covers for wine bottles, bags made of furoshiki cloth wrappers, and origami earrings. Your friends will be delighted if you give them these souvenirs from Japan.

7. Indulge in Delicious Sushi at Kagurazaka Sushi Academy!
Picture from If You're In A Sushi Mood, Choose Kagurazaka Sushi Academy!
If you're hungry, we recommend visiting Kagurazaka Sushi Academy. At this restaurant, you can enjoy all-you-can-eat sushi between a reasonable price range of 3,000 to 4,000 yen!
There is a reason for this affordable price. Kagurazaka Sushi Academy is operated by a school that educates sushi chefs, and the people who prepare your sushi here are current or former students.
The Sushi Academy is similar to a training ground, which is why customers can taste sushi here for an affordable price.
However, Kagurazaka Sushi Academy holds its own even against other sushi restaurants. Under a 90-minute time limit, you can order sea urchin, salmon roe, medium fatty tuna, and other high-class cuts of fish. There is also an unlimited supply of desserts and other main dishes.
The staff can speak English, so you can order with peace of mind. You need to have an online reservation before you go, so use the homepage link below to make one.
8. Traditional Japanese Dining at the Kagurazaka Kado Izakaya
From Kagurazaka Kado - Try Japanese Cuisine In A Traditional Home
Kagurazaka Kado is a Japanese restaurant where you can experience eating at an authentic Japanese dining table in a traditional Japanese home. As of July 2018 the restaurant does not operate at lunch, but at night, it becomes a kappo izakaya where you can enjoy courses made using seasonal ingredients.
If you feel hesitant to order courses, we recommend the standing bar area. For drinks that mostly cost less than 500 yen, you can sample beer, sake and various izakaya menu staples (open from 16:00 - 23:00, closed Mondays).
9. Take a Breather at a Famous Japanese Sweets Shop
There are many Kagurazaka cafes and shops where you can enjoy beautiful, delicate Japanese sweets (wagashi). Let's take a look at cafes that offer wagashi for dine-in and take-out.
Kinozen
Kinozen, a Japanese sweets shop
One such cafe is Kinozen, a traditional establishment that offers a varied menu, including anmitsu (*4), oshiruko, and green tea Bavarian cream.
They also have seasonal sweets like shaved ice in the summertime and chestnut anmitsu in the fall. Another well-known cafe where you can enjoy Japanese sweets is Kagurazaka Charyo. The green tea fondue, where diners dip fruit in fragrant green tea before eating it, is a popular item.
*4: Anmitsu is a dessert made of anko bean paste, agar gelatin, fruits and other ingredients piled up in a bowl.
Baikatei
This is Baikatei, a favorite in the local community. The interior is filled with wall-to-wall with Japanese sweets, making it hard to decide what you want to buy.
The refreshing lemon daifuku (*5), made with lemon kneaded into the mochi, and the innovative "ukigumo" ("floating cloud"), an oven-baked meringue with a bean paste filling, are some popular wagashi with their own unique twists. Another specialty are the cat-shaped monaka (wafers filled with bean paste).
*5: Daifuku is a Japanese sweet, consisting of anko bean paste in a mochi dough wrapper.
10. Canal Cafe, An Oasis in the City
The Canal Cafe is a well-known restaurant and cafe. This establishment, which sits along the river in Sotobori, is popular with its customers as it offers spectacular views.
When you enter, you can choose whether to sit in the restaurant or out on the deck. If the weather is nice, feel free to take a seat in the terrace area.
Inside, it's a full-service Italian restaurant, while outside, it's a self-service setup where you can freely choose from various dishes like pizza and pasta.
The Canal Cafe is the perfect place to have a relaxing meal, but be aware that there may be a line on weekends and during the lunch hour.
11. Stroll Around With a Peko-Chan Snack From Fujiya
Picture from Stroll Around Kagurazaka With A Peko-chan Snack From Fujiya
Kagurazaka is a fun district to go for a stroll, and Peko-chanyaki is a famous snack that will greet you at the entrance. With a mischievous expression and her tongue sticking out, Peko-chan, the charming mascot for the sweets manufacturer Fujiya, has been loved for over half a century in Japan.
Peko-chanyaki is obanyaki (*6) shaped like Peko-chan's face. You can only find this adorable dessert here. There is an abundant flavor selection, with staples such as anko, custard cream, and chocolate, as well as versions with savory fillings and special flavors that change monthly.
In addition to Peko-chanyaki, there are several other places to get snacks you can enjoy while walking around Kagurazaka. 50 Ban is famous for its meat buns, and Dolce Vita serves delicious cheese-filled rice croquettes. Go find for your favorite place.
*6: Obanyaki is a Japanese sweet made of flour, sugar, and eggs, poured into a round mold and baked. It contains bean paste or another type of filling.
12. If You're Staying in Kagurazaka, Try Guesthouse UNPLAN
Picture from Get Deep Into Kagurazaka Through The Local Hostel UNPLAN
There aren't very many places to stay in Kagurazaka. Among those few spots, we recommend the guesthouse UNPLAN. It has co-ed dorm rooms, women-only dorm rooms, family rooms for you to choose from, and you can comfortably relax in its new and clean facilities.
There is a cafe space on the first floor that any guest can go into, with a barista during lunch and a bartender at night. Many guests come from overseas, and various events, including unique bus tours, are held at UNPLAN.

Getting to Kagurazaka
You can access Kagurazaka via Iidabashi Station on Tokyo Metro or the JR, as well as via Kagurazaka Station on the Tokyo Metro Tozai Line. From JR Iidabashi Station, head out the west exit and walk for three minutes, and you will arrive at the entrance to Kagurazaka-dori.
There is an extremely large number of exits in the Tokyo Metro Iidabashi Station, so be careful. You can get to Kagurazaka-dori from the B3 exit, so we recommend using it.
You can get to Kagurazaka from Shinjuku Station or Tokyo Station (Otemachi Station) without making any transfers.
Shinjuku Station to Iidabashi Station: Take the JR Chuo or Sobu Line (12 minutes, 160 yen)
Tokyo Station to Iidabashi Station: Take the Tokyo Metro Tozai Line from Otemachi Station, directly connected to Tokyo Station (six minutes, 170 yen); you can also continue on to Kagurazaka Station (another three minutes, same price). For those using the Tokyo Metro or Toei Subway, the Tokyo Subway Ticket available to tourists is an ideal pass to get for getting to Kagurazaka and navigating around the city at a discount.
Enjoy Getting Lost in Kagurazaka
Kagurazaka is best enjoyed by walking around and seeing where your feet take you, rather than planning out where to go beforehand. Get lost in the back streets of Kagurazaka and make a new discovery.
Original writer: Kazuki Tsuchido
This article is a rewrite of the original, published on April 23, 2014.

The information presented in this article is based on the time it was written. Note that there may be changes in the merchandise, services, and prices that have occurred after this article was published. Please contact the facility or facilities in this article directly before visiting.