Noren Kagurazaka - Cute Japanese Items You'll Want To Take Home!
Kagurazaka once flourished as a hanamachi (geisha district). Today we introduce Noren Kagurazaka, a variety shop located amidst the beautiful backstreets of Kagurazaka. The shop is a wonderland, filled with everything that's interesting about Japan.
Variety Shop Noren -
Transmitting Japanese Culture to the World
Noren is a miscellaneous goods shop with various locations in Kyoto and also in Tokyo's Asakusa area.
The cloth hanging over the shop's entrance is also called a noren, and this naming originated from the word hiyokenuno, or cloth sunshade. We were told that the shop uses this noren with the hopes of conveying the message "pass under this noren and enter a wonderland, a shop serving as the entrance to Japanese culture".
Rather than just simply selling Japanese trinkets as they are, instead, the shop tries to offer come-in-handy kind of souvenirs, ones that are adaptable for overseas use and can improve people's daily life. This is also one of the many reasons for the shop's popularity.
In today's article, we introduce you to Noren Kagurazaka, a shop that was built on a site formerly occupied by a popular long standing stationery store. The store was especially loved by famous Japanese literary scholars and writers during the Meiji period, including novelist Natsume Soseki.
Noren Kagurazaka - You'll Want to Take a Peek Inside!
The vivid and colorful ukiyo-e (*1) covering the wall inside the shop is really eye-catching. Apparently many passersby get attracted by this visual, and end up taking a look inside the shop.
*1 Ukiyo-e: literally means "pictures of the floating world". Refers to paintings and wood block prints that originated in the late 17th century, continued through the Meiji period. Subject matter often consisted of famous spots in the Edo area, along with sumo wrestlers, kabuki actors, beautiful women, and so on .
If you look closely at the shop's wooden sign you can see a variety of images that depict Japan. Included are a geisha, Mount Fuji, maneki neko, and a shinto shrine torii gate, to mention just some of them.
Just looking at them is an enjoyable experience.
In addition to regularly displayed goods, right near the shop's entrance there's a shelf dedicated to the twenty four seasons of nijushisekki (*2), with items that let you admire the changing seasons.
*2 Nijushisekki: based on the ancient Chinese calendar, this is one method of distinguishing the seasons in a year. With this calendar the year is divided into 24 seasons, including risshun (first day of spring) and geshi (summer solstice).
This display, a favorite among international visitors, introduces the current season of nijushisekki in both Japanese and English. The shelf is lined with various products that make the perfect gift for "admiring the changing seasons", the ongoing theme of this display.
The season following shunbun (March 20th, *3) is seimei (April 5th), and at this time of the year, the shelf is appropriately stocked with items celebrating the arrival of spring.
In addition to food products such as rice and miso, there are also goods such as small bonsai, which give one a sense of the emerging and budding of new life during this special season.
In Japan during the winter and summer periods, there's a custom of sending a gift to someone who's been of personal help and assistance in recent months.
Through gifts that allow you to feel the seasons, please try to come into contact with Japanese culture.
*3 The dates mentioned here are according to the calendar used worldwide at the present, namely the Gregorian calendar (called Shinreki in Japanese). In Japan up until the middle of the nineteenth century, they used the Taiinreki, or lunar calendar, which was governed by the waxing and waning of the moon. The term Shinreki was born in order to distinguish it from the lunar calendar.
Noren Kagurazaka - 5 Souvenirs You'll Want to Buy
The shop interior is filled with cute products, so it'll be a challenge trying to decide what to buy. From among the many goods, today we'll introduce our five recommended souvenirs.
1. Kimono Bottle Wear - Most Popular Among International Visitors!
When you cover a wine bottle with the kimono bottle wear, it'll look just like a Japanese doll that will transform the interior of your room.
They aren't the least bit bulky, so why not buy a bunch of these kimono patterns and dress up some wine bottles in a sophisticated fashion?
The white kimono pattern (2,160 yen including tax) on the left side in the above picture is a shop favorite. On the right side is a bottle wear decorated with a gorgeous red colored obi belt (3,240 yen including tax), and we've been told that this is a highly popular item with international visitors.
2. Custom Make Your Own Furoshiki Bag!
A furoshiki is a square shaped traditional wrapping cloth. Though it's typically used for bundling up or gift-wrapping various objects that are going to be carried somewhere, it's used in many other ways as well.
For example, with a little imagination, the cloth can be transformed into a handbag or shoulder bag.
First you pick out your favorite pattern and size of cloth, then after you've chosen what kind of material you want the handle (called a hand) to be, all you need to do is secure the metal fitting. With these simple steps you can soon create your own personal bag.
The furoshiki in the shop come in three different sizes: 70, 90, and 104 centimeters (the length of one side of the square shaped cloth).
For the popular ichigo bag (left side in photo), which resembles the shape of an ichigo, or strawberry, you can choose from either the 70 or 90 centimeter cloth and then go and make your own unique version.
The price for furoshiki varies according to size, but most are in the 2,000 to 3,000 yen range.
The bag handles are made from three different materials as seen in the photo above.
Starting on the left is a plastic handle (540 yen including tax), followed by a bamboo handle (756 yen including tax), and finally a handle made with Tochigi leather (3,800 yen including tax). As you can see, the price varies considerably from material to material.
The Tochigi leather handle is handmade by a Japanese craftsperson, and it allows you to easily carry heavy objects as well, so apparently it's very popular.
The furoshiki package comes complete with an illustrated instruction guide, so you can easily make your bag by simply following the explanation.
With your stylish looking furoshiki in one hand, now's the perfect opportunity to go for a brisk walk around town!
We were told that as long as you have a handle you can easily make your own handbag, even with a scarf.
3. Character Ballpoint Pens-Really Popular With Kids!
Many popular characters, used as images to represent Japan, are the theme in these Noren original ballpoint pens.
The male characters include samurai, kabuki actors, and sumo wrestlers, while the female characters include oiran (courtesan) and geisha, and young women (648 yen including tax).
They're all really cute, so you'll soon want to buy the complete set of pens!
4. Japanese Washi Paper Earrings - Handwoven by Craftspeople
Starting with small pieces of origami paper, craftspeople painstakingly create earrings using folded paper cranes and folding fans (1,296 yen with tax). Each and every one is elaborately handmade.
The ones packaged in a gift box (above photo) cost 1,620 yen with tax.
5. Seal Stamp Albums and Clear Files - Buy These in a Set
For those who pay visits to temples and shrines, we recommend the original designed goshuin-cho, stampbook retro flower (left side in photo, 1,944 yen with tax), and the tri-fold clear file (right side, 324 yen with tax) showing a masterpiece by Katsushika Hokusai, a famous ukiyo-e artist from the Edo period.
A goshuin-cho is somewhat like an autograph book used to collect goshuin, or seal stamps, proving that you visited certain temples and shrines.
The tri-fold clear file is the perfect size for storing your important mementos, such as shinkansen (bullet train) and plane tickets, and also tickets from temples, art galleries, and so on.
There are various kinds of files, so please go and buy the one with the design and picture you like best.
Access to Noren Kagurazaka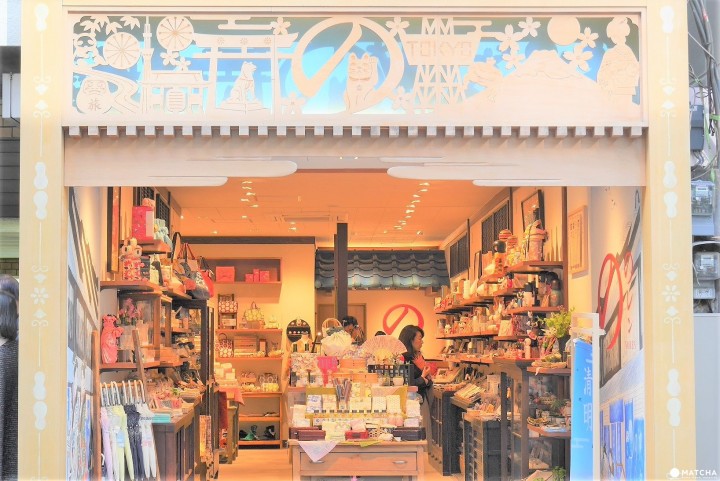 Noren Kagurazaka is really close to Tokyo Metro's Iidabashi Station. Right next to the station's B3 exit, it's situated at Kagurazakashita, the starting point for Kagurazaka-dori street, the focal point for any walking tour in the Kagurazaka area.
At one time Kagurazaka flourished as a hanamachi (*4), and even today the narrow, stone-covered back streets are lined with ryotei where one can find geisha.
With the French Embassy nearby this is a place with ties to France, and is a popular area known for its sophisticated gourmet food.

After shopping at Noren Kagurazka, how about going for a relaxing walk through this popular town, topped off with some exquisite cuisine?

*4 Hanamachi: also sometimes called kagai, these are areas in a city with tea shops and other places where geiko (geisha) and maiko (geisha apprentices) serve and entertain guests in Japanese-style rooms .

In cooperation with: Noren Kagurazaka

The information presented in this article is based on the time it was written. Note that there may be changes in the merchandise, services, and prices that have occurred after this article was published. Please contact the facility or facilities in this article directly before visiting.