The Best Places To Live In Tokyo - Guide To Suggested Areas And Rental Costs
Tokyo is a sprawling city with many districts and neighborhoods. Therefore, it's not surprising that ex-pats and foreign residents have difficulty deciding where to live. Learn about safe neighborhoods with affordable rent suitable to support the lifestyle you want to lead in Japan's capital.
A Residential Guide to Tokyo's Many Neighborhoods
If you aren't bound to residing in a school dormitory or to an apartment leased by your employer, where would you live in Tokyo?
Tokyo is a sprawling metropolis with many different districts, so this can be a challenging decision.
In this article, a MATCHA editor originally from Taiwan will suggest the best areas to live for foreign residents and average monthly rentals for apartments. Use this as a reference when seeking out your new residence in Japan's capital city.
Scroll to the second half of this article to see recommended websites where you can search for your ideal residence.
Want to find an apartment that meets your needs? Asumirai offers consultations in English, Chinese, and Korean.
Recommended Tokyo Neighborhoods for Those Living Alone
For those living on their own, the best areas are near large train stations connected to multiple train, subway, and metro lines.
Near these stations, you'll find many eateries and drinking establishments, supermarkets, convenience stores, and other useful shops and services. You will enjoy a higher quality of life with these daily necessities near by.
Ekoda in Nerima Ward
Photo by Pixta
Our first recommended area is Ekoda, located along the Seibu Ikebukuro Line. It's only three stops away from Ikebukuro Station, making it easily accessible in about ten minutes.
Near the station, there are several universities, including Nihon University College of Art, where the Japanese screenwriter Kankuro Kudo went to school. Another is Musashino Academia Musicae, which has produced countless musicians.
Since there are many students in the neighboring area, the restaurants are reasonably priced. There's also a small traditional shopping street. It's a safe place so you can live here without any worries.
The average monthly rent for a one room apartment in Ekoda is between 70,000 to 100,000 yen.
Asakusabashi and Kuramae in Taito Ward
Photo by Pixta
Taito Ward is where you'll find Asakusa, one of Tokyo's major sightseeing attractions. A short walk from this sightseeing spot is where some quiet and quaint residential areas lie.
Two unique places in these residential neighborhoods are Asakusabashi and Kuramae.
Both have an atmosphere filled with older Tokyo charms. Visitors can find wholesalers selling home goods like dishes and utensils, clothes, traditional Japanese dolls, and toys. There are also several hip, stylish shops and cafes renovated from old buildings and warehouses.
In Kuramae, you'll find an American-based chocolate shop and cafe called Dandelion Chocolate, a popular spot serving up rich hot cocoa and sweets.
The average rent for a one-room apartment in this area ranges from 100,000 to 120,000 yen per month.
Musashi-Koyama in Shinagawa Ward
If you love to shop, consider residing in Musashi-Koyama located along the Tokyu Meguro Line.
As soon as you exit the station, there's an 800-meter long shotengai lined with supermarkets, restaurants, and shops selling daily necessities and clothing.
It's just two stations and five minutes away from Meguro Station, which is connected to the Yamanote Line and the Tokyu Toyoko Line, which will conveniently take you to Shibuya and Yokohama.
Although it's in the heart of Tokyo, Musashi-Koyama has a relaxed, downtown feel to it. It's also a safe place to live.
The average rent for a one-room apartment in Musashi-Koyama costs between 80,000 to 130,000 yen each month.
Asagaya in Suginami Ward
Are you looking for an area with a variety of shops and restaurants? Asagaya fits the bill and is also known as a safe neighborhood for residents.
Asagaya conveniently located on the JR Chuo Line, just ten minutes from Shinjuku by express train and also ten minutes from Kichijoji, a trendy area in western Tokyo. There are countless eating establishments near the station. However, even more astounding than this is the 19 convenience stores in the neighborhood!
Close to Asagaya Station is a shotengai with many stores, including a fish and butcher shop. Stopping into the stores may become a regular habit after encountering the friendly employees here.
Since there are few high-rise buildings in the vicinity, the air is fresh and clean.
The average monthly rent for a one-room apartment in Asagaya is usually between 70,000 to 130,000 yen.
Nakano in Nakano Ward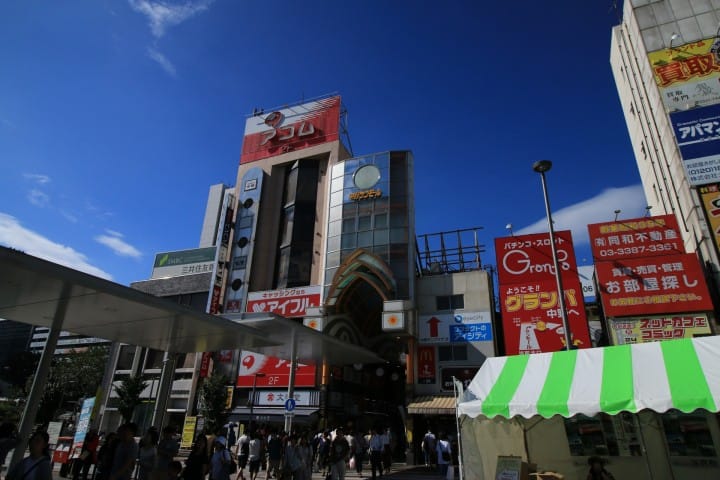 If you enjoy exploring during the evening, why not add Nakano to your list of potential places to live?
Nakano is only five minutes from Shinjuku via the JR Chuo Line's express train. Boasting many shops that remain open at night, you can feel secure walking by yourself after dark.
There are many universities nearby, so there the area has reasonably-priced restaurants nearby, and average rent here is also cheaper than in Shinjuku.
You'll have no shortage of places to go shopping, too. In the vicinity, you'll find the discount shop Don Quijote, a Seiyu supermarket, and Marui, to name a few.
The monthly rent for a one-room apartment in Nakano is about 75,000 to 120,000 yen.
Recommended Tokyo Neighborhoods with Excellent Shopping
Two fashionable areas in Tokyo that are ideal for shoppers are Jiyugaoka and Ebisu.
Both neighborhoods have a slightly upscale atmosphere and a plethora of high-quality supermarkets and chic cafes. The deli counters at these supermarkets are lined with popular health products and imported goods from abroad. Every outing will be an adventure.
Jiyugaoka in Meguro Ward
Jiyugaoka has many chic apparel stores and trendy sweets shops. With so many options, it's convenient to live here, but also easy to get carried away with your spending.
On national holidays, Jiyugaoka usually bustles with out-of-town visitors.
Lots of young people residing in this area makes it a safe place. The rent for a one-room apartment in Jiyugaoka runs from 100,000 to 150,000 yen.
Ebisu in Shibuya Ward
When thinking about Ebisu, business and commercial complexes might come to mind to some. However, there are also many art galleries, museums, shrines, and other points of interest. Many cultural activities are also held in Ebisu, making it a comfortable and interesting place to live.
The JR Yamanote Line and Tokyo Metro Hibiya Line pass through Ebisu Station. The neighborhood has very convenient access to Tokyo's top destinations.
You'll also find a large number of health care facilities, including some 80 dental clinics nearby!
The rent for a one-room apartment in Ebisu is about 130,000 to 200,000 yen.
Sangenjaya in Setagaya Ward
We highly recommend the Sangenjaya neighborhood for those who like literature and art. This area is ideal for those who like Shimokitazawa, another place easy to live in.
Lined with cafes and bars, Sangenjaya has a relaxed feel to it. Residents include people from the technology and apparel sectors, as well as many artistic creators.
There is no shortage of places for shopping and entertainment with supermarkets, 100-yen shops, and many restaurants.
The monthly rent for a one-room apartment in Sangenjaya is usually between 90,000 to 140,000 yen.
Gakugei-Daigaku in Meguro Ward
Photo by Pixta
Gakugei-daigaku area in Meguro Ward has a reputation as a comfortable place to live with affordable rent.
Right near the station is a shotengai, delicious ramen restaurants, cafes, places to get fresh fruit and vegetable, and other shopping options. Gakugei-daigaku is where the modern and traditional intersect, so you'll be able to make discoveries every time you step outside.
The rent for a one-room apartment here is between 100,000 and 140,000 yen per month.
Which Parts of Tokyo Have Inexpensive Rent?
For those on the lookout for more reasonable rental prices, we suggest searching in places away from the city center of Tokyo.
Although slightly far from Tokyo and Shinjuku stations, the suburbs are comfortable living areas with libraries, health care facilities, large shopping streets, and other useful amenities.
Minami Hanahata in Adachi Ward
Many people are unfamiliar with Minami Hanahata. While this town is located in Adachi Ward, it is closer to Saitama Prefecture than Tokyo.
The nearest railway stations are Rokucho Station (Tsukuba Express Line) and Kita-Ayase Station (Tokyo Metro Chiyoda Line).
Minami Hanahata has a flat terrain, which is suitable for those commuting by bicycle and families with toddlers. Though there aren't many restaurants, there are plenty of supermarkets, drugstores, hospitals, schools, and other convenient places.
The monthly rent for a one-room apartment in Minami Hanahata is about 50,000 to 90,000 yen.
Kanamachi in Katsushika Ward
Located in Katsushika Ward, Kanamachi is a hidden gem for watching the annual Edogawa Fireworks Festival.
The nearest railway station is Kanamachi Station, which the JR Joban Line and Keisei Electric Railway Line both pass through. Close to the station, you'll find a shotengai alongside countless restaurants and izakaya.
The Katsushika Central Library has an extensive book collection, making it ideal for curling up with your favorite novel for a quiet afternoon.
The rent for a one-room apartment in Kanamachi runs from about 50,000 to 100,000 yen per month. However, it is possible to rent a much larger room than in the center of Tokyo.
Shin-Koiwa in Katsushika Ward
Photo by Pixta
Shin-Koiwa is also located in Katsushika Ward. It is an area that many foreign residents and international visitors call home.
The JR Sobu Line passes through here, and there's a large shopping street located near Shin-Koiwa Station's south exit.
The monthly rent for a one-room apartment in this area is 60,000 to 100,000 yen.
Kameari in Katsushika Ward
If you mention Kameari, most people in Japan may think of the cop protagonist Ryo-san from the popular manga series "KochiKame: Tokyo Beat Cops."
In the vicinity, there are reportedly 14 bronze statues honoring "Kochikame" and its main character, Ryo-san. If you decide to move here, it'll feel like you're living with the cop and his colleagues.
The nearest station is JR Kameari Station on the Joban line. You'll find a shotengai, many restaurants, and a movie theater nearby.
The rent for a one-room apartment in Kameari is 70,000 to 90,000 yen per month.
Recommended Apartment Rental Sites
The following is a list of apartment rental sites in Tokyo. For details on each site, please refer to the descriptions below.
| | | |
| --- | --- | --- |
| Official Homepage | Merits | Other Features |
| OYO LIFE | Rent for as short as one month. Security deposit and key money is not required. | Contracts can be completed online and from overseas. |
| SOCIAL APARTMENT | Socialize with tenants while maintaining your personal space. | Trendy designs and multiple communal spaces. |
| Youzi Liuxue (Japanese) | Ideal for international students. Foreign residents living in Japan can also easily rent a room. | You can search for a room from your school district. Discounts available for international students. |
| OAKHOUSE | In-house management. Sharehouses and apartments available. | Support available in multiple languages. Events are also regularly held. |
| SUUMO (Japanese) | A large selection of rental listings. Many tenants renew their housing contracts. | You can see all the details pertaining to a rental listing. |
| MUJI×UR (Japanese) | Security deposit and key money not required. | Many rental properties have been renovated with a sophisticated look. |
Look for a Comfortable Area That Meets Your Living Standards
When seeking a new place to live, take note of which train and subway lines operate at the nearest station. Also, check to see the shopping spots and restaurants nearby. After carefully examining each area, you'll be able to find a place that best suits your desired lifestyle.
When renting a room, don't be drawn in solely by inexpensive rent. It's important to consider all aspects of the property. When a listing catches your eye, be sure to visit and spend time in the physical location to see what kind of neighborhood it is.
To prevent post-move regrets, you should compare online information with advice from a real estate agent before making your final decision.
Main image by Pixta

The information presented in this article is based on the time it was written. Note that there may be changes in the merchandise, services, and prices that have occurred after this article was published. Please contact the facility or facilities in this article directly before visiting.