Shimokitazawa Complete Guide - Top 15 Spots In Tokyo's Trendy Subculture Haven
Shimokitazawa is a neighborhood known for its excellent shopping with many vintage, second-hand clothing and interior goods shops, theaters, live houses, and cafes. This article introduces the best places to experience the area's vibrant atmosphere and Tokyo's subcultures.
Shimokitazawa - The Town of Second-Hand Fashion and Vibrant Subcultures
Shimokitazawa, Tokyo
Famous for the unique fashion style of the people in town, Shimokitazawa is a neighborhood with great shopping, with many stores carrying vintage and second-hand clothing, cute interior goods, and antiques.
With plenty of theaters, galleries, live houses, comfortable cafes, and izakaya bars, many people refer to Shimokitazawa as "Shimokita" for short. For those looking for something unique, this is a must-go place in Tokyo!
Shimokitazawa has been the center of Japan's subculture scene since the 1970s. Many of the galleries and venues here cater to indie artists and local creators.
Perhaps that is why this town is popular among the younger generation while having a nostalgic feel at the same time. Shimokita is well-known for its strong support for local art.
Those who would like to visit, but are unsure where to go, could start by checking out some of the places introduced in this article. The end of the article also introduces recommended accommodation for those wanting to base their stay in this hip area.
Read also:
How to Get to Shimokitazawa
Picture from illi Shimokitazawa: A Local Stay In Tokyo's Hippest Neighborhood
From Shibuya Station, take the Keio Inokashira line to Shimokitazawa. It is the next stop after Shibuya on the express line. The ride costs 130 yen and takes 3 minutes.
From Shinjuku Station, it is the second stop on the express Odakyu Odawara Line (160 yen). It takes around 7 minutes.
Recommended Shimokitazawa Shops for Fashion Lovers
1. NEW YORK JOE EXCHANGE - A Renovated Bathhouse Turned Into a Clothing Shop
NEW YORK JOE EXCHANGE in Shimokitazawa
Located on the Ichibangai Street in Shimokitazawa, NEW YORK JOE EXCHANGE is one of the many second-hand clothing shops with a line up of high-quality clothes. Located in a former bathhouse that was renovated, the shop is known for its unique store appearance.
2. Toyo Department Store - Discover the "Shimokita" Style
Toyo Department Store, Shimokitazawa
After the end of World War II, Shimokitazawa developed many "black markets" that did business outside of the standard controlled pricing. The area where stalls used to line up randomly created the "Shimokita" style atmosphere, but as the city developed, the markets have gradually disappeared.
The Toyo Department Store is a collection of many shops that wished to preserve the old "Shimokita" style. In a former beer garage, there are many shops that carry vintage fashion, second-hand clothes, goods, and accessories.
All the shops here are known to have "exclusive items" being sold. Why not go and find a personal item while enjoying the Shimokita atmosphere?
Toyo Department Store
Address: Tokyo, Setagaya, Kitazawa 2-25-8
Google Map
3. ANTIQUE LIFE JIN - Cute Goods with Animal Motifs
Shopping at ANTIQUE LIFE JIN
ANTIQUE LIFE JIN is a shop filled with goods where you can find original accessories, small Japanese trinkets, and cute items with animal motifs. You can find plenty of products such as cups, hats, and tote bags.
After walking for about 2 minutes, you will also find ANTIQUE LIFE JIN II that sells antique furniture. Why not stop by to take a look at this shop too?
ANTIQUE LIFE JIN
Address: Tokyo, Setagaya, Kitazawa 2-30-8
Google Map
Shimokitazawa Culture Spots
4. Shimokitazawa Tollywood - Watch Films by Indie Directors
Enjoy independent films at Shimokitazawa Tollywood
Shimokitazawa Tollywood is Shimokitazawa's only movie theater! At this venue with 47 seats, you can watch a variety of short films along with movies created by young independent directors.
Shimokitazawa Tollywood
Makoto Shinkai, the director of the animated movie "Your Name" ("Kimi No Na Wa"), first showed his indie film "Hoshi No Koe" right here. Generally, all the movies shown are in Japanese. However, the shorter films and animated films are easy to follow for international visitors.
Shimokitazawa Tollywood
Address: Tokyo, Setagaya, Daizawa 5-32-5
Google Map
5. Flash Disc Ranch - A Must-Go For Record Lovers
Browse through records at Flash Disc Ranch
At Flash Disc Ranch, you'll go past the pop entrance and up the stairs to find a floor with countless amounts of records of various genres.
The walkthrough of the shop is extremely narrow so you should store your luggage on the shelf next to the stairs when you go up. Heavy luggage can be held onto by the shop staff while you take your time to find your favorites.
Flash Disc Ranch
Address: Tokyo, Setagaya, Kitazawa 2-12-16
Google Map
6. Gallery HANA Shimokitazawa - Enjoy Modern Japanese Art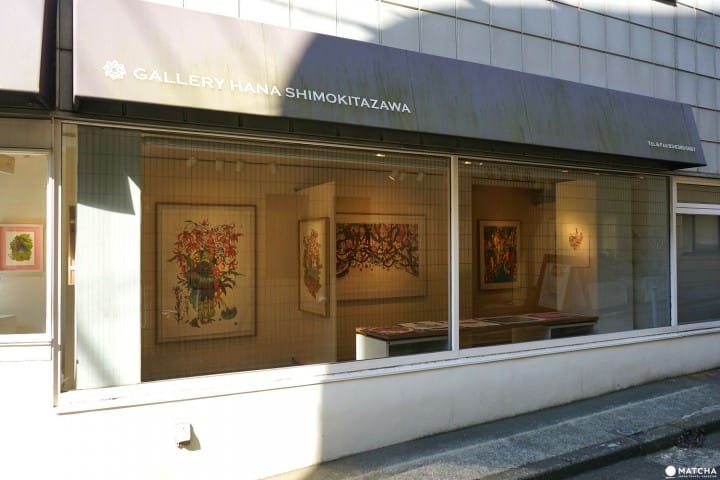 Appreciate art at Gallery HANA Shimokitazawa
Gallery HANA Shimokitazawa is a gallery with large windows, facing the main Ichibangai Street. You can see artworks on display from the outside as well. This gallery opened in 2006 and has shared its wonders with Shimokitazawa locals and visitors alike.
The gallery provides space for young and active artists to present their work. You can see different pieces of art by various artists on a daily basis.
7. Honda Theater - Watch Performances by Young, Energetic Actors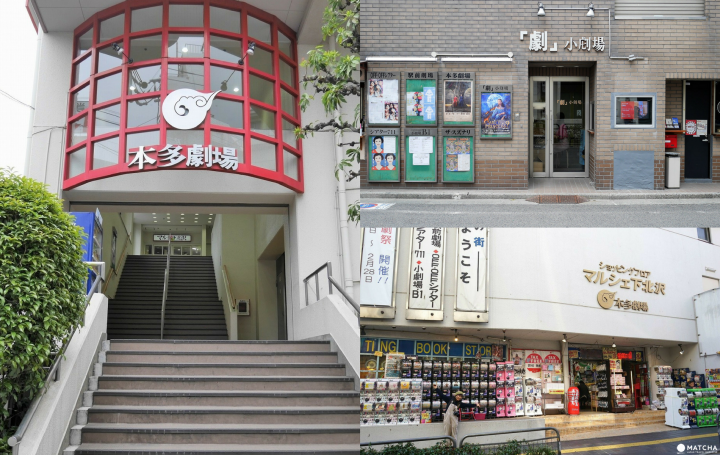 Honda Theater
Ever since its opening in 1982, Honda Theater has been one of Tokyo's representative stages. It was created by Kazuo Honda who was once an actor for a company that went bankrupt and couldn't continue acting due to financial reasons.
He wished to provide a place for young actors to perform and give them an opportunity in the world of acting. Thus, he founded ten small theaters and contributed to the current theatrical industry.
The first floor of Honda Theater is occupied by Village Vanguard, a shop that carries a great variety of books and goods. At this shop, you can find a wide range of books, CDs, small goods, and even fancy products you can use in your daily life.
The shop itself is like a maze and you can enjoy searching for the perfect souvenir while treasure hunting here.
The Suzunari
The Suzunari is one of several theaters belonging to the Honda Theater Group. A landmark of the Japanese contemporary theater scene, The Suzunari is a venue where many shows are held each month featuring actors that are now in the public spotlight.
The Suzunari
The first floor of the building houses dining places and bars. Once night falls, you get to feel the laidback atmosphere you can only get in Shimokitazawa.
The Suzunari
Address: Tokyo, Setagaya, Kitazawa 1-45-15
Google Map
Unique Restaurants and Cafes in Shimokitazawa
8. Shimokitazawa La Cana - A Restaurant at Day, Live House at Night
Shimokitazawa La Cana
Shimokitazawa La Cana is a restaurant located in a basement. In Shimokitazawa, many restaurants, bars, and live houses loved by locals tend to be underground. One could say that is part of the charm of this town. It almost feels like the underground side of Shimokitazawa support the culture of the city.
The attractive interior of this restaurant creates a relaxing atmosphere. The dish that we recommend trying here is the fluffy egg omelet on rice. It's a satisfying lunch that also comes with a salad. This set is 680 yen with tax.
Not only can anyone enter Shimokitazawa La Cana, but you can also get a glimpse of the local culture from the store interior. Here, you can experience the side of Shimokitazawa that has been always loved by its residents.

9. DARWIN ROOM - A Shop with Taxidermy and Artwork
DARWIN ROOM in Shimokitazawa
DARWIN ROOM is a laboratory-like shop where you will find many western books, encyclopedias, art books, taxidermy of animals, and insect specimens available for sale. There are life-size owls and penguins displayed above and it can be an intense sight.
There is a cafe inside and the drinks being served here is specially ordered from a historical cafe that is very particular about their coffee. Why not explore the shop while enjoying a cup of coffee?
DARWIN ROOM
Address: Tokyo, Setagaya, Daizawa 5-31-8
Google Map
10. Tamaiya - A Popular Senbei Shop
Tamaiya, a specality rice cracker store
At Tamaiya, a retro senbei rice cracker shop, you can find a surprising amount of various senbei crackers displayed in glass jars.
Tamaiya has a long history. The shop has been making senbei since 1952. Not only do these crackers taste good, but they also have a long shelf life and make a great souvenir.
11. B&B Bookstore - Read a Book with a Beer in Hand
For those who plan on going toward the South Exit of Shimokitazawa Station, we recommend a visit to B&B Bookstore.
Like the shop name states, you can enjoy reading books here with a beer in hand. In addition to alcoholic drinks, you can also order non-alcoholic drinks such as coffee.
Young authors, writers, and editors who support the current Japanese writing community hold events on a daily basis here.
For those who visit Shimokitazawa, why not stop by B&B Bookstore to feel the enthusiasm of contemporary Japanese writers?
B&B Bookstore
Address: Tokyo, Setagaya, Kitazawa 2-5-2 BIG BEN B1F
Google Map
12. Natto Factory Sendaiya - Enjoy Fermented Soybeans as a Snack!
Plain flavor (140 yen with tax)
Sendaiya is a natto (fermented soybean) specialty shop. You can find here a unique snack called the natto doughnut. Apparently, they mix natto into the doughnut batter.
We wondered if it would be sticky and have a distinctive smell, but there was no natto smell or taste! The doughnut was not fried either, so it was very light. This snack can also be enjoyed by those who don't like natto.
Sendaiya
Address: Tokyo, Setagaya Ward, Kitazawa 3-25-1
Google Map
13. BOOKENDS COFFEE SERVICE - Enjoy Special Coffee for a Reasonable Price
BOOKENDS COFFEE SERVICE is a coffee shop where you can enjoy really delicious coffee for a reasonable price. The blend coffee is 200 yen with tax, and a coffee ordered to-go costs 180 yen. Inside the shop, you can also find homemade snacks to accompany your drink.
Shimokitazawa Cage
Until September 2019, you can find the event park Shimokitazawa Cage, so why not take a break there after buying a cup of coffee? Depending on the day, you may be able to take part in an event held there.
BOOKENDS COFFEE SERVICE
Address: Tokyo, Setagaya, Kitazawa 2-11-17
Google Map
Temples and Shrines in Shimokitazawa
14. An Inari Shrine and Shinryuji Temple
An inari shrine with its distinct red gates in Shimokitazawa
After wandering through narrow streets of the town, near the station, you will find an inari shrine, recognizable by its vermillion-colored gates. It surprisingly blends well into the townscape of Shimokitazawa.
On the left, you will find a temple called Shinryuji Temple. A large tengu mask is on display in Tengudo Hall. Every February, the Shimokita Tengu Festival is held, and the tengu from this temple is placed on a festival float and paraded around town. There are also ema prayer tablets with the Tengu design on it.
Shinryuji Temple
Address: Tokyo, Setagaya, Kitazawa 2-36-15
Google Map
15. Kitazawa Hachiman Shrine
Every September, a famous festival is held at the Kitazawa Hachiman Shrine. On non-festival days, the shrine grounds have a peaceful atmosphere, letting you feel a different, quite side of Shimokitazawa.

Where to Stay in Shimokitazawa
Picture courtesy of illi Shimokitazawa
Shimokitazawa has a few lodging options for those wanting to stay a night or two or looking to base their entire Tokyo trip here. The eclectic, laid-back atmosphere of Shimokita is desirable to many, especially after a long day of shopping or sightseeing in Shinjuku and Shibuya.
We recommend illi Shimokitazawa, an apartment-style hotel with spacious floor plans. Suitable for groups of up to six people, the renovated, modern style of these cool rooms are an excellent choice. The room is just a few minutes away from Shimokitazawa Station.
Those interested in learning more can see details on Booking.com.
Discover a Deeper Side to Shimokitazawa with a Guide
A Shimokitazawa tour guide
You can learn more in-depth about Shimokitazawa on a tour. Participants can listen to the explanations offered by local guides to discover all the wonderful sides of this unique neighborhood!
Please check the details of the tour on their official website.
This article is a rewritten version of an article published on July 12, 2017.

The information presented in this article is based on the time it was written. Note that there may be changes in the merchandise, services, and prices that have occurred after this article was published. Please contact the facility or facilities in this article directly before visiting.