Shimokitazawa - Getting To Know The Favorite Town Of Japanese Youth
Shimokitazawa is well-known for its vibrant culture, which is manifest in its unique shops, theaters, galleries, and live music venues. In this article, we introduce some of the places that are worth visiting in Shimokitazawa during the day.
Shimokitazawa is a district in Tokyo's Setagaya ward loved by the young and old for its vibrant culture. Well-known for its fashion and vintage clothes stores, as well as for its interior goods and antique shops, Shimokita is a great shopping destination for those who seek unique items.
One of Shimokita's vintage clothing stores, located in the area around the North Exit of Shimokitazawa Station
The many theaters, live music venues, art galleries, cozy cafes and izakayas in Shimokitazawa are gathering places for like-minded people to hang out while enjoying good quality art and entertainment created mostly by independent artists. In fact, Shimokita is often called "the town of music", as there are arguably at least 50 live music venues in the area. It is also known as "the town of theater" because of its well-established theaters and annual performing arts festival.
Because Shimokitazawa has been the cradle of Tokyo's subcultures since the 1970's, you'll encounter a nostalgic side of this town underneath its popularity among the youth. It all adds up to the image of this town as being a hub for creative endeavors.
If you would like to explore this part of Tokyo but don't know exactly where to start, take a look at some of the places worth seeing in Shimokita introduced in this article.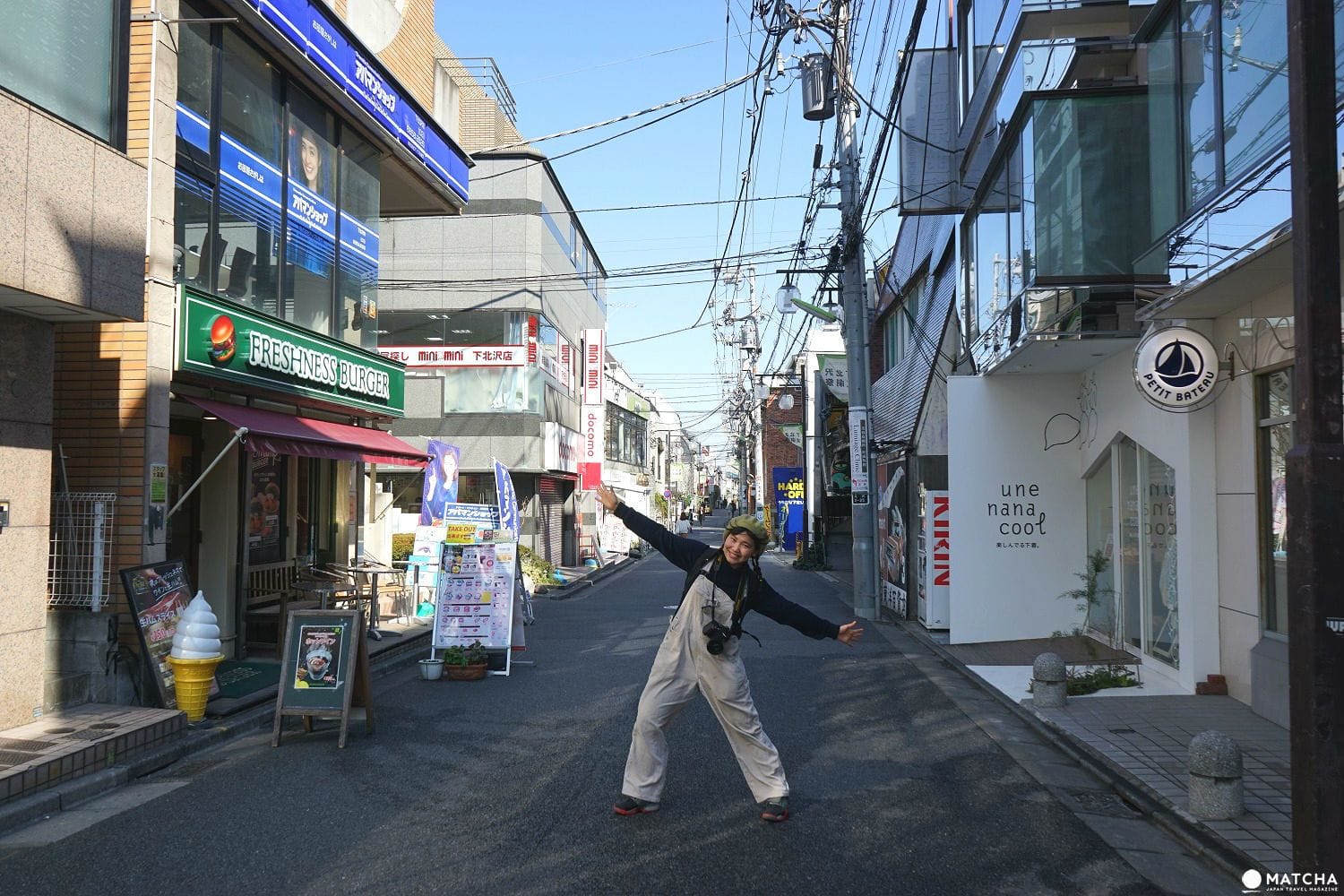 Our guide will be A-chan, one of the youngest and most enthusiastic members of MATCHA's team. She will take us to some of the places that Shimokitazawa is famous for.
First Thing's First - How To Get To Shimokitazawa
Shimokitazawa can be easily reached from Shibuya Station on the Keio Inokashira line. It's the next stop after Shibuya on the express line (130 yen).
From Shinjuku Station, it's two stops on the Odakyu - Odawara line express trains (160 yen). Because Odakyu line's Shimokitazawa Station is located underground, it can be easily confused with a subway or metro station. Please keep in mind that there is only one train station in Shimokitazawa serving the two railway lines - the Odakyu Line and the Keio Inokashira Line.
Shimokitazawa Station North Exit Area
We'll begin our exploration from Shimokitaza Station's North Exit area. The narrow streets in this area, lined with shops and cafes, lead us to the town's iconic shopping street - Shimokitazawa Ichibangai.
On the way, you'll discover antique shops, as well as interior goods and stationery shops that will most surely attract your attention. However, you shouldn't be surprised to find also very new, small brand shops, run by young fashion designers. Shimokitazawa is after all the place of birth of many remarkable new brands and styles.
Some of the vintage clothing shops the town is famous for are located right here, along the Ichibangai Street. One of them is none other than New York Joe Exchange, a used clothing shop loved by many customers for the good quality of the clothes they trade. This shop is also famous for being built in a former public bathhouse.
On the same street is Gallery Hana Shimokitazawa, which will catch your attention with its wide windows that allow passersby to take a look at the exhibitions inside. Opened in 2006, this art gallery has made it a mission to bring the joy of art to the people living in or visiting Shimokitazawa. They promote both young artists and full-time artists giving them the chance to display their work.
When we visited, we had the chance to see an exhibition of contemporary woodblock print art. The vividness of the colors and the vibrant compositions had us look in amazement at the works for a while.
The exhibition was entitled "homesick closet" and contained works by Ota Eri and Murayama Nanae, students of the Joshibi University of Art and Design.
Gallery Hana holds regular exhibitions by talented artists. The "Kirakira-ten" exhibition going on until March 20th comprises works by five young painters, graduates of Tama Art University. If you would like to catch a glimpse of the latest developments in Japanese painting, we warmly recommend checking out Gallery Hana upon visiting Shimokitazawa.
View Information
On the way back to the station, we took the narrow street going by Shinryuji Temple, where we found a small Inari shrine guarding the way. We couldn't help but wonder at how natural does this shrine blend into the life of the town.
This is where we also encountered the first sign of spring - a cherry tree gone in bloom earlier than other sakura!
We were heading toward the South Exit of the station. Close to the old railway lines that were formerly used by the Odakyu line trains, we found the traditional sembei (rice crackers) shop called Tamaiya. The amazing varieties of sembei are all beautifully arranged in glass containers, making them very appealing.
In addition to being delicious, authentic Japanese snacks, sembei crackers have a long shelf life, which makes them the perfect souvenirs. Tamaiya is a well-established shop with a long tradition of making sembei in Shimokita. If you're looking for a souvenir from this town, this sembei would be a great choice!
View Information
Walking across the railway trails, we reached the area around the South Exit of Shimokitazawa Station. One of the prominent buildings in this area is Honda Theater - one of Tokyo's iconic theaters and a facility that helped shape Japan's contemporary theater world.
At the base of Honda Theater you can find Village Vanguard, the popular book store and variety goods shop where you'll find anything from books and CD to trinkets and extravagant household items. The shop is like a labiryth and it will surely be fun exploring in search for souvenirs!
Speaking of theaters, there are many venues of various sizes making up the extremely diverse performing arts environment of Shimokitazawa, but one that deserves particular mention is The Suzunari. This theater has been active since the beginning of the eighties and many leading figures of the Japanese stage have performed here.
On the same street you find old record shops and a charming antique book store, which will also be very rewarding to take a look at.
Time for a Lunch Break! Dining in Shimokitazawa
You will find a dining place wherever you look in Shimokitazawa, with one restaurant or shop more appealing than the other. A-chan was checking out this ramen shop on the street directly in front of the Shimokitazawa Station's South Exit.
However, ever since Shimokita started hosting a yearly "Curry Festival", it has become renowned as a place with great curry rice restaurants.
As we were looking for a curry rice restaurant, we spotted this signbord leading to a narrow entrance.
This is how we discovered La Cana, an underground dining place, with a tasteful, nostalgic interior.
This restaurant reminded us something very important regarding Shimokitazawa, namely that many of the dining places and bars loved by the locals, and most of the live music venues for that matter, are located underground! It wouldn't be an exaggeration to say that it is this underground side of Shimokitazawa that defines its culture.
We had been allured by the aroma of the curry but ended up eating La Cana's specialty - a delicious omelette rice!
In addition to being a very welcoming place, La Cana is also very inspiring, offering glimpses into the Shimokitazawa's culture of the former decades. It is in places like these where you'll find the Shimokitazawa that is thought so dearly of by the locals.

View Information
Shimokitazawa Station South Exit Area
We continued our exploration of the town by returning closer to the South Exit of the station. One place that we would like to recommend to any visitor to Shimokitazawa is the B&B Bookstore, also known as Book&Beer Bookstore.
B&B is a space worth checking out not only for its great variety of books, which one can enjoy browsing through while drinking a beer or a coffee, just like the name of the facility suggests. It is also the venue for daily talk events between young creators, writers and publishers - people who are shaping Japan's contemporary culture.
When visiting Shimokita, we recommend stopping by this bookstore to feel its inspirational vibe.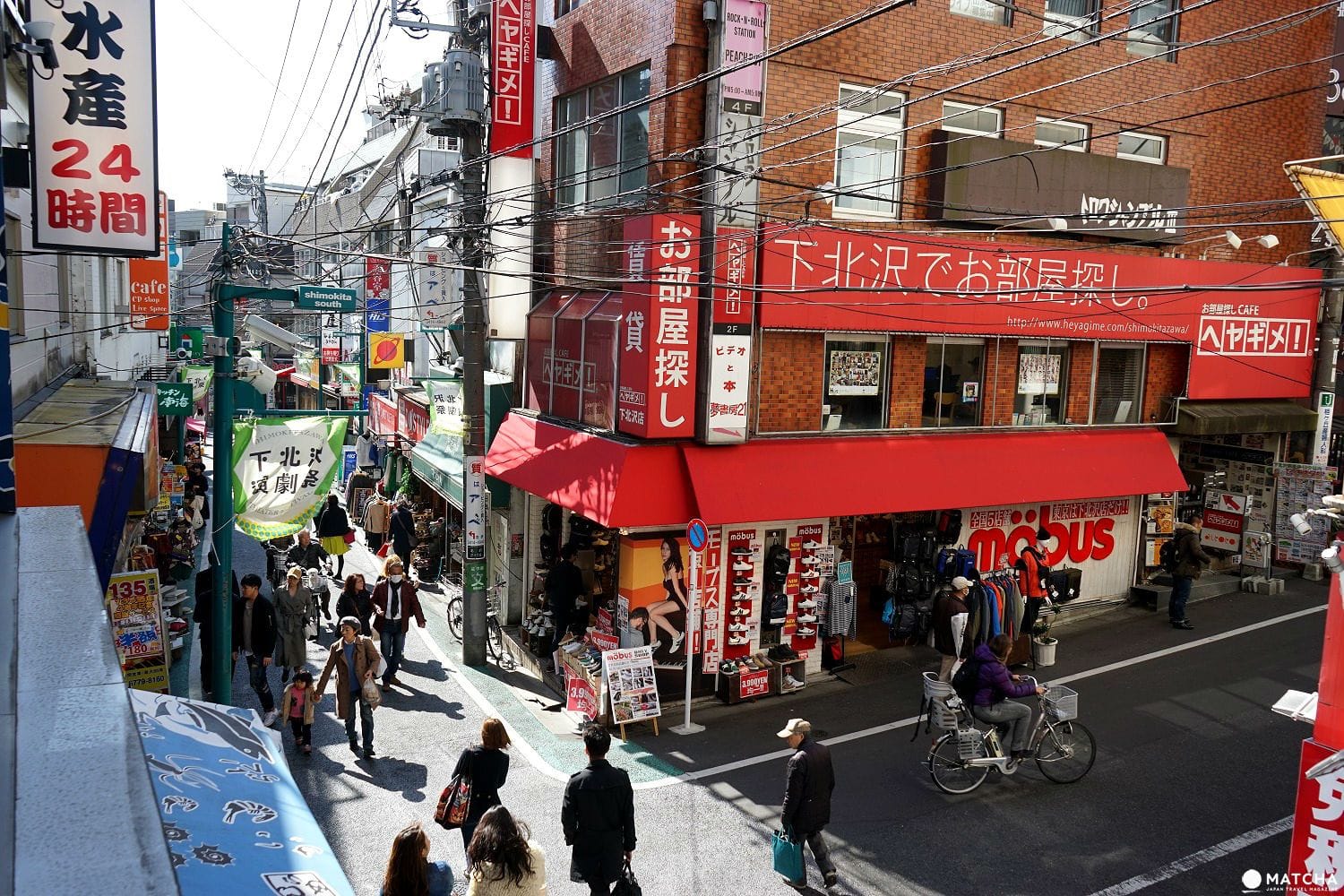 This is how the area around the Minamiguchi Shotengai (Shimokitazawa South Exit Shopping Street) looks from above. This area shows the most prominent feature of this town, namely that it is a mixture of various tastes and cultures and that it has something for everybody.
The vintage clothing shops in this area are a lot more "accessible", in the sense that the clothes are displayed in the street and anyone can take a look at them without even enterring the shop.
As we continued our walk through Shimokita's Daizawa district, we reached a park with a riverlet lined on both sides with cherry trees. Spending a few minutes here was a refreshing break from the narrow, crowded streets of the town.
The place we were searching for was LA CAMERA, an art gallery specialized in photography, famous for hosting monthly exhibitions by world-renowned photographer Araki Nobuyoshi among other artists.
If you visit Shimokita during the first ten days of the month, then do stop by LA CAMERA to see the latest works of one of Japan's greatest photographers. At the openings, you will even be able to meet the artist in person.
In the Daizawa area you'll be able to see some of Shimokitazawa's beautiful temples and shrines. One of them is Shinganji Temple, with an impressive architecture. At the time of our visit, we were welcomed by gorgeous plum blossoms.
Kitazawa Hachiman Shrine, famous for its yearly festival, is also located nearby. Its peaceful, solemn grounds showed us another face of Shimokitazawa, one that is probably known only to the locals, adding up to the many reasons why this town is loved by so many people.

View Information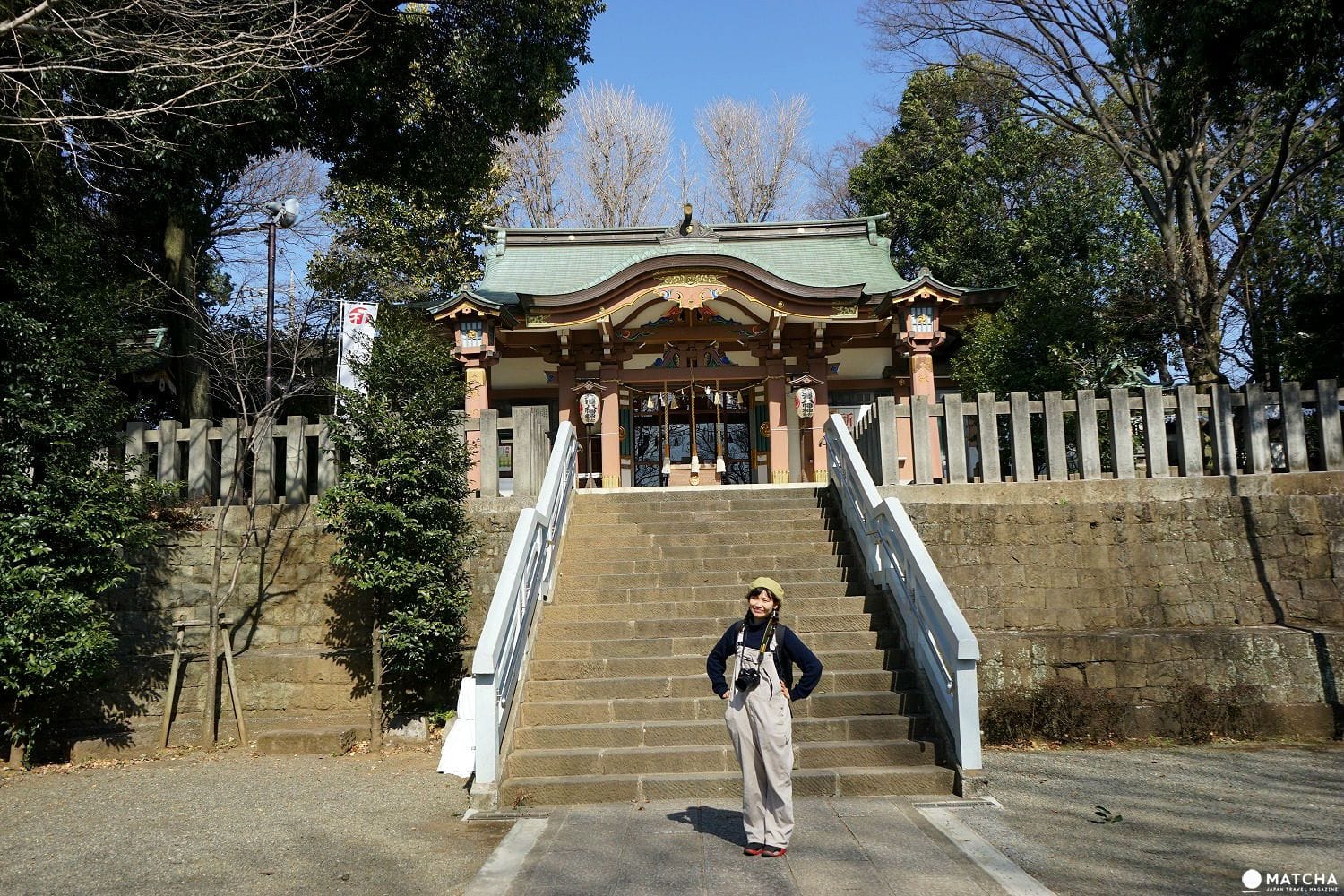 We'll end our exploration of Shimokitazawa here, at Kitazawa Hachiman Shrine, hoping that our tour offered some hints of what there is to see and enjoy in this town.
In Conclusion
Our tour of Shimokitazawa was a brief introduction to the places that are worth visiting during the day in Shimokitazawa - from galleries and shops to temples and shrines. Let's not forget, however, that "Shimokitazawa by night" is also definitely worth checking out.
In the evening, the streets get crowded with people who come here to hang out - to see a live music performance, to watch a play or to enjoy a drink with friends. Experiencing both sides of Shimokitazawa will most surely make you grow fond of this town.