Sacred Places and Cuisine in Tsuruoka: A Spiritual Journey to Tohoku
The Tohoku region of Japan is famous for its rich nature and spiritual culture. Tsuruoka, a city in Yamagata Prefecture, stands out through its culture rooted in ancient mountain worship. We introduce magnificent temples and shrines where you can gain a deeper understanding of local spirituality.
A Journey to Tohoku and Tsuruoka
Since ancient times, humans have held a deep reverence for nature. Even now, the beauty, complexity, and power of the Earth has a profound effect on our hearts and souls.
So, how did the people of long-ago utilize and appreciate the power of nature? Some of the answers to these questions can be found in Tsuruoka.
Tsuruoka, located in Yamagata Prefecture, is home to the Three Mountains of Dewa where the tradition of Shugendo still thrives (*1). You can enter these mountains with a Shugendo practitioner, known as a yamabushi, who will guide you through the shrines and temples to gain an understanding of the beliefs that developed in the area.
You can also try shojin ryori, the traditional vegetarian cuisine of Buddhist monks. Packed with local mountain vegetables, this type of cuisine will deepen your appreciation for the local lifestyles.
In this article, we introduce the must-visit Zen and Shugendo temples and shrines in Tsuruoka, along with a showcase of places to relish shojin ryori.
*1... Shugendo is a type of ancient Japanese mountain worship. Followers practice isolation and rigorous training in the mountains to awaken to a deep understanding of reality.
The Three Mountains of Dewa: Experience Mountain Training
The Three Mountains of Dewa consist of Mt. Haguro, Mt. Gassan, and Mt. Yudono, all of which spread across Yamagata. Since ancient times, mountain worship has prospered in this region, and a pilgrimage through these gorgeous mountains represents a cycle of death and rebirth.
Even today, ambitious adventurers flock to these mountains to take part in this deeply spiritual journey. Let's take a closer look at each mountain!
1. Mt. Haguro – Tour Temples with a Mountain Ascetic
The journey of rebirth begins at Mt. Haguro - the mountain of happiness gained through Buddhist teachings. At the summit of the mountain lies Sanshingosaiden Shrine, where the deities of the three mountains are enshrined.
Sanshingosaiden was constructed on Mt. Haguro as the other two mountains are inaccessible during winter. Praying here is considered equal to doing a pilgrimage to all three sacred mountains of Dewa.
Unlike Mt. Gassan and Mt. Yudono, Mt. Haguro can be climbed even in winter (*2). In addition to hiking, there are bus services taking visitors to the summit (*3). We recommend taking a guided tour, where you can listen to explanations while climbing in order to gain a deeper understanding of Dewa's history and culture.
*2 Climbing Mt. Gassan is limited to the months between July and September and Mt. Yudono between June and October.
*3 The bus heading to the summit of Mt. Haguro runs ten times per day, with a service roughly every hour.
For your guide, you can choose between a yamabushi (mountain ascetic) or a regular guide. Those opting for a yamabushi guide can also climb wearing the traditional white Shugendo robe donned by practitioners.
You'll need to reserve your guide at least a week in advance. Reservations can be made at Haguro Tourist Association or the DEGAM Tsuruoka Tourism Bureau (Japanese, English, French).
The stunning Zuishinmon Gate marks the beginning of Mt. Haguro's climbing trail. Before ascending, take the time to appreciate the otherworldly beauty of the cedar path, which was awarded three stars in the Michelin Green Guide Japan.
Within this stunning forest of towering trees is the mystical Five-Story Pagoda of Mount Haguro, which is the oldest pagoda in Tohoku.
After paying homage at Sanshingosaiden, head next door to Saikan for a taste of traditional Buddhist shojin ryori cuisine filled with wild mountain vegetables.
For those interested, Ito Shinkichi, the chef of Saikan, can provide explanations behind each of the fascinating dishes. You can even join him in searching for and picking mountain vegetables, along with cooking classes making sesame tofu and other typical Buddhist delights.
Outside Zuishinmon Gate are over 30 Buddhist lodgings serving food, so you can fuel up before your journey with some nourishing, delicious dishes!
Monks would feast on these vegetarian delicacies before beginning their training to purify and strengthen their bodies in a practice known as Shojin Kessai. *Food orders must be reserved in advance at all lodges; contact the Haguro Tourist Association or the DEGAM Tsuruoka Tourism Bureau for details and reservations.
2. Mt. Gassan – Trekking While Training
At 1,984 meters, Mt. Gassan is the tallest of the Three Mountains of Dewa. As the next step on the journey of rebirth, this peak is where pilgrims pray for comfort after death.
The climbing season is from July until the beginning of October (Gassan Shrine is open from 1 July until 15 September). While it's a relatively easy climb, it's still best to wear proper mountain gear and shoes.
The temperature difference between the base and summit is harsh, so definitely pack a jacket. Bring plenty of water, too! While even amateur hikers can enjoy the breezy course up Mt. Gassan from Mt. Haguro, the route down to Mt. Yudono is more difficult and should only be attempted by more experienced mountain climbers.
The path is lined with exotic nature, allowing for plenty of spectacular sights!
Of particular note are over 130 species of magnificent blooming flowers, including daylilies (Nikkokisuge) and white skunk cabbage. These can be found in the Midagahara Marsh, one of Japan's most prominent treasure troves of alpine flowers.
Those wanting to embark on a guided mountain pilgrimage can apply at DEGAM Tsuruoka Tourism Bureau. The guide's eloquent and easy-to-understand explanations will open your eyes to the extent of hidden beauty concealed in the mountain.
Gassan Shrine, which sits atop the summit, has an extensive history stretching back as far as the Nara period (710-784 CE).
If you leave in the morning and return in the evening, you should be able to conquer this legendary mountain in a day. If you book in advance, you can even stay at a mountain lodge, allowing plenty of time to enjoy the sights at your leisure. The early morning sea of clouds and breathtaking sunrise are said to be Mt. Gassan's greatest charms!
3. Mt. Yudono – The End of the Pilgrimage
The final stop on the journey of rebirth is Mt. Yudono, commonly referred to as the 'exit' of the pilgrimage. The mountain's most sacred ground is the Hongu main shrine where the shintai (*4) is enshrined.
*4... Shintai: physical object worshipped at a shrine considered a repository in which a spirit or kami deity resides.
The shrine comes with the commandment of 'thou shalt not speak.' In fact, it is considered taboo to even talk about the shrine. With such a curious premise, it's an intriguing addition to the trip! The mountain is generally open from May (June in 2021) until October.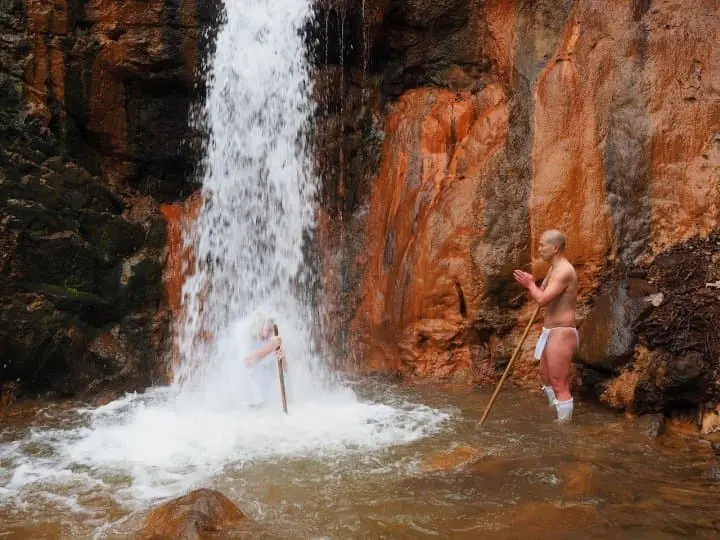 The most intense form of ascetic practice is the world-famous waterfall meditation. You can try this for yourself with a yamabushi monk, who will guide you through the correct way to do it.
Waterfall meditation can be booked online or via telephone through Mt. Yudono Sanrojo. You can also request a translation guide and overnight tour.
Yudono Sanrojo also serves traditional Buddhist cuisine. As Mt. Yudono is the pilgrimage exit and closest to the material world, the dishes here include fish. If you're vegetarian, let the staff know when making your reservation.
One more sight worth checking out is Dainichibo Temple. This temple enshrines a sokushinbutsu – a Buddhist monk who endured a brutal type of training to become a Buddha, entering mummification while alive.
After being purified and listening to the explanations about the temple and the sokushinbutsu, you'll also be able to see the Buddhist statues on the premises. There are pamphlets in English available.
Zenpoji Temple – Try a Zazen Meditation Experience
In addition to the Three Mountains of Dewa, Tsuruoka City boasts a famous Zen temple that is well worth visiting.
One of the three major temples of the Soto Zen sect of Buddhism (*5), Zenpoji is known for enshrining Ryujin, the guardian deity of the sea. Inside the grounds, the Five-Storied Pagoda and the Hall of the Five Hundred Arhats are spectacular, enveloping the area in an otherworldly aura.
*5 Zenpoji is one of the three main temples representing the Soto Zen sect of Buddhism. The other two are Myogonji in Aichi Prefecture and Saijoji in Kanagawa.
Here you can experience the art of seated meditation, known as zazen. (*The experience requires a reservation in advance.)
First, you'll be shown the correct posture, breathing techniques, and other zazen basics by a priest. After this lecture, you'll put your newfound knowledge to the test by assuming the strenuous zazen position, aiming to unify your body and spirit.
You can also reserve a traditional rice gruel breakfast set to complement your experience. Along with the zazen lesson, you'll also be taught Buddhist food etiquette, allowing you to enjoy your meal the correct way.
Gyokusenji Temple – Relish a Stunning Garden
While you're in the area, take a stroll through Gyokusenji Temple. Its fabulous seasonally-changing garden makes perfect use of the mountainous terrain, which is best appreciated from the temple's tranquil veranda.
You can also take in the views alongside a bowl of matcha green tea and a traditional confection (Japanese), whose shape and color reflect the features of the season.
Naturally, hearty shojin ryori cuisine is also on the menu. As per Buddhist principles, the food is centered around vegetables and is completely vegan-friendly!
Before eating, try to recite the 'gokan-no-ge'prayer. If you reserve your meal online, you'll receive the original text and a translation to practice in advance.
Along with your shojin ryori, you'll also receive a pair of chopsticks and a towel to commemorate your visit. If the chief priest is available, zazen meditation guidance is also possible.
Wander Through the Spiritual Side of Tohoku
Recently selected as a top destination for 2020 in numerous travel guides, including the Lonely Planet and National Geographic, Tohoku is gaining more and more attention worldwide through its unblemished beauty.
While there's an almost infinite amount of sightseeing to do, one of our top recommendations is undoubtedly a pilgrimage tour of Tsuruoka and the Three Mountains of Dewa. Indeed, for those seeking a close, meaningful encounter with an intricate and ancient Japanese culture, there's nowhere better than Tsuruoka! It is also a convenient base to launch a trip and explore the rest of Tohoku.
Tsuruoka was selected as a UNESCO Creative City of Gastronomy, so don't miss the chance to enjoy exquisite Buddhist cuisine and other unique local delicacies when visiting.
Read also
All photos courtesy of DEGAM Tsuruoka Tourism Bureau
Sponsored by DEGAM Tsuruoka Tourism Bureau

The information presented in this article is based on the time it was written. Note that there may be changes in the merchandise, services, and prices that have occurred after this article was published. Please contact the facility or facilities in this article directly before visiting.