Be a Tokyo Local! A Stroll Through Koenji, Asagaya, and Nishi-Ogikubo
Koenji, Asagaya, Ogikubo, and Nishi-Ogikubo are some of the most popular areas in Tokyo's Suginami ward along the JR Chuo Line. Find out what unique shops and restaurants are popular with the locals as we go for a walk around town!
Looking Familiar? Kisho Shrine, Featured in an Anime Movie
Koenji, Asagaya, and Nishi-Ogikubo—all stops along the JR Chuo Line—are areas that are popular with young Tokyoites. Put yourself in their shoes, and let's take a stroll through the streets of Tokyo! The first place we'll visit is Koenji.
Walk three minutes from the South Exit of Koenji Station and you'll find Kisho Shrine (Weather Shrine), a small shrine located on the grounds of the larger Koenji Hikawa Shrine. Due to its resemblance to a shrine seen in a famous anime film, it is visited by numerous fans of this anime.
Photo by Eric
This is the only shrine in Japan dedicated to the guardian deity of weather.
The shrine is often visited by those praying for clear weather during their travels, as well as students striving to be weather forecasters. These visitors pray for the deity of weather to protect their plans.
Photo by Eric
In Japan, there was a tradition that involved throwing geta (wooden sandals) into the air and predicting the weather by how the sandals landed. Because of this tradition, the shrine's prayer plaques are shaped like geta.
Visitors write their wishes on the plaques, some of which are sure to make you smile. This is a great place to visit if you're hoping for lucky weather or want to chase your gloomy mood away.
Adorable Seal Stamp Souvenirs!
These colorful goshuin (seal stamps) are also popular at Kisho Shrine.
Stamp designs change every month to commemorate seasonal events in Japan. It's definitely worth a repeat visit if you're a goshuin fan.
Explore the City and Dining Like a Koenji Local
Koenji Station area is the center of several trendy Tokyo subcultures. The area is home to a colorful variety of thrift stores, variety shops, theaters, and galleries. Let's take a look at the stores you'll want to stop by in Koenji.
MALTO – Dive into an Extraordinary World!
Photo by Eric
MALTO offers various goods imported from Europe. Open the door of this 90-year-old Japanese home and you'll be greeted by a wonderful, fairytale-like space.
This general store is so full of variety that you won't know where to start.
Photo by Eric
The antique furniture and daily necessities that line the shelves are mainly items the owner has imported from England and France. You'll find nothing but elegant and tasteful goods.
Photo by Eric
The store focuses on European goods, but also has a section dedicated to ceramic wares from around Japan. This section is so rich in variety that it'll be hard to pick out just one piece. Each has its own individual qualities.
Imagine yourself enjoying some tea out of an elegant antique cup from Europe. How about a dining table where you can appreciate your Japan-made bowls and plates every day? Enjoy shopping in this wondrous store!
Rect Sand Café – Food for the Soul and Body
Photo by Eric
Rect Sand Café is a vegan café ideal for vegetarians, those trying to eat healthy, and those on a diet.
The cafe's concept is that everyone can enjoy a meal together. The café has cultivated a natural and warm atmosphere since opening in 2013.
Photo by Eric
The rice served at the café is made with koso genmai (*1), a type of rice that is higher in nutrition than normal brown rice, and has a springy, fresh texture. This type of rice has gained attention for its flavorful character.
But rice isn't the café's only specialty; many of their side dishes are made with fresh, organic vegetables.
*1 Koso genmai: a type of rice made by cooking brown rice with azuki beans and salt, then fermenting the rice at a warm temperature for three to four days.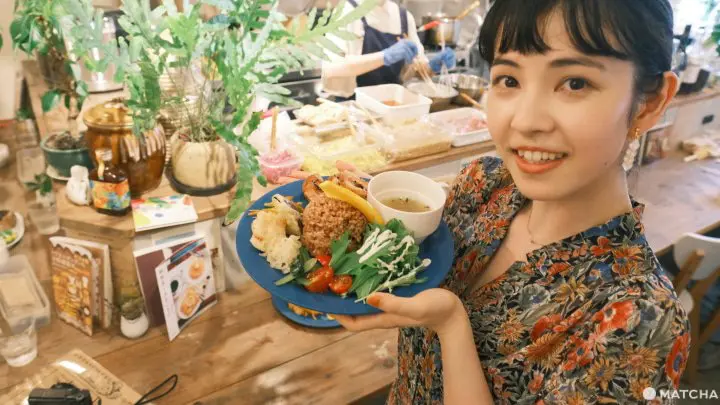 Photo by Eric
The menu includes dishes like the 15 Vegetable Koya Tofu Dry Curry and the Koso Genmai Onigiri Plate. They also have daily specials.
The Kurumafu Cutlet we tried was exceptional! The kurumafu (wheat gluten) was as juicy as tonkatsu, and very filling. The Kurumafu Cutlet is popular with both adults and children.
Photo by Eric (Top: Eight-Colored Rice Plate. Left: 15 Vegetable Koya Tofu Dry Curry. Right: Kurumafu Cutlet. All plates 990 yen with tax.)
It isn't just the food, but also the tableware that embodies the owner's hopes to serve safe and healthy meals.
Their tableware are products from EcoSouLife, a manufacturer that makes tableware from all-natural materials.
These products have excellent heat resistance and durability while remaining lightweight and easy to carry. Most notably, they are biodegradable and great for the environment.
You'll Definitely Want to Buy a Souvenir! Asagaya Pearl Center Shopping Street
Photo by Eric
Our next stop is Asagaya. Exit Asagaya Station and you'll find Asagaya Pearl Center Shopping Street.
This 700-meter-long shopping street has over 240 stores, including a large supermarket, fresh produce stores, and restaurants. Once you step into this charming shopping street, you won't want to leave empty-handed!
Picture courtesy of Chuosen Aruaru Project Executive Committee
The Asagaya Tanabata Festival, held every year in early August, is easily the most popular event on this shopping street.
First held in 1954 to attract customers to the arcade, the festival became more prosperous year after year. Now, Asagaya is practically synonymous with Tanabata festivals!
Experience Traditional Tokyo in Nishi-Ogikubo
Our last stop is Nishi-Ogikubo, an area with a distinct blend of old and new. Thanks to the rich retro atmosphere, you can immerse yourself in nostalgia wherever you go!
URESICA – Dive into the World of Vintage Books
Photo by Eric
URESICA is a bookstore and about ten minutes on foot from Nishi-Ogikubo Station. Their shelves are filled with picture books from all over the world. You're sure to find just the book for you.
It's an amazing experience to pick up a picture book and dive into its fantasy world as you turn the pages.
Photo by Eric
URESICA was originally an online shop before it opened as a brick-and-mortar store. The shop sold works by the owner's artist friends. Later, it was opened as a physical store in Kyodo before relocating to Nishi-Ogikubo in 2014.
The store gradually filled its shelves with picture books. They have a wide selection including books selected by the owner, self-published books, and original picture books published by URESICA in collaboration with artists. As a result, the store is best known for its unique picture books.
Photo by Eric
The gallery on the second floor holds new special art exhibitions every two to three weeks. They even host ceramic exhibits!

Murata Shokai – A Cup of Coffee and a Taste of Nostalgia
Photo by Eric
Murata Shokai—just a three-minute walk from Nishi-Ogikubo Station—is an old-fashion café, or what in Japan is called junkissa. Once you enter, you'll be surrounded by an unmistakably Showa period ambience.
The café is so calm inside that you'll be able to hear the deep sound of the old wall clock ticking away. Time seems to pass slowly in here, as if there are two different worlds separated by the café's windows.
Photo by Eric. Cream Soda 550 yen after tax, Homemade Custard Pudding 400 yen after tax.
The café's staple items are the vibrant Cream Soda and traditional Homemade Custard Pudding.
Their photogenic cream soda, a vibrant green melon soda topped with vanilla ice cream, is a drink you shouldn't forget to snap a photo of before drinking!
Custard pudding has had a revival in recent years and is a must try! The simple pudding is decorated with whipped cream and a cherry on top. Its slight bitterness of caramelized sugar coupled with the sweet flavor is addicting!
Photo by Eric
This location was previously a furniture and tableware store that closed in 2018. At first, after Ryuichi Murata—the current shop owner— continued to sell furniture from the store.
However, Ryuichi wanted to preserve the traces of a beautiful era found in every corner of a shop that first opened nearly 50 years ago. Thus, he opened a restaurant area in 2019. The café has since become popular with customers looking for furniture and sweets alike.
Today, Murata Shokai continues to sell furniture and tableware. Many retro chairs and tableware will catch your eye while you enjoy your snack!
Experience the Appeal of Suginami
Koenji is lined with colorful and unique stores; Asagaya is home to a cozy shopping street and Ogikubo is filled with hole-in-the-wall ramen shops, while Nishi-Ogikubo is home to memorable local cafés.

The cozy, welcoming atmosphere of Tokyo's Suginami ward has to be experienced first hand, so make your way to the city see for yourself!

Business hours of the stores introduced in this article are subject to change. Please check each store's official website for the latest information.

Written by

Kenko

Sponsored by Chuosen Aruaru Project/Experience SUGINAMI TOKYO

Main image courtesy of Eric

The information presented in this article is based on the time it was written. Note that there may be changes in the merchandise, services, and prices that have occurred after this article was published. Please contact the facility or facilities in this article directly before visiting.